Updated on: December 10th, 2023
Fritchy
& 12 Best Porn Forum Sites Like Fritchy.com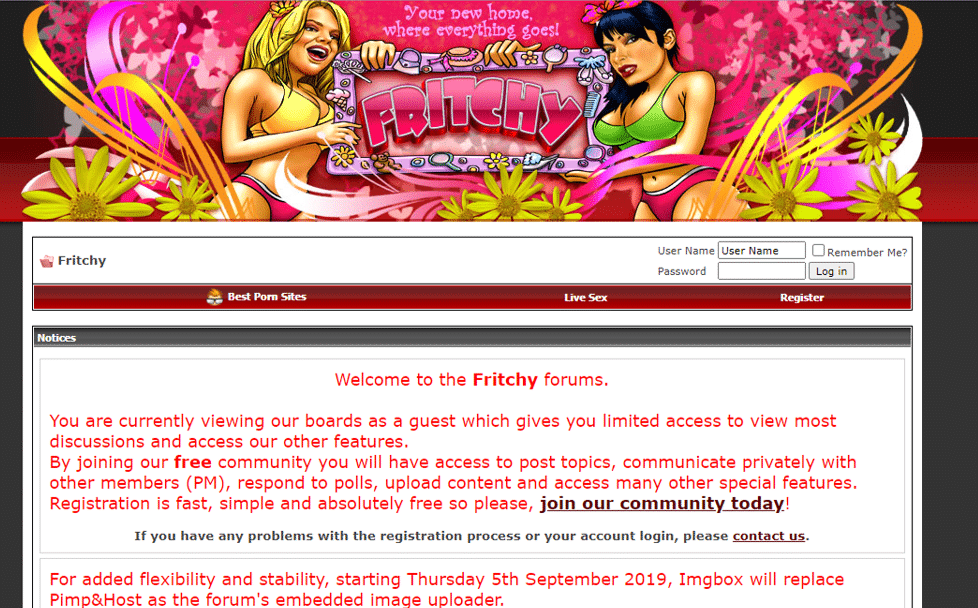 "Everything goes" is the site slogan of Fritchy.com. The people behind the Fritchy domain tend to sum up the offerings of the site into two words. So, if you are in great need of a steamy and sexy forum, Fritchy.com can be your best buddy. Fritchy is a venue where users may post materials, leave comments on others', and share files – all porn! It features every type of pornographic movie and image you can think of. Luckily, Fritchy is entirely free to use, and the site imposes no limitations at all.
Official URL: http://www.fritchy.com/
Meanwhile, the forums and discussions here at Fritchy collate an ample number of pornographic movies and photographs. These contents range from famous and hot celebrities to average amateur individuals. While I am still not sure about the exact total number in the entire Fritchy library, I am pretty sure that there is indeed plenty of stuff to browse and enjoy on the platform. In fact, they have an active community that contributes and shares porn materials every day.
Porn Fans Cum Together
People love coming together and socializing with one another. That is why we are called social beings because we crave to meet and talk to friends with whom we share common interests. Now, when it comes to pornography, I bet some friendships openly talk about sex and kinky stuff, while introverted individuals tend to find difficulty connecting. So, these shy people usually parade themselves on platforms that they do not require to reveal their identities just to get contents to fap. From there, porn forums become a massive venue for erotica fans.
Interestingly, Fritchy.com has a highly active user community. Hurray! It is evident that the userbase is engaging and involved with the conversations here and there. Indeed, porn fans, regardless of personality, extroverts or introverts, can jerk and cum together. The entries are usually updated every minute; hence, members of the Fritchy forum want to satisfy each other's thirst. The group shares one common characteristic, and that is, they are horny and sexually excited. Hence, if you are seeking these individuals, the Fritchy forum is your new virtual home.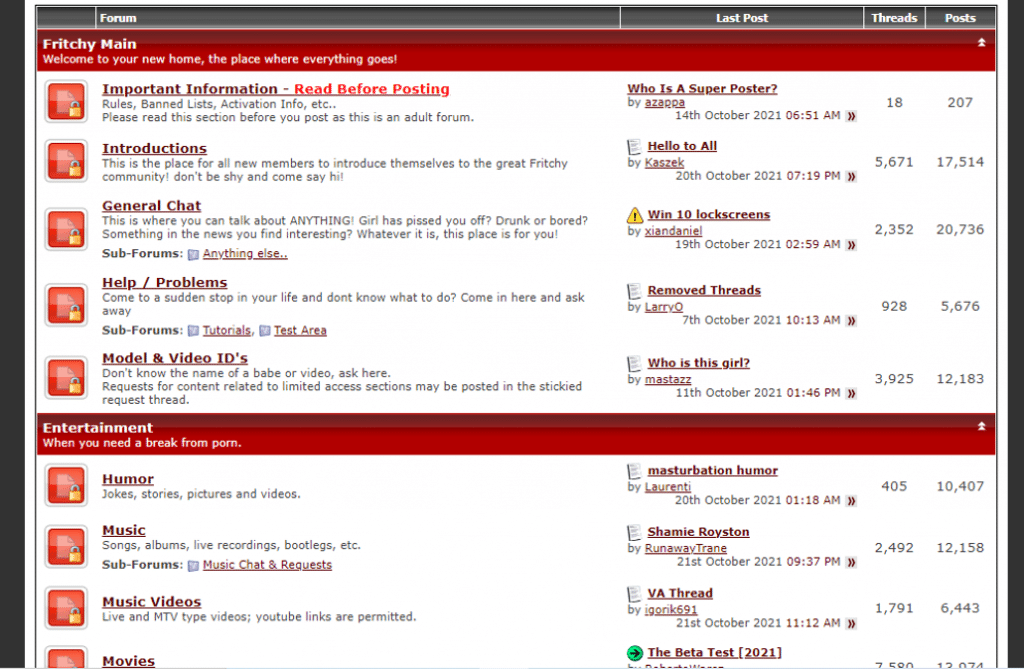 What Should I Look Forward at Fritchy.com?
Fritchy wants to make porn citizens realize that this site is not your average porn page. The site is not only a community-run archive with a wide range of erotica but is also a location that provides you with porn content differently and excitingly. To begin, Fritchy has a discussion board foundation – these discussion boards are divided into different themes according to the type of erotic material they cover.
Fritchy offers several sub-forums dedicated to a variety of topics, such as pornstar movies, fetish sequences, vintage porn films, and homemade photos. Fritchy is quite rigorous about its material, and it appears as it goes to great lengths to make sure that everything is put where it belongs so that users do not find things they do not want to. Furthermore, it is always extra happy to have a solid community guideline, which Fritchy.com is great at.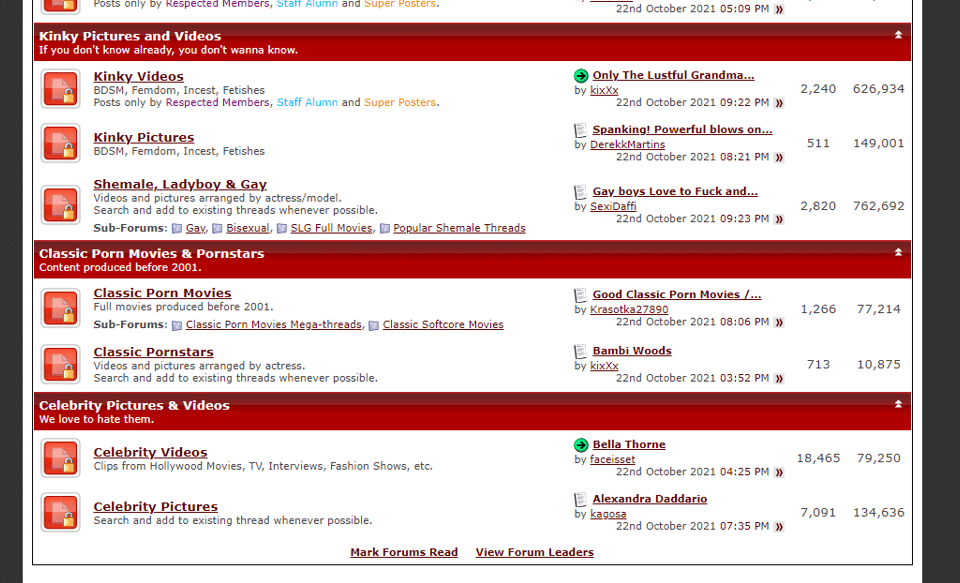 Great Urge to Join the Community?
It is also a good thing to note that you will need to register a Fritchy account, primarily if you want the most pleasing experience possible. If you do not make an account, you will have to browse these forums as a guest, which means you won't be able to utilize all of the website's features. Again, most forums are accessible without an account; however, a handful is only accessible to those who have registered and signed in.
Moreover, registration is free, and it only takes a few seconds of your time. You only need to register your email address, and after you have completed it, you will get immediate access to a slew of members-only features. These Fritchy features include posting material, sending private messages to other members, and voting in polls. Another thing, registered users will have the power to download extensive and considerable files in seconds compared to the slower download pacing of free users.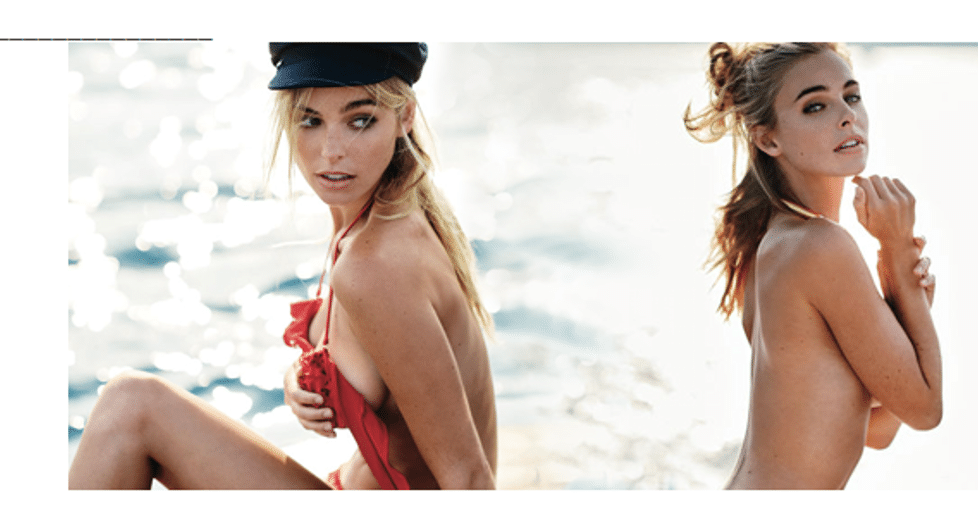 Site Design and Compete Aesthetics
Just like any other typical forum site, Fritchy also opted to make everything simple and not too fancy. The Fritchy page features a red-themed style with dark lettering, clearly delineated parts, and the standard basic layout. The logo is also pretty nice, with two sultry chicks carrying a colorful platter with 'Fritch' inscribed. More so, I am satisfied with the site's overall appeal and a sense that Fritchy designers have a taste in balance.
As mentioned, Fritchy's home page is well-designed, and visitors should have little trouble navigating it. It is worth noting that the Fritchy.com forums have been separated into several categories. You may discover a lot of information on this page; therefore, you don't want to waste any time reading through irrelevant information. With that, the sections here at Fritchy.com are arranged as follows: Fritchy Main, Entertainment, Hentai/Anime, Picture Posting, Video Posting, Kinky Pictures and Videos, Classic Porn Movies & Pornstars, and Celebrity Pictures & Videos. In most occurrences, each area includes 3-5 subthreads containing everything from softcore erotica to more exotic content.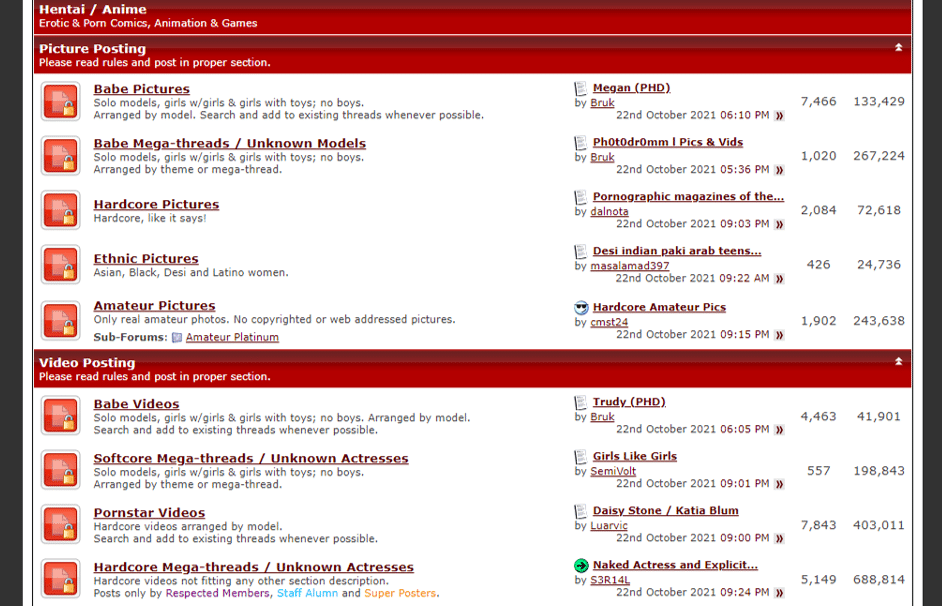 Going Around the Sections and Contents
The Fritchy Main is the initial portion of the site that greets visitors with relevant platform information. Before moving and browsing on to other sections of the website, we recommend that users take a deeper look at this area to acquaint themselves with the rules of participation. It is also a fantastic location for new members to meet the rest of the community. How do you get to meet new acquaintances in this section? Well, there is a general chat section where people may discuss anything. Indeed, this is the place to vent and share any experience, whether it is about something fascinating about the platform or about a specific event that you can't wait to share with the group.
In addition, there is also an area where users assist one another in identifying beauties in random movies, exciting! Another thing, if you are a fan of photographs and delightful sexy images, you will undoubtedly love the Picture Posting section. In here, you can see an overflowing number of beautiful photos of random attractive girls flaunting their lovely bodies. Some images are in complete nudity while others are captured stimulating alone or with sex toys. All of the ladies are stunning, and their sensitive spots are sure to pique users' interest.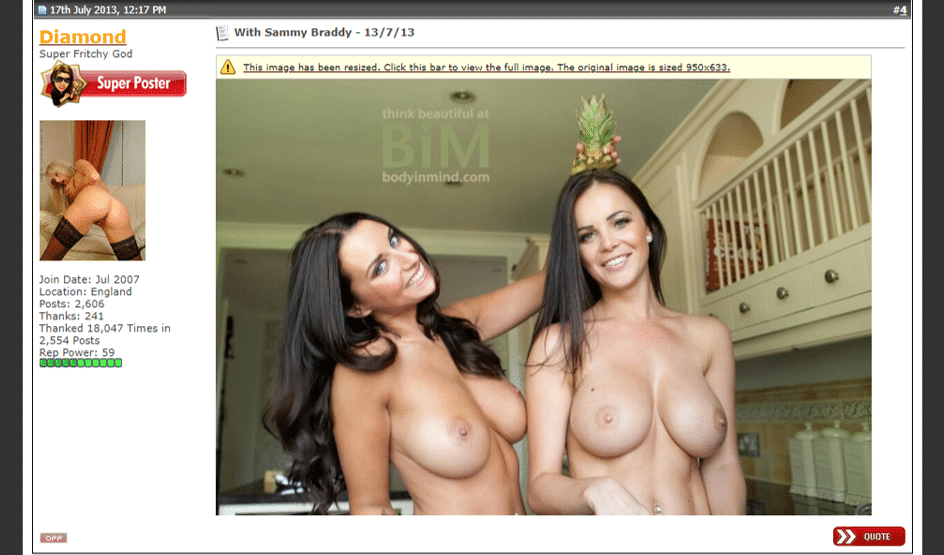 Looking for Videos to Fap?
Fritchy.com contains a terrific collection of films too. With that, the Video Posting area should be a great place to find free porn films. Self-pleasure films, homemade movies and videos, a lot of toy playing, and ethnic videos are all available for your jerking needs. More so, Fritchy's Amateur Videos section could be a good stop for you if you are in love with genuine couples making love while being recorded. Yes, you read it right; actual people are having real sex in it. Also, since the forum is updated on a regular basis, there is always something new to discover.
Additionally, this section also showcases plenty of spy and voyeuristic films, including shower rooms and upskirts materials. Males who proudly flaunt their partners are well-represented here at Fritchy.com, as well as live shows of webcam ladies. Apart from these contents, Fritchy delivers hardcore and forbidden materials that concentrate on specific fetishes and such. There is also a lot of user-submitted kinky videos that can be downloaded and watched anytime and anywhere. Truly, the collection is massive with incest, BDSM, bukkake, female dominance, and other niche and fetishes found in Fritchy.com.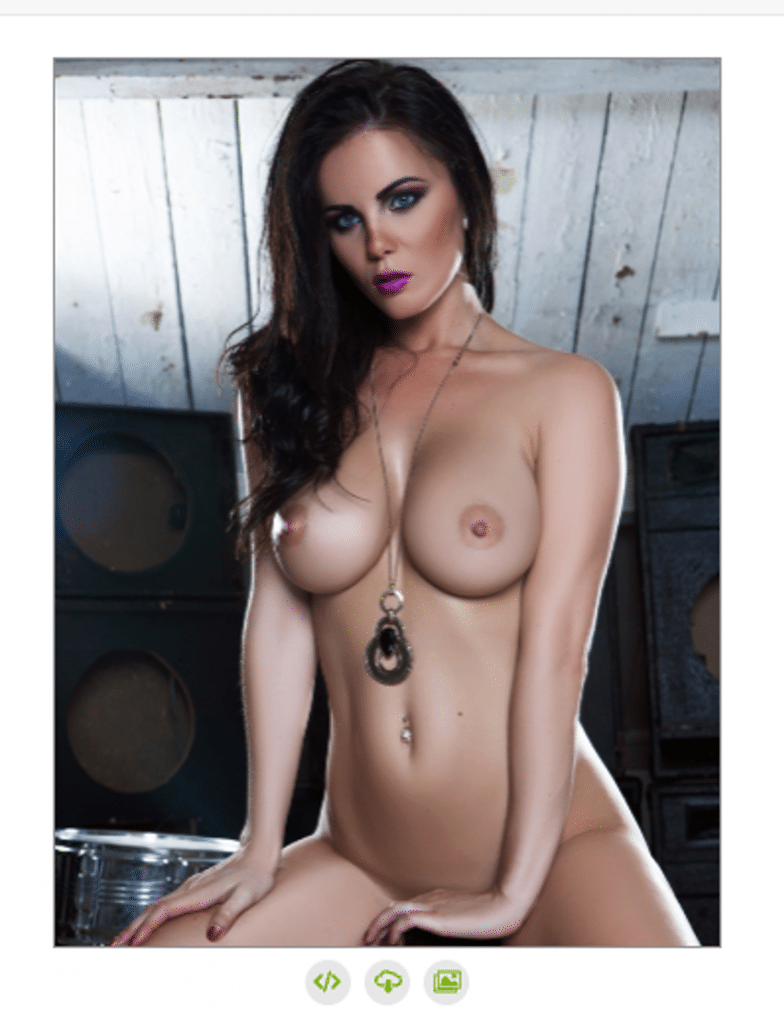 Classic Contents and Celebrity Section: So Hard to Miss
The Fritchy forum also includes Classic Porn Movies, where members may download full-length pornographic films. The contents are indeed classic because some of them are dated 1996. It is amazing how these contents bring back old memories and make us feel nostalgic. The legendary contents make you back to old times where nude magazines are our major go-to venue to express our sexual hunger. Now, look where we are today, so many sites to jerk happily. Indeed, Fritchy.com is one of those best sites that offer things we highly appreciate.
On the other side, this Fritchy site has a separate celebrity area where you can locate all possible discussions and materials related to celebrity stuff. The section contains screen grabs from movies and naked scenes. Hence, if you have a long-growing celebrity fantasy, you can start fapping to community-shared content here. Porn fanatics will love the excellent library coverage involving softcore celebrity photos to hardcore and even kinky content.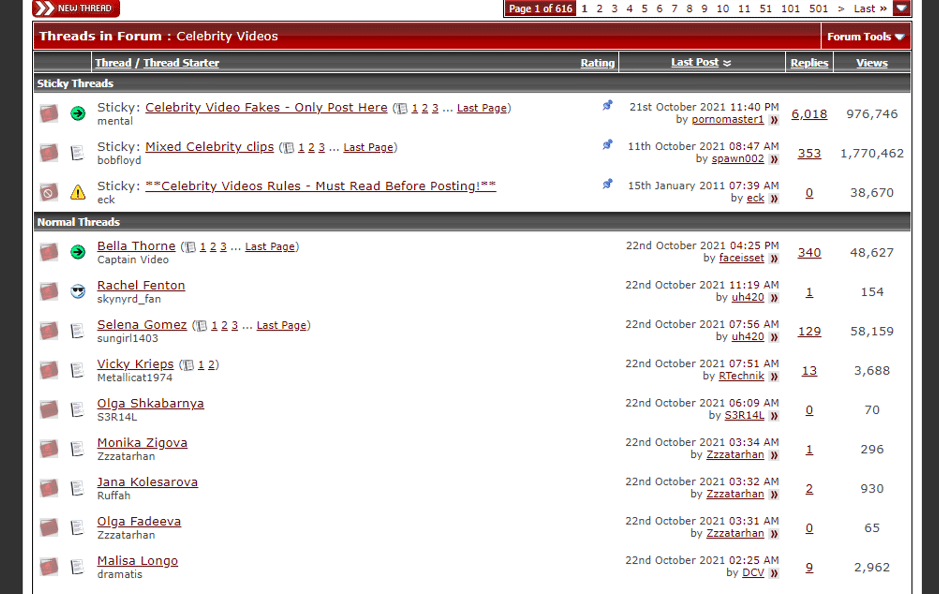 Mobile-Friendly Domain
I appreciate how Fritchy performs to make our needs met. It is simple to navigate, and you can get a lot done in a short amount of time. Also, if you want, you may use your mobile browser to access it. The site is fully designed for mobile viewing, and visitors will not need to zoom in to view everything. All functions smoothly, and the same steamy material on a desktop computer is available on a tablet or smartphone. Hence, anywhere and wherever you go, Fritchy is accessible 24/7.
The Pros and Cons of Fritchy.com
PROS:
Great active and engaging community
Variety of mouthwatering contents
Mobile friendly and accessible to all devices
Variety of sections
Organized properly
Contains both professional and amateur porn
Regular updates from users
User-contributed materials
Smooth interface
CONS:
Advertisements and pop-ups
Need to register to access full site features
---
12 Best Porn Forum Sites Similar to Fritchy.com: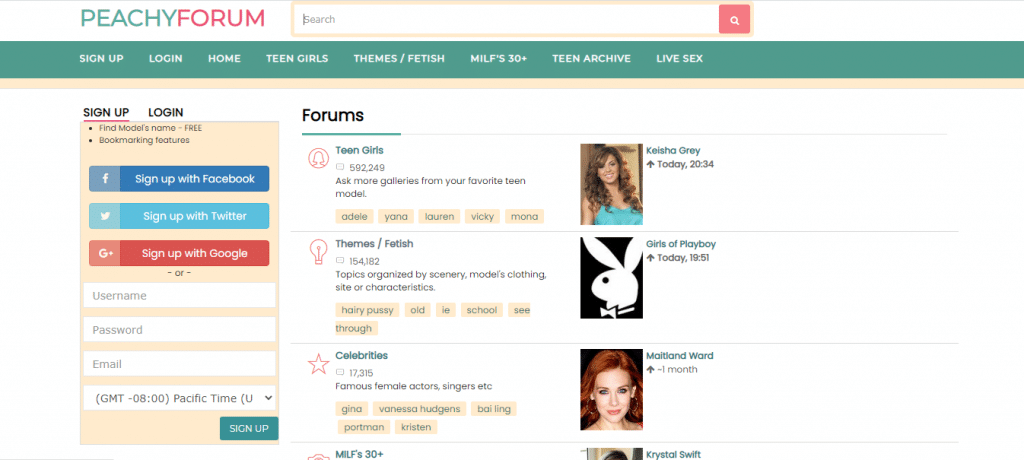 PeachyForum.com is a free premium gallery website with everything from teens to young girls to MILFs and professionals. The "Teen Girls," "Fetish," "MILF's 30+," and a "Teen Archive" are among the four sections available here. In each area, you'll find links to free or sample galleries with high-resolution images from websites like Karups, Anilos, Mature.NL, and many more you can imagine.
PROS:
Plenty of free content and porn gallery samples
Only allows legal content
It has terrific sorting options
The forum is clean and easy
Unique themes and topics about fetish
Large active user base
Supports mobile browsing
CONS:
---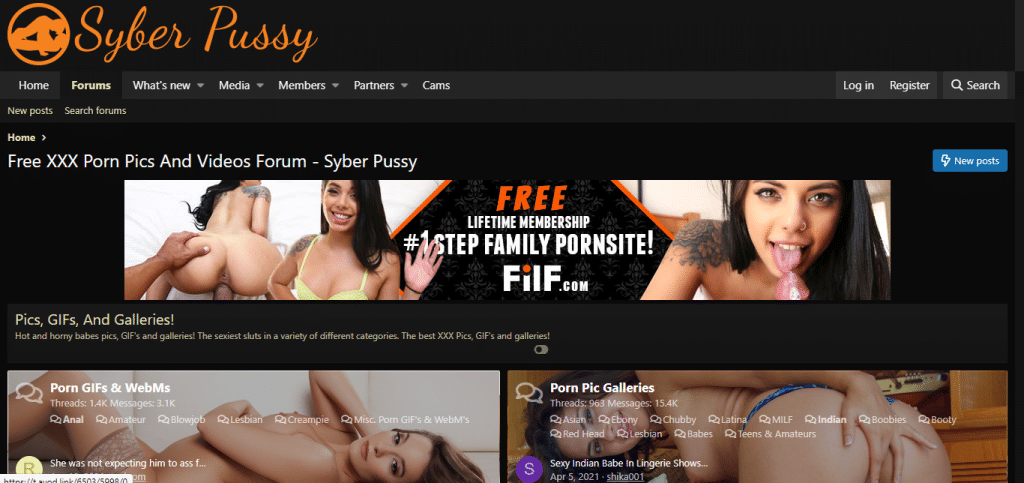 I believe it is harmless to say that Syber Pussy is a small porn forum: in total, it has about 25,000 entries, which is certainly on the small side of things. Syber Pussy is one of my favorite companies because they plan, which is why it's on this list. When you first arrive on the homepage, you'll notice a list of sub-forums devoted to porn GIFs, images, MILF videos, and amateur material — it's a nice mix of content, and the interface is very modern.
Click for a full review of SyberPussy.
PROS:
Some contents are direct
The design and interface is good
Effortless to use and smooth browsing
CONS:
---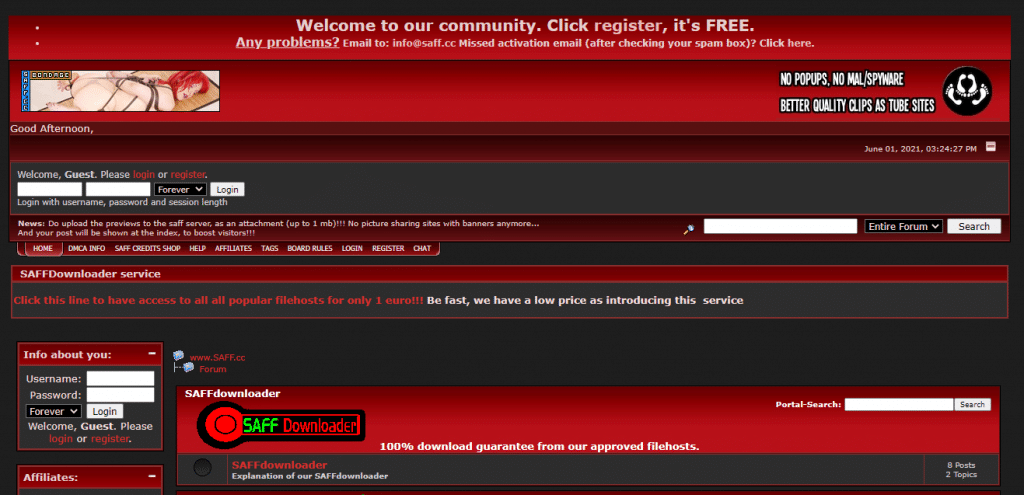 If you're looking for some hot, sizzling, sexy content, then don't look any further because Saff is here to help. The website claims to provide the highest quality of content than any other porn forums. Well, from my experience, I believe they're telling the truth. On top of that, the signing up process is easy and completely free. Once you validate your email address, you're about to experience the most beautiful and exciting thrills of your life.
Here is the full review of Saff.cc.
PROS:
Stores all types of kinky and fetish content
Easy and free downloading
Various content is categorized according to themes
CONS:
Limited access for non-members
Gives additional access to members with premium subscriptions
---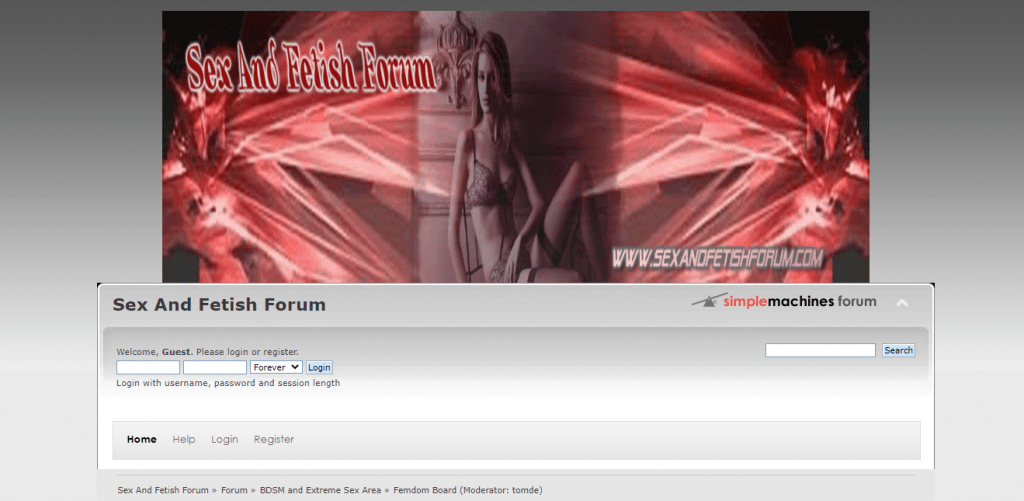 The Sex And Fetish Forum has an almost endless supply of free videos and photos featuring a wide range of sexual fetishes. But, besides kinky stuff, it also offers a lot of more common niches. Gauging how many videos or photos an adult forum has is never easy. Still, this place has 12 million replies, 27,000 topics, and almost 60,000 members post new material daily.
PROS:
Amazing fetish porn variety
The user base is active and massive
Easy to use the website, and has a simple layout
CONS:
---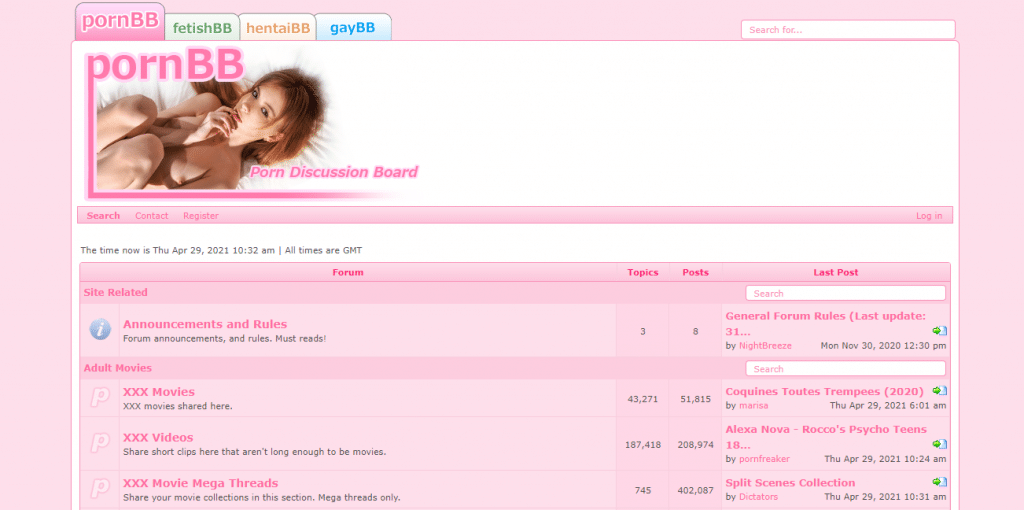 It's where you can find various straight and lesbian content, including Jav Porn, VR, and 3D content, as well as people's amateur videos. Every month, millions of people visit this forum, leaving thousands of comments and links. The four major content categories are adult movies, explicit images, model pictures, videos, and the "Other XXX's" segment of stories, games, and magazines.
Click here for PornBB full review.
PROS:
Free content is plenty
The community is vast and active
The website is well-organized and clean
Variety of contents available
CONS:
The pink theme is too girlish
Download limits
---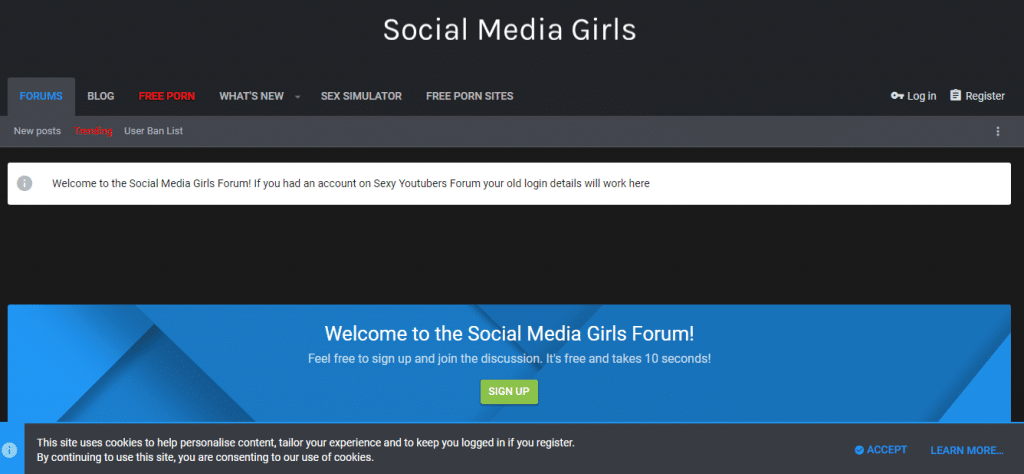 More and more YouTubers nowadays are almost forcing pornography on the network. Sounds like something you would enjoy, right? Then you've come to the right place. Check out the SocialMediaGirls — they're the best around. Indeed a perv's paradise, where sexual content, from Facebook to YouTube, is combed through searching for more stuff to whack off to.
PROS:
Amazing content
Numerous porn content you can browse
Free to use
Active community
CONS:
Quite tricky to use for beginners
---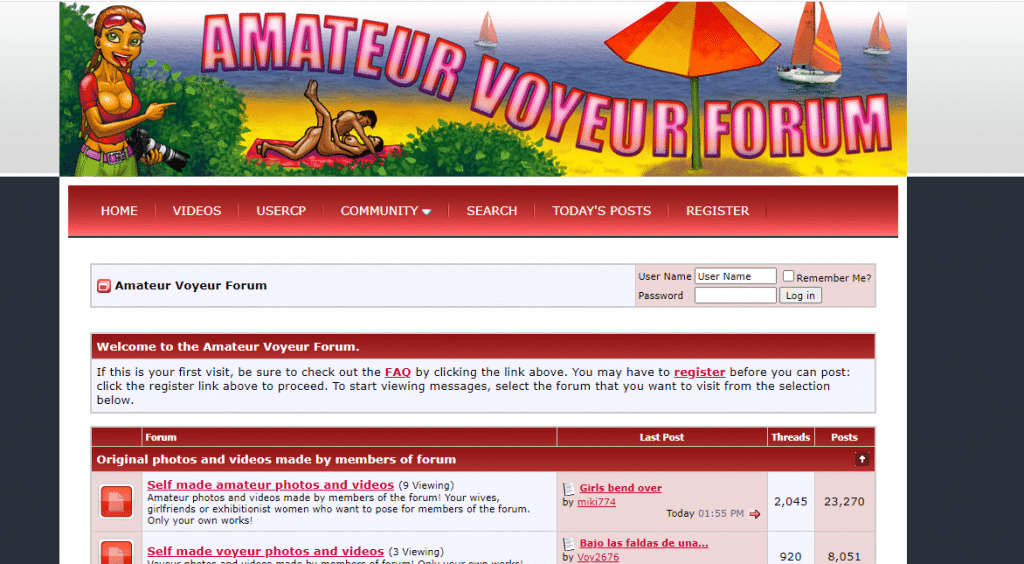 If we are talking about a porn forum, there's always that website that comes to mind instantly —AmateurVoyeurForum. If you are a massive fan of voyeuristic porn, then this should be your delightful sanctuary. It has thousands of members and constantly updating its contents. Right now, it has over 800k posts, and more and more people are popping in the site to enjoy voyeur content.
PROS:
Easy downloading of images and videos
Exclusive images for the exhibitionist and voyeuristic fans
Members make updates regularly
CONS:
Annoying advertisements
Many videos from YouTube are in private mode
---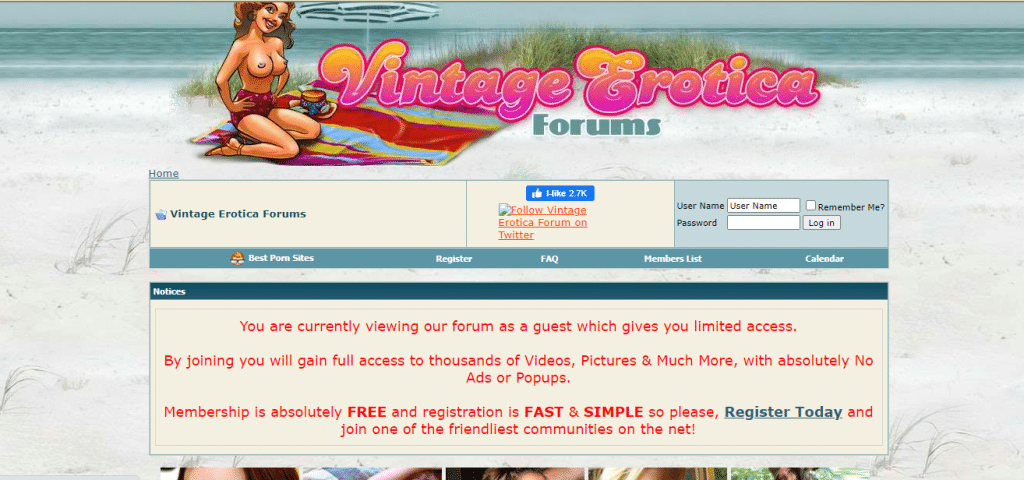 Ahh, yes, vintage. Nothing is ever remarkable than excellent old classics. Sure, the internet has plenty of porn lurking around. In fact, they are easy to find if you're just smart enough. But the best vintage and classic content are never to enjoy. Good thing there is VintageEroticaForums where you can relax and enjoy some fun vintage movies, pictures, and just about anything.
PROS:
Plenty of active threads
Active userbase
There are plenty of vintage porn everywhere you click
CONS:
No mobile application available
Some ads and annoying pop-ups
---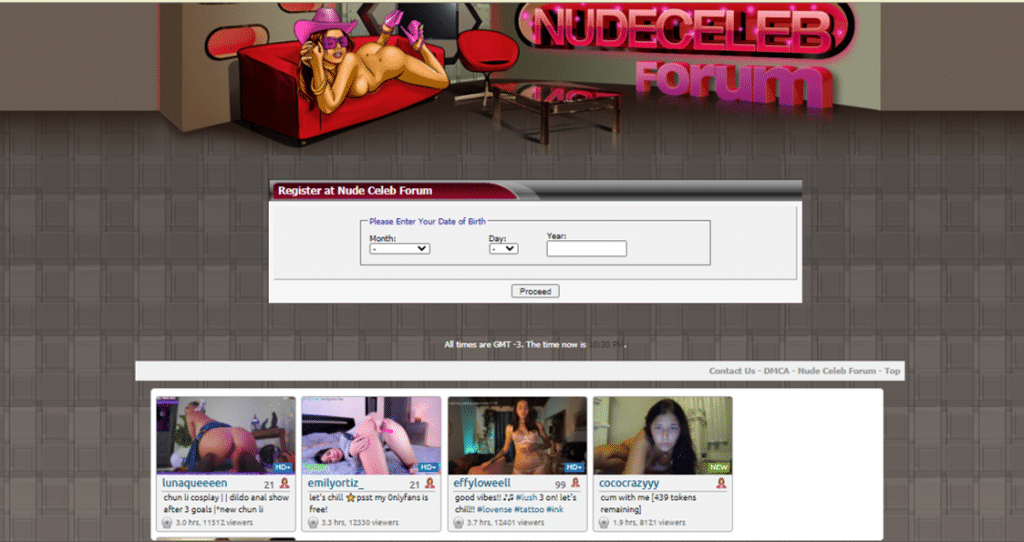 Those fascinated by seeing and hearing about attractive celebrities can visit NudeCelebForum.com. The page is fantastic if you want to discuss your favorite star and, of course, if you want to get your fingers on some leaked photos of someone you adore. It has a large amount of material, a large user base, and many download links to softcore and premium sites. Because nothing is hosted on the site, you will be routed to file-sharing services to acquire your downloads.
Full NudeCelebForum review here.
PROS:
A vast repository of celebrity images and videos
The dynamic and active user community
Accessible to all devices
Download links available
Variety of posts and threads to explore
Regular updates
Ability to share and receive pornographic contents
CONS:
Advertisements
Needs registration
Simple and quite boring design
---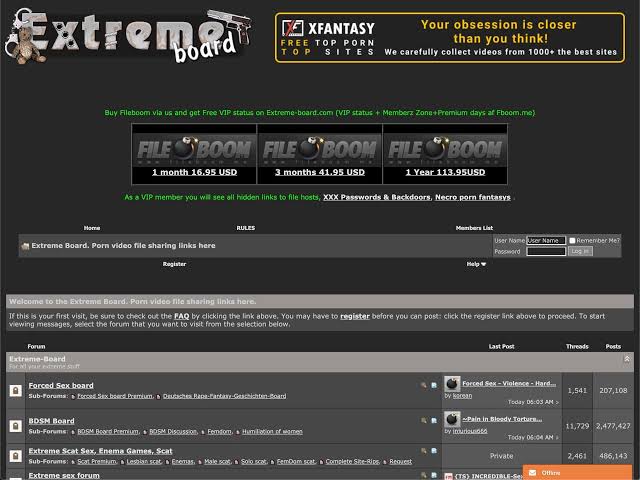 Some people enjoy visiting extreme sites on the internet. And since the world wide web has tremendous potential risks of landing on a scammy website, I recommend something that might be helpful — ExtremeBoard. It's a forum appropriate for people looking for more severe forms of pornography. Currently, the total number of postings on ExtremeBoard has reached 6M+, and there are 50K+ different threads in which the content is laid together.
PROS:
Plenty of postings
Updates regularly
Amazing subforums available
CONS:
Advertisements are available
Basic design
---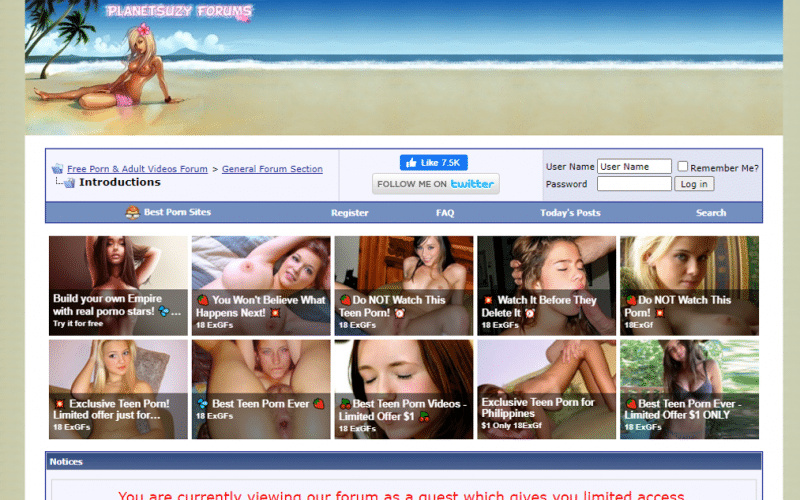 PlanetSuzy is an adult website that focuses primarily on video content. Although there are no concrete statistics about how many posts this site has in total, based on the information I've gathered, it appears to be about 4 million. The site is updated daily and includes sections dedicated to introductions, site support, and, of course, adult content. PlanetSuzy has been around for a long time, and like most other forums, it has many dedicated users who post regularly.
Here's the full review of PlanetSuzy.
PROS:
Regular updates
Plenty of fetish content
CONS:
Few adverts available
Has few reported spam bots
---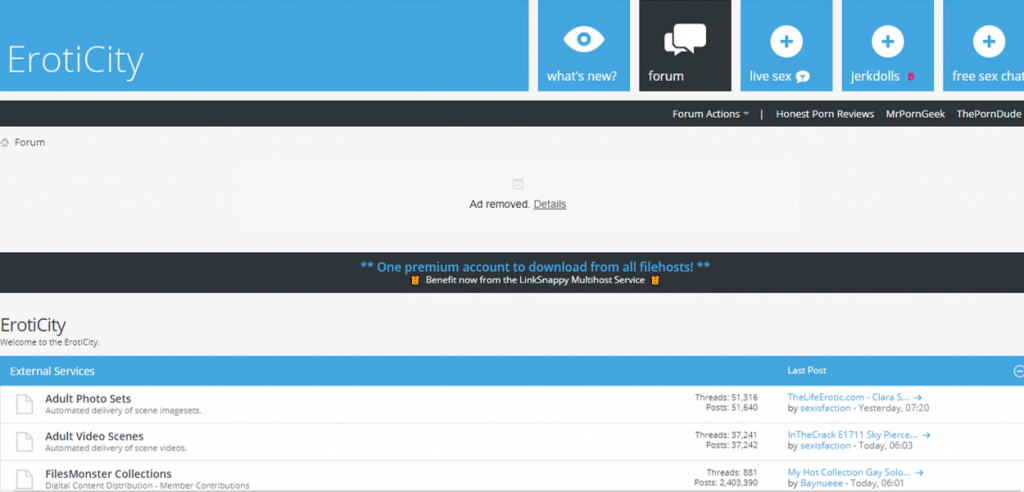 ErotiCity.net is another excellent site where you may get high-quality pornographic movies and photos. The forums will tell you precisely what you could receive on this spot: a continuous supply of scenario sample images and explicit film. Moreover, the website has a basic, adjustable mobile design that anybody may use. There is also a decent quantity of different porn stuff for you to browse through at any time of day.
Check the review of ErotiCity here.
PROS:
Millions of contents in threads and postings
All niches and fetishes are covered
Free registration
Good interaction tools
Active and engaging community
User and mobile-friendly
The site is well-managed
CONS:
Pop-ups and advertisements
You need to register to enjoy the platform fully
Third-party links
---
Conclusion
Overall, Fritchy.com looks to be well-organized, and I was able to locate a lot of exciting photos and videos, which is fantastic. It is also exciting how everyone here at Fritchy enjoys sharing their valuable porn treasures, and you can simply acquire almost everything you can imagine. It is a fantastic site for finding both experienced and novice porn which you can download for free and keep on your computer indefinitely.
One more thing, the collection is superb, ranging from softcore to extreme stuff that will ease all fapping worries. More so, the forum is buzzing with activity, and it appears that people are rushing to add fresh stuff practically every minute. Fritchy users may also expect new fap content on a regular basis. However, pop-ups and redirection can be annoying here, but they keep the site free; therefore, it is worth it. Drop by at Fritchy.com; you will definitely love everything here.
All 47 Other Sites in This Category Worth Checking Out:
Undertow Club & Top 12 Free Porn Forum Sites Like Undertow.club Show Me 12 Alternatives for Undertow.club Are you considering joining an underground community? Undertow Club is an underground gaming and modding community with a sensual twist, pal. It has been a long time since I did a forum site review, so here it is. Undertow […]