Updated on: October 1st, 2023
LoversLab
& 12 Must-Visit Porn Forum Sites Like LoversLab.com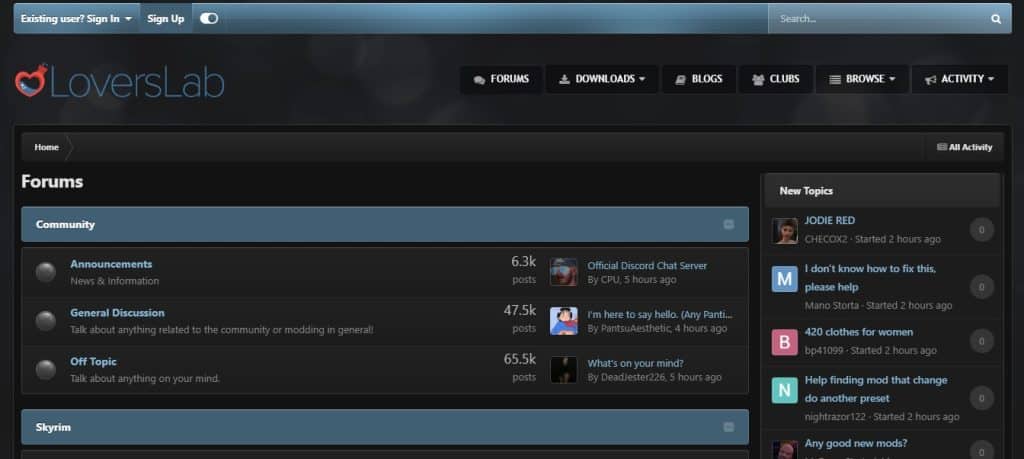 Alright, fellow gamers, gather 'round. Do you know what's the real deal when it comes to PC gaming? No, it's not the jaw-dropping graphics or the heart-pounding narratives. And it sure ain't the price tag of your high-end gaming rig that could buy you a small island. Nope, what truly takes the cake in the glorious world of PC gaming is something way more, shall we say, unconventional? Yep, you guessed it –those saucy, scandalous, and downright steamy mods.
Official URL: https://www.loverslab.com
Hold a bit before you start firing up your search engine and typing in "Where can I find mods to get freaky?" because here's the catch – not all mod sites are created equal. So, allow me to introduce you to LoversLab – your one-stop shop forum for all things wild, weird, and wonderfully modded. Why settle for vanilla when you can sprinkle some extra spice on your adventures? So, dear gamers, if you're tired of living in a gaming world limited by the constraints of consoles, then LoversLab is here to fulfill your desires in ways you never thought possible.
Active Community of High-quality Mod Lovers at LoversLab!
Finally! We're about to dive deep into the saucy underworld of modding. We're not talking about your run-of-the-mill mods that merely change a few textures or tweak a game's mechanics. No, we're diving headfirst into the forum of LoversLab – where all sexy mods unleash their wildest, kinkiest, and downright jaw-dropping creations. Buckle up because this isn't your grandma's modding site.
Let's get one thing straight from the start – LoversLab isn't your sketchy back alley of mods. You won't find yourself stuck in a virtual maze of malware or sifting through an ocean of trash. This place is the real deal, with 13 million avid explorers scouring its digital alleys monthly. That's right, this place is more popular than that viral cat video you watch. And guess what? They've been at it since 2011, proving their passion for mods burns brighter than ever.
However, don't let the term "forum" style fool you. LoversLab is like the James Bond of forums – sleek, stylish, and with secrets. Gone are the days of cringe-worthy forum layouts that could give your eyes a serious case of pixel-induced trauma. LoversLab certainly oozes class with its dark-themed design that screams "serious business." But hey, if you're feeling a bit rebellious and want to torture your retinas, they even have a day mode option. Why not, right?
Easier Browsing with Amazing Dark Design and Intuitive Features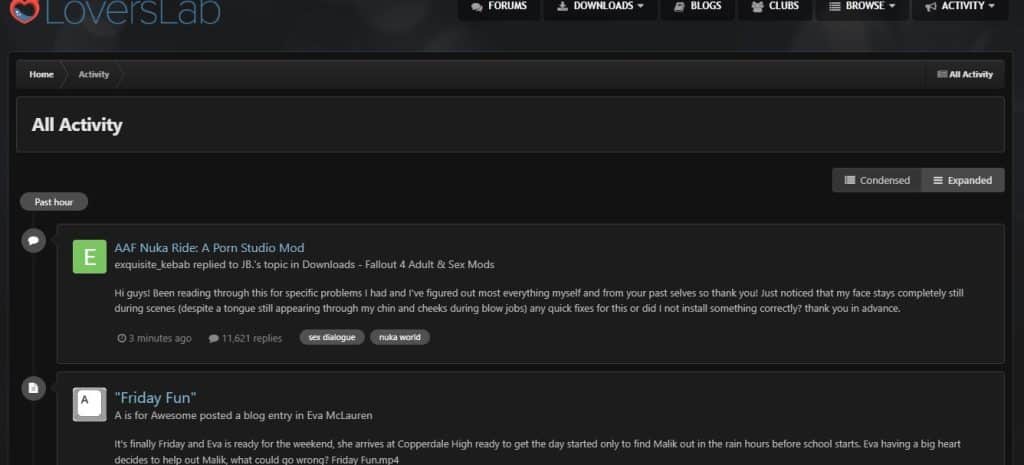 Hold on to your game controllers because LoversLab is like a gamer's paradise with a sexy twist, and its navigation is smoother than a well-executed headshot. They've decked out the site with big, bold titles that scream, "Hey, we've got a section for every gaming desire you can think of!" Whether you're itching for casual chatter about anything under the virtual sun, hungry for site updates and news, or ready to plunge into game-specific discussions, LoversLab got your back.
And oh boy, they've covered your favorite games like well-fitted armor. Each game they embrace gets its own space, a digital sanctuary for dedicated modders and curious adventurers alike. Within those sections, it's like a digital utopia of threads – downloads, discussions, tech support – you name it, they've probably pixelated it into existence. It's like having a one-stop modding shop that caters to every virtual whim you can imagine.
Finally, let's talk about being stuck in a pickle during a lightning-fast boss fight – their registered user option. I suggest signing up if you're here for some digital camaraderie and a hearty virtual handshake. Trust me, it's as simple as ordering your favorite pizza. Personal name, valid email, verification, and boom, you're in. Let's keep it accurate – during my epic exploration and brave sign-up escapade, I did encounter some connectivity hiccups. Maybe the digital universe was having a maintenance day or something. Remember that even the virtual realms need a little TLC now and then.
Constantly Communicating and Interacting Users of LoversLab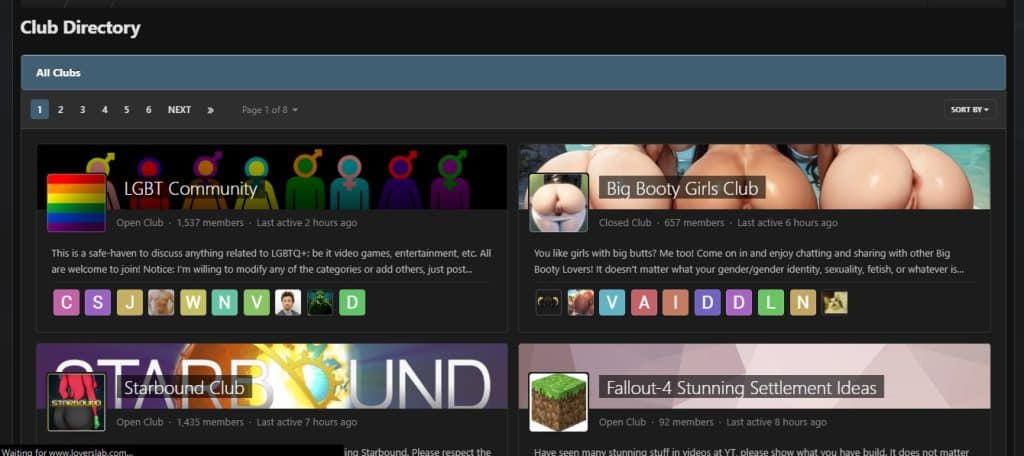 Alright, fellow digital adventurers, now that you've entered the modding realm of LoversLab, let's strap on our cyber-goggles and navigate through this modder's paradise. Picture this: You've set your coordinates and are ready to rock. You'll find your trusty transparent header at the upper part of your screen, like a tech-savvy sidekick prepared to assist you on this modding quest.
But wait, there's more! LoversLab isn't just about mods – it's a digital playground of possibilities. You've got recent downloads winking at you, blog posts eager to spill their virtual beans, and club chat rooms where the honest, juicy discussions happen. Oh, and don't even get me started on the user page and those sneaky latest posts and replies sliding into view. It's like a digital hub where modding dreams and community camaraderie intertwine. And it's all just a click away.
Moreover, LoversLab will knock your gaming socks off – this place is buzzing like a beehive on a caffeine high. Seriously, dudes, I've scoured my fair share of online haunts, and LoversLab takes the gold for the top active users. It's like a never-ending party where every thread has reactions popping up faster than you can say, "mods rule." Dead zones? Nope, not here. This place is alive and kicking, with discussions flying left and right.
But hold on because here comes the best part – the community. These modding fans are as friendly and welcoming as your favorite tavern keeper in a fantasy RPG. Noobs, fear not, for you shall not be roasted over the virtual flames. Tap on any topic that tickles your modding fancy, and voila – a collection of hottest threads awaits. Trust me, you won't be short on options; each section is like a bustling marketplace of ideas, with a shitload of subjects and a virtual sea of posts. So, dive in, contribute, learn, and be part of a community that's as tight-knit as a dragon's scales.
Shitload of Users Who Share Various Fetishes, Interests and More!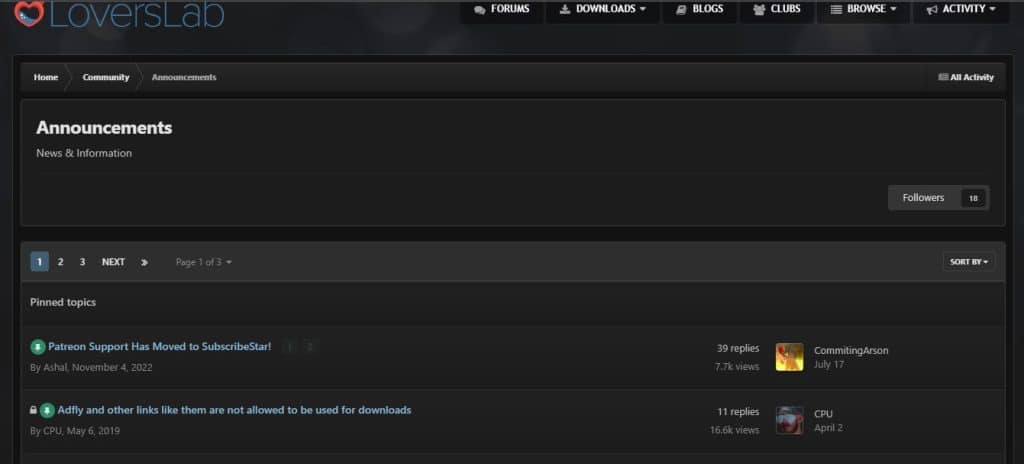 Do you have some bizarre fetish collecting dust in the dark corners of your mind? Well, guess what? At LoversLab, judgment takes a back seat as you unload all your kinks, quirks, and downright passionate desires. Your kinky idea might transform into a mind-blowing mod, leaving the gaming world in awe. It's like a digital laboratory of lust where the only limit is your imagination. And let's be honest, it's not every day you stumble upon a place that welcomes your "unique" tastes with open arms.
LoversLab is not just your one-stop shop for Argonian escapades (those sexy lizard folks). No, it's a community that's as lively as a rave party in a neon-lit disco. Imagine returning to where creativity flows like cheap champagne at a bachelor party. It's not just about those pixelated escapades; it's about joining hands (or should we say keyboards?) with like-minded explorers who are as passionate about mods as you are about that weird fetish of yours. That's right, you're not alone in this digital universe – you've got fellow freaks who are ready to share, discuss, and mod the hell out of their wildest ideas.
But wait, there's more! LoversLab isn't just a kinky playground for players; it's a modder's haven too. If you're one of those crafty individuals who loves molding virtual worlds to their whims, you're in for a treat. You'll find a treasure trove of resource packs, tutorials, and guides that'll have your modding skills soaring higher than a unicorn on steroids. And guess what? An army of fellow modding maniacs is ready to brainstorm, test, and fine-tune your creations. It's like having a digital army of lab assistants – minus the white coats and a lot of creative chaos.
Oh, and let's not forget the section for sexy mods in the VR version. Yes, you read that right. It's where pixels meet pleasure in a way that might blow your mind – and other things. LoversLab is more than just a website; it's a digital playground where fantasy knows no bounds, creativity reigns supreme, and every bizarre, kinky, and downright outrageous idea is welcome with open arms.
LoversLab Supports Mobile Browsing for The Dudes Who's Always On The Go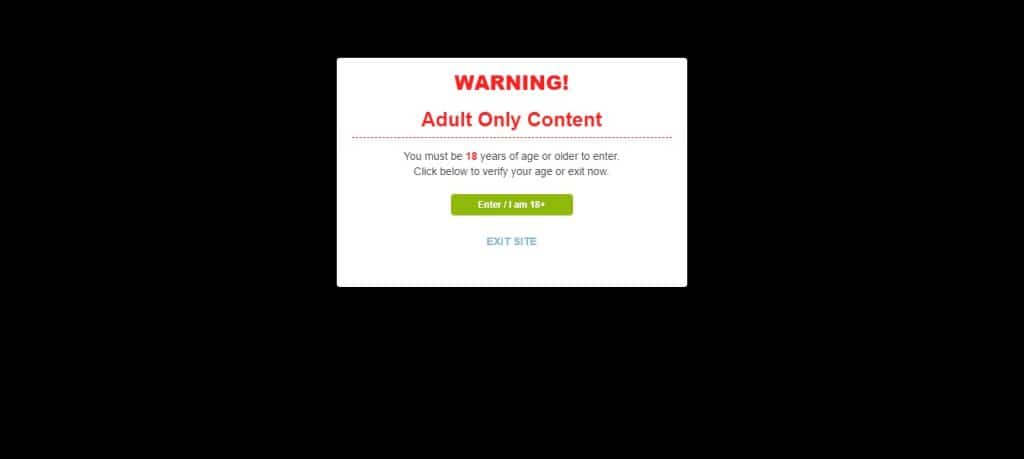 Now, brace yourselves for a juicier plot twist than a soap opera cliffhanger – LoversLab's mobile experience doesn't suck. I know, I know, you're probably thinking, "Come on, a modding site on mobile? It's bound to be like a lousy jerk-off." But hold your lubes because you're in for a delightful surprise this time. The mobile version of this site is like a smooth operator that knows how to rock your virtual world.
Seriously, I had doubts about browsing LoversLab on my mobile device. But boy, was I proven wrong. In fact, the smartphone version is a total badass and is not afraid to show it. All the same kick-ass menu choices are neatly placed on the header screen, ready to roll out like a red carpet for you.
Pros and Cons of LoversLab.com
PROS:
Topics are alive and always active
Users engage constantly
Free game mods
Different sources
CONS:
Loading duration can be a bit slow.
---
12 Must-Visit Porn Forum Sites Similar to LoversLab.com: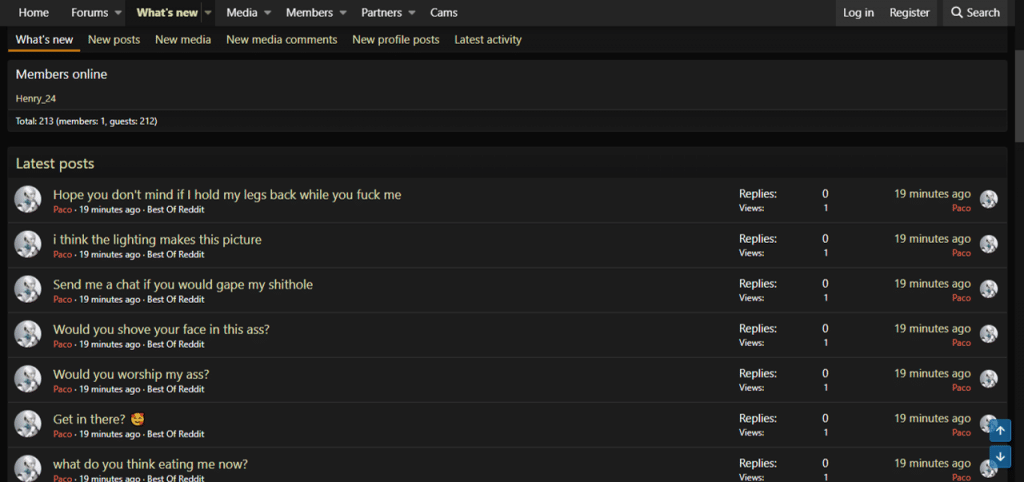 I guess it is harmless to say that Syber Pussy is a small porn forum: in total, it has about 25,000 entries, which is certainly on the small side of things. Syber Pussy is one of my favorite companies because they plan, which is why it's on this list. When you first arrive on the homepage, you'll notice a list of sub-forums devoted to porn GIFs, images, MILF videos, and amateur material — it's a nice mix of content, and the interface is very modern.
Here's the full review of SyberPussy.
PROS:
Some contents are direct
The design and interface is good
Effortless to use and smooth browsing
CONS:
---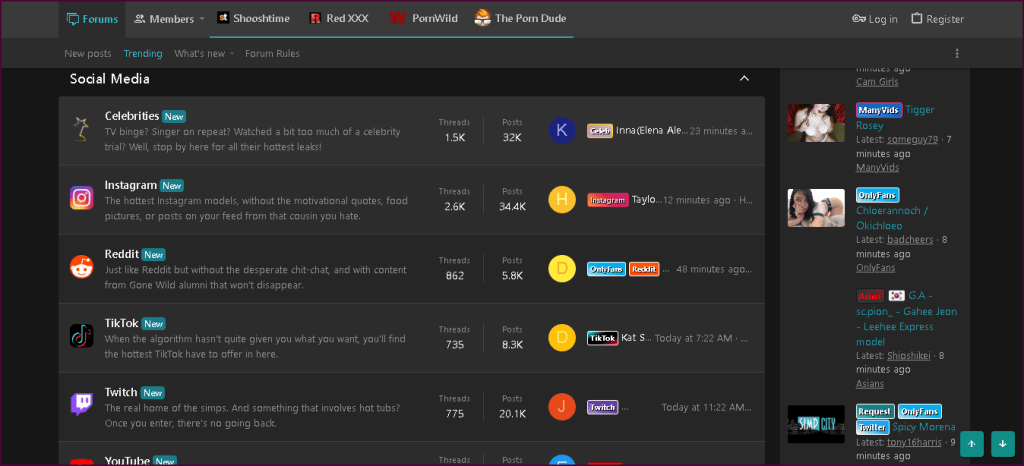 SimpCity is a virtual showstopper in the porn forum field, thanks to its incredible quality of user-friendliness, which may also have contributed to the site's unexpected and swift boom. It features many information, links, photos, and videos from different sources. Currently, the site boasts 1.7M+ members and hopes to expand more in the following months or years.
Click here for a full review of SimpCity.
PROS:
Thriving and active community
Variety of topics and content
High-definition videos and reliable links
Top-quality internet models and pornstars
Easy registration process
CONS:
The site doesn't host any content
Some forums require registration to access
---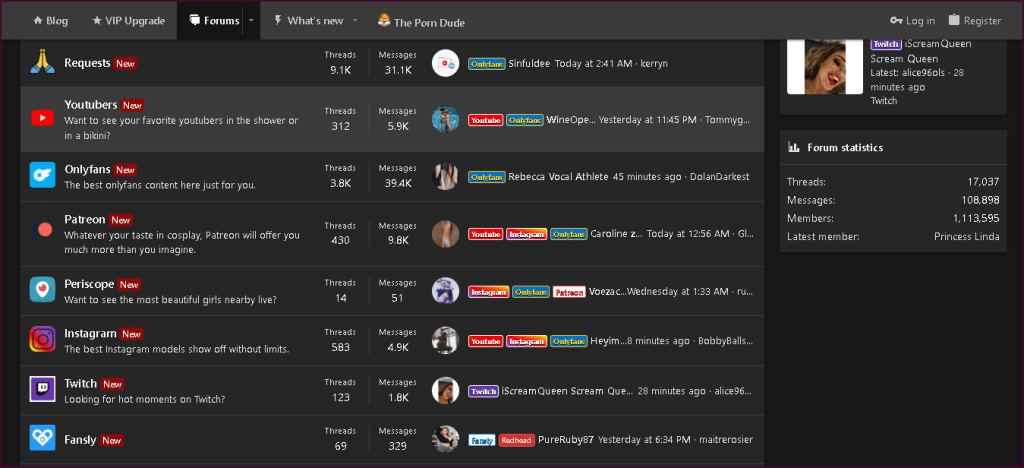 LeakEmUp Forum features a wide variety of explicit material, including scandals, updates, and leaks from numerous online celebrities. It has collected around 15K+ threads and 75K+ messages. All of these are accessible for free, and the numbers keep growing. Despite being outdated and out of trend, you can still whack off to some sizzling porn, just like every friggin of adult entertainment website you regularly visit.
PROS:
Around 700K+ members and counting
Free to use
Collection of different social media networks
Can request pictures, videos, or links
Regular updates
Lots of forums available
CONS:
Some subforums are not updating daily
---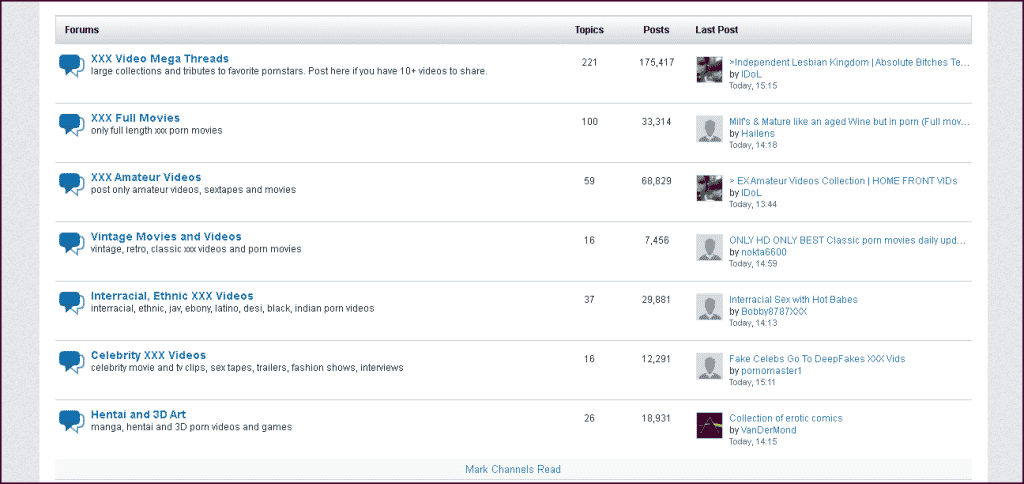 X-Forum is a simple porn forum site where people from different parts of the world get together and discuss or share porn. Despite being less well-known, it still has millions of threads available, and numerous messages have been made. Also, X-Forum not only focuses on porn but also incorporates other mainstream adult entertainment like nude celebrities, fappening, BDSM, fetishes, and more. And that's one thing that makes this community board different.
Click to see the full review of X-Forum.
PROS:
Lots of subforums and threads
Active community members
Thousands of topics
Countless messages are shared daily
Extensive collection
Free to use
Can upload personal collection
CONS:
Some forums have stopped updating
Unsecured website
---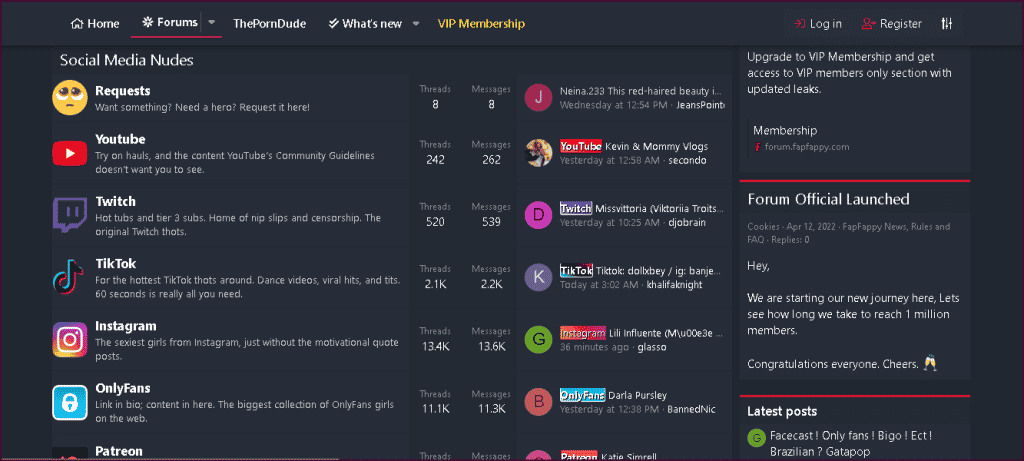 FapFappy Forum has barely operated a few months since its public debut in April, but it's already a booming message board with unlimited leakages, selfies, and various XXX entertainment. It's also among the busiest forum sites and will continue to endure until no more cocks can jerk off. Sure, there are far better and more extensive porn forums online, but this one really steps up its game!
Check out the full review of FapFappy Forum.
PROS:
Regular updates
Active community
Features a variety of social media stars and content
Numerous forums and subforums
CONS:
Some contents are for VIPs only
---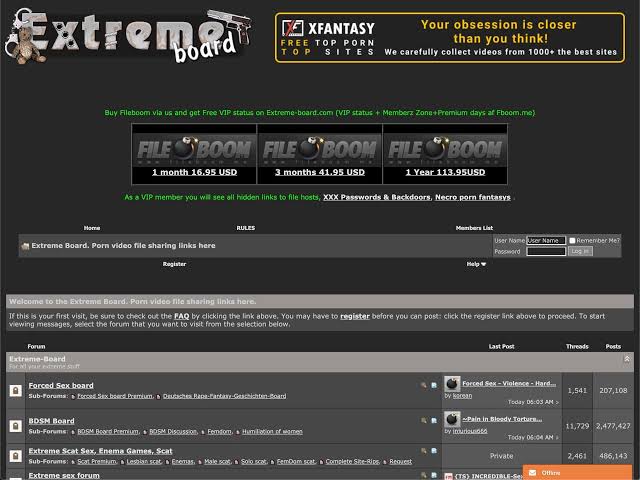 Some people enjoy visiting extreme sites on the internet. And since the world wide web has tremendous potential risks of landing on the scammy website, I recommend something that might be helpful — ExtremeBoard. It's a forum appropriate for people looking for more severe forms of pornography. Currently, the total number of postings on ExtremeBoard has reached 6M+, and there are 50K+ different threads in which the content is laid together.
PROS:
Plenty of postings
Updates regularly
Amazing subforums available
CONS:
Advertisements are available
Basic design
---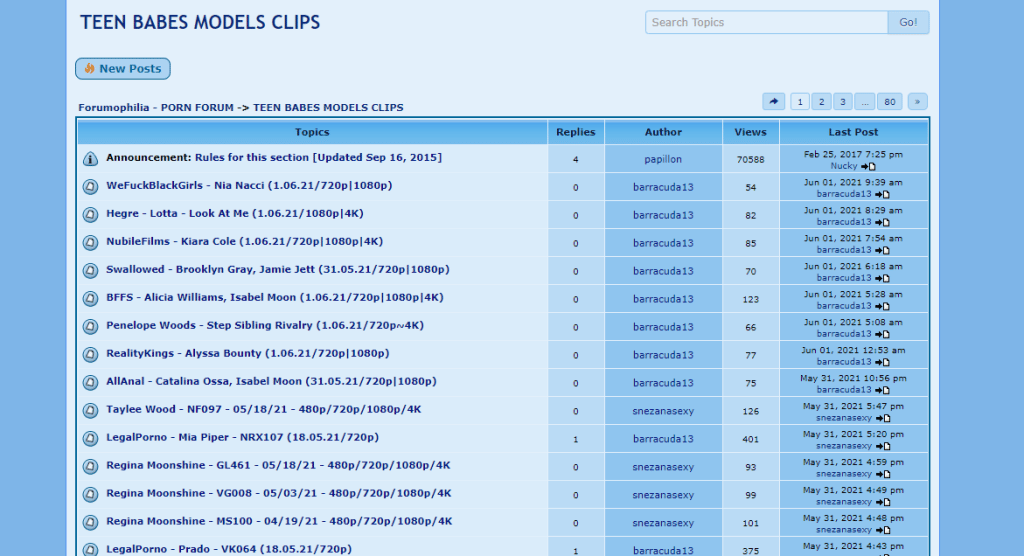 Have you reached the limit of switching from one porn forum to another to find various topics you like? Don't you ever wish you could simply enjoy a website's content without changing annoyingly? But thanks to ForumOphilia, I couldn't be careless anymore! Forumophilia has been my beloved porn forum for my most favorite hardcore porn. I won't be surprised if some porn fans love it too.
Ahh, ForumOphilia! What a fantastic title to name an equally excellent porn forum site. Generally, ForumOphilia is a top spot to find free adult materials and top-notch sexual content. One of the most impressive features that this website has ever done is its frequent updates. Every forum has regular posts and is filled with an active community. Indeed, it is unique that we rarely see porn forum websites.
Adult contents here typically provide you with teen hotties pictures and videos, celebs, models, entertainment, movies, most popular pornstars, and so much more. Since 2005, the year it started giving quality services, ForumOphilia has obviously not updated its visual interface. Despite it all, sustaining and thriving this long is such an impressive achievement. It's easy to say that we must be doing things right from the beginning to maintain such a good reputation.
Here's a full Forumophilia review.
PROS:
Loaded with experience for more than a decade
Simple browsing, easy to use, and well-suited on any mobile devices
It has different and unique sections, offering various services
No advertisements and distracting pop-ups
Plenty of images and videos in different categories
CONS:
The design is basic and outdated
---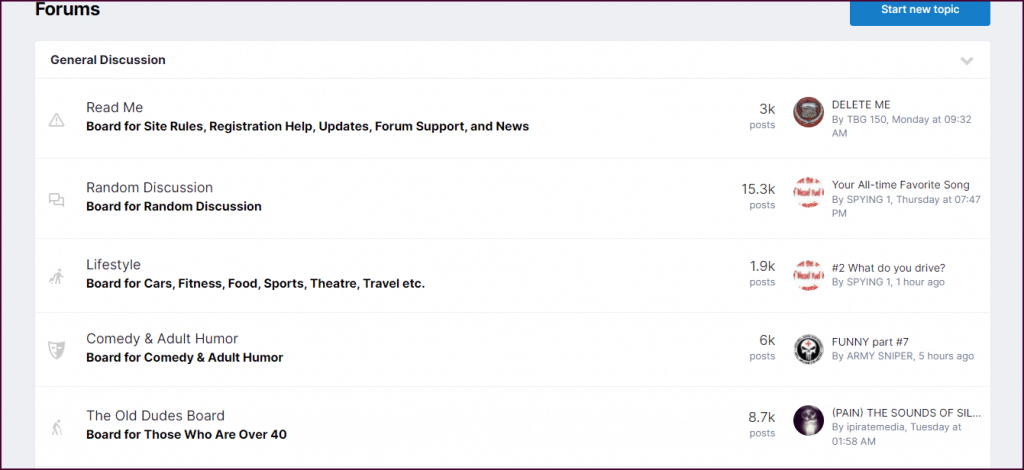 If you're a fan of all kinds of sexually explicit material, it's not a surprise that CamCaps will be your go-to destination soon. Overall, everything seems excellent here, but I'm not blown away by its materials. Sure, there are many niche boards and discussions that exist, but most of them focus on simple ol' bland sexual pleasure. There are hardcore cam videos too, but people may feel it drab and dreary at some point once they find vanilla-type pics and vids.
PROS:
Amazing niche
Top-notch content
Forums are fantastic
It has several exclusive contents
Organized posts
CONS:
Few broken links
Annoying ads
Redirect links
---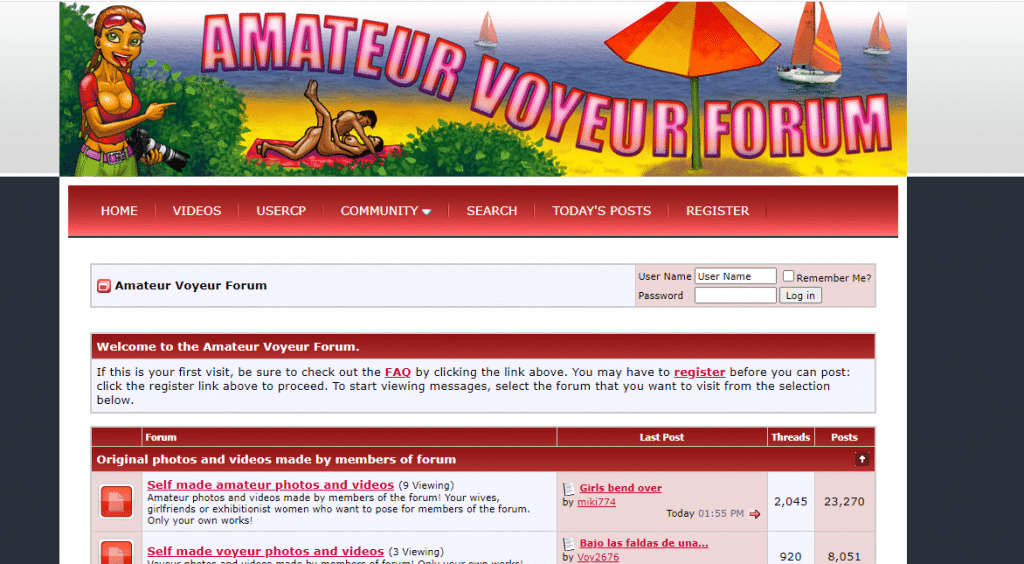 If we are talking about a porn forum, there's always that website that comes to mind instantly —AmateurVoyeurForum. If you are a massive fan of voyeuristic porn, then this should be your delightful sanctuary. It has thousands of members and is constantly updating its contents. Right now, it has over 800k posts, and more and more people are popping in the site to enjoy voyeur content.
PROS:
Easy downloading of images and videos
Exclusive images for the exhibitionist and voyeuristic fans
Members make updates regularly
CONS:
Annoying advertisements
Many videos from YouTube are in private mode
---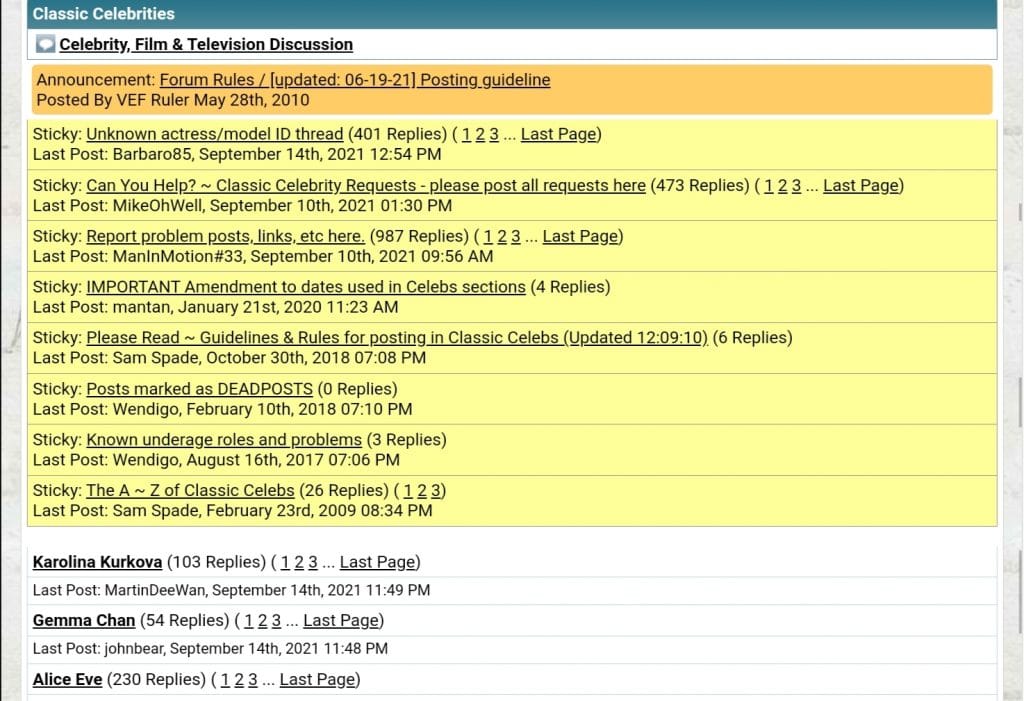 Ahh, yes, vintage. Nothing is ever remarkable than excellent old classics. Sure, the Internet has plenty of porn lurking around. In fact, they are easy to find if you're just smart enough. But the best vintage and classic content are never to enjoy. Good thing there is VintageEroticaForums where you can relax and enjoy some fun vintage movies, pictures, and just about anything.
Click to see the full VintageEroticaForums review.
PROS:
Plenty of active threads
active userbase
there are plenty of vintage porn everywhere you click
no mobile application is available
CONS:
some ads and annoying pop-ups
---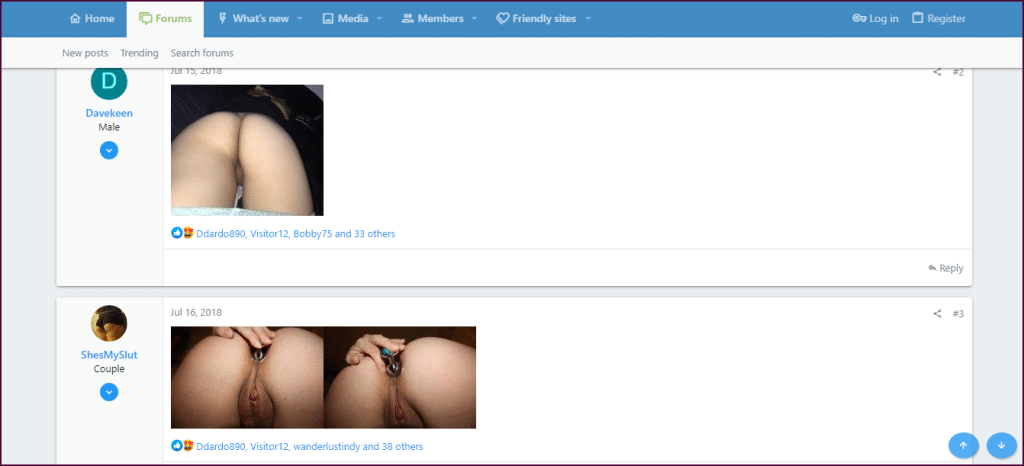 WifeWantsToPlay forum is a great site that serves what it's meant to do —cuckold. This online cuckold community has been around for years, giving everyone an open, non-judgmental venue to share, discuss, and talk about the cuckold lifestyle. Every day, the site gains thousands of unique visitors, and many of them are regular users already.
Learn more about WifeWantsToPlay with this full review.
PROS:
Lots of forums and subforums available
Free to use
Active members
Lots of users daily
Easy to understand design and usability
CONS:
Some trolls
Limited to cuckold only
---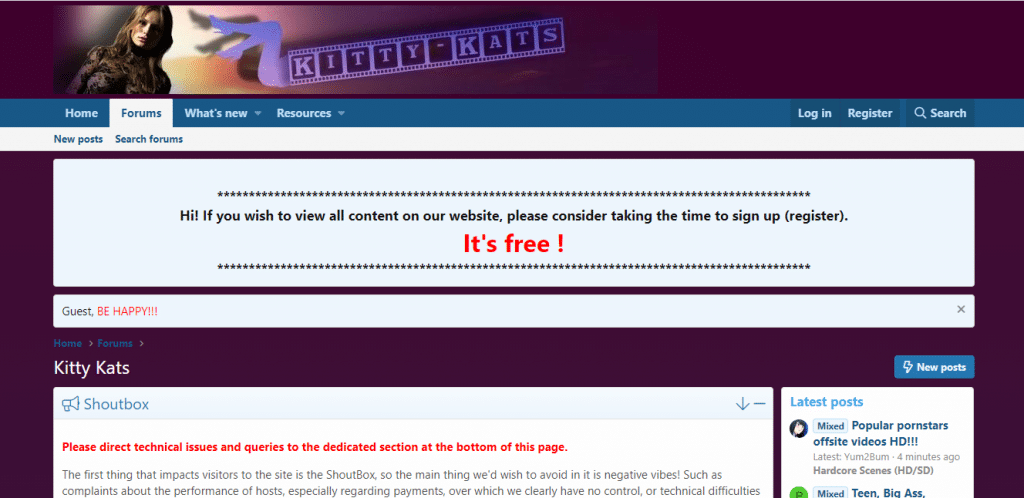 There are no cats on the porn website Kitty-Kats.net, but there are many pussy. Indeed, members can discuss and share various images and videos, ranging from newbies and cam girls to porn stars and premium site explicit material. Online models, Asian porn, naked glamour models, webcam girls, mature women, big boob models, XXL girls, vintage porn, amateurs, shemales, and all kinds of fetishes are covered in the topics of the forum.
Check out the full review of Kitty-Kats.
PROS:
Free access to premium galleries and videos
Contents are amateur and webcam sessions
Neat and organized forum
Downloadable links are plenty
Variety of contents in excellent quality
Supports mobile browsing
CONS:
Content hosted on file-sharing sites
---
Bottomline
So, there you have it – LoversLab is the ultimate playground for the horny gamers among us. Whether your Sims are screaming for more curves or you're craving some seriously kinky virtual action, this site's got your back. It's like the Willy Wonka factory of adult gaming mods – every fantasy and desire can be turned into a digital reality here.
It's not just about mods. It's an array of discussions, debates, and, let's face it, some pretty hot and heavy confessions. If you want to chat about your latest gaming conquests, share your dirtiest stories, or engage in wild forum games that would make your grandma blush, this place is the ultimate destination.
Certainly, this isn't just a forum; it's a steamy digital wonderland where desires come to life, and conversations get saucier than a hot plate of pasta. So, head over to LoversLab, indulge in some naughty mods, and become part of a community as open as your browser tabs. Trust me, there's no better place to blend your love for gaming, fantasies, and a healthy dose of digital debauchery.
All 46 Other Sites in This Category Worth Checking Out:
LoversLab & 12 Must-Visit Porn Forum Sites Like LoversLab.com Show Me 12 Alternatives for LoversLab.com Alright, fellow gamers, gather 'round. Do you know what's the real deal when it comes to PC gaming? No, it's not the jaw-dropping graphics or the heart-pounding narratives. And it sure ain't the price tag of your high-end gaming rig that […]