Updated on: December 5th, 2023
KPornPub
& TOP-12 Premium Asian Porn Sites Like kpornpub.com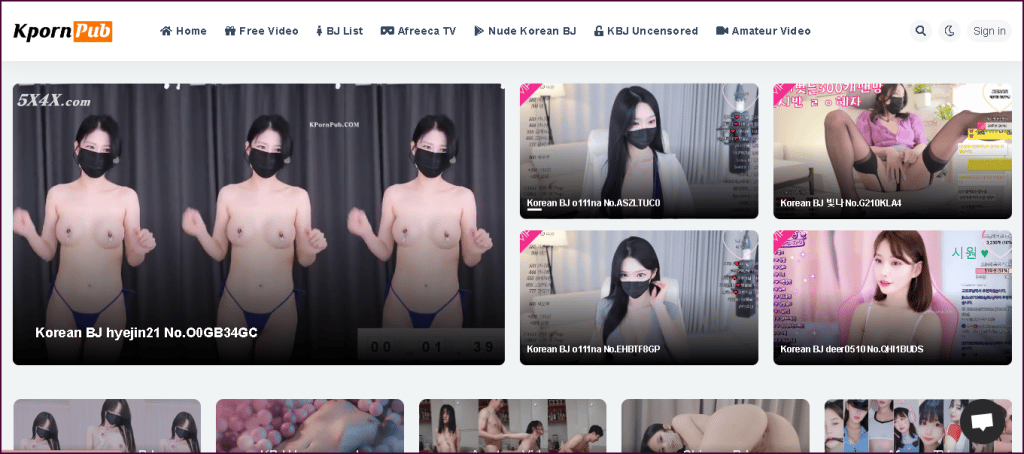 Recently, I have been experiencing "yellow" fever symptoms and searching for a remedy or medication; I have a hunch I'll discover what I need at this Korean porn hub. KPornPub? Hmmm, it sounds like a K-pop blend with porn. At a first stop, I thought this site was jam-packed with K-pop stars doing filthy stuff behind the camera. Technically, the site's domain name speaks a thousand clues, and you don't need to be a super sleuth to figure out that KPornPub is a deluxe adult entertainment website selling a shitload of all-Korean sex videos.
Official URL: https://kpornpub.com
As you know, Korean porno is still extremely uncommon in the adult entertainment industry. Even Dudethrill's lengthy Asian porn list has few Korean ones. But since I enjoy every variety of Asian delicacies, I think we should check out KPornPub and discover what type of KPorn they have to provide.
Peeking Inside KPornPub Site
I'm sure many of you have favorite kpop stars, especially since they are the rising celebrities of today's generation. For once or twice in my life, I've wondered what would these innocent-looking personalities got under the blanket. That definitely ignited my curiosity, so I thought KPornPub would fulfill it. Definitely, I was right!
But before reading the reviews, I already assumed KPornPub was no different from any similar online Asian channel. It looks decent, with its homepage dominated with previews of videos of scantily-clad Korean women. Well, this is an understandable oversight given that a shitload of Asian porn sites has this same stark white aesthetic.
I have to mention too that KPornPub is a premium Asian site, so you may need to invest a little money to get exclusive access. Personally, I think that's pretty normal. Nowadays, it's difficult to come across a premium porn hub that still offers free content, and when you do, you'll likely have to browse elsewhere to get a quick glimpse.
Anyhow, I realized that KPornPub was among those paid sites when I started to play a cam strip show video prominently displayed on the homepage. Suddenly, there was a pop-up message that forced you to subscribe to its VIP subscription and access the whole collection. Luckily, KPornPub is not exactly a typical premium porn hub online that restricts your streaming access completely. Instead, it will give you an entire area with free sex movies. While the total number of movies in that category is around 20+, it's more than you'll find on many of KPornPub's rivals' websites. Definitely, this is an offer I cannot refuse!
What to Expect from Here?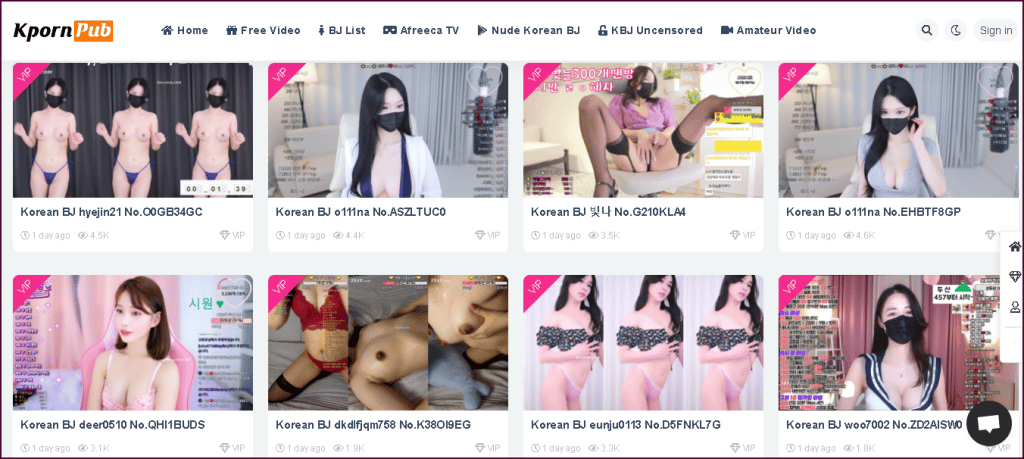 There seems to be a serious emphasis on BJs across the KPornPub page, and that trend continues in the freemium section. For instance, I found this charming 15-minute film with a hot Korean girl dressed just in her undies. She was bouncing up and down, and her small titties were an awesome view. After a few moments, she pulls away from the cameraman, starts locking her lips over something, and begins slurping. It was totally mind-blowing!
Also, while browsing the public content on KPornPub, I came across another private cam session where the hot girl was riding a huge sex robot. But this time, the girl was not eating any cocks, so perhaps I'm beginning to doubt that this site is not all about BJs. There are several videos with a blowjob in the video headline; however, they are entirely solo performances available in the "Free" area of KPornPub.
While this probably won't turn off fans of Asian porno, it might be a deal breaker for anyone who likes blowjobs. If you enjoy watching Asian ladies enjoy themselves sexually on cam, these free videos will be just right for you. In many ways, these videos resemble Korean OnlyFans rather than Korean Brazzers, as they are amateur productions with a focus on a single beautiful woman. But always watch out for unexpected twists and turns these videos can give you. It will totally be one heck of a ride and rock you to the core!
Users Easily Get Hooked Up With KPornPub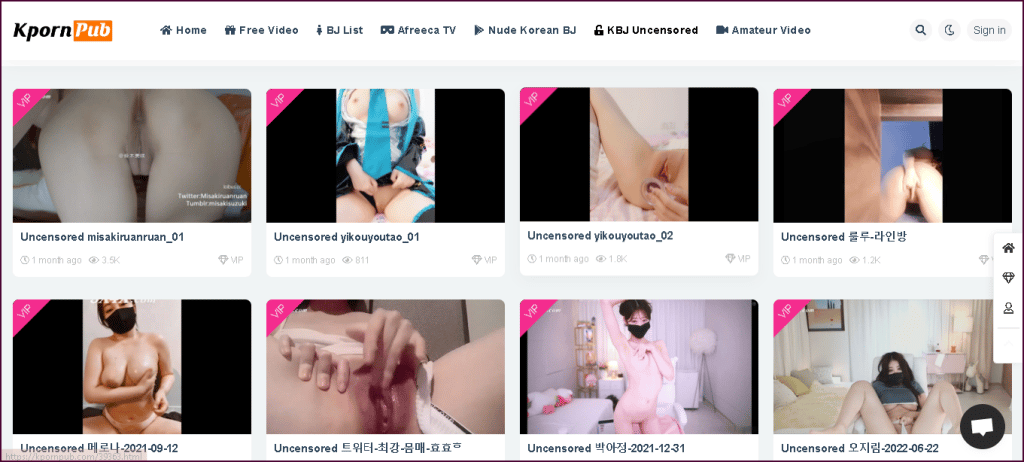 There are numerous amazing benefits to becoming a KPornPub.com Premium subscriber, and the registration website is doing a fantastic job of promoting them and convincing potential customers to join. First of all, there are more than 10K+ videos in the entire database, and those initial video giveaways just scratched the surface. The subscription includes access to several distinct channels, including KBJUncensored, AfreecaTV, and NudeKoreanBJ.
Additionally, they are consistently releasing an insane number of clips. As a matter of fact, forty new films are added to AfreecaTV weekly, with an additional ten to twenty-five added to the NudeKoreanBJ area every single day. This expansion is comparable to YouTube, except it involves high-quality, feature-length Korean films. Certainly, KPornPub easily surpasses my other $30-premium porn subscription benchmark of a single upgrade every week without even coming close to the cost.
Moreover, KPornPub sticks to the tried-and-true method of providing downloads. All the members can download as many Korean videos as they desire. Honestly, the subscription package is already an incredible bargain for me, even without the option to download anything. But obviously, KPornPub wants to take the Korean experience to another level. For the amount of a month's membership, you could download unlimited gigabytes of material to entertain you while it lasts.
The VIP Lounge Area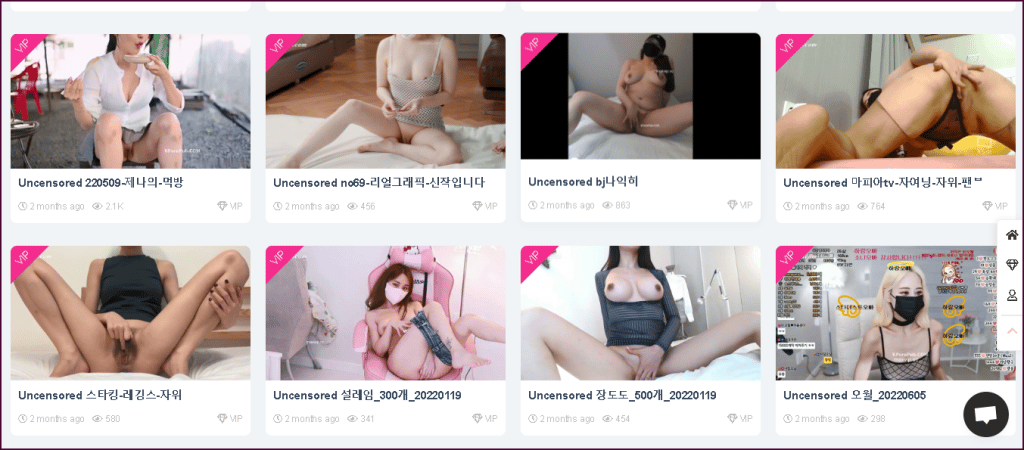 After registering and signing in, I felt a sudden rush to check out the site's premium content (namely, the material that isn't available in the "Free" area). Even though no real oral action was shown in the previews, the featured sites seemed amazing and showed many promising scenes.
To satisfy my curiosity, I checked out 200+ home movies in the "Amateur Video" category. There I discovered a beautiful Korean woman hiding behind a disguise, sucking on some bastard's weiner. Six minutes into the movie, the cute girl is already kneeling, exposing a lad's beast and instantly treating herself a lick. Like the name and branding suggest, this video comes straight from OnlyFans. Still, contrary to most content presented online nowadays, this was taken by a real-life videographer rather than an amateur setting up the cameras on a nightstand.
Homemade and Amateur Videos of KPornPub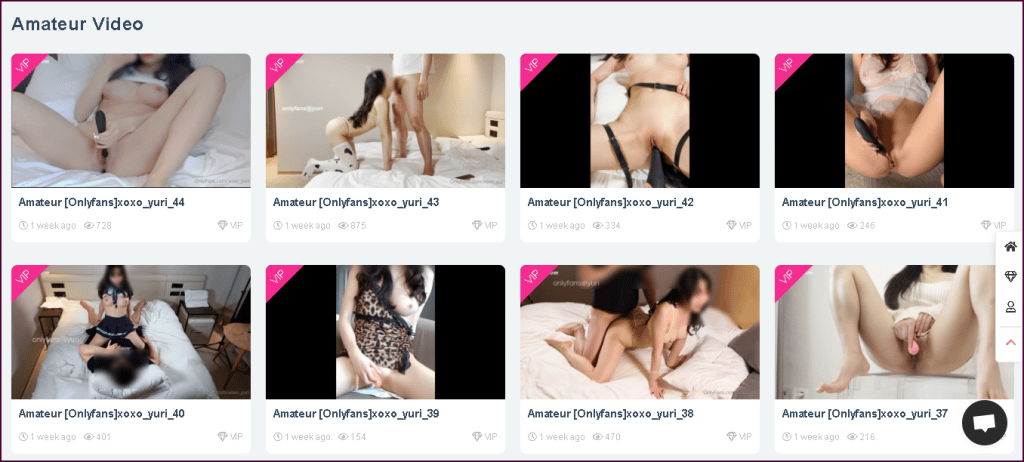 Trust me; you won't find a finer and more interesting representation of homemade Asian porno than KPornPub. It has the unfiltered sensuality and sexual drive of an amateur adult entertainment action; however, the production values are likely a cut above the typical 25-second hand job videos popular all over the internet. However, you can get a sense of the remainder of the website by checking out the previews. And you can get the nature of the website through the remaining content in the preview area.
Sure, KPornPub features a few oddities, and the most prominent among them is its extremely offbeat concept of "BJ." It appears that the site is labeling each and every one of its videos a BJ title, regardless of whether it features any form of oral play. Anyhow, if you manage to get past the odd branding, KPornPub will offer you an unparalleled selection of Korean erotica at a rate you won't find somewhere else. In exchange for a little fee, you can get the hookup of a lifetime over here. That's probably why I'm not pretty convinced that the freebie stuff is what brings the customers to this site.
Premium Seat for Affordable Price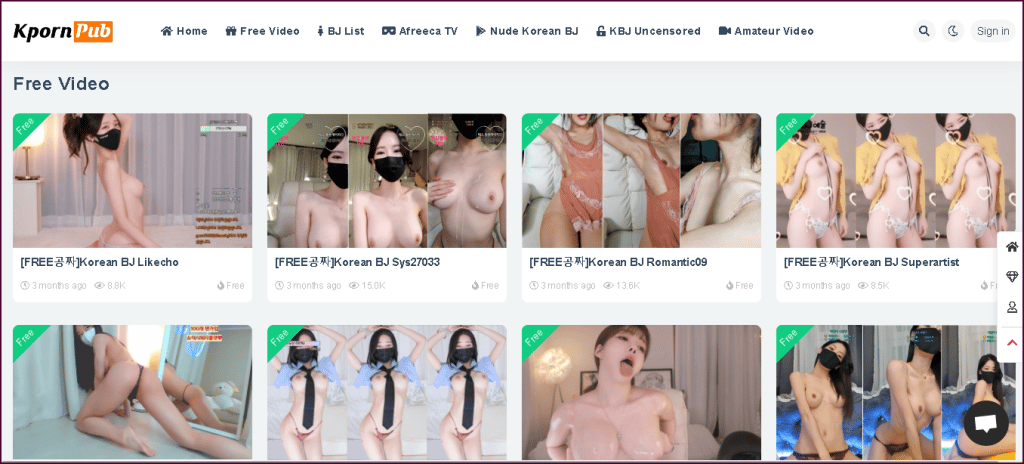 Truth be told, I thought that KPornPub was somewhat edgier and a bit more extreme than anything I've seen online. If you scroll its homepage, there are tons of homemade clips featuring cock-stroking scenes, Bjs, POV, anal/pussy licking, and vanilla smut. Although the selection is focused on solo performances, KPornPub offers a decent selection of homemade Korean porno we can all indulge in. Everything's all right here, but of course, deep down, I just hope they should make some effort with the video labeling. That would probably make it much simpler to get whatever you're searching for in one click.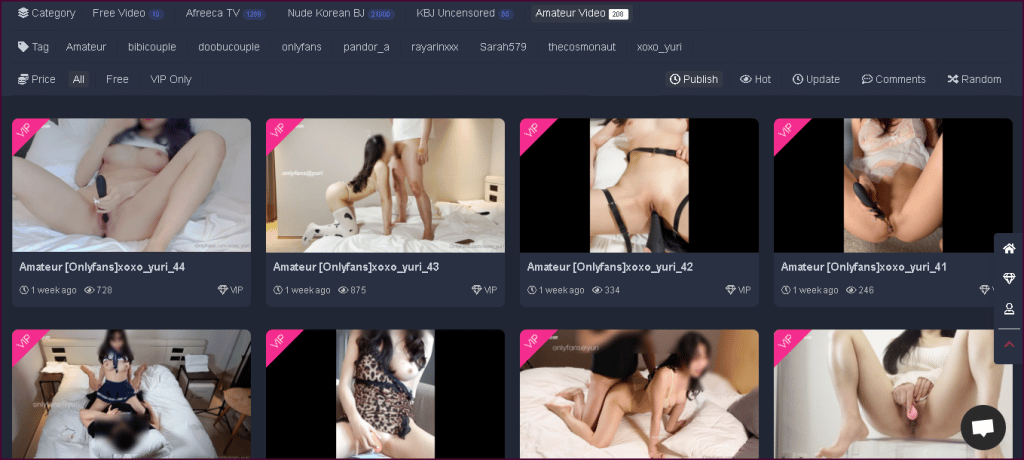 There was nothing in the "Free" area that would satisfy my need to bust a nut, so I had to pay up some cash for the entire production. But honestly, it's not the whole collection that makes this site amazing; the real kicker is membership prices. In comparison to other Asian premium sites, KPornPub is dirt cheap. Generally, the standard rate for an American porn hub is around $30 monthly. Due to in-demand availability and competition, Asian-themed adult sites are frequently more expensive than their Western counterparts. Obviously, I thought it would cost a good fortune to be here, but the regular charge is only ten dollars a month, which is far cheaper than I expected. Not to mention, subscriptions for extended durations are more cost-effective, with a yearlong plan costing less than eighty bucks.
Pros and Cons of KPornPub
PROS:
Premium content
Exclusive Asian and Korean entertainment
Some videos are free
Membership is affordable
Weekly updates
Downloading is available
Plenty of videos and pictures
CONS:
Some videos with BJ titles but don't have BJ scenes
---
TOP-12 Premium Asian Porn Sites Similar to kpornpub.com: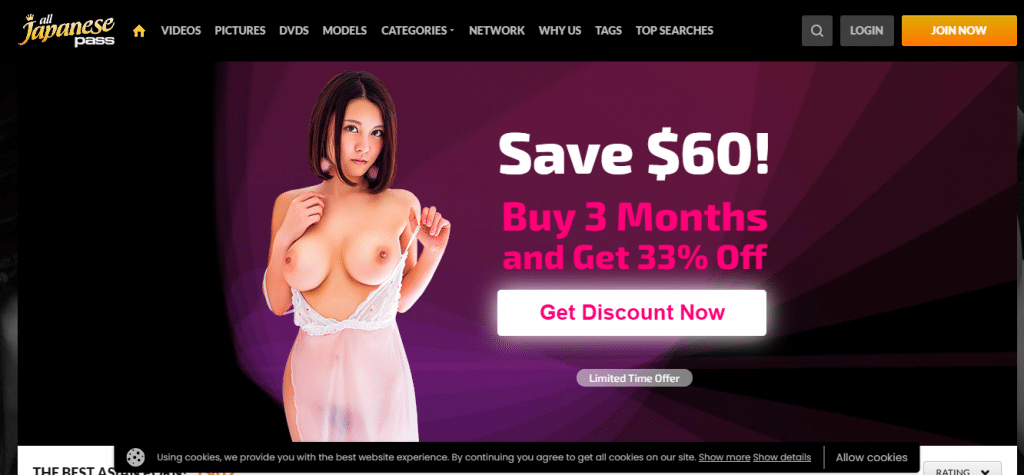 As we all know, no other girls can fulfill your luscious desires but Japanese and Asian pornstars. There's constantly a touch in them that makes you yearn and crave for more. Good thing AllJapanesePass has exclusive content for you all — giving everyone the pleasure they deserve. AllJapanesePass provides Japan's most acceptable homegrown erotica right to your doorstep with the most extensive compilation of authentic Japanese smut globally. As of this moment, the collection of AllJapanesePass has reached over 5K+ videos. All of these videos run like a movie-length.
Here's the full review of AllJapanesePass.
PROS:
Japanese porn exclusive
Updates regularly
It has multiple bonus porn sites
CONS:
Information about the model are limited
Descriptions regarding the scenes of the video are not available
---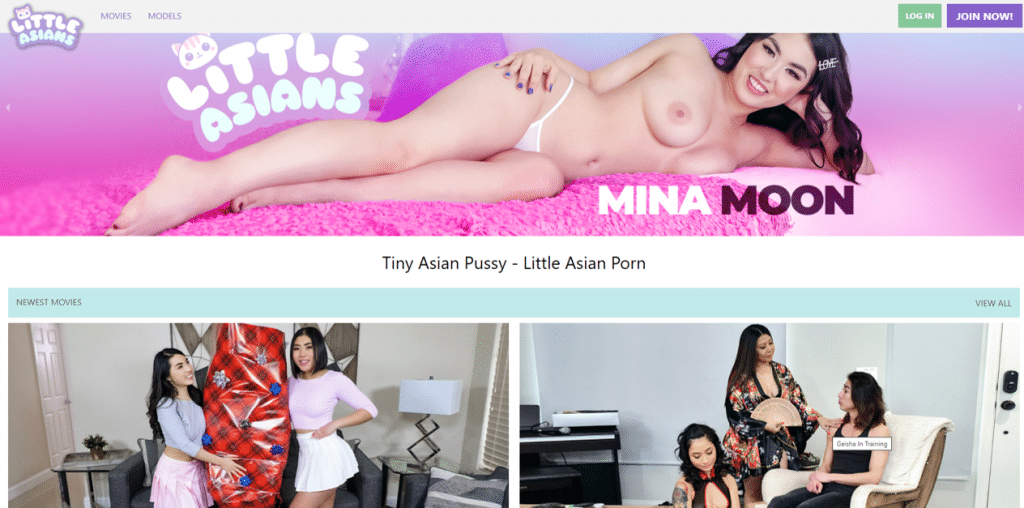 LittleAsians is an Asian porno destination that offers unique babes and addicting scenes. They star legit Asian chicks that are exclusively working just for the site. You won't find these girls on other porn sites, so I'm pretty sure you'll enjoy the exclusivity of LittleAsians. It has a free streaming service but does not offer a download option.
Click here for a full review of LittleAsians .
PROS:
All uncensored content
It has available previews
Amazing category choices
CONS:
Cannot download
No comment feature
---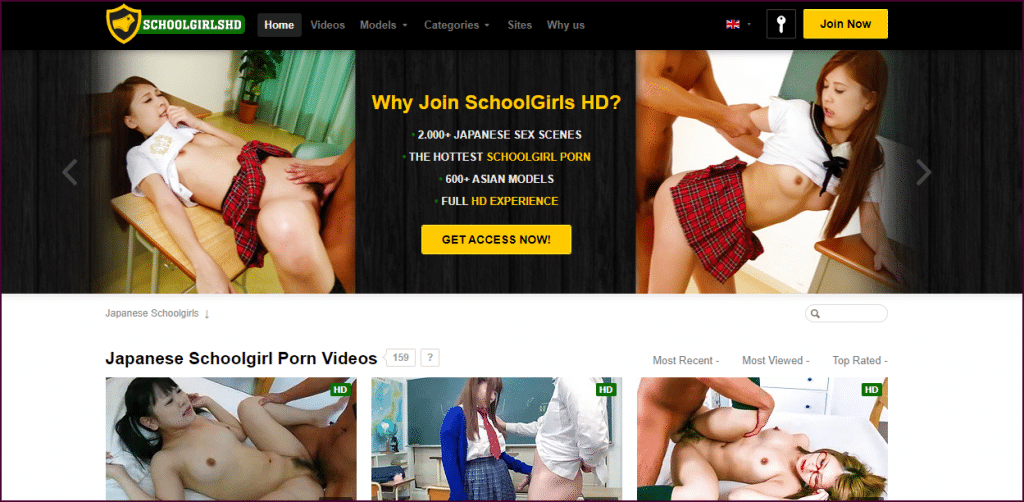 This site will let you enjoy young faces enjoying deep-throat sex. I am delighted with the beauty this site offers. They are flawless, petite, and do not feel shy while undressing. Honestly, this website provides hardcore content. The collection of high-definition porn videos made this platform even famous. The site has an impressive array of HD quality porn videos; you can download videos; the site is accessible in mobile version; all the content here at SchoolGirlsHD is uncensored. You will be satisfied with scenes like fingering and girls screaming in excitement. Aside from the videos, patrons can also stimulate themselves with the number of sexy pictures available.
PROS:
Accessible in mobile version
Contents are uncensored
High-Quality Videos
Simple website design
Easy to navigate and user friendly
Videos have a corresponding caption
CONS:
---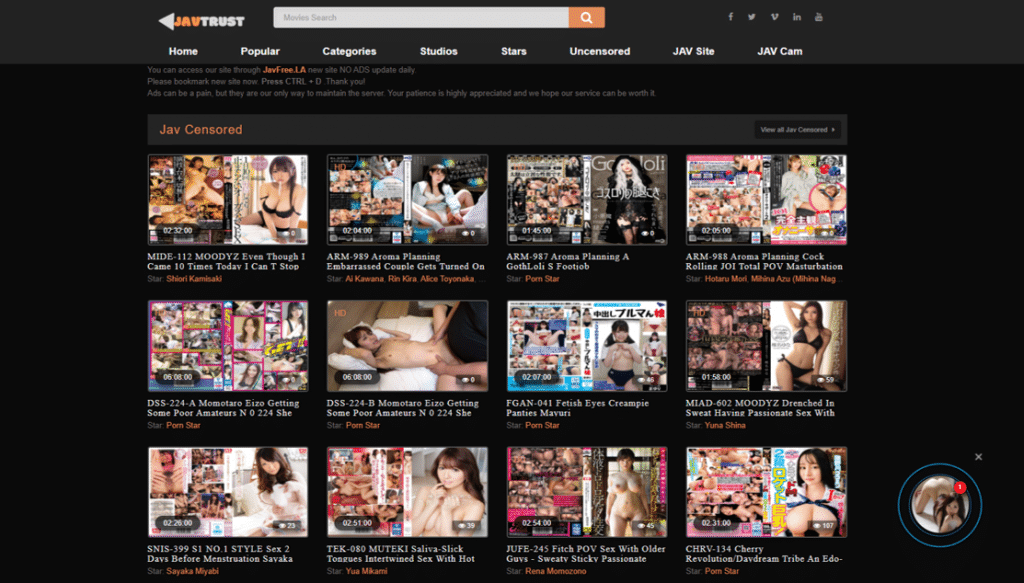 Do you love to jerk on Asian hot babes? Indeed, you are entirely not alone. As they say, Japanese women are the most attractive and daring around the planet. This claim, I guess, became why many porn addicts stream and browse Asian sites with so much interest. One of the Asian sites that caught my attention is JavFinder. JAV, also known as Japanese Adult Videos Finder, favors some of the greatest and best pornography available. You will adore the ladies with their faces, smiles, and seductive moans.
Here on this site, you will experience some of the most stunning Asian women. Hot nude ladies yearn to be seen by your gaze. So why not we give our attention to them? Perhaps it will be worth it for they have some filtered material, but the majority is unfiltered. Indeed, JavFinder is a free porn site where you can view full-length Japanese porn videos in up to full HD resolution, both filtered and uncensored. In addition, they provide a variety of categories to assist you in locating what you're searching for.
Click to see the full review of JavFinder.
PROS:
Full-length videos
A vast library of pornstars and niches
Free and no account needed
High definition videos
Uncensored JAV
Accessible and labeled correctly videos
Fast streaming
CONS:
Too many ads
Annoying pop-ups
Difficulty downloading videos
The mobile platform needs improvement
---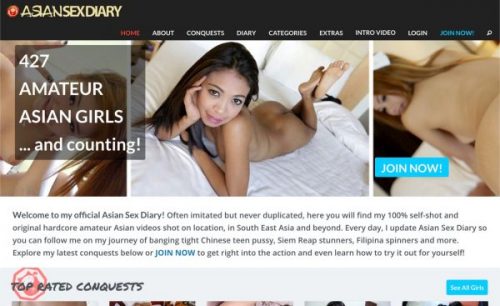 AsianSexDiary's material is 100% unique, amateur, and Asian. Everyone on set is an Asian woman; all the shooting is done by John —a white guy who visits Asia to find nude models and slutty hookers. Indeed, the combination of travel diary, journal, and conquests on this website drew me in.
While he enjoys travel, he also likes to seduce pretty Asian women in every place he visits. He probably meets some online and clubs, then takes them back to his hotel and records them as they serve his cock to their pussies. Later, he then posts his recordings to his users' section on a routine basis. I was impressed with the value, too; it was great to get exclusive content at this price.
With his previous online site of FilipinaSexDiary, John Tron took a new path when he introduced his first site about a year ago. Users were able to see new sex from the Philippines mostly every day for about one year. There is nothing left to prove that John had accomplished his goal of building a comprehensive collection of exotic videos and has produced some more elaborate projects in these locations. Since he travels worldwide, he now has a website reflecting his many adventures in the Southeast and Asian countries.
Check out the full review of AsianSexDiary.
PROS:
Updates content regularly
Community is active and huge
It has a rewards program for the loyal members
Content is high-quality and exclusive
Supports mobile browsing
Pure amateur content
Thousands of videos and image galleries are available
CONS:
No option to download videos and images
---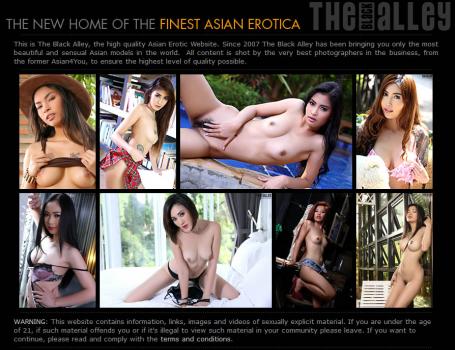 When we first saw the title, we assumed it was an ebony-exclusive platform that features videos and photos of Asian models in sexual situations with solo or even partnered toy play. Still, it turns out it's a higher-priced site with models that go on the sites and pose. The Black Alley has over 5,000 high-resolution image sets and more than 1,098 videos available. Indeed, the TheBlackAlley website is for you if you enjoy watching and seeing exotic Asian beauties posing in sexy dresses, erotic stripping, and masturbating.
PROS:
Plenty of contents are exclusive
Updates regularly
Supports mobile browsing
CONS:
Some issues when navigating the site
Streaming videos is not possible
---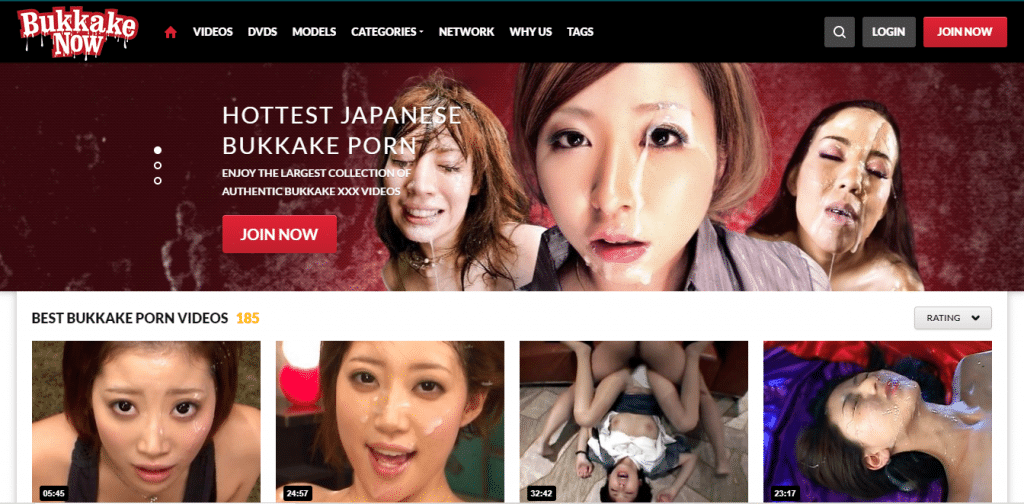 Bukkake Now is a Japanese porn website that uses the concept of Bukkake as its primary content. In fact, Bukkake is a sexual term that originally came from Japan. So, expect to see the hottest Asian chicks covered with loads of ejaculation. Indeed, all these Japanese cuties take "Bukkake" to a different kind of level.
Here's a full BukkakeNow review.
PROS:
Amazing bukkake scenes and activities
It has daily updates
CONS:
The trial has a limited period
Scenes have no description
---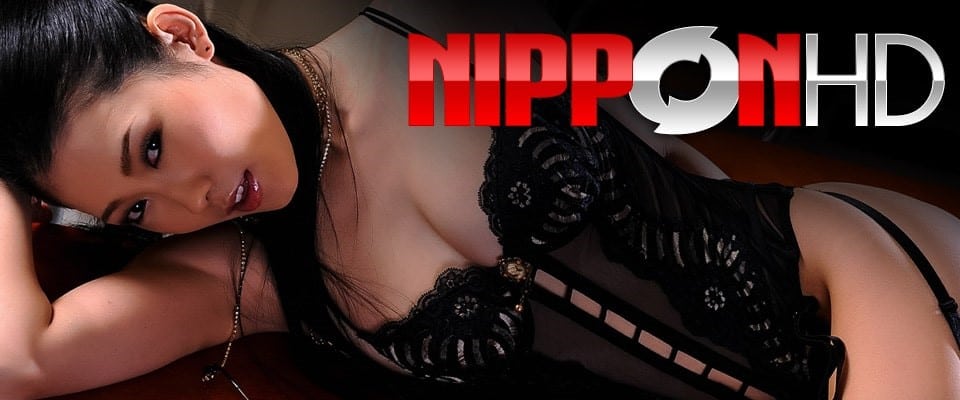 Nippon HD has the highest quality pornographic material that you can enjoy watching. The website is aware of what a person desires. As a result, it provides the highest quality sexual content, which you might have considered trying in real life as well. The website features uncensored pornographic material.
Furthermore, Nippon HD has videos in gangbang, hardcore, creampie, blowjob, teen porn, and other genres. The platform also features completely uncensored pornographic material. In addition, some of Nippon HD's blowjobs scenes are particularly intense, and the site's models are beautiful.
PROS:
Wide selection of materials and content
High-definition videos
Accessible and easy to navigate website
Uncensored pornographic materials
CONS:
The site displays poor thumbnails
---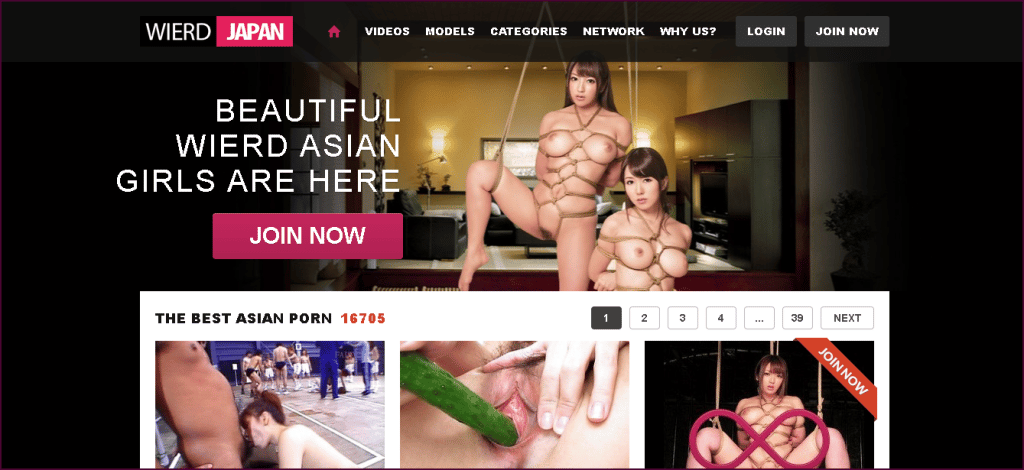 As soon as you've experienced traditional Japanese porn, you'll be struck by the sheer bizarreness of WierdJapan's content. This website features stunning Asian women showcasing their unique gifts. WierdJapan features some crazy Asian pornstar models who perform something unique yet exquisite wild things. These ladies are bound and being tormented as they get penetrated and toyed with. I've seen a video starring harsh prison officials undressing and cuffing gullible porn actresses as they erotically and violently punish them. There are plenty of storylines here and what you see in all these episodes is just the tip of the iceberg.
PROS:
Amazing videos
Some bonus websites
Intuitive browsing features
CONS:
Censored scenes
No available subtitles
---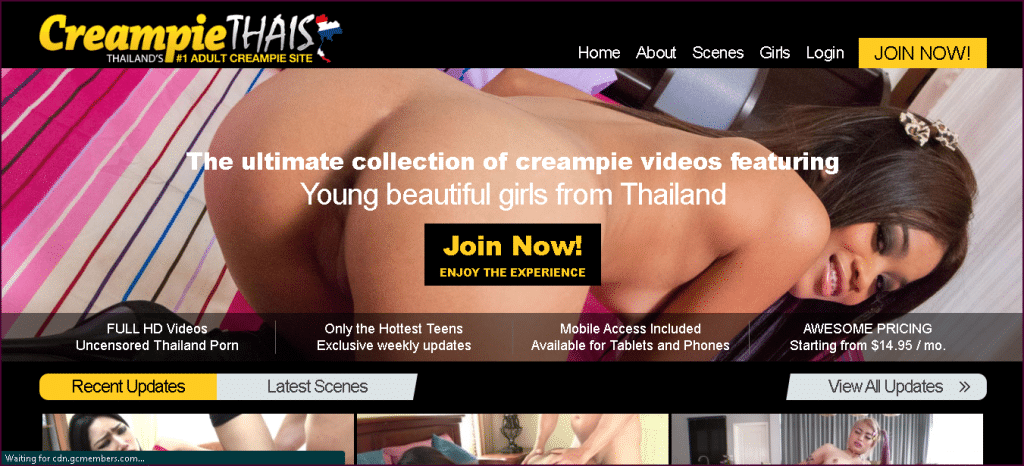 CreampieThais is an Asian porn site with unique twists and videos you rarely see on an adult entertainment platform. Certainly, CreampieThais lives up to its name and reputation because it never failed to produce fantastic hardcore pornos. But among other things, POV-recorded videos are what makes CreampieThais even more amazing. Every scene here is mainly shot from the dude's point of view, and you can freely experience the wild sex through his eyes.
Click to see the full Creampie Thais review.
PROS:
Authentic Thai girls
Easy to use website
Amazing features
Variety of content
Authentic and real-like POV scenes
Bonus sites
CONS:
---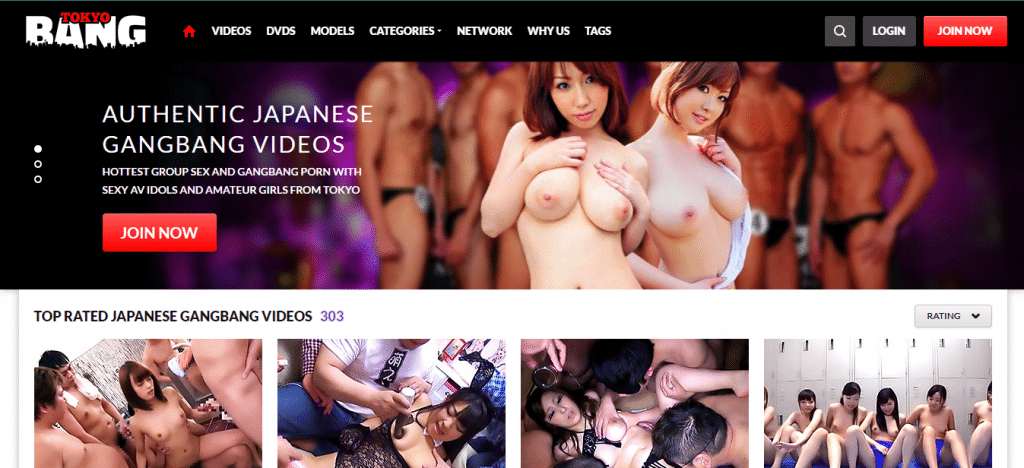 If you're interested in beautiful Asian whores who enjoy fucking and banging, visit TokyoBang and watch sexy fucking cunt movies. You'll certainly find hundreds of stunning beauties and wildflowers expecting to connect, embrace, and have sex with you foolish on this page. There's no argument that TokyoBang is indeed an extraordinary Japanese woman-craving-hard-stiff-dick realm.
Learn more about TokyoBang with this full review.
PROS:
Amazing content and videos
Several bonus websites
There are uncensored videos available
CONS:
No available subtitles
Content not exclusive
---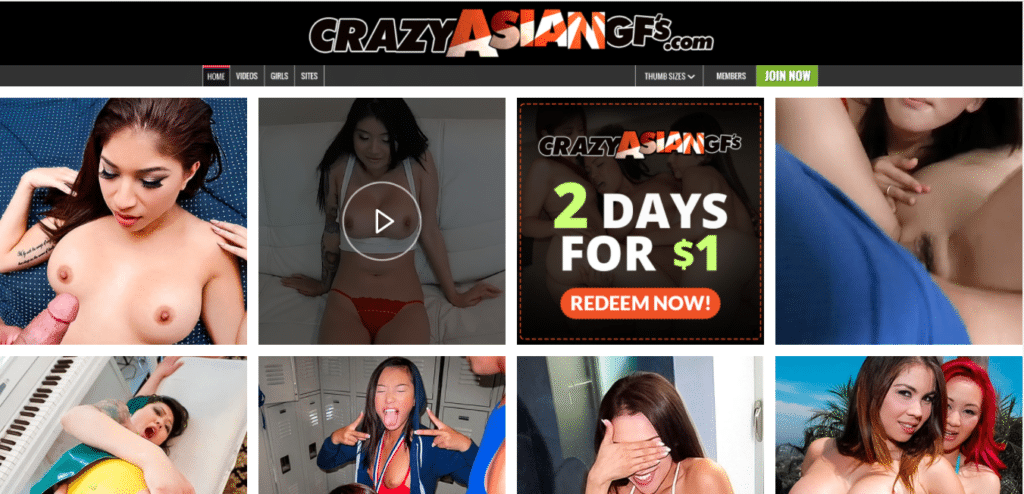 Are you looking for an incredible Asian porn action? Then undoubtedly, you will enjoy the CrazyAsianGFs website. It has plenty of amateur porn videos and photo galleries. Also, it has many categories to choose from, and surely you will enjoy some Asian chick doing naughty and dirty fun.
PROS:
Design and layout is simple and easy to use
High ratings among users
It has plenty of bonus contents
CONS:
It has no bonus website featured
---
Final Words
KPornPub is an absolute delight for all fans of Asia porn and Korean girls. It's jam-packed with sex and hardcore Korean entertainment that would keep you up all night. I know that Korean porn is highly in demand right now, and only a few sites offer quality and reliable service, so KPornPub is a heaven-sent jewel for all of us! Sure, it may require a premium subscription to access all the site's content, but with an affordable rate, you can enjoy jerking off without worrying about any budget. Plus, unlike other video porn hubs, KPornPub includes downloading feature in any subscription package you avail. What are you waiting for? Come and join the Korean trend and indulge in one heck of Asian porn entertainment!
All 67 Other Sites in This Category Worth Checking Out:
AV Jiali Review & 12 Must Visit Premium Asian Porn Sites Like AVJiali.com Show Me 12 Alternatives for AVJiali.com I am excited for AV Jiali as the vibe for Chinese porn is excruciatingly hot around it. Damn, you would want to experience these salivating pieces from a premium arena that houses horny Asian sluts and delightful […]