Updated on: October 2nd, 2022
Swingtowns
& 11 TOP Swinger Dating Sites Like Swingtowns.com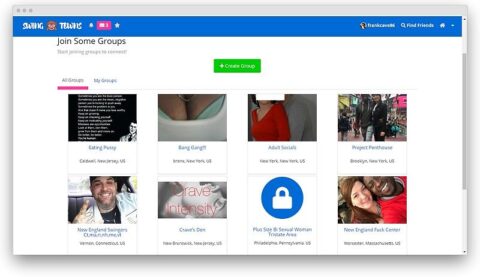 In terms of sex, several people might be familiar with the word swinging. Individuals who engaged in swinging usually cover both singles and committed relationships. Generally, this is done for a variety of reasons, either to increase sex quality and quantity or simply to spice things up in bed, rather than the traditional one. Reports say that it serves as a healthy outlet of sexual curiosity and strengthens relationship connections further.
Back in history, swingers were usually a confidential community and people meet up through the purchased dating magazines. Due to the technicalities of traditional swingers, meetings take a tremendous time of writing letters and mailing pictures before even meetings take place. However, in the current state, swingers are progressively invading the mainstream due to the convenience provided by the Internet.
Introducing… The SwingTowns!
Seeing numerous clubs, conventions, resorts, parties, and website intended for swingers, it is easy to say that they are indeed everywhere. Gradually, people are freely opening themselves to the lifestyle and giving a taste of it delicious delight. With just a few clicks, you can find thousands of websites for swingers. Additionally, users can even perform advance searching to narrow down specific matches of your preferences, either according to age, location, and many more.
While there is an increasing number of swingers right now, the main problem people are currently facing is the dilemma of whether online swinger dating sites on the Internet are genuine or just a bunch of scams. Good thing, there is one that has been in presence since the year 1999, the time when online swinger sites hit the jackpot and became a worldwide trend, so too was the SwingTowns.
Tracing back its history, the website began with a bulletin-board method platform that accommodates open-minded grown-ups a venue to gather, communicate, invite, and other pleasurable things. Presently, Swingtowns has become a rapidly thriving site with a large number of members. In here, you can meet all types of people and welcomes everyone freely.
Navigating The Site
It is evident how many sites on the internet today that gives false promises about the features and services it can provide. But don't be fooled. I know you're smarter than that. Consider signing up for the Swingtowns website that undoubtedly delivers exactly what you need.
To start, the unique look of the site creates a more sophisticated and trustworthy feel. It employs features that allow easy and convenient navigation. One does not require to have IT expertise or related skills to effortlessly browse the webpage. With a basic knowledge of internet exploration, you will surely arrange a hookup. On top of these, the SwingTowns utilizes two different ways to enjoy and appreciate the features. One is the free basic account, and the other is the premium account. The latter has better feature benefits.
Moreover, on the webpage, there is a section called "Action" wherein the interface has a similar appearance and functionality to a Facebook newsfeed. Members of the site post images and status updates, and one can see other member's updates when you follow them. There is a similar section that is intended to showcase trending posts within the site. The advanced filter feature of this section allows the member to narrow down posts within a nearby location.
As I navigate through the site, there are numerous options that people can enjoy, including Polyamory Finder and Threesome Finder. Also, singles are automatically matched to other members according to preferences and locations, giving them the most convenient and fastest swinger experience. Described in relation to Facebook, the site employs communication tools like email, video calls, and instant messages that provide the members with a large opportunity to engage and become active.
Checking Quality of Profiles
The account on SwingTowns that you build has to be special and stands out. Profiles should include correct information to create comfort for the platform's administrators to accurately give your preferred matches. There should be a clear image of yourself included in the account and resist using blurry pictures. Most importantly, verify that all the desired characteristics and attributes are included to boost automatic matching and help you find pairs.
In creating an account in SwingTowns, it is an important factor i boosting your reputation and appeal to the audience. It does not necessarily mean that profiles should be highly qualified and educated to present an appealing sense, but a sexy pic and complete information will definitely give a decent amount of views. This is the primary concern of the site's creators, is to draw others' attention to yours and make the matching and swinger experience more easy and more fun.
Get Up and Sign Up!
I won't be surprised if you consider signing up at SwingTowns. The process will not overwhelm you in any way and takes only incredibly fast. In-depth questions about yourself are not included in the registration process, and usually, just ask for several background information and brief description. Also, the SwingTowns site got a Facebook-like system for submitting profile pictures, so this step is expected to be more familiar and easy. Approximately, visitors signing up for this site take around ten minutes utmost.
Moreover, on this site, photos are a crucial element that makes up your whole swinger experience success or failure. Pictures are your most prized possession and a way for other members to get a glimpse of your physical appearance. It is best to upload multiple best photos, so others will notice you and might be interested. This is the greatest method of showing interest in hooking up, and all these are part of the signing up process.
SwingTowns Is Keeping It Real
To keep things real within the platform, SwingTowns employs a special feature that shows "validated" on their accounts. You may notice this while exploring the site for the first time. This ensures that the accounts created are validated and real. The "validated" assurance can only be acquired from the verification and validation of another member of the SwingTowns. Once a member gained the trust of another member, it could be through online meetups or real-world hookups, those fellow members will provide "validated" status.
As time goes by, the members with a trusted reputation will naturally become validated as part of the dynamic community of the site. Through the implementation of a peer-based validation procedure, the SwingTowns site retains its pureness and authenticity. Members become their police and report suspected trolls and fake accounts. Administrators will undergo reports for review and eventually may or may not declare permanent expulsion from the site.
Special Key Features
Action is not a verb, rather a section in the SwingTowns site that employs similar style and functionality of a Facebook newsfeed. You get updates through the newsfeed on members you connected with or liked. You will also receive updates and posts from people in general within your local region once you prompt the system. The best thing about this feature is, it can be further customized according to different criteria including gender, age, likes, wants and other preferences.
The SwingTowns is a perfect venue for people interested particularly in kinks. There are tons of people hoping every day to be the accepting vibe within this site in embracing the kinkster community. It is truly filled with couples, singles, and groups of people that are eager to explore their kinky side. Some engage in sensual BDSM, fetish plays, bondage, and some type of Fifty Shades of Grey entertainment. All are present here!
Living in a non-monogamous lifestyle is openly accepted in SwingTowns. The polyamory section of the platform provides a venue for members with specific lifestyles to follow and meet fellow interesting couples, singles, and polycule that share a similar curiosity in polyamory, alternative relationships, and non-monogamy. Every day, the members are actively seeking and engaging in these platforms. No dull moments are ever wasted in finding genuine connections and friendship.
The searching option of the SwingTowns site can assist single members in finding their perfect match. This system is called individual finder, wherein it could match you accurately with individuals, couples, and many other options. The choice will be depending on the criteria selected. Individual finder is extremely straightforward and easy to operate and should cause no trouble even for first-timers.
Customer Support and Security
The site is exceptionally available to all its members at all times. When you encounter issues regarding navigating the platform, connecting, and other website-related problems, their support team is reasonably reliable on this matter. You can get in touch with them through the official email address [email protected] and surely you will have the best experience in fixing your issues. The site encourages its members to always report any issues they may encounter. In this way, the administrators of SwingTowns can be improved and provide a better user experience to everyone.
On the other hand, being an authentic site for swingers and hookups, security is the topmost priority of the administrators. Scammers and spams have no place on this site, and it can surely be proven through the numerous positive reviews of the site across the internet. Undoubtedly, it implies that joining as a member must come without fear or annoyance from bot messages. With the utilization of advanced safety systems and methods, the site securely protects the rights to privacy among the members.
Free or Premium: Which is Best?
Everyone curious about the platform could start the trial period that runs within 7 days only. Users would later decide to become a free account member or a paid member after the trial period expires. As mentioned above, a premium subscription is an ideal way to take advantage of the site's features due to the limitless functionality of the platform available for paid members.
Do not be afraid if you opt for a free account, however, it is important to remember that users can benefit little from its free version. Users merely perform simple searching and checking mostly at accounts and images of other members. Also, it is possible to create and upload images. Yet, it restricts when users attempt to start a conversation with other members. Besides these, users do not have the advantage to go further. Thus, users are encouraged to consider a premium membership to experience and utilize the amazing features available.
Using paid accounts, there are plenty of actions, activities, and features that users can avail. There are no restrictions on using all the features of the SwingTowns site. You can reach out and connect with other members non-stop and message them instantly. Video chats are also available to use, especially for those seeking steaming live action. This feature is the most sought after on this site according to users.
Moreover, the SwingTowns site held events that paid members can participate in involuntarily. You can share your thoughts and get closer connections with other members. Undoubtedly, paid membership can do plenty of options and functions perfectly in terms of seeking hookups and swinger arrangements. Typically, users of this site end up paying for membership after using a trial period because of how great it can make the swinger lifestyle more worthwhile and effortless.
Benefits and Drawbacks Of SwingTowns
PROS:
The site is authentic and has a genuine community of polyamorist and swingers
Guaranteed real-life parties, events, and encounters
The membership fee is affordable
It has established a reputation since 1999
Members are active every day and guaranteed that encounters and matching are happening
The site is guaranteed legit and has tight security of its members' privacy and data
Free membership is available
Trial for a Paid subscription is available to initially experience the features and benefits before paying
CONS:
Free accounts cannot use any communication features of the site
Other members do not provide details on their profiles
---
11 Best Swinger Dating Sites Similar to Swingtowns.com: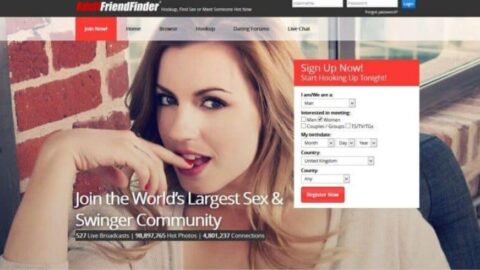 A reputable site for dating, AdultFriendFinder has consistently proven its services and features to all its massive members worldwide. Since 1996, the site provides a venue for people pursuing casual connections, hookups, and sexual encounters. Through the site's communication tools including chat rooms, live cams, and massive adult videos, makes the whole casual experience and engagement more efficient and convenient.
AdultFriendFinder has more than 30 million visitors every month and has a large audience base mostly in Canada, the United States, and the United Kingdom. With these, the site always ranks at the top among other reputable dating sites.
Check our full review of Adultfriendfinder here.
PROS:
A trustworthy and huge number of members
Employs diverse communication features, discovery opportunities, and interactive questions
Utilizes advanced searching option to filter users' specific preference as desired
Live streaming is available
Adult sex videos are available with a variety of content and themes
Group chats with live cams are active
Easy discovery of members due to advance searching feature
CONS:
Free account has
Severely limited free membership option
---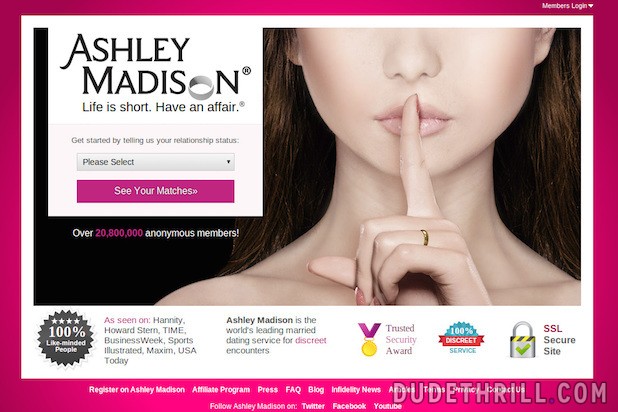 In terms of casual relationships and mature dating, Ashley Madison has been around since 2001 as a leading site. When you are in a dull relationship or attempting to get out of the traditional style of marital relationship, perhaps this place is perfect for you. All kinds of sexual relationships are allowed here and it is made even more convenient through the unconditional services and features.
Members can participate in erotic pleasure with several users all over the globe. Moreover, Ashley Madison incorporates its members' opinions and the increasingly evolving lifestyle expectations to develop gradually its website. This is why Ashley Madison has remained a top player to this very day, amid the tough online dating business.
More about AshleyMadison here.
PROS:
It has huge members worldwide
Registration is free and employs simple steps to follow
Members can freely upload discreet photos on the site
The site has a tight security system that allows strict protection of members' sensitive data
App version is available for download using App Store and Google Play
CONS:
Detailed information of accounts are sometimes not provided by users
---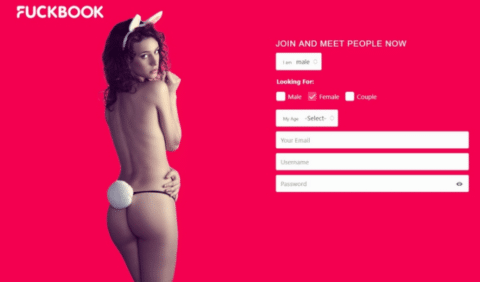 A perfect website for casual relationships and sex hook-ups is called FuckBook. Here, you are given opportunities to find swinger encounters, sex dates, and many more. This is convenient for people seeking a no-string-attached relationship as quickly as possible. From the name of this site itself, you know exactly what you are getting into once you scroll through the platform. The interface and features of the FuckBook is straightforward and convenient, in comparison with other swinger dating site on the internet.
Check out Fuckbook and its alternatives here.
PROS:
Profiles created are numerous
The website has a design that is easy to navigate and use
Signing up is fast and instant
Membership is affordable but with lots of advantages
CONS:
There are annoying advertisements on the site
---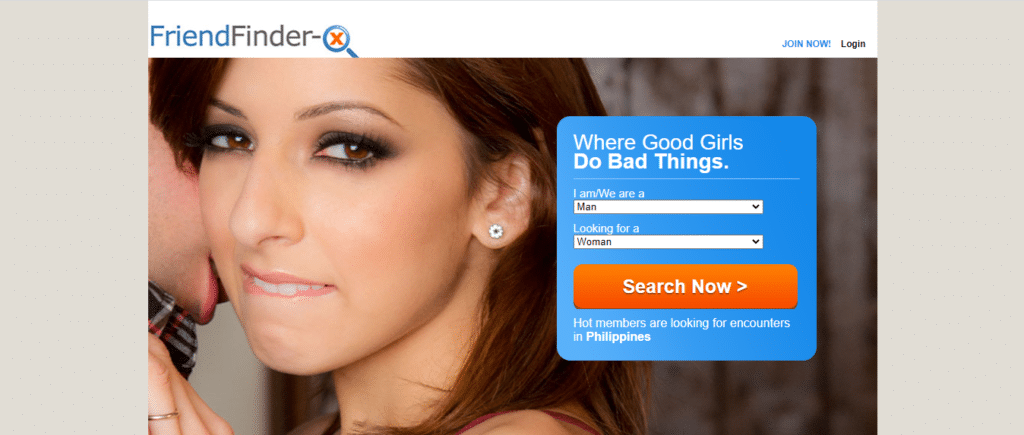 FriendFinder-X has created a name for itself in the field of swinger dating sites. It is popular to provide entertainment and a community of welcoming members. Judgment and criticisms have no space within this zone. All the members can freely do whatever they desire and reach out to others with no worries.
So, if you are in for a threesome, swingers, orgy, hookups, kinks, and many others, then FriendFinder-X is flawlessly suitable for you. With over 1.2 million visitors every month, most of them end up becoming official members. Indeed, there are plenty of people around the site actively seeking casual encounters and you are in for a great treat.
PROS:
Automatically sorts of videos, members, and photos according to trend and hotness
Advanced sorting and filtering are available
Members can customize their profile extensively
CONS:
Communication with other members is only for premium members
Videos, chats, and sending gifts to come with a price
---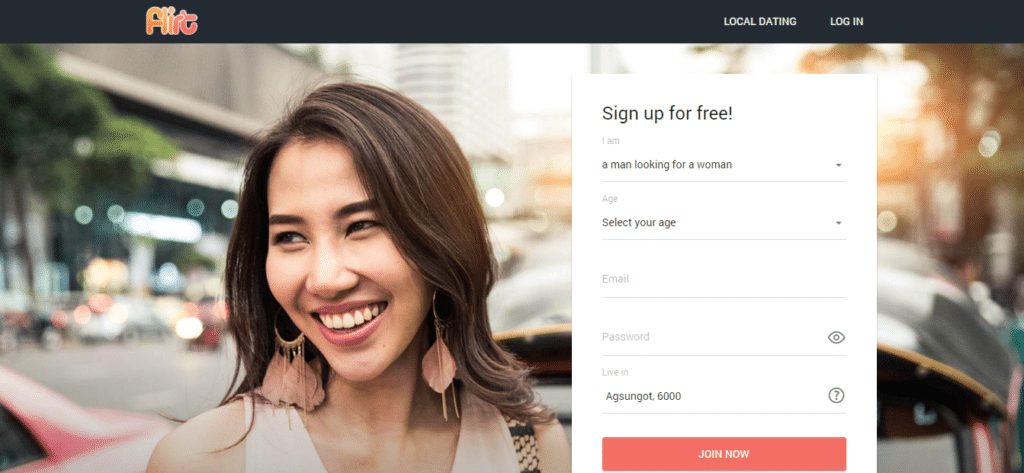 Swingers, couples, and singles all over the world are gossiping about a site called Flirt.com. This site offers a wide range of free features that help in serving its members to achieve sexual dreams and relationship goals. Signing up is not a hassle to anyone because the site employs an easy, fast, and straightforward process. There are over one million members are active here every month seeking for various reasons, mostly of course about sex.
According to its database, it has more than seventy million accounts created on this site and surely it gets crowded. Nevertheless, it searches faster and guaranteed. The site assures that all features available here are exclusively free to use and no extra hidden charges you might come across in the future. However, a premium subscription can give users the advantage of showing up more on top of search results.
PROS:
Free usage of all the features
The layout of the site is clean
Chatting options are multiple
App version is available for download
CONS:
Guarantee policy is not available
---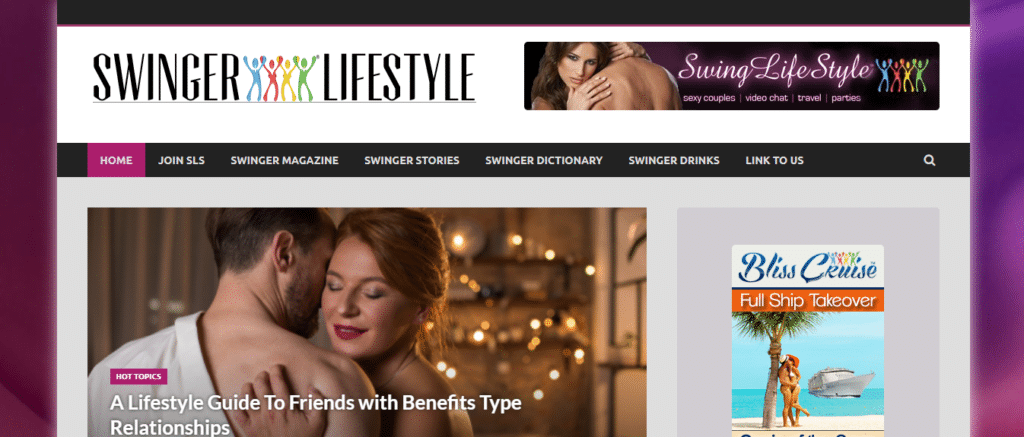 The motto of the Swinger Lifestyle site can be compared to the Swingtowns. It is more than a typical dating platform because here, members have the opportunity to learn about the lifestyle before diving into casual sex encounters. This is advantageous among newbies since they will get a comprehensive understanding and expectations about swinging. The information comprised in the Swinger Lifestyle includes dictionaries, drinks, and whatnot.
PROS:
Members are active every day
Events are available and planned within major cities included in the site
There are over 16 million members registered around the world
Every month, there are more than five million visitors worldwide
CONS:
Premium members can only use messaging
Using Facebook as a registration option is not available
---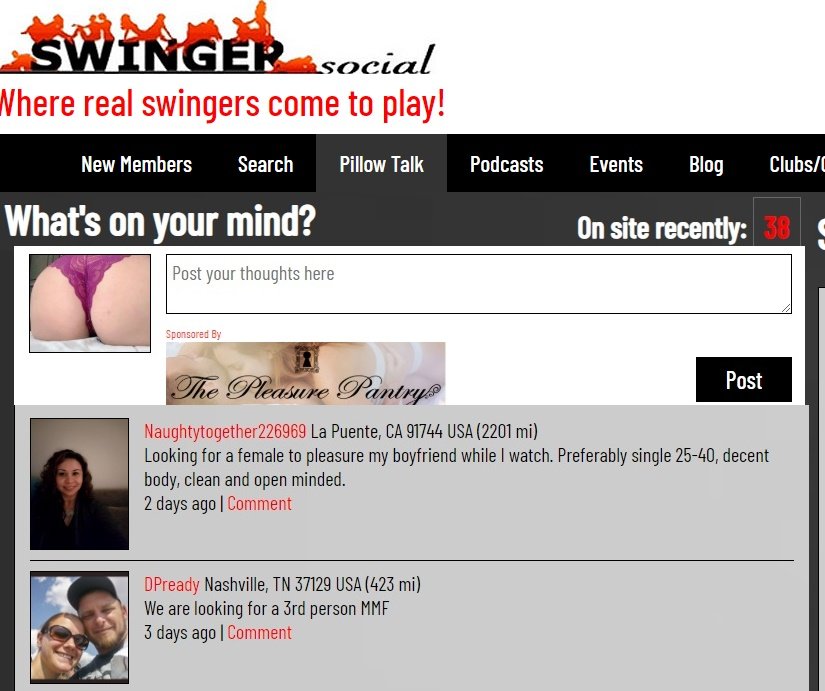 Either you are a newbie or veteran swinger, SwingerSocial just got the exact functionality for you. On this site, you will witness real swingers come to play. Everyone is open-minded and criticism is not on their vocabularies. Get in touch with other members and arrange local dates for a threesome, orgy, or romantic sex. All you have to do is provide a valid email address upon signing up and you are good to go. The SwingerSocial site has a simple, yet fresh looking interface, allowing people to navigate the site effortlessly.
The site itself has now merged with AltPlayground.com.
PROS:
Members can build chatrooms to communicate with other members through video or voice chats
The Mobile version is available and performs well
Sexy and erotic photo galleries are available for viewing
CONS:
No refund policy for paid membership
Swingers within Canada and the United States are more advantageous on this site
---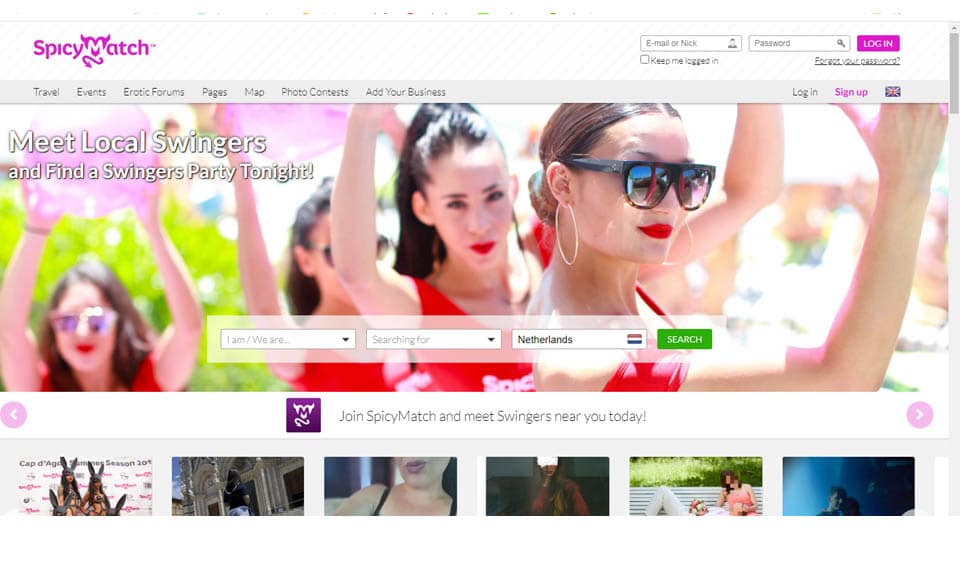 Known for its pleasure, information, free, and entertainment, SpicyMatch site brings the swinger community on a top-notch heat. Using a free account, members can navigate all the features on the site and locate couples, singles, and groups, in an event or parties for swingers.
SpicyMatch provides the members with the freedom to keep their accounts' content public or private. Some people may not feel comfortable keeping things out for others to see. Above all, the validation system of the site assures all its members that scammers are not allowed to lure around. This site was built by the founders to give a venue for the swinger lifestyle only.
PROS:
Forums for swingers are available
Registration is fast and easy
The mobile app is available for download
Features are diverse and helpful
Numerous members are active every day
Finding members of similar interests are easy to find
CONS:
There are features available on the site that only paid members can access
---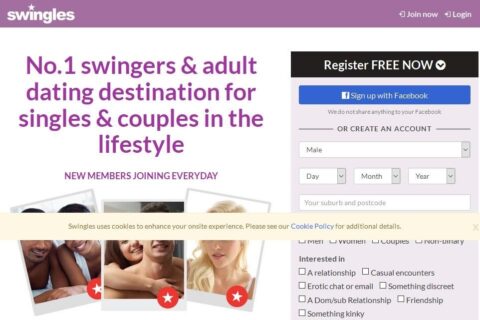 A quality site that provides comprehensive tools and features for the swinger lifestyle has come here. Swingles has thousands of members and features singles, couples, and swingers the opportunity to explore the swinger lifestyle without judgment. It has a fast and easy registration process and your account is ready to go. If you feel uncomfortable about showing yourself online, the site provides an option to go invisible mode and upload sexy photos. It can only be viewed by other members as per the invitation of the account owner.
PROS:
Plenty of members interested in swinging
Chat rooms and live chats are available
CONS:
Newbies of the site may find the website confusing at first
---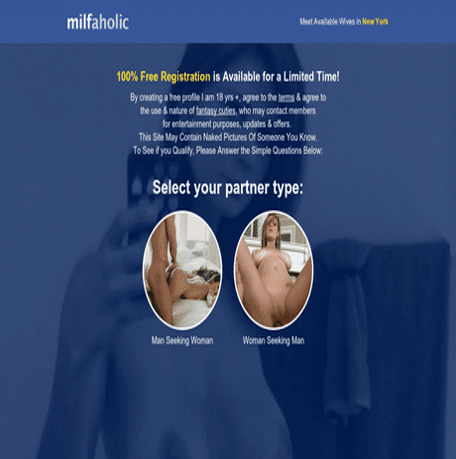 If you want sex, then surely the Milfaholic site is perfectly made just for you. Gone are the days where you have to join on sites and pretend to seek love and romance when you truly wanted something to make you cum. Being a member of this community, you are given the freedom to be who you are and what you want to do. Using all the features available on the site, hooking up with a sexy milf is easy and fast.
PROS:
Large base of members
Questions are great and help in engagement
Advanced filters are available to make the experience more convenient
CONS:
---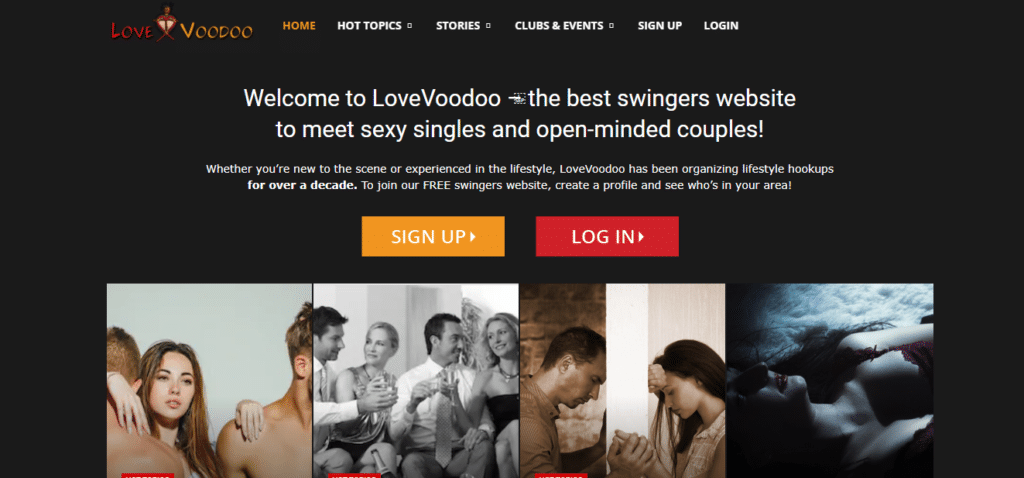 A swinger site and social media platform all at once, Love Voodoo is a one-stop place for swingers and people interested in sex and swinger lifestyle. This is a great opportunity for people to navigate their sexual urges and express sexual tension all the way. Members here are easy-going and actively seeking some steaming entertainment. For new visitors or members, the site provides a judgment-free environment to all its members, so you don't have to worry about dipping toes. Above all, all the sensitive information and payment transactions are safe and secured.
PROS:
Engage and communicate with real swingers
Experienced and amateur swingers are welcome
The free version can access most of its features
CONS:
Website design is old and can be confusing to navigate
---
Verdict
In the field of non-monogamy, the swinger lifestyle can be tricky to find, since the majority of the mainstream dating websites caters mostly to traditional relationships and hookups for singles. It is a bit of a challenge to find people of similar interests. Thankfully, the innovations happening every day, more and more sites with niches intended for swinger sex are coming to the limelight.
These sites mentioned above save you a lot of time and effort in finding the perfect venue, especially when you are in your most hectic schedule. They provide the safest venue to express and explore the swinger lifestyle without the fear of being judged and criticized. All the users are open-minded and willingly engage in erotic encounters. Some sites may offer paid subscriptions while others don't. Nonetheless, whatever it is, everything is all worthwhile.
If you seem to be confused, here are my top three personal choices apart from Swingtowns.com:
#3. Fuckbook.com
These sites are specifically designed to transform a traditional dating concept into a more fun and entertaining manner. Swingers are candidly sharing their lifestyle with other members and at the same time being part of a welcoming community. In general, these sites are an incredible opportunity to ultimately make fantasies and desires all come true. Hence, if you are prepared to take part in a community that is keen for some pleasure, adventure, and thrilling sexual fun, swinger dating sites are flawlessly suitable for you. Have fun exploring!