Updated on: December 7th, 2023
TruthOrDarePics
& Top-12 Amateur Porn Sites Like TruthOrDarePics.com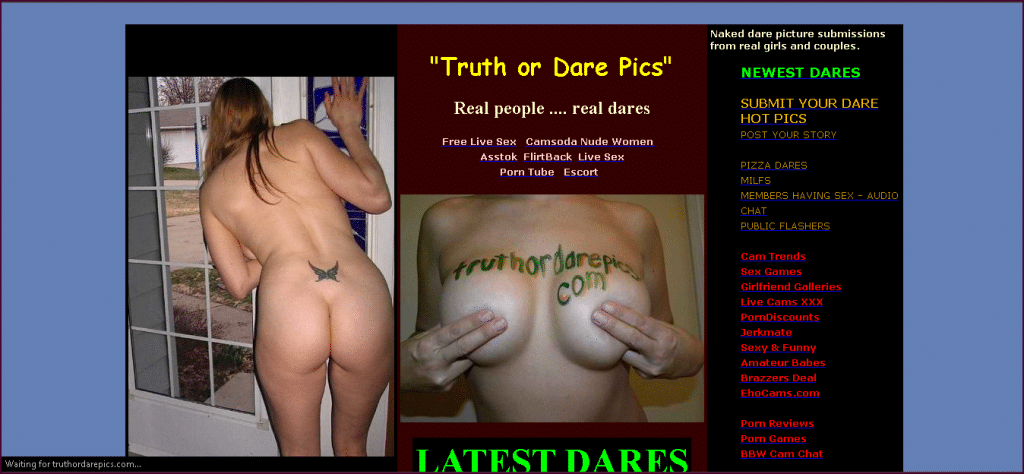 Oh, the things we do for attention! Remember that one time you were dared to do something completely outrageous, and you ended up feeling sorry for the rest of your life? Well, guess what? You're not alone. But even more surprising is the lengths some people will go for wild sex, especially regarding TruthOrDarePics.com. And let's face it; the girls usually go the extra mile to get what they want. From embarrassing dares to crazy stunts, these girls will stop at nothing to ensure all eyes are on them. So, let's dive in and explore the wild world of TruthOrDarePics.com, where anything can happen, and everything is fair game.
Official URL: http://truthordarepics.com
Get Ready to Dare: TruthOrDarePics is Here!
Okay, so let's talk about TruthOrDarePics. Honestly, the first thing that hit me like a ton of bricks was how old-school it looked. It's like they created it back in the early 2000s and just left it to gather dust. I mean, come on, with all the advancements in web design, you'd expect them to put in a bit more effort, right?
And don't even ask me about the sidebar. It's just a jumbled mess of URLs to other websites. Sure, they might be helpful, but who knows if they're legit? It's like trusting a random dude on the street to recommend a good sushi place without him even trying the food!
But hey, maybe that's just me. Perhaps I'm just being a little picky. After all, the real selling point of TruthOrDarePics is that the girls there are all amateurs. And let's be real; something is exciting about seeing regular people get freaky in front of the camera. Overall, TruthOrDarePics might not be the prettiest site, but it has its charm. Just be prepared for some serious nostalgia vibes when you visit.
Dare to be Wild and Experience the Craziest Sh*t Made at Home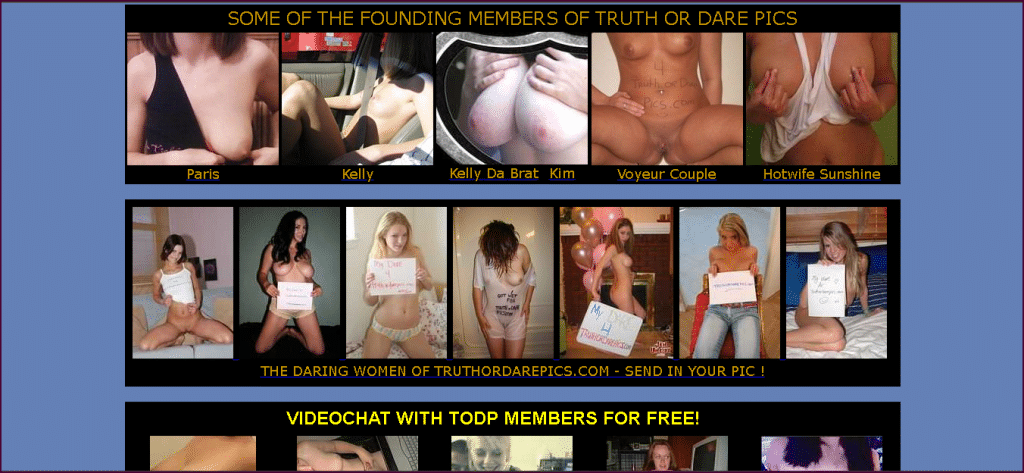 Anyway, I'm about to spill the beans on one of the wildest websites: TruthOrDarePics. As the name suggests, this place is about daring people doing crazy sh*t, and boy, do they deliver! When you hit up the homepage, you'll be greeted with a bunch of entries — everything is daring. From couples getting frisky to flashing in public, these guys and gals are not afraid to let loose and have fun. And let me tell you; this isn't your run-of-the-mill homemade porn – this is the real deal!
And the best part? It's all 100% legit. How do we know? Well, for starters, there is a shitload of "fansigns" plastered everywhere. These babes are so dedicated to the site that they'll strip down and write the site's name on their naked bodies or hold up a sign to prove their loyalty. So if you're looking for real amateur action, TruthOrDarePics is the place to be. Just be prepared to witness some seriously wild shenanigans — and maybe even get inspired to take on a dare of your own!
Unleash Your Inner Daredevil with Jaw-Droppingly Wild Pics at TruthOrDarePics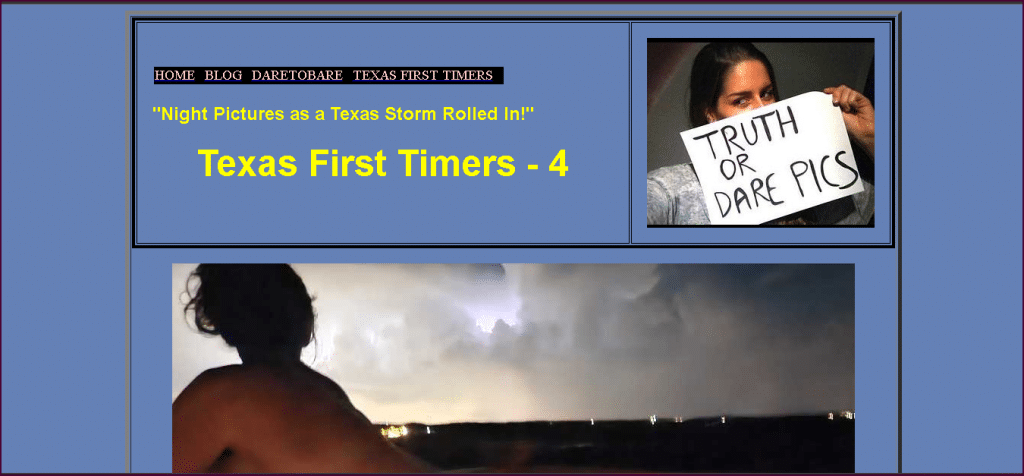 Prepare to feast your eyes on some seriously wild pictures, my friends. When you visit this page, you'll see girls in provocative poses — some wearing collars, others with pierced bodies —with one goal: to make you happy. And let me tell you, they don't hold back!
However, it's not just about hot chicks posing naked; it includes several daring shots. And you know what? They love it! Some of these girls even accept it dares their lovers, and uploads content that you perverts would surely enjoy jerking off. Whatever floats their boat, right?
Of course, let's not forget about the girls fucking each other at parties — completely sloshed and totally into it. And sometimes, things get wild, and they'll let random guys bang them senseless. Talk about living life on the edge!
Nothing to Brag About, But It's a Simple yet Satisfying, User-Friendly Platform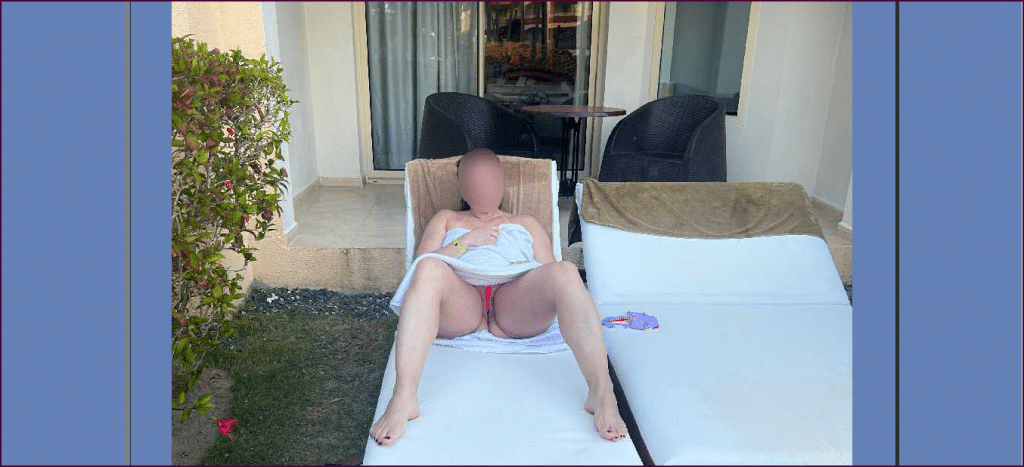 Listen, I gotta keep it real with you guys — this website's design is straight-up busted. I mean, someone's kid brother threw it together in Microsoft Paint during recess. The font is ugly, the colors used are an eyesore, and it's definitely not winning any awards for web design. But the good news is, it's easy to navigate, which is always a plus in my book.
I was fully expecting to be bombarded with many annoying ads when I first visited this site, but surprise, there are none! That's right, zero ads, baby! The site still isn't winning any awards for looks, but I don't have to deal with pop-ups and banner ads left and right.
And let's be honest; nobody likes ads. They're like that annoying cousin that always shows up uninvited and never knows when to leave. So the fact that TruthOrDarePics isn't cluttering up their site with them is a big plus in my book. I mean, sure, the design could use a little work, but the lack of ads more than makes up for it.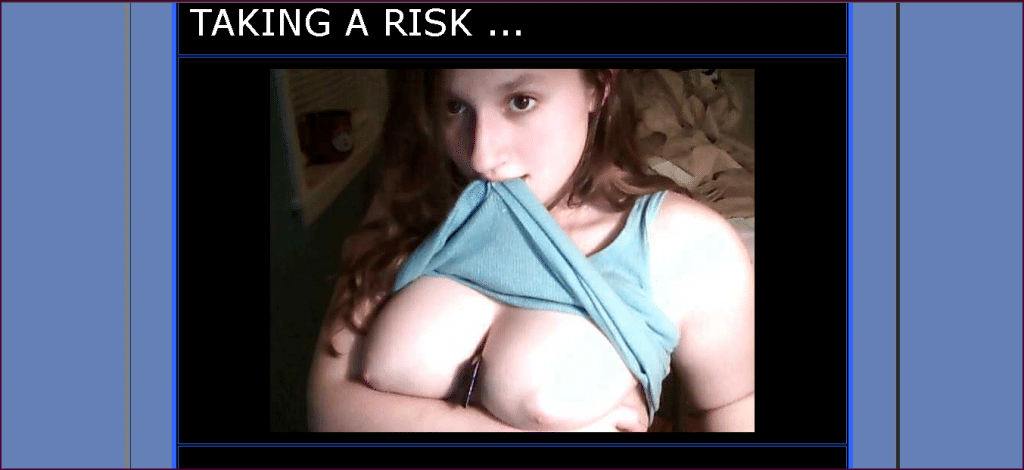 Listen, I'm not gonna lie; this sit0065 is as repetitive as a treadmill workout or listening to the same pop song repeatedly for hours; stuff gets old quickly. It's like every picture is a broken record: same old titties and finger-covering. Now and then, they'll spice things up with several kinky props, like bondage and cuffs, which is a nice change of pace. But honestly, it's rarer than a unicorn sighting.
And can we talk about redirecting? You finally get sucked in by those tempting options on the sidebar, like "Adult Fuck Games," "Hot Girls," and "Family Adult Games" (wait, what?). But then, bam! You're redirected to another site like they're trying to eliminate you. Do they think we have nothing better to do than click around aimlessly?
I'm wondering if the folks behind TruthOrDarePics are secretly plotting against us. Maybe they want us to leave so badly that they will redirect us to some random site. Or perhaps they're just bored and like to mess with us. It's like they're playing with our emotions. Do they want us to stay or go? I'm starting to think they like toying with us. Either way, it's annoying as heck. If you're looking for real excitement and variety, you won't find it on TruthOrDarePics. It's like the plain vanilla ice cream of the internet; frankly, I want a bit more flavor.
Spice up Your Day with the TruthOrDarePics' Trending Dares Section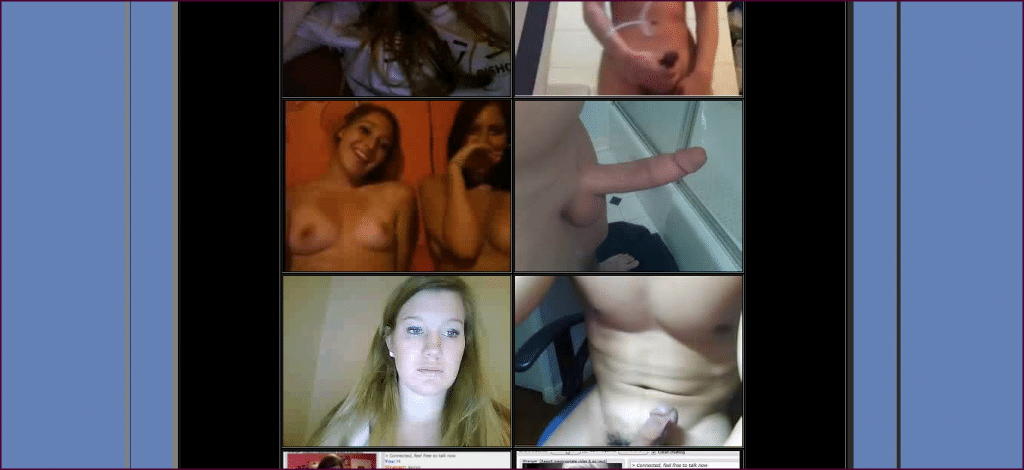 If you're into checking out some hotties who are down for daring antics, then the "trending" dares section on TruthOrDarePics.com is the spot for you! While the amateur collection here isn't too explicit and is limited to pictures, it's still a great place to see some wild girls showing off their assets. Some images may not show the whole shebang, but beggars can't be choosers! This section will give you something to work with if you're among those guys who can get off on just a little tease.
Also, clicking on a dare will reveal the daring girl's name and a pic that will make your heart race. And let's not forget about the juicy text below the pic that's supposed to be written by the girl. Now, I'm not entirely convinced that the girls themselves write this text, as it seems a little too polished and generic for my liking, but hey, as long as the pictures are hot, I'm not complaining!
So, if you're feeling extra adventurous, you might even try contacting these girls through their email addresses or other methods they've listed. Who knows, you might even get lucky and chat with them on the page!
Small and A Bit Repetitive, But Still Enough to Tickle Your Fancy!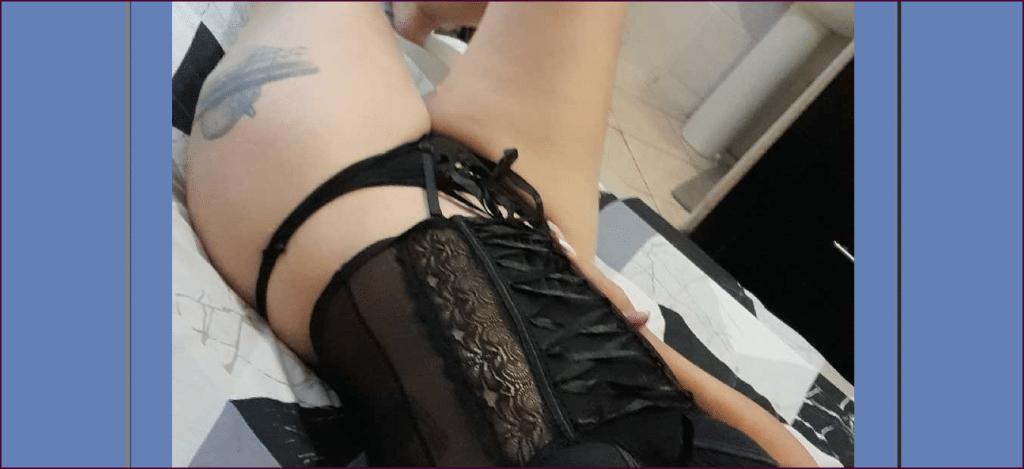 Wow, TruthOrDarePics.com is jam-packed with content! Sure, some might say it's a bit repetitive, but it's like getting a steady stream of nudes from tons of different girls. And let's be real, isn't that what we all secretly want? These girls know how to flash their bodies and aren't afraid to push the boundaries with some risqué poses and outfits.
Who needs a girlfriend when you've got all this eye candy right at your fingertips? It's like a buffet of boobs and butts; there's something for everyone here. And the best part? You don't have to deal with any of the emotional baggage of a real-life relationship. So indulge yourself in the guilty pleasure of perusing through these pics: no judgment here, my friend.
Pros and Cons of TruthOrDarePics.com
PROS:
Lots of amazing content
Simple to use
Easy navigation
Active members
CONS:
Repetitive themes and categories
Website design could use some improvements
---
Top-12 Amateur Porn Sites Similar to TruthOrDarePics.com: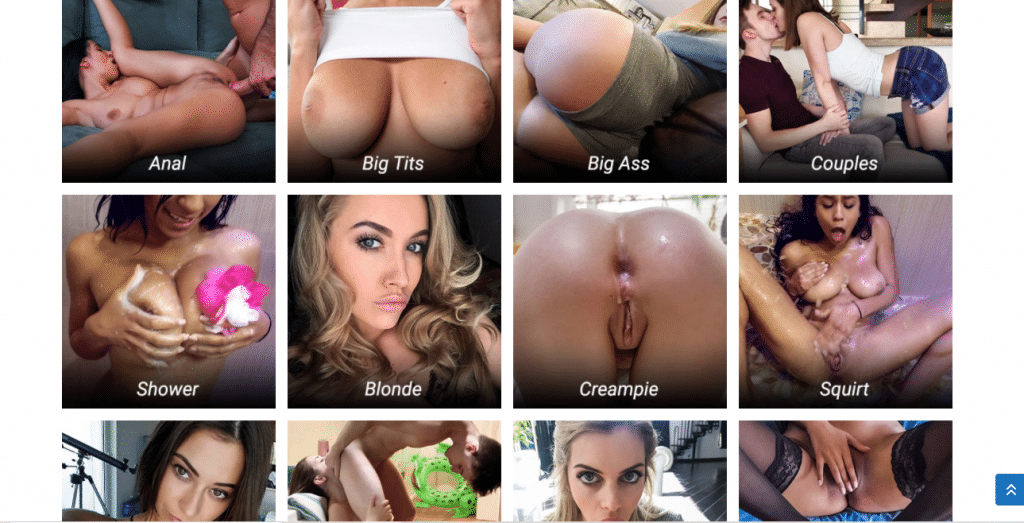 For folks seeking authentic amateur couples personally filming themselves while having intimate or hardcore sex, then TrueAmateurs.com will surely give you precisely what you need. Since 2017, the year it was launched, the site has upgraded its website interface and design to provide consumers a new and fresh experience. Be a member now and explore numerous categories of amateur porn right and relieve stress instantly by jerking it off.
Here's the full review of TrueAmateurs
PROS:
Updates of HD quality videos are frequent
Hardcore porn videos are exclusive to watch
Website features and design are straightforward to understand
User-friendly interface to help users navigate the site easily through categories, ratings, favorites, filters, and basic searching features.
CONS:
The index for the model does not provide information about them
---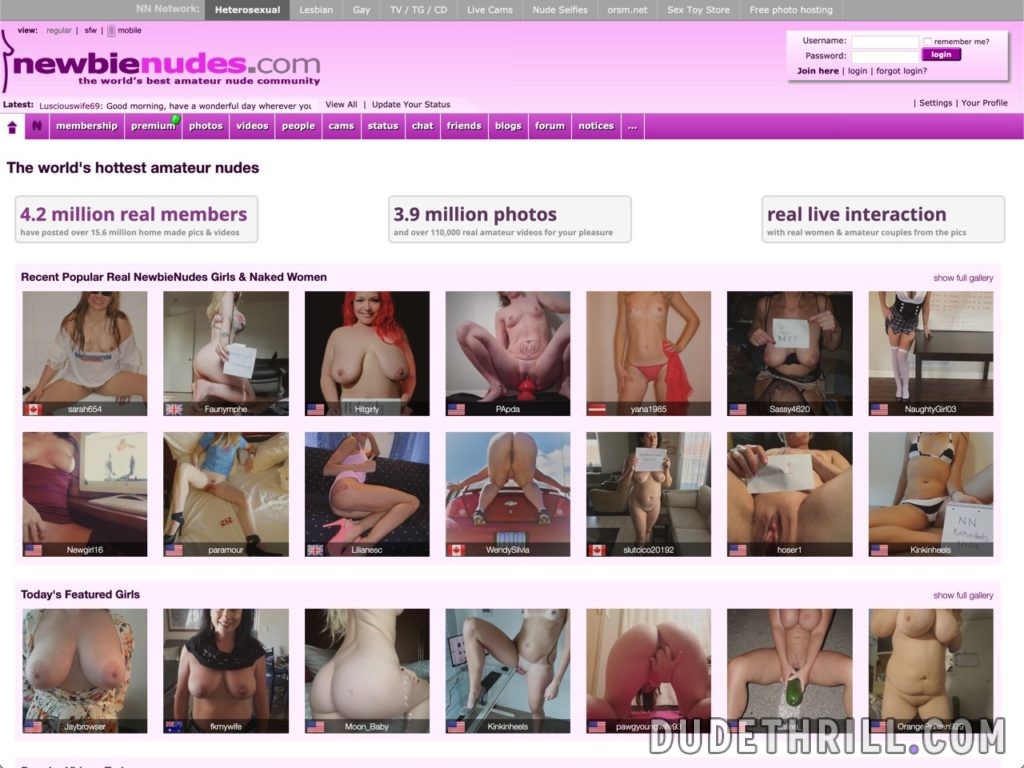 From the name itself, it can already convey you a hint as to what this site offers to its enormous audience. Technically, Newbienudes is a community loaded with amateur content of nudes and videos. Recognized by many as the world's top amateur nude community, Newbienudes offers a wide array of collections for your daily sexual desires. Perfect for those sexually erotic individuals who are exhausted with scripted pornographic content on the Internet.
All the contents in Newbienudes are homemade and range from softcore activities to hardcore ones from people all around the planet. According to reports, you can watch thousands of videos here, and you can even join by submitting your own. If you are open to this sort of kinky experiment, then Newbienudes is entirely perfect for you.
Click here for a full review of Newbienudes.
PROS:
Free viewing of all types of amateur porn videos
It has a simple and easy registration process
Premium members can watch more porn videos and exclusive perks
Regardless of the SD format, porn videos are excellent in quality
Extensive library of porn content to enjoy
Everything is free and does not annoyingly promote premium subscription
Numerous filtering choices
A safe and secure browsing experience
You can upload personal homemade porn videos
CONS:
Some of the videos are of low quality as members upload them
Plenty of content materials present that develops confusion occasionally
Do not allow downloading
There are features available only for premium members
---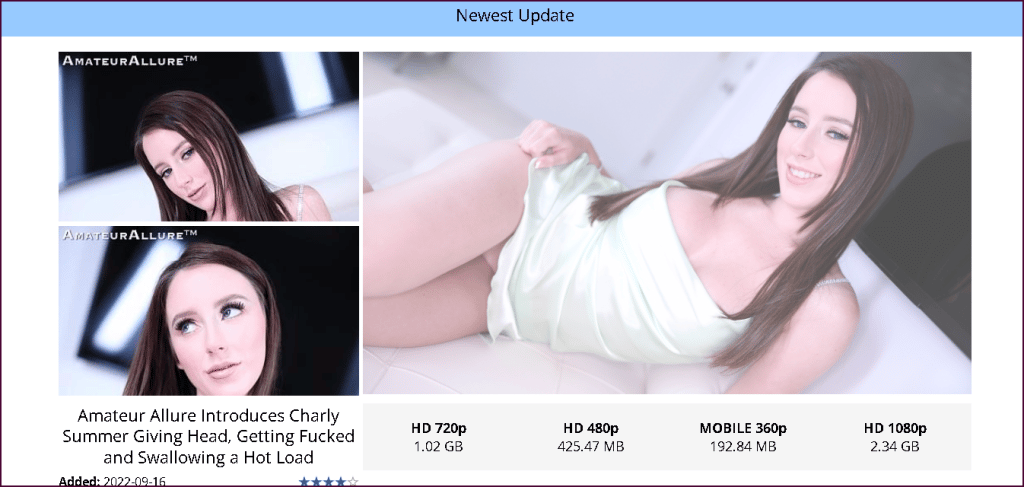 Throughout 1999, AmateurAllure.com has already been releasing videos featuring real aspiring young girls in groundbreaking first-person perspective (POV) blowjob and cum eating films. Compared to other sites, the sharpness of this site has consistently been top-notch, but the addition of high-definition downloads has shown off the exceptional performance of the output. Certainly, it's an excellent website in every respect; it's professionally designed, offers users unique entertainment we enjoy, and employs genuine aspiring young females debuting in the adult entertainment business.
PROS:
Unique blowjob videos
High-definition content
Supports mobile browsing
The newest uploads are in 4K quality
Amazing image quality
Some bonus content
Easy navigation
Updates regularly
CONS:
Downloading has daily limits
---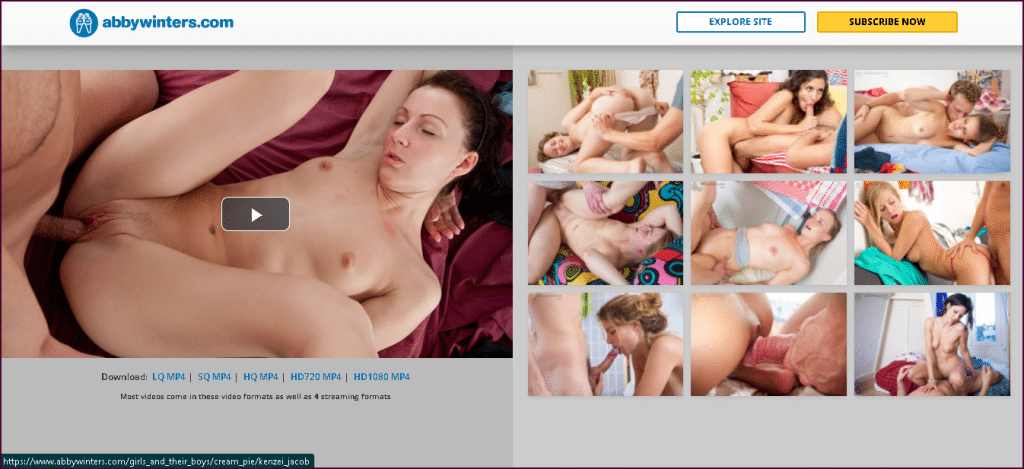 When it comes to reality-based porn, no one does it better than AbbyWinters, the reigning diva of the genre. AbbyWinters provides all the authentic girls in exciting locations and genuine sexual pleasure that can rock your world off. It really brings real orgasms in every scene they produce. AbbyWinters is already in the hardcore industry for more than two decades, and she knows exactly what the horny fellas are looking for.
Click to see the full review of AbbyWinters.
PROS:
Massive library
Authentic amateur videos
Various categories and tags
New updates are in HD quality
CONS:
Older videos are poor quality
Usability could be improved
---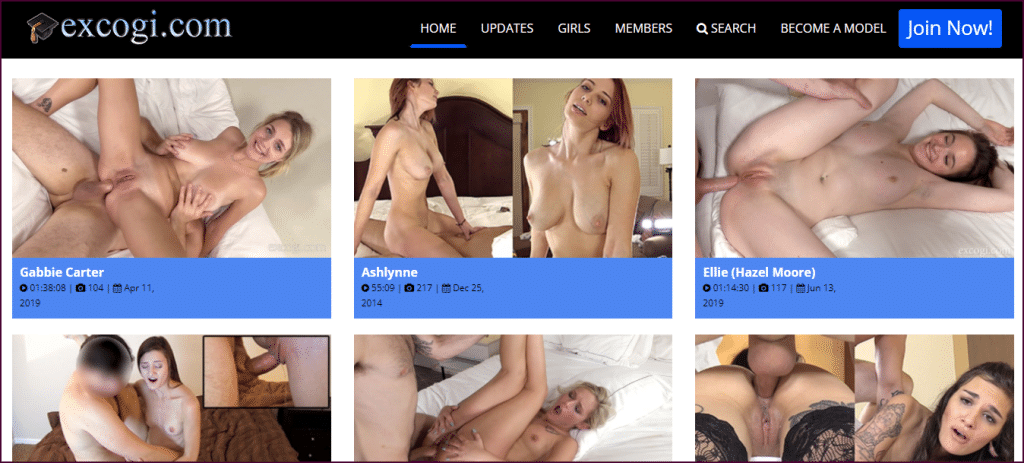 ExploitedCollegeGirls offers a fresh beauty, or a brand-new chick will be on camera weekly, so you will never know what you're going to see next. Also, the production is surprisingly outstanding for a film made by amateurs and featuring novice actresses. And since the site is a premium amateur-porno, its overall usability is expected to be efficient and easy to use. All the buttons and navigation systems are smoothly running, so you don't have to worry about lags or any fuss.
Check out the full review of ExploitedCollegeGirls.
PROS:
Lovely College hotties featured
Huge collection of amateur videos
Downloading is available
Photos are in ZIP files
Videos come in a different format
Real amateur girls
CONS:
Requires registration
Needs Premium subscription
---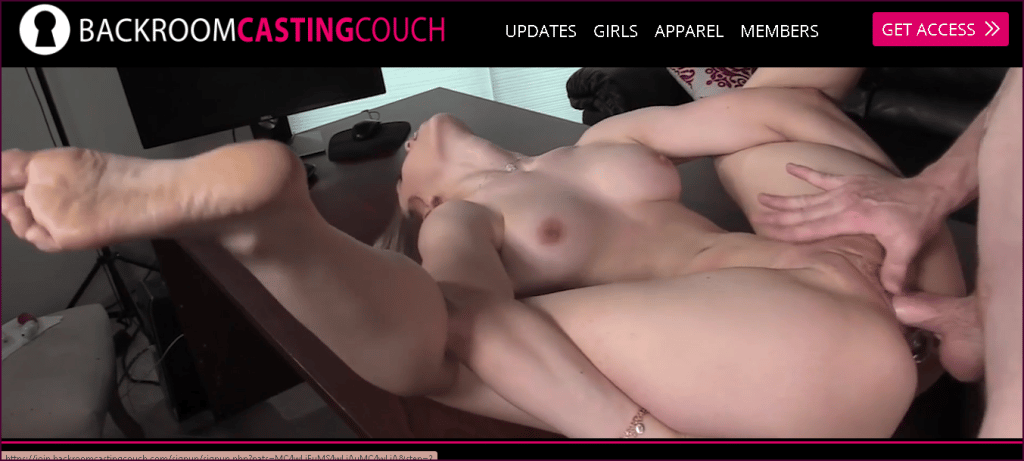 Backroom Casting Couch is the newest offering produced by a similar creative mind that gave you the highly recommended site, Exploitedcollegegirls.com. All the scenes and unscripted lines are documented on its massive BackroomCastingCouch collection. As for the girls themselves, they're of varying standards. Some were ordinary and unappealing, whereas some looked sultry and blazing with beautiful figures. There's more and more homemade stuff to watch, and the number of ultra-high-definition clips uploaded each week is growing steadily.
Take a look at the full review of Backroom Casting Couch.
PROS:
Amateur and authentic
Girls are gorgeous
Scenes are appealing and tempting
Not scripted
Plenty of content
Usability is simple
CONS:
---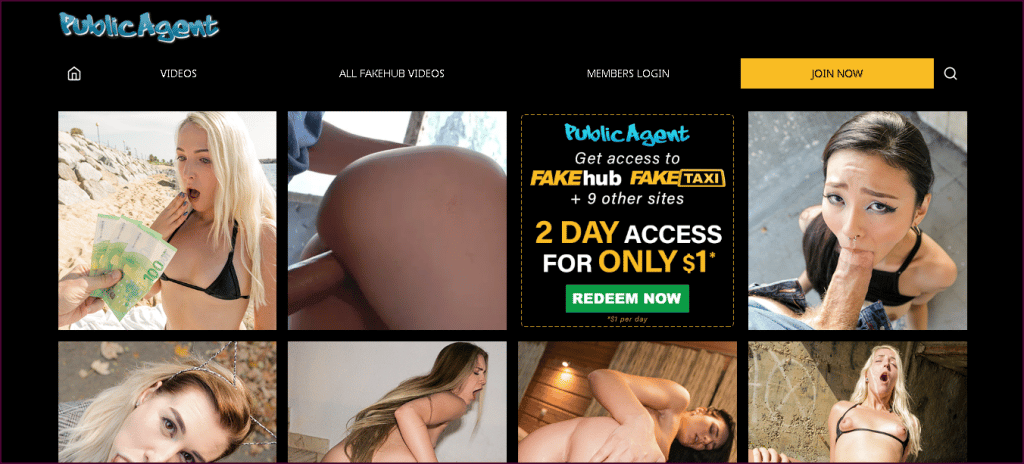 Public Agent has a real-like porn concept where the casting agent randomly approaches ladies on the main road and presents them with a "deal." It stands out from the rest because of its excellent production, regular updates, gorgeous females, and steamy adventures. This level of excellence in reality porn released by PublicAgent.com is not surprising. Anybody who enjoys amateur and fake films about beautiful women engaging in sleazy activities for money have my full recommendation.
Here's a full Public Agent review.
PROS:
Entry to the whole FakeHub networks
Frequent uploads
Stunning European newbies and upcoming stars,
Unique reality porn scenes
Almost 4000 clips are available for download
CONS:
Downloads charge an additional amount
No image galleries included
No sophisticated search tool and model database is available
---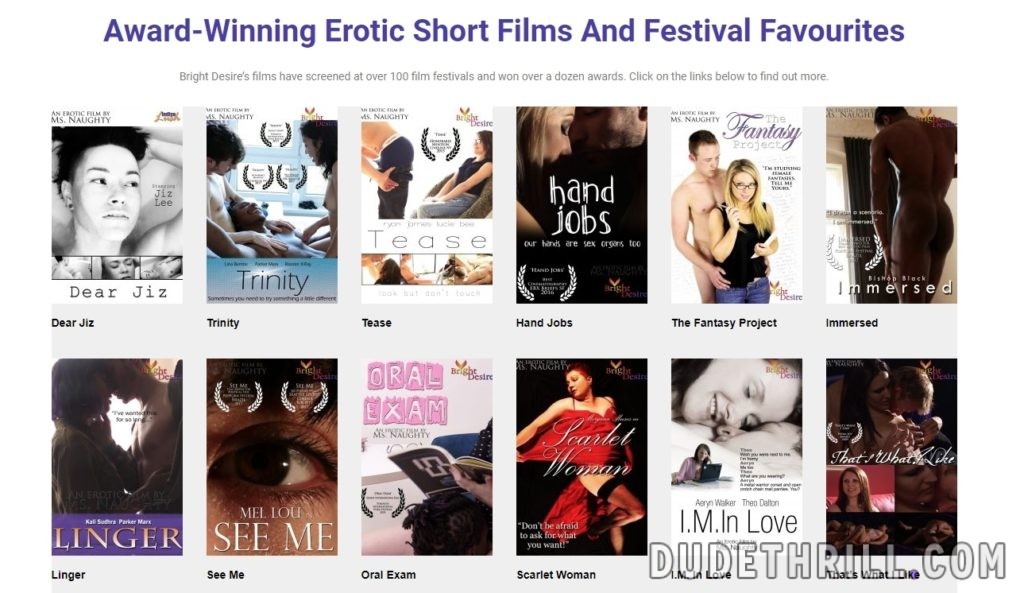 This website takes pride in combining amateur porn with professional work. Unlike other porn sites, they focus on intimacy (usually between real partners) and that's all taken with high-quality footage. The website is also known for bagging several awards for its feminist and hardcore contents. Bright Desire also has a lot of solo amateurs aside from couples, coming from different gender identities. Their contents usually have a wide array of concepts: from traditional ones to the usual narrative fantasies. Their content is something to look forward to and they even show behind-the-scene footages and interviews to let users get to know the performers better.
PROS:
It's mostly female-oriented porn so you can have your fill of sexy babes here and there
Videos are made in high quality
Contents are usually exclusive
Its paid membership has a reasonable pric
CONS:
Advanced search isn't available
Members cannot post comments
Photosets don't have .zip files for download
---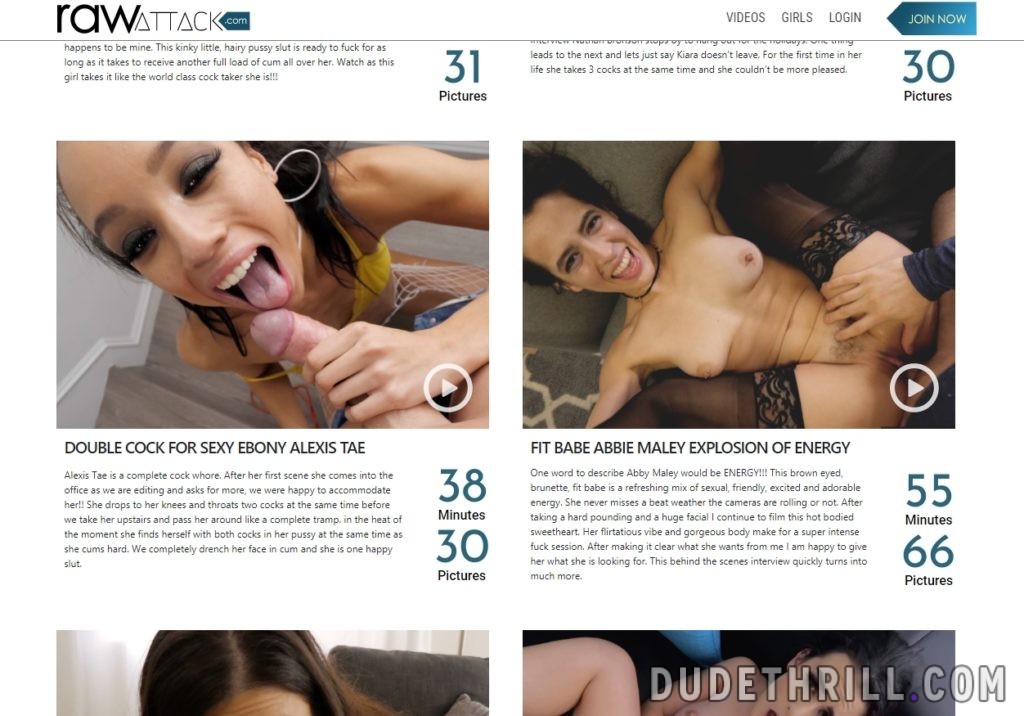 Raw Attack gives you that excellent and unscripted porn — both amateur and big porn stars alike do it in amazing sceneries, the website has a cool design, their videos and scenes are lengthy, and paying members get to enjoy more perks than most. If you like seeing raw action plus pure suck and fuck videos, then this website is a must-visit.
PROS:
Exclusive realistic porn featuring both amateur and top porn stars
Some of the hot babes in their videos are porn stars we can recognize
All of their videos are in HD quality
Great sorting options and the basic search facility is superb
Each video comes with zip files together with photos, all available for download
Regular video updates
Organized model index where you can see models' body stats and a short bio
CONS:
The website is not that big yet so there are still a few members
Members cannot rate the contents they have watched or even the models themselves
They do not offer a bonus site or extra perks
---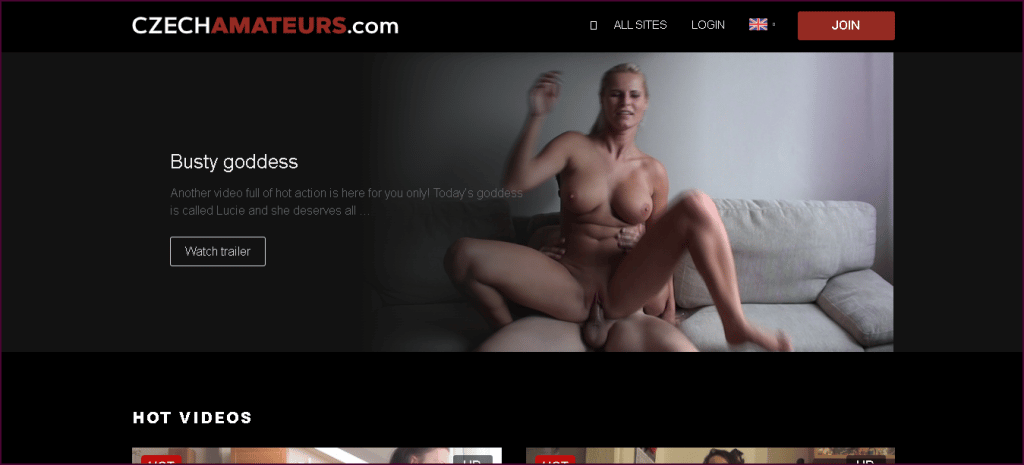 Featuring Czech amateur porn couples, this website is popular and highly-rated since it also includes orgies and swingers. You can choose from whatever category you like and they also offer some perks and not to mention that their models are smoking hot. They have more than 100 scenes in their videos and are all in HD quality. They also offer bonus sites when you subscribe to become a member.
PROS:
Those who upload contents look like real couples
Videos are downloadable and are uploaded in HD quality
If you're an exclusive member, you get to access other porn sites
They provide English subtitle
CONS:
Infrequent updates; they probably don't have an updated schedule at all
Their search feature sucks and no filters at that
Since this is a video-only website, they do not offer photo sets
---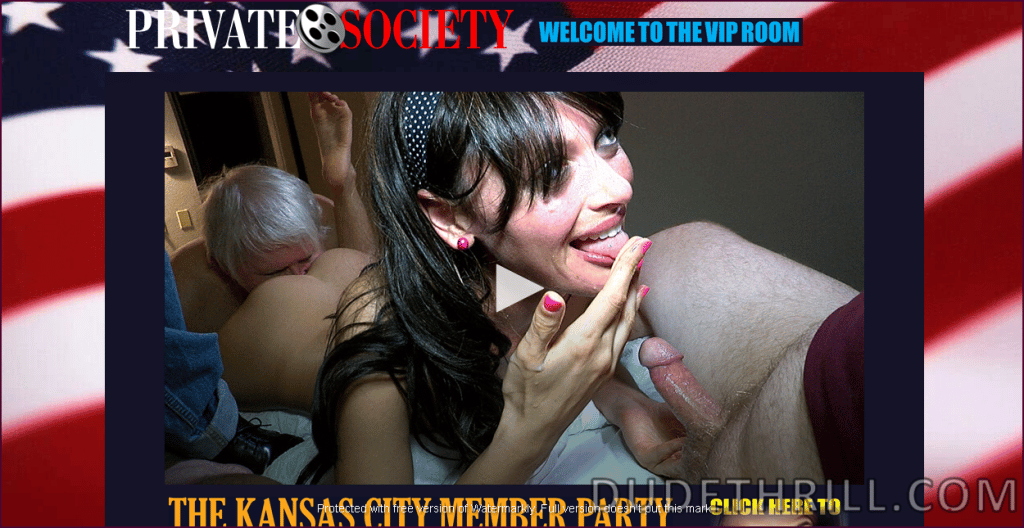 This one is filmed like a travel show but with a different twist – they travel around America to look for hot amateurs who want to fuck in front of their cameras. It's all 100% real and amateur… no actors, no script, just real people and real sex. The website updates with their new content at least once a week so you can look forward to each one of them.
Learn more about Private Society with this full review.
PROS:
Purely American amateurs
Massive collection and most of them are in HD quality
Frequent updates, usually twice a week at most
Private VIP parties are held for members
Filter options are very useful
CONS:
For downloads, they're a mix of HD and SD quality so you won't know until you finished downloading
Video caps are available but no photosets
A model index is not available
The search engine is nonexistent
No sorting options and "favorites" feature
---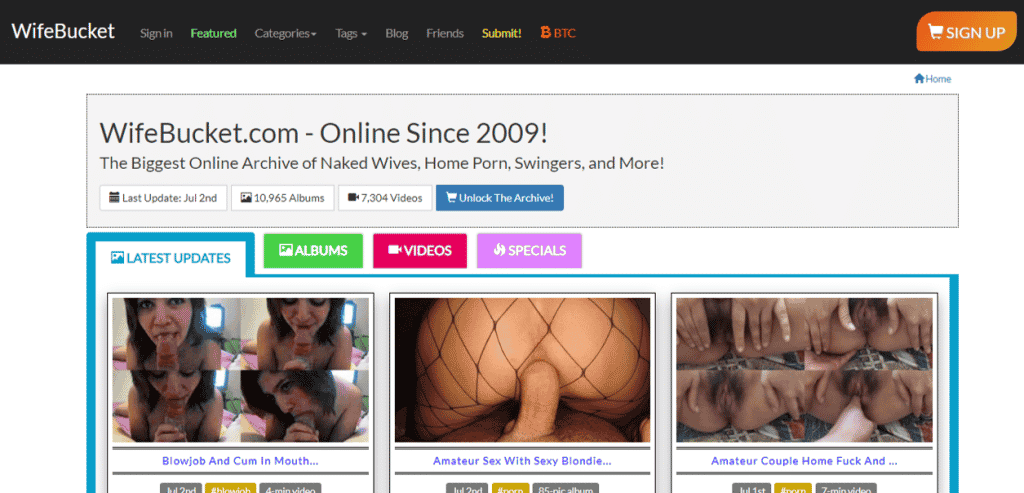 This is a popular porn site with a lot of photos and videos of real-life hot wives sucking and fucking dicks. These hot girls are all amateurs so you can expect some raw and unscripted fucking. One good thing with this site is that they update daily so you can enjoy their 100% amateur porn. But this will all depend on your take on marriage, though. The website is literally about wives and amateur porn so it might not be appealing to everybody.
Check out the full review of Wife Bucket.
PROS:
Frequent updates
Wide-array of content and concepts
Around 7000 videos + photo sets and counting
Easy navigation and user-friendly features
CONS:
Video and photo quality is not that great
Contents are usually non-exclusive and can be found from other sites
They do not offer bonus sites and extra perks
---
Final Thoughts
If you're in the mood for some hot and steamy action, TruthOrDarePics.com might be the place for you. Although some may say that the content is a bit bland, let's face it, when you're in the mood, even a glimpse of skin can do the trick. The pictures may not be the most explicit, but they're enough to make your imagination wild. It's like getting nudes from your girlfriend, but with much more variety.
But seriously, if you're looking for a quick fix, give TruthOrDarePics.com a chance. The girls on this site aren't afraid to show off their bodies, and it's enough to excite anyone. So go ahead, check it out, and get ready for fun. And who knows, you might find the perfect content to help you reach that ultimate climax. Dive in and let the fun begin!
All 55 Other Sites in This Category Worth Checking Out:
Your Porn Dump Review & Top-12 Amateur Porn Sites Like YourPornDump.com Show Me 12 Alternatives for YourPornDump.com Alright, buckle up, thrill-seekers! Dudethrill here, your go-to guide in the wild world of online adult entertainment. Today, I've got the lowdown on a hidden gem – a porn tube about to blow your mind. Drumroll, please! Enter YourPornDump, […]