Updated on: June 6th, 2023
Private Society
& 12 Must-Visit Premium Amateur Porn Sites Like privatesociety.com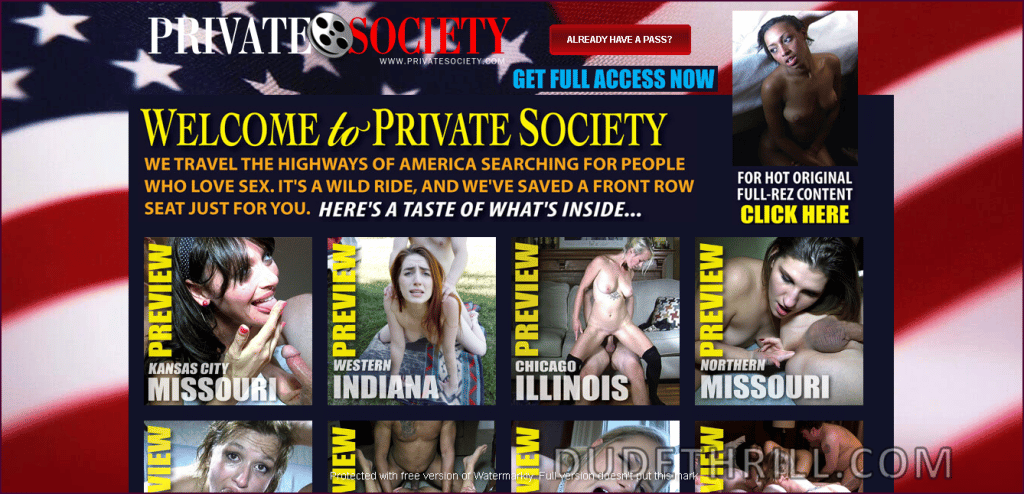 Private Society is a unique hybrid version of the realistic sex and homemade gangbang styles and genres. The producers are frequently on the lookout for young women who would sell their cunts for a couple of dollars and a shot at filthy celeb status. The origins of Private Society are pretty modest, even though it has become among the top amateur porn destination of horny enthusiasts worldwide. Despite being a newly emerging porn site in the adult entertainment scene, Private Society has already carved a reputable name in the mainstream world. For sure, these claims make you excited. I am too! So let's hop in and enjoy the ride inside the Private Society collection.
Official URL: https://www.privatesociety.com
Welcome to the Private Society Paradise
Private Society is a specialized amateur website featuring several "authentic" adults who, for the initial moments of their pathetic lives, choose to bang on screen. You would be shocked to learn how countless average joes and ladies aren't ashamed to let the public know how strongly they enjoy casual sex. The concept behind Private Society's collection is similar to a sexually charged travelogue or drama series. A horny dude named Dave devotes much of his energy traveling throughout the United States looking for passionate, pleasure-seeking folks willing to get kinky while experiencing the excitement of fucking on cam.
Don't be shocked if you spot your sister's closest girlfriends or a ninth-grade classmate; these regular people have never starred in movies or scandals previously and aren't pretending to be experts. Also, there is a wide range of content to choose from, from girls sucking big black dicks to blondes enjoying dicks ransacking their cunts. You can also find swinging singles, honeymooners, trios, orgy, and occasionally stunning chicks doing some sexy masturbation.
Nearly all the activity takes place in hotels; however, some exterior shots are too. They also showcase a wide range of women, including young, attractive teenagers to seasoned professionals in their forties. So, if you're sick of professional pornstars and longing to find regular folks who aren't afraid to try their hand at producing a porn film, perhaps you need to check out Private Society.
Behind the Amateur/Homemade Concept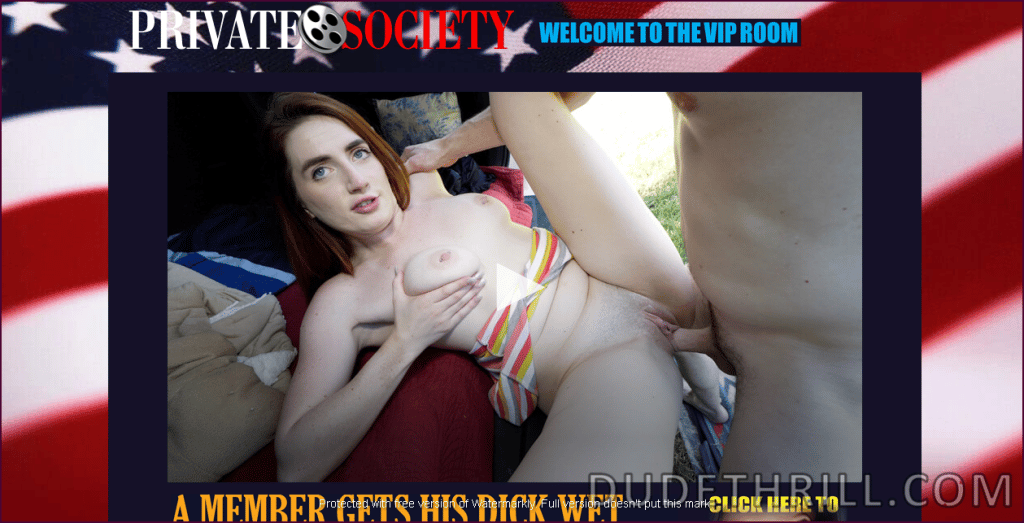 Despite the small number of available videos, the material of Private Society is wholly original and features exclusively genuine inexperienced performers. In that case, Private Society can be just up your alley if you enjoy the actual video and find sexy, adventurous ladies fascinating. The basic premise of the pornographic content accessible in Private Society is not new; it involves young ladies being picked up by the roadside, which can lead to exciting and unscripted filthy moments.
Previously I indicated that the platform's primary focus is on realism, authenticity, and genuine amateurs, and I should add that these elements complement each other nicely. You may expect to witness women caught off guard being scooped up and given money to engage in sexual acts, either inside the taxi or later in a hotel suite. Obviously, without storylines, the episodes could get pretty interesting, and you could even catch yourself laughing out loud in some instances.
Private Society's Design and Features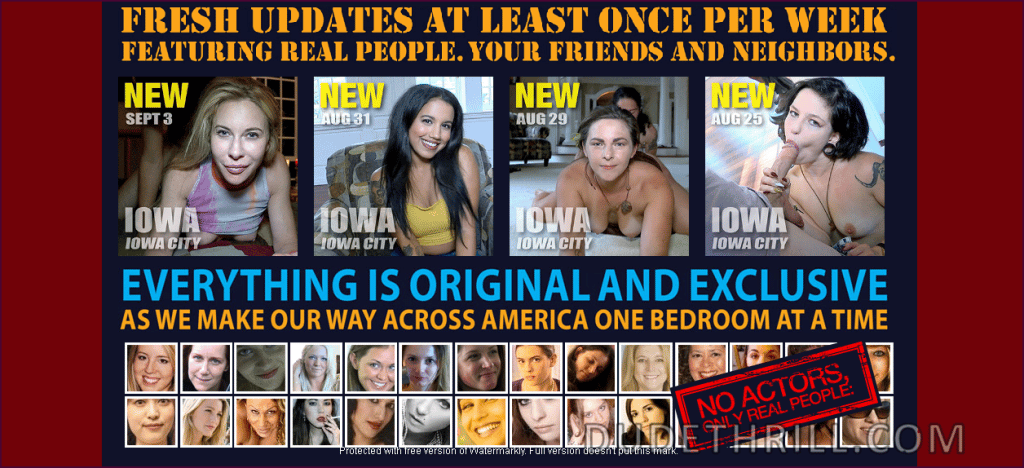 All the actresses on the Private Society website are unmistakably American because of the enormous American banner that serves as the backdrop decoration. Having such a large American banner in the backdrop lends the website some personality. Still, it gives the impression of a state department blog, and the primary color, red, can sometimes be tiring to the eyesight after prolonged use.
Because white and red are so prevalent on the web's backdrop, the brand might be challenging to spot, and the platform's visual identity can suffer. Although a minimalist design is usually preferable, it might be challenging to know exactly where you are on the page because there are no obvious indicators of where you have already been. There is also no menu bar or sidebar to use to explore the site's numerous categories and areas of the collection.
Finally, every page ends with a gallery of preview images and various links to feature-length films. When you tap on a thumbnail button inside Private Society, the clip will begin playing instantly without you having to do anything else.
What's Inside the Collection?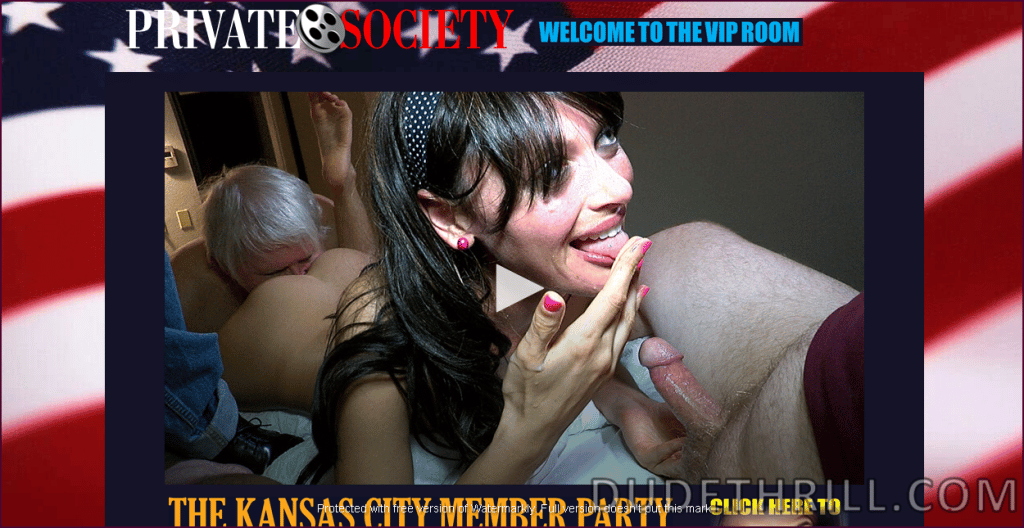 Given the platform's freshness, it's not surprising that Private Society has a limited collection of scenes available right now. In fact, they've done a fantastic job attempting to produce as much stuff as possible, especially when you think about how tough it is to generate video, including traveling to different locations to take on women eager to participate in mainstream porn. Private Society encouraged users to submit their own films, promising that the platform's creators would pay for the best ones.
There are currently more than 700+ scenes on this website, and each feature has a gallery of movies and pictures. Despite not being specified, there are around 600+ clips accessible for streaming in high-definition quality. Sadly, none of this content is available for download, which is a major bummer. The only way to get the content is by streaming, and the videos may be streamed in either MP4 or Flashplayer media, with the latter offering the finest picture quality (1280 by 720 pixels). You can get your hands on lower-quality options, too, if in case you are experiencing poor internet connection.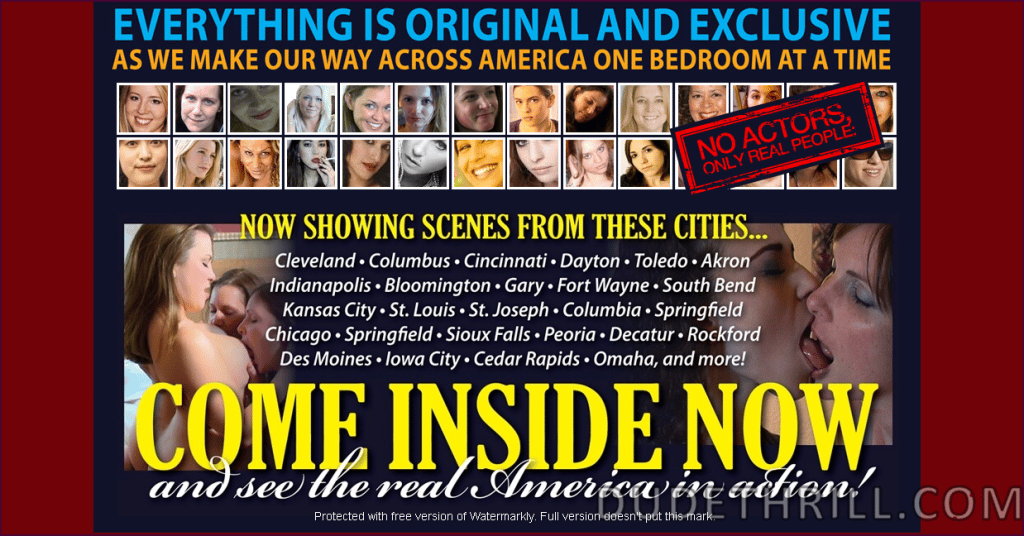 Furthermore, I could not determine how often Private Society is updated, so I can't really say whether or not the most recent scenes are still relevant and up-to-date. But so far, the scenes are impressive because they've struck a good balance between intense and softcore pleasure and even included the unexpected lesbian combo.
Authenticity is highly valued in the adult entertainment industry. Any website would thrive from acts that are trying to be authentic, which is true even when the website is not amateur. Luckily, Private Society has established itself as an authentic one in the industry. This website might have quickly devolved into a typical sexual travelogue if the average webmaster had created it. But luckily, the site was able to achieve the sensation of reality and genuineness that numerous others strive for something similar but ultimately fail to achieve.
Authentic Amateur Models of Private Society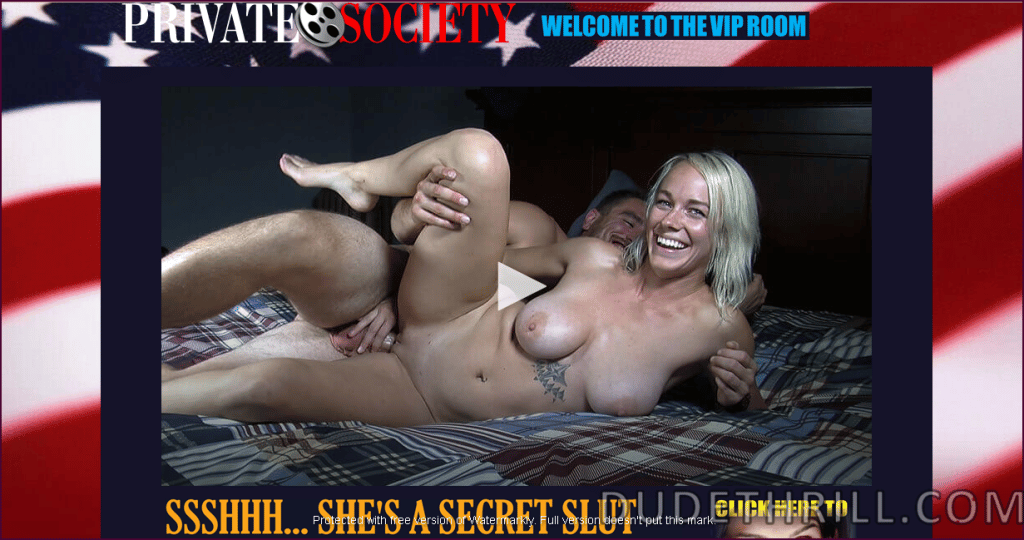 Although a few sizzling girls are in their videos, most ladies included at Private Society are less than gorgeous. However, if amateur females of various curves and sizes tickle your fancy, you're in for a good time. You may find anything from solo to handjobs, lesbians to group sex, gonzo porn to gay intercourse, bushy cunts to shaved ones, and more.
Unfortunately, users of Private Society don't get any special perks, so you'll just have to take advantage of the behind-the-scenes action you can only experience by joining. There are a lot of possibilities in Private Society's concept; however, it hasn't been fully realized because of the platform's various flaws, among which aren't quickly ignored by users. The primary issue is that the clips can't be saved and are solely streamed from the website, which is quite poor-quality compared to what we're used to seeing nowadays. But in the fullness of time, the actresses and the performances at Privatesociety.com are all handled by true beginners, which is one of the film's few redeeming qualities.
What I Hate About Them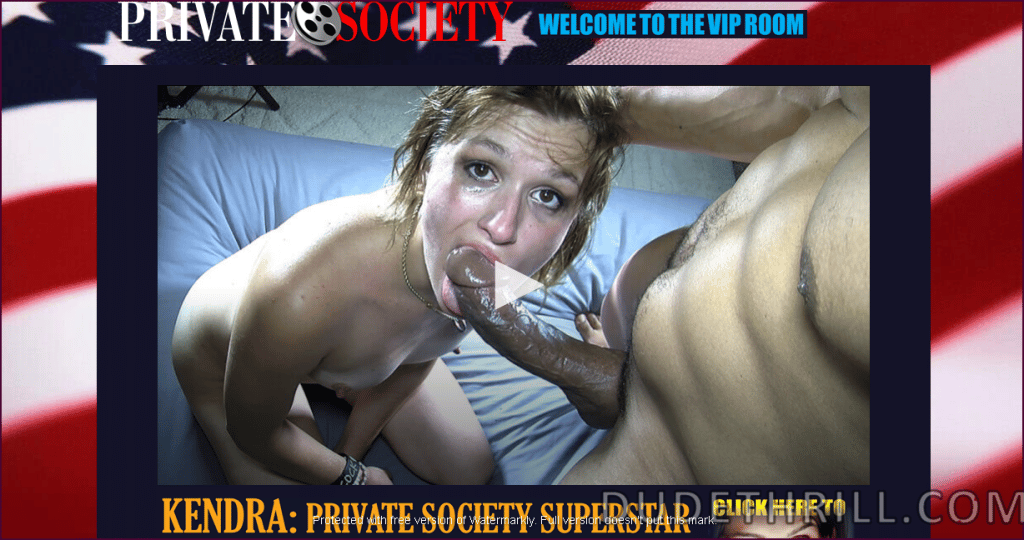 Some navigation features are missing from the Private Society website. There are no filtering settings, categories, or a favorite list to choose from. Surprisingly, it's not just those elements that are missing. All the scenes have been video capped, but no still images have been added. You can't choose between downloading and streaming the clips, and if you request a higher resolution streaming than 720p, they will automatically switch to the standard. Plus, the high-definition videos available here aren't even that stunning compared to the ones I'm accustomed to.
Incorporating a model rating would've been helpful as well. Given that these are "actual" folks who may be your acquaintances or random individuals you pass on the sidewalk, additional context on the actors would be appreciated. Finally, your subscription does not come with any extras and leaves no room for optional features like hidden locations or deleted clips — just the primary meat of the story.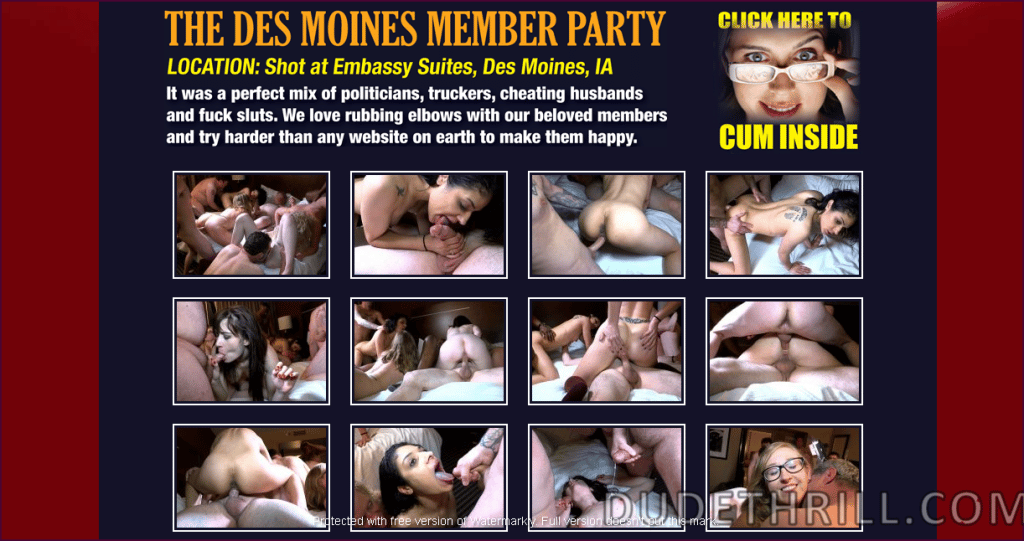 Back then, I remember that rejected clips could be accessed in a different category. Often, these videos did not make it into the primary collections because the women portrayed were either less exciting or desirable. Well, it's not that they were particularly intriguing compared to the featured ones, but at least they got clear of that boring part. It's too bad they are no longer available; it seems like an exciting place for a bit of sightseeing.
Pros and Cons of Private Society
PROS:
Honest and authentic amateur girls
Genuine amateur scenes
Lots of choices
High-definition videos
More than a hundred videos are available
CONS:
No advance filters
Requires membership fee to access some videos
---
12 Must-Visit Premium Amateur Porn Sites Similar to PrivateSociety.com: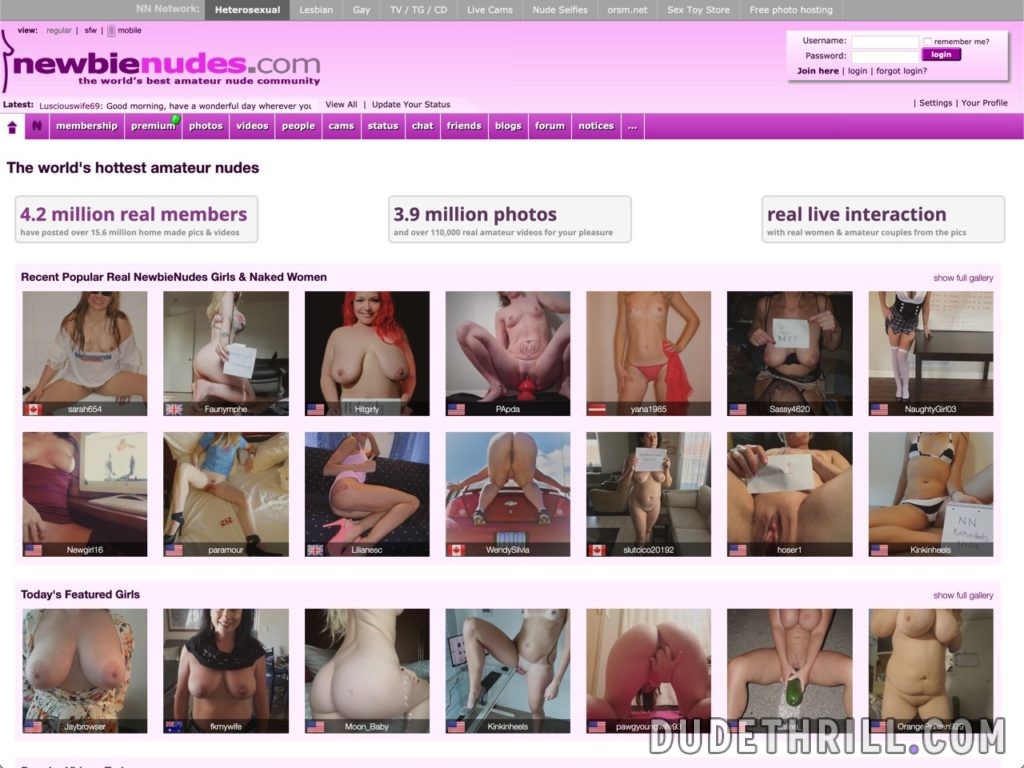 From the name itself, it can already convey you a hint as to what this site offers to its enormous audience. Technically, Newbienudes is a community loaded with amateur content of nudes and videos. Recognized by many as the world's top amateur nude community, Newbienudes offers a wide array of collections for your daily sexual desires. Perfect for those sexually erotic individuals who are exhausted with scripted pornographic content on the Internet.
All the contents in Newbienudes are homemade and range from softcore activities to hardcore ones from people all around the planet. According to reports, you can watch thousands of videos here, and you can even join by submitting your own. If you are open to this sort of kinky experiment, then Newbienudes is entirely perfect for you.
Here's the full review of Newbienudes.
PROS:
Free viewing of all types of amateur porn videos
It has a simple and easy registration process
Premium members can watch more porn videos and exclusive perks
Regardless of the SD format, porn videos are excellent in quality
Extensive library of porn content to enjoy
Everything is free and does not annoyingly promote premium subscription
Numerous filtering choices
A safe and secure browsing experience
You can upload personal homemade porn videos
CONS:
Some of the videos are of low quality as members upload them
Plenty of content materials present that develops confusion occasionally
Do not allow downloading
There are features available only for premium members
---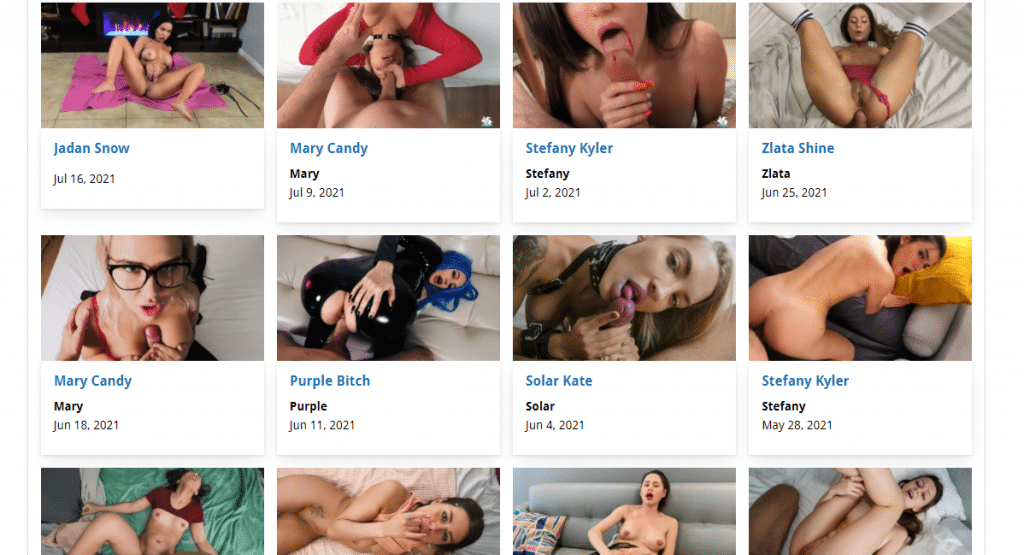 For folks seeking authentic amateur couples personally filming themselves while having intimate or hardcore sex, then TrueAmateurs.com will surely give you precisely what you need. Since 2017, the year it was launched, the site has upgraded its website interface and design to provide consumers a new and fresh experience. Be a member now and explore numerous categories of amateur porn right and relieve stress instantly by jerking it off.
Click here for a full review of TrueAmateurs.
PROS:
Updates of HD quality videos are frequent
Hardcore porn videos are exclusive to watch
Website features and design are straightforward to understand
User-friendly interface to help users navigate the site easily through categories, ratings, favorites, filters, and basic searching features.
CONS:
The index for the model does not provide information about them
---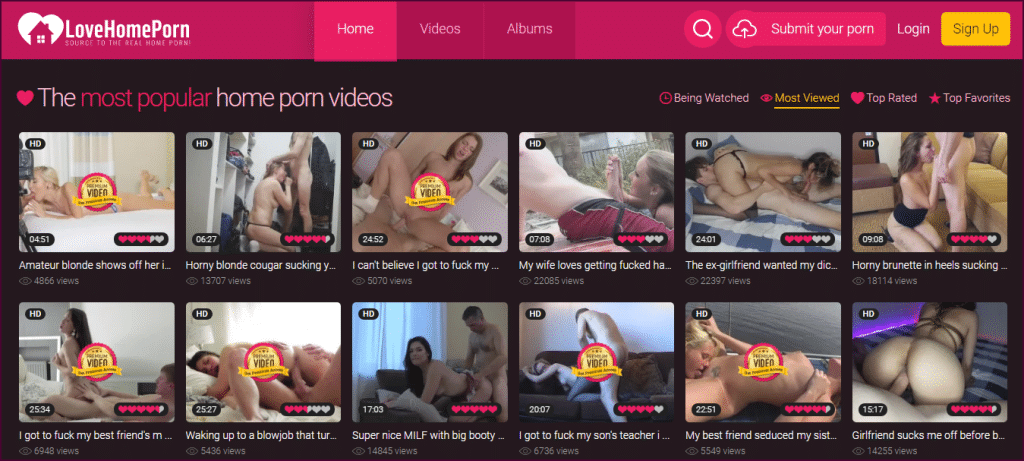 I've visited many sites online, from premium and free to amateur and webcam, but there are only a few that could live up to the task of delivering authenticity in every scene. You can get the best and most authentic homemade adult films on the LoveHomePorn site. Every day, LoveHomePorn brings you new videos and photos of women and lovers having intense, real-life sex sessions.
PROS:
Amateur and homemade porno
It has porn pictures
Some free content
Simple web page design
Easy usability
Hot amateur girls
CONS:
No community features
Some content is premium
---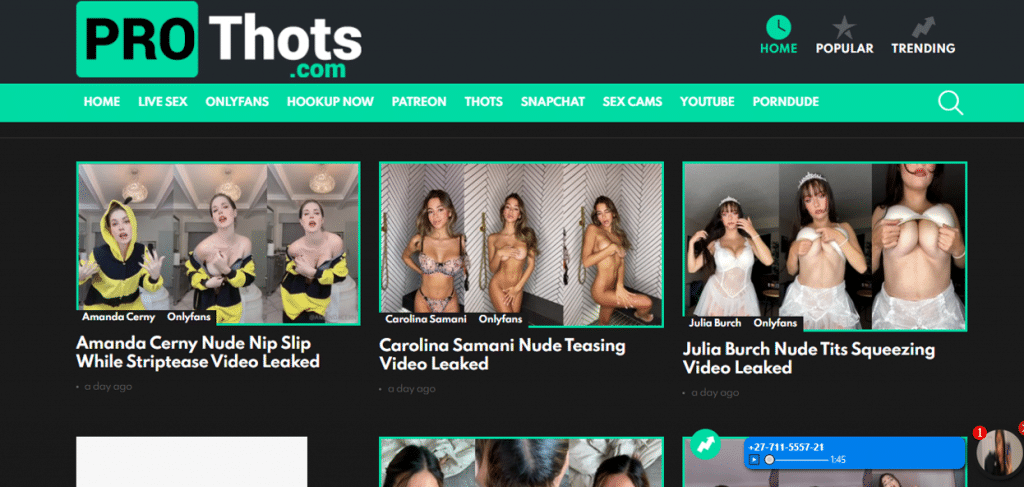 ProThots.com is a pornographic site dedicated to women of substance and from every walks of life. These ladies may be working in the corporate world, educational setup, or even the celebrity and social media industry. Anyhow, ProThots claims to offer porn fans professional beauties in their most vulnerable situations.
Indeed, this site is a fresh and new age of amateur pornography. ProThots deliver extreme and personal adult films from various sources. With that, you need to be ready and be amazed by stars and content from Snapchat, YouTube, OnlyFans, Patreon, and more.
Click to see the full review of ProThots.
PROS:
Various movies, pictures, and naked libraries
Features almost all porn genres
Social media goddesses are here
Regular updates of contents
Professional and amateur pornstars
Good video sources
CONS:
Advertisements
Video player is basic
No advanced search options
---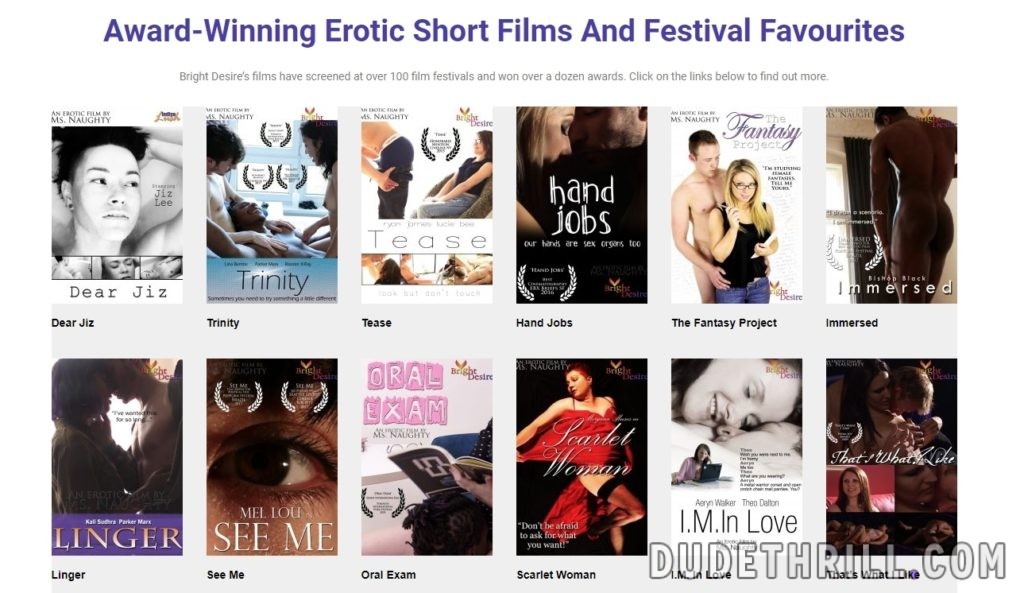 This website takes pride in combining amateur porn with professional work. Unlike other porn sites, they focus on intimacy (usually between real partners) and that's all taken with high-quality footage. The website is also known for bagging several awards for its feminist and hardcore contents. Bright Desire also has a lot of solo amateurs aside from couples, coming from different gender identities. Their contents usually have a wide array of concepts: from traditional ones to the usual narrative fantasies. Their content is something to look forward to and they even show behind-the-scene footages and interviews to let users get to know the performers better.
PROS:
It's mostly female-oriented porn so you can have your fill of sexy babes here and there
Videos are made in high quality
Contents are usually exclusive
Its paid membership has a reasonable pric
CONS:
Advanced search isn't available
Members cannot post comments
Photosets don't have .zip files for download
---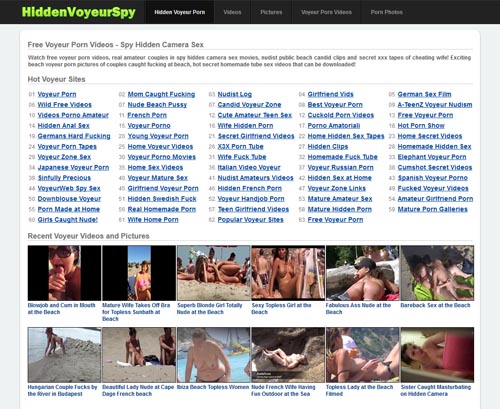 Hidden Voyeur Spy, a website that has operated over many ages and promises to excel in nothing more than the best in terms of secret voyeur and hidden sexual camera films. This is considered one of the incredibly favorite destinations primarily on the Internet for this type of content. If it appears like your interest, this might be your best place. The latest episodes are presented quite a ton, and while some of the videos are exhibitionist in style, there are few incorporated on outside sexual acts.
At the upper edge of the platform, you will devote much of your time directly accessing the highest rating materials, latest videos, and uploaded videos users' have seen most of all. The standard and duration of the material vary from one video to another, which most users would anticipate seeing as this site is primarily about novice voyeur content.
PROS:
Authentic and legit site for voyeur porn videos
Updates the contents daily
The quality of videos is primarily excellent
CONS:
Some of the clips available are short
The forum is not available
---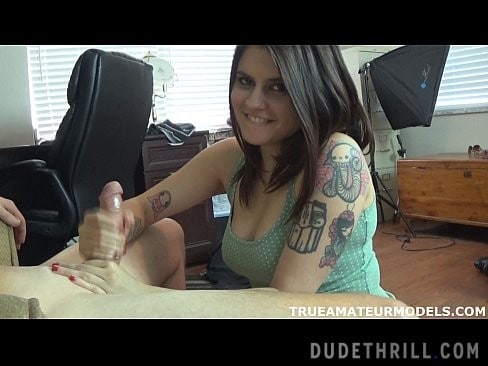 Launched in March 2005, this website features fresh faces and young porn wannabes who are working hard to become the next "it" girl in the porn industry. It's a premium website that offers a lot of exclusive perks particularly lots of amateur content. Their nude models are also very good-looking and they have an official photographer, Ray Edwards. These babes are usually picked up from public places – malls, cinemas, even in amusement parks, and get naked on cam.
PROS:
Exclusive amateur porn collection with models picked from random public places
They have a lot of video concepts ranging from solo to hardcore stuff and in various sceneries
Exclusive photo gallery counting to almost 716 galleries to date
Videos are in HD and the contents are also of good quality
Downloadable videos
CONS:
Limited video collection
Video updates are very infrequent
Photo galleries are not downloadable
---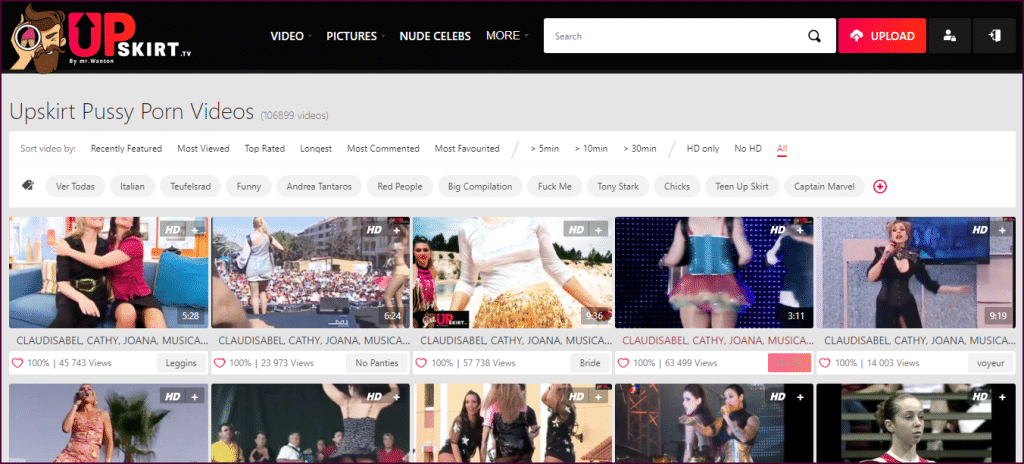 Starting from its logo to the overall vibe of the site, Upskirt.tv really gave a unique impression. Also, the homepage displays plenty of videos, and the site seems straightforward to bring upskirt content from various sources. I saw blowjob actions and a blondie's panties captured using hidden cams. There were also school girls, models, and sports personalities with several wardrobe mishaps and scandals all over the page. From what I saw, Upskirt.TV offers more than I expected. Sure, there are plenty of upskirts and voyeur videos, but they have included other forms of pleasure too. So, you'll also see some fucking, blowjobs, MILF axtions, and even celeb nudes!
Read the Upskirt.tv full review.
PROS:
Massive collection
Different categories available
Numerous content
Free to use
Numerous channels available
Pretty models, celebrities, and amateur
Downloading is free
CONS:
Some ads
Some videos are low quality
---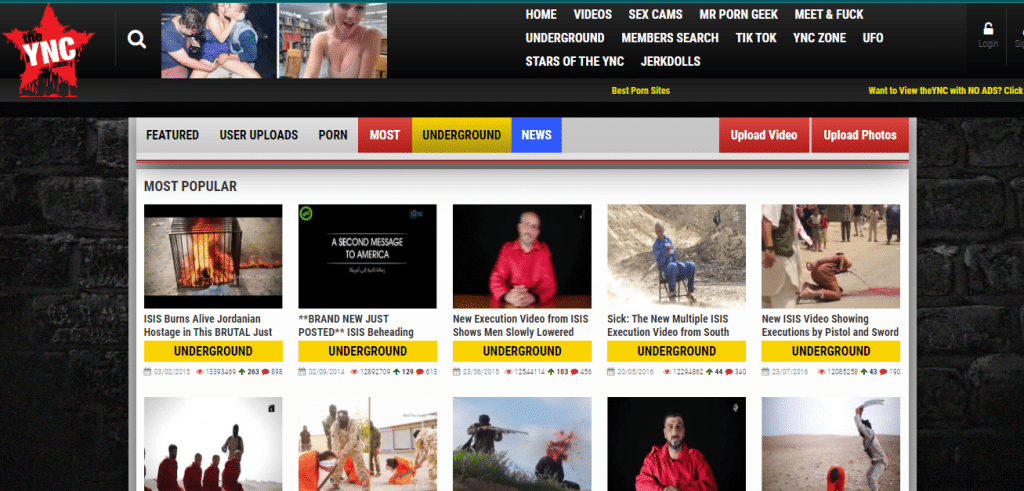 TheYNC is a website that features several of the world's worst morbid and disturbing content. There are a lot of pornographic clips here too, yet weirdly, the emphasis has always been on the bizarre and crappy ones. In other words, if you never had a "thing" on bloodshed and murder, I recommend you stay away from this website.
TheYNC is a one-of-a-kind platform. Before all of this, we already have experienced too many odd and bewildering websites. However, this is the first time I have ever encountered something close to this before. Sure, only a tiny percentage of the audience enjoys watching graphic clips loaded with nastiness and brutality. But most people here enjoy seeing hostilities and individuals acting erratically. In that case, TheYNC could be a good option for you if you're somewhat sexual predators hungry for non-traditional porno.
Check out the full review of TheYNC.
PROS:
Free access
Bonus sites
Active members
Perfect for extreme porno lovers
Amateur content
Bizarre themes are plenty
CONS:
Not typical site content
Some poor quality videos
Pornos are not exclusive
---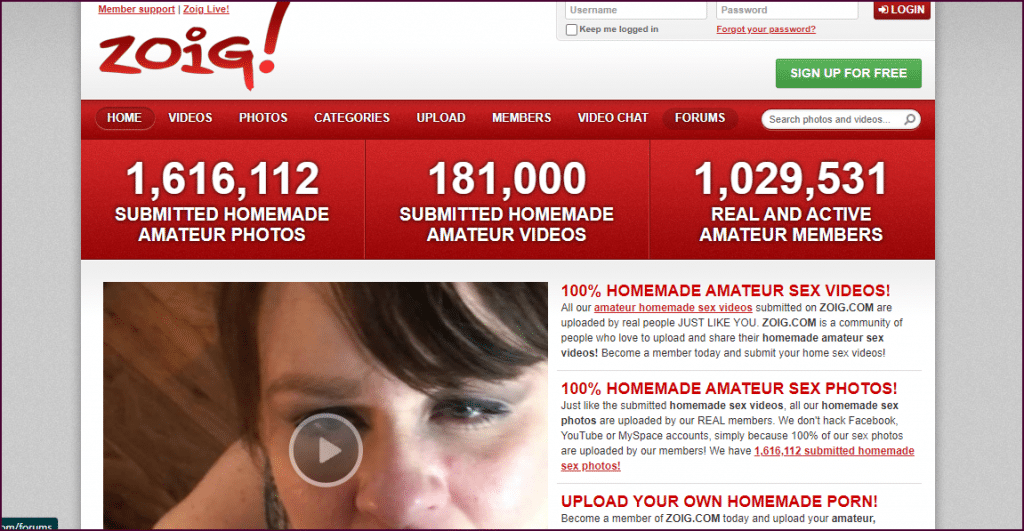 Zoig is a one-stop-shop for all aspiring pornstars looking for a place to call "home." It is a good and widely known explicit site with a pretty polished design and few advertisements.
Also, you can browse loads of different video and image categories on this website. Unfortunately, Zoig's video collection only runs a quick minute in length, but I promise they are all excellent standards. Additionally, the images come with higher quality resolution and include good slideshow options. When you visit Zoig, you'll be able to see updated image galleries and videos, so there's plenty of fapping material to go around.
Click to see the full Zoig review.
PROS:
Top collection of amateur/homemade content
User-generated
Plenty of categories
Free to use
Additional perks for subscribers
Accessible as guest
CONS:
Some features require membership
A bit cluttered forum
All amateur, no pornstars
---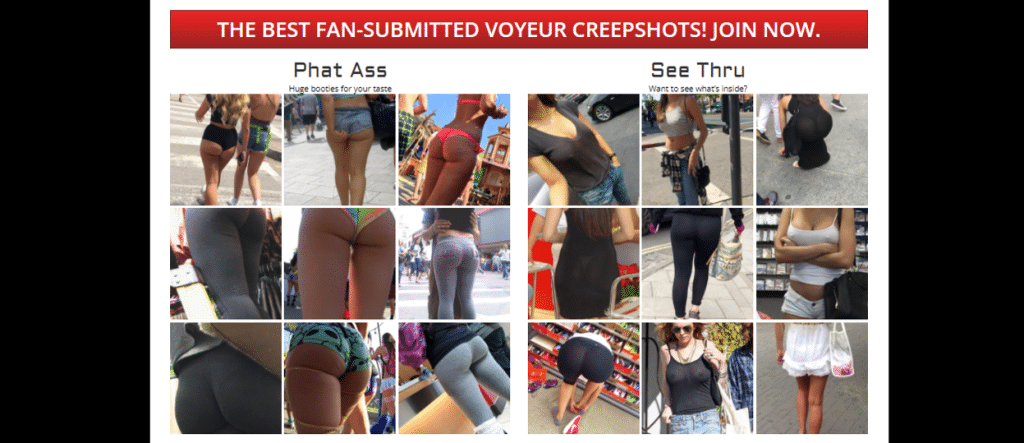 Creepshots taught us how to appreciate the beauty of women in their unguarded moments immensely. In fact, babes do not need to be all dressed up and in full makeup to make us want them in our beds. Their natural environments' moves, looks, and activities can easily make men horny. Thus, the authentic materials at Creepshots are perfect in giving porn fans arousal even if they are not voyeur type of individuals.
Learn more about Creepshots with this full review.
PROS:
User-submitted repository
Thousands of candid voyeur collection
Hot and genuine women
Real environment
Affordable price
Efficient segments and categories
CONS:
Standard quality materials
---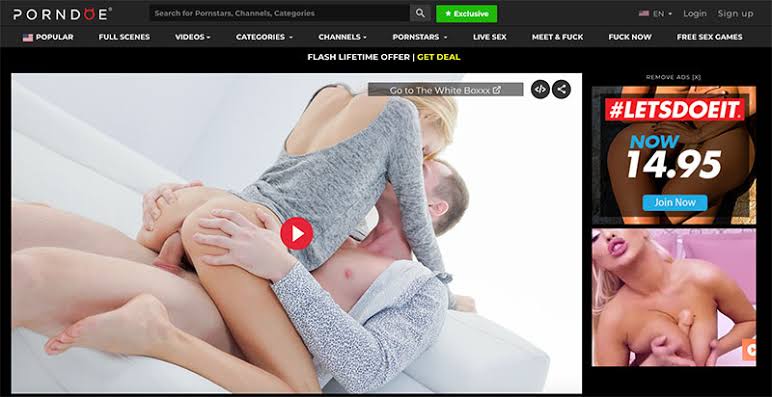 For someone in the sexual entertainment business, the title "PornDoe" is nothing new. Sure, it doesn't occupy much of my attention more frequently than the other sites like Pornhub, RealityKings, or Brazzers, but I hope this will shift once I've given the service a critique. PornDoe is undoubtedly well-known among veterans of the worldwide web, who exploit the digital media for sexual purposes.
In the not-too-distant past, this website was exclusively a paid platform. No other folks could access the page without paying subscription packages. However, the gentlemen who worked on it felt that some smut must be shared with the general public. And I know for sure, there is a good chance that PornDoe will go down the hill if they don't implement this. Luckily, they made a conscious decision to dive in for free. Now, they've endeavored to develop a platform with jaw-dropping entertainment while somehow helping promote their more exclusive networks.
Check out the full review of PornDoe
PROS:
Plenty of porn channels, categories, niches, and themes
Porn videos are unique and cater to various preferences
Plenty of models to enjoy
It has full-length videos and some HD premium exclusive content
Good mix of professional and amateur porn
CONS:
You need to upgrade to premium to enjoy all-exclusive HD collections
A lot of annoying ads and pop-ups
Annoying streaming video player
---
Final Words
Since Private Society is still in its beginning stages, we can only dream that someday it will offer genuinely remarkable value. While this was a great place to watch videos, times have changed, and not everything looks good today. But of course, we can't deny that the shots captured by Private Society production are beautiful, with adequate illumination and a professional look. Sure, Private Society isn't high-quality as the top adult websites in several ways, but if amateur performers are your style, you can enjoy them here. There isn't any forced "acting" or other artificial flourishes you can find, so everything comes off as genuine and exciting. And personally, that's the essential thing any amateur porn site could have.
All 43 Other Sites in This Category Worth Checking Out:
TruthOrDarePics & Top-12 Amateur Porn Sites Like TruthOrDarePics.com Show Me 12 Alternatives for TruthOrDarePics.com Oh, the things we do for attention! Remember that one time you were dared to do something completely outrageous, and you ended up feeling sorry for the rest of your life? Well, guess what? You're not alone. But even more surprising is […]