Updated on: December 10th, 2023
SwapSmut Review
& 12 Best Amateur Porn Sites Like Swapsmut.com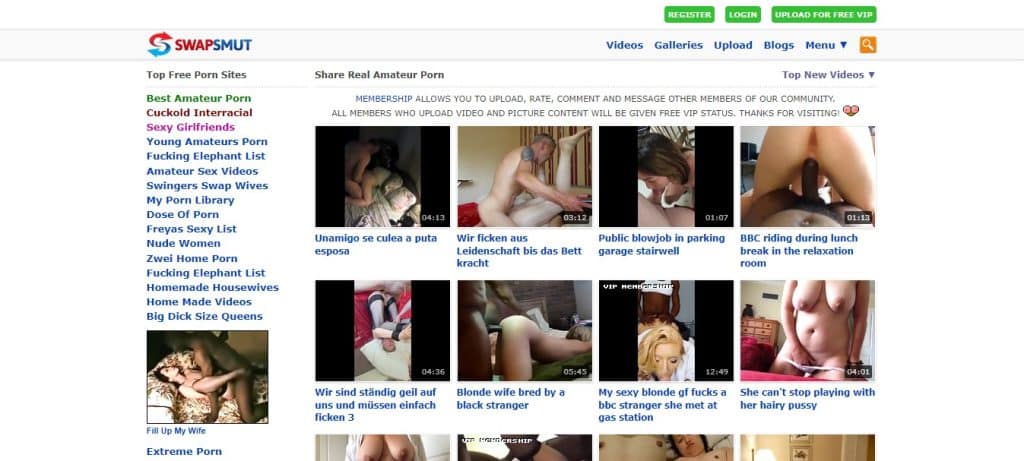 Tired of scratching your head and wondering why your favorite porn site isn't getting the attention it deserves? Well, my fellow smut enthusiasts, if you're ready to enjoy a porn site with busting traffic, it's time to embrace the magic of sharing! Enter Swapsmut, the porn paradise that thrives on the philosophy of 'sharing is caring.' This ain't just your run-of-the-mill adult site; it's a powerhouse where horny members can unite to upload all the raunchy, explicit, and oh-so-satisfying content they desire.
Official URL: http://www.swapsmut.com
Swapsmut has it in spades. With a massive horny community and a library bursting with hardcore porn, this place has garnered a fan base that's as passionate as the activities they're showcasing. Think of it as a treasure trove of adult delights, all conveniently at your fingertips. But what's in it for you, you ask? Let's find out!
Who Knew That Sharing Could Be So … Arousing?
Welcome to SwapSmut, where "sharing is caring" isn't just a motto – it's a way of life. Unleash your inner content creator, and the website gives you sparkling VIP status. Yep, you heard that right; your ticket to the land of premium enjoyment comes straight from your creative endeavors. It's like getting an all-access pass to the most exclusive party in town, and the party is all about… well, you know what it's about.
In a world where the adult entertainment industry often feels like a distant, mysterious empire, SwapSmut takes a different route. SwapSmut is a place where the power indeed rests with the community. It's a dynamic exchange – you upload, and you're treated to the VIP treatment in return. It's like a heavenly circle of pleasure if you will. And let's face it; few things are as satisfying as being part of a community that thrives on this kind of interactive, mutual appreciation.
Oh, and did I mention that SwapSmut is the ultimate stage for the everyday superheroes of intimacy? That's right, the folks you'll find here are just regular, ordinary folks like you and me, sharing their most tantalizing moments with the world. Certainly, they're the true amateurs who know that getting down and dirty is just part of the human experience.
Share Your Porn Videos at Swapsmut.com and Let Others Jerk Off As You Did!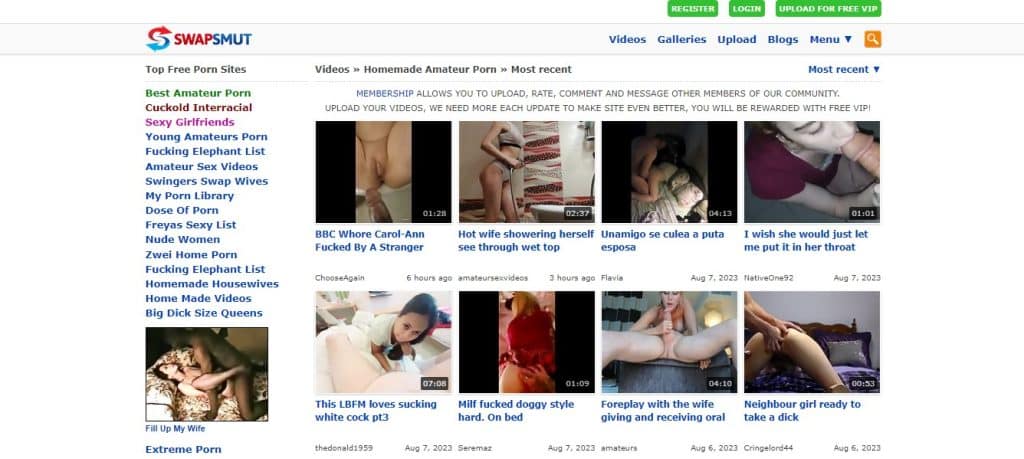 Imagine yourself browsing an amateur porn site, in desperate need of amateur porn, and are suddenly handed a superhero cape. Enter Swapsmut, the mighty traffic-saving ally about to transform your digital kingdom of evil. When you buddy up with this powerhouse, expect a parade of fresh, curious eyes from different horny audiences.
But hold on, Swapsmut is a traffic magician, and it's about to pull a rabbit (or an enchanting rabbit hole of content) out of its hat. This amateur porn platform caters to a mind-boggling variety of hardcore niches and quirky genres that it's practically the traffic-boosting Swiss Army knife you've been yearning for. Whether you're into vanilla, kink, or something a little wilder, there's a cozy spot for you at the Swapsmut table.
Bottomless Collection of Different Amateur Videos from Various Sources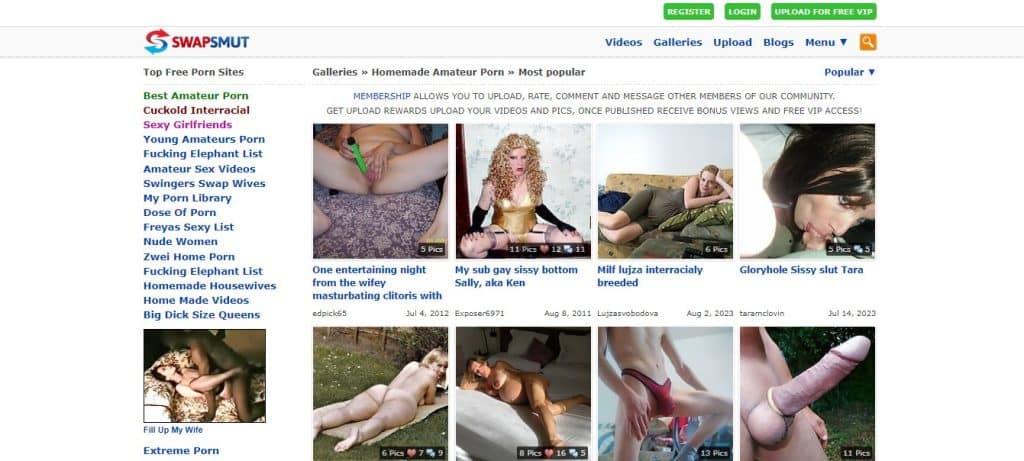 Ah, the charm of amateur clips – they're like the espresso shots of the adult world, with no time for fluff, just straight to the steamy business. The folks sharing their passion on SwapSmut aren't here to craft elaborate plotlines or set up intricate character development. Oh no, they're on a mission to ignite desires in the most efficient way possible. It's like they're the superheroes of the adult realm – zero time for chitchat, just boom, zap, and you're in the throes of unadulterated ecstasy.
Picture this: a suave dude steps into the scene, and before you can even process his devilish grin, he's christened a sultry brunette with his, well, love potion. But oh, he's not done yet. In a jaw-dropping short clip, he goes from facial artist to an Olympic-level gymnast, navigating uncharted throat territories with the precision of a surgeon. It's a plot twist that'd make Alfred Hitchcock proud, and you can practically hear the audience cheering in the background. That's SwapSmut for you – bite-sized, explicit, and hotter than a jalapeno in a sauna.
Now, lest you think this is all there is, allow me to unveil the glorious truth: SwapSmut's gallery isn't a one-trick pony. Sure, you'll find these compact gems that hit like lightning, but if you're in the mood for an extended adventure, fear not! Simply roll up your sleeves (figuratively, of course), and dive into the treasure trove that is the archive. There, my friend, you'll unearth the hidden epics, the sprawling tales of sensual exploration that'll leave you craving more.
Shitload of Porn Pics Perfect for Your Quickie Fapping Sesh at Swapsmut.com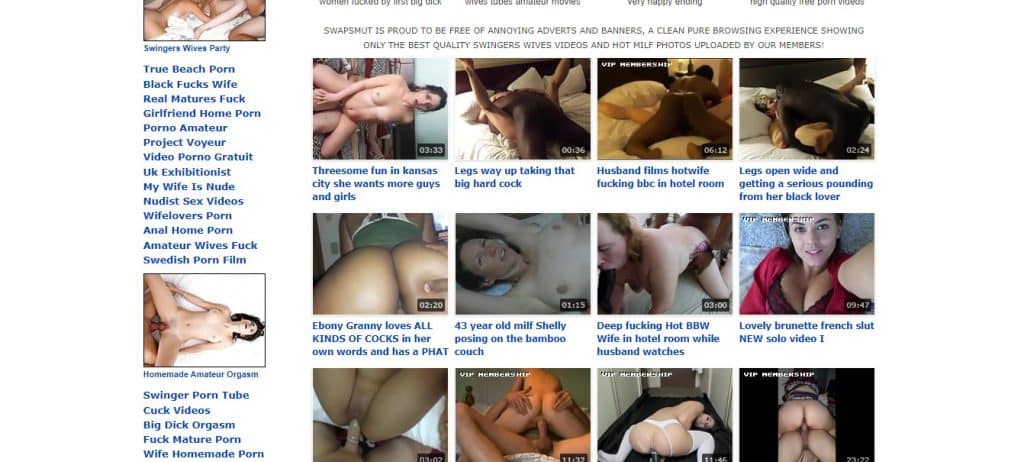 While I've been waxing lyrical about SwapSmut's video playground, it turns out that this amateur porn site isn't a one-trick pony. As a matter of fact, there's a whole other dimension of delight tucked away – a shitload of seductive photos that'll have you ogling like a starstruck paparazzo.
Just imagine my shocked face while navigating through the virtual gallery, and what unfolds before my eyes is a shitload of intimate and amateur shots. From tantalizingly close glimpses of the female mystique to a cornucopia of nude selfies, this realm is a kaleidoscope of desire curated by everyday enthusiasts. They say a picture is worth a thousand words, but in the kingdom of SwapSmut, each image is a secret code to unleash your deepest cravings.
Sure, most of these snapshots are indoor escapades, but now and then, you stumble upon a gem like a sexy postcard from the wild side. Take, for instance, the topless beach adventure, where a daring gal ditches her inhibitions along with her top. The sand becomes her playground, and she's the star of a private show that's anything but ordinary.
Before you dive headlong into SwapSmut, a little heads-up: while a substantial chunk of content here is free for your viewing pleasure, there's a VIP enclave that beckons with whispered promises of exclusive gems. Is it worth ascending to VIP status? It's a question only you can answer, dudes. But here's the kicker: even without the "special" treatment, a free account grants you entry into an impressive amateur porn collection.
Free Porn Site but No Intrusive Ads to Annoy Your Horny Days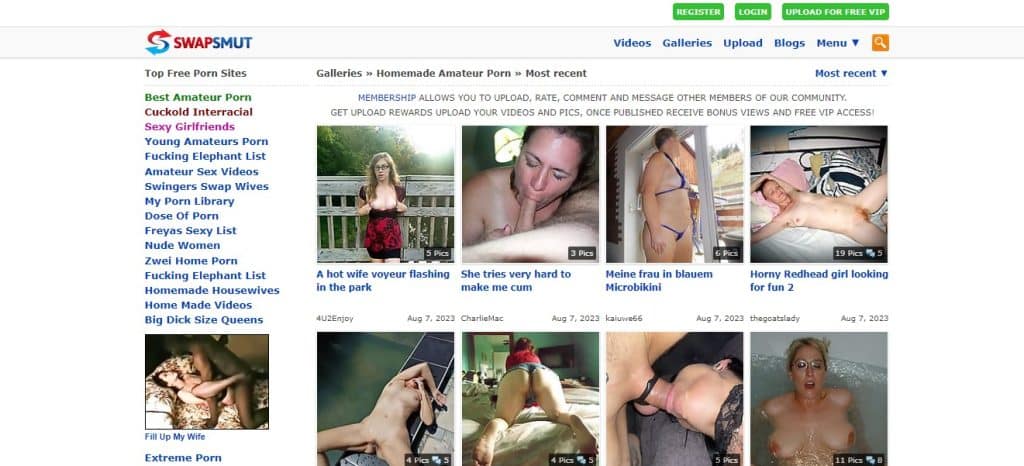 Alright, let's talk about the site design. It's like someone took inspiration from a kindergarten coloring book and said, "Voilà! A website!" Don't get me wrong; I'm all for simplicity, but this design might make you feel like you've stumbled into a digital circus. But anyway, beauty is in the eye of the beholder, right? And in this case, it's all about the steamy content within, not the flashy exterior.
Regarding content, SwapSmut seems to have made a pact with the Ad-Free Fairies. No pesky ads popping up to interrupt your party! It's like a magical oasis where you can indulge in your guilty pleasures without those annoying interruptions about local singles supposedly dying to meet you. Ah, sweet bliss! So, if you're looking for a smooth ride through your paradise of passion, this could be your haven.
While SwapSmut might be rocking a theme that seems to have missed the design memo, its heart is in the right place – delivering you raw, honest, and raunchy content that might redefine your perception of pleasure. Just hang tight and watch as this digital canvas gets a makeover – who knows, maybe even Da Vinci would've approved.
Porn Quality and Variety is Fucking Unreal at Swapsmut.com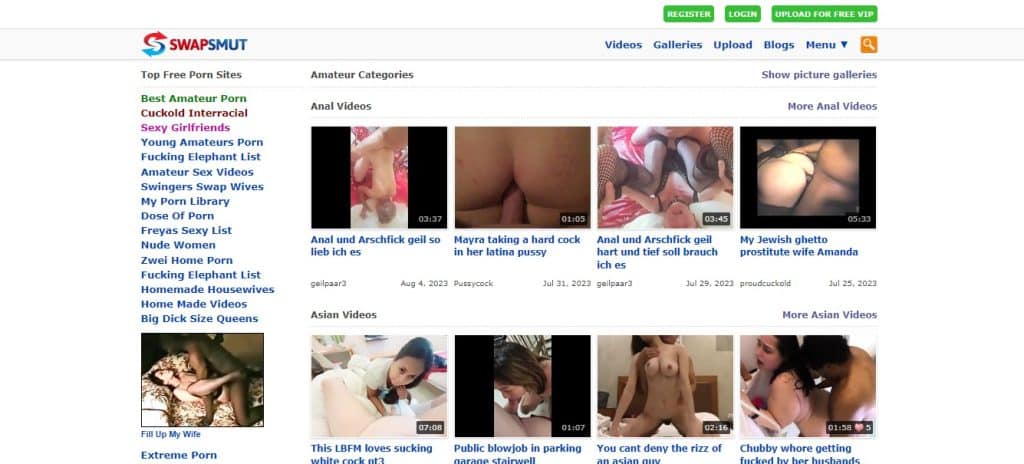 Once you step into the SwapSmut page and start exploring the categories like a treasure hunter on a mission, you'll realize this isn't just a buffet of smut – it's a five-star gourmet feast for your carnal cravings. If you've got a kink, a quirk, or even a remote longing for something off the vanilla radar, they've got you covered like a warm and oh-so-naughty blanket.
Indeed, you'll wander through an erotic wonderland with diverse options that even a unicorn would be in awe of. Whether you're into scenes that'd make Christian Grey blush or prefer a more tender touch of romance, there's something here for everyone. Also, SwapSmut is like the Willy Wonka factory of the adult realm – they practically encourage you to explore every nook and cranny by offering links to any page you fancy. Go ahead, dive into your chosen rabbit hole; make sure you return for air eventually.
Moreover, this amateur porn site is like that enthusiastic friend who insists on giving you a grand tour of their quirky collection. It's all about amateurs, baby, and let's not forget that it takes all kinds to make this world spin. From vanilla to wild, from "oh my" to "OMG," their array of amateur categories and niches is like a smutty rainbow ready to make your fantasies come alive. And even if you're the mild-mannered type, the kind who prefers their coffee black and their videos vanilla, don't be surprised if you find yourself dipping your toe into uncharted waters – those sexy genres are like quicksand for your curiosity.
Pros and Cons of Swapsmut.com
PROS:
Easy to use
Free to use
Unique concept to sharing porn
Quality is amazing
Lots of content to choose from
Various categories and genre
CONS:
Some ads but not intrusive
---
12 Best Amateur Porn Sites Similar to Swapsmut.com: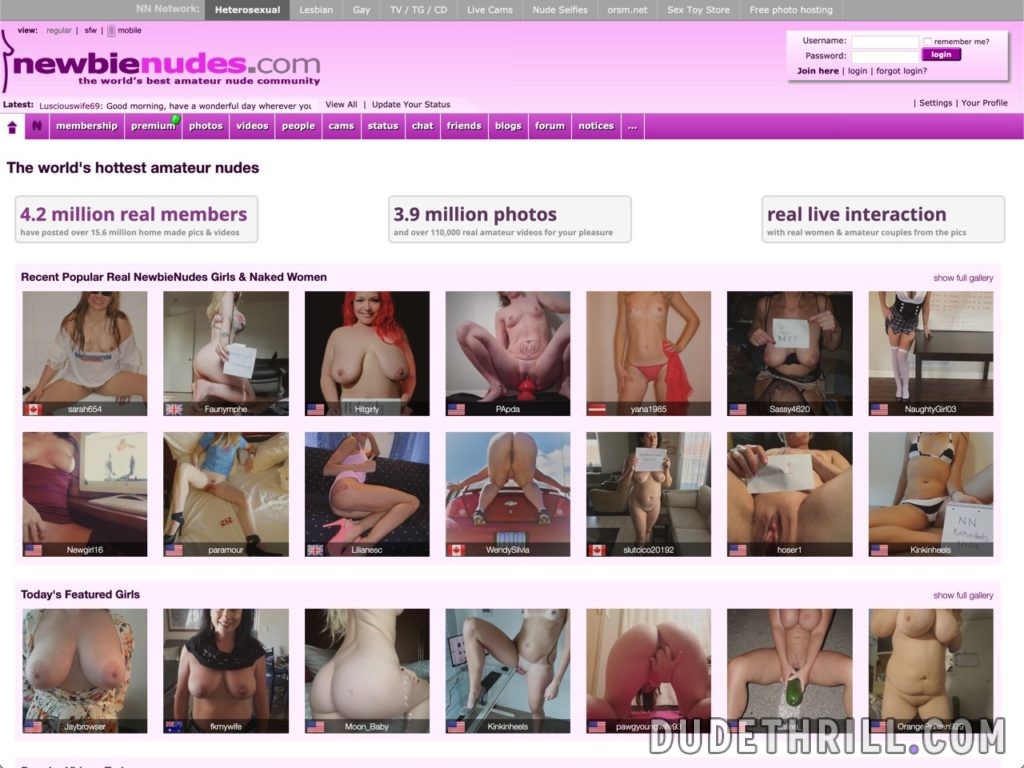 From the name itself, it can already convey you a hint as to what this site offers to its enormous audience. Technically, Newbienudes is a community loaded with amateur content of nudes and videos. Recognized by many as the world's top amateur nude community, Newbienudes offers a wide array of collections for your daily sexual desires. Perfect for those sexually erotic individuals who are exhausted with scripted pornographic content on the Internet.
All the contents in Newbienudes are homemade and range from softcore activities to hardcore ones from people all around the planet. According to reports, you can watch thousands of videos here, and you can even join by submitting your own. If you are open to this sort of kinky experiment, then Newbienudes is entirely perfect for you.
Here's the full review of Newbienudes.
PROS:
Free viewing of all types of amateur porn videos
It has a simple and easy registration process
Premium members can watch more porn videos and exclusive perks
Regardless of the SD format, porn videos are excellent in quality
Extensive library of porn content to enjoy
Everything is free and does not annoyingly promote premium subscription
Numerous filtering choices
A safe and secure browsing experience
You can upload personal homemade porn videos
CONS:
Some of the videos are of low quality as members upload them
Plenty of content materials present that develops confusion occasionally
Do not allow downloading
There are features available only for premium members
---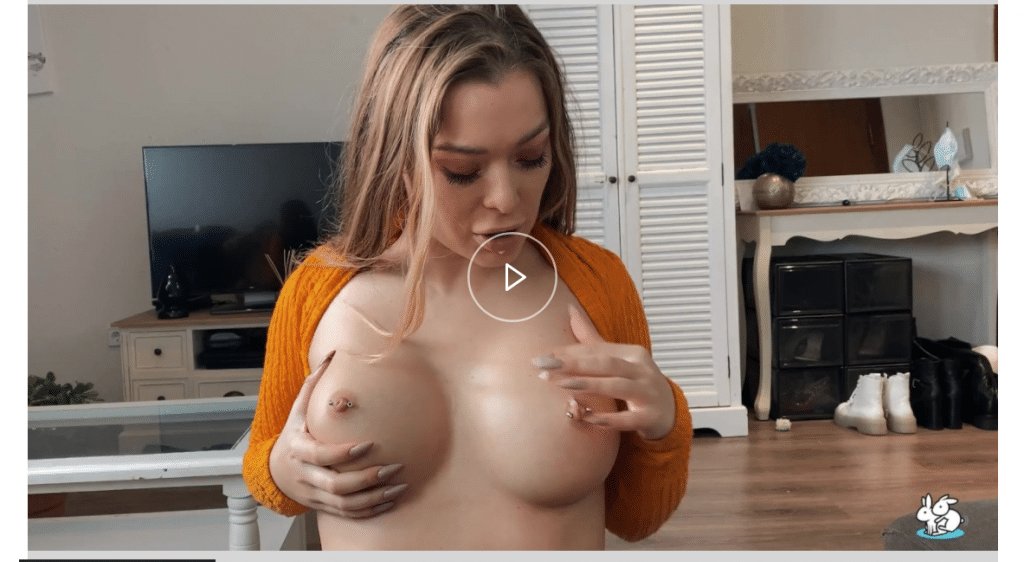 For folks seeking authentic amateur couples personally filming themselves while having intimate or hardcore sex, then TrueAmateurs.com will surely give you precisely what you need. Since 2017, the year it was launched, the site has upgraded its website interface and design to provide consumers a new and fresh experience. Be a member now and explore numerous categories of amateur porn right and relieve stress instantly by jerking it off.
Click here for a full review of TrueAmateurs.
PROS:
Updates of HD quality videos are frequent
Hardcore porn videos are exclusive to watch
Website features and design are straightforward to understand
User-friendly interface to help users navigate the site easily through categories, ratings, favorites, filters, and basic searching features.
CONS:
The index for the model does not provide information about them
---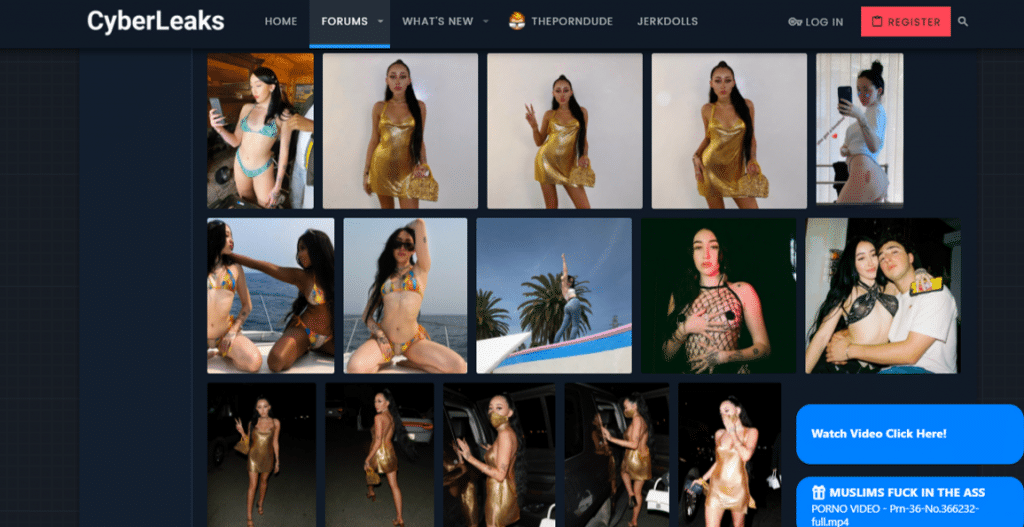 Those porn fans who do not want to spend their cash on pornography will delight in Cyber Leaks. Everything is free and accessible for you. Cyber Leaks takes pride in delivering services without unnecessary hassles. The site is new to the industry yet has tried to pick up pieces and provide essential sexual goods. Cyber Leaks was registered in March of 2021; since then, the site has conquered and won dicks of many. With this, the platform is doing its best to grow and serve more porn lovers.
PROS:
Free site
Various leaked materials
Simple site layout
Amateur materials
Easy to navigate
User-friendly
Includes various hot networks and platforms
CONS:
Small archive
Advertisements
---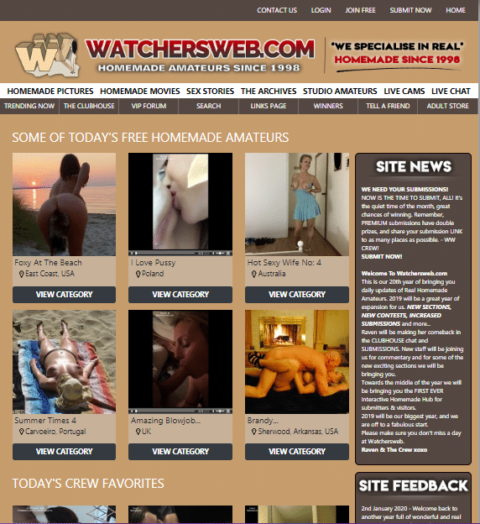 WatchersWeb provides inspirational and authentic sex videos. If you hate scripted porn and are tired of jerking off to this nonsense professionally filmed porn, this is highly suitable for you. Upon joining, you will tons of other amateur-porn enthusiasts and get in touch with them through communication tools available on the site. Premium membership is also open at the most reasonable prices, a worthwhile investment for some fun, erotic, and pleasurable sexual fulfillment.
PROS:
Users can upload their content on the site
People here are genuine and numerous
Videos available are authentic, passionate, and amateur
CONS:
Some features cannot be used unless you sign up
Simple looking design of the site
---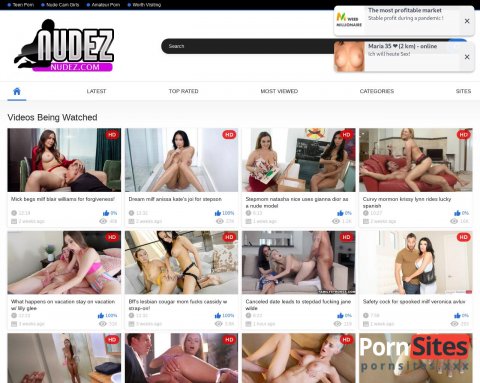 Nudez is a reputable nude site that offers the best quality content for first-timers eager to get hardcore sex with their boyfriends. The majority of the contents here are amateur videos so expect that some recorded videos are of low quality. Nonetheless, they are all exciting and display freaky private and public displays of sexual urges. The registration in Nudez is free of charge, and you can already enjoy great perks. It has no issues in terms of site loading and is constantly praised for its undying commitment to producing quality amateur porn clips.
PROS:
Thousand collections of videos free for viewing
Website design is simple and sleek
Multiple category options
CONS:
Advertisements pop up aggressively
---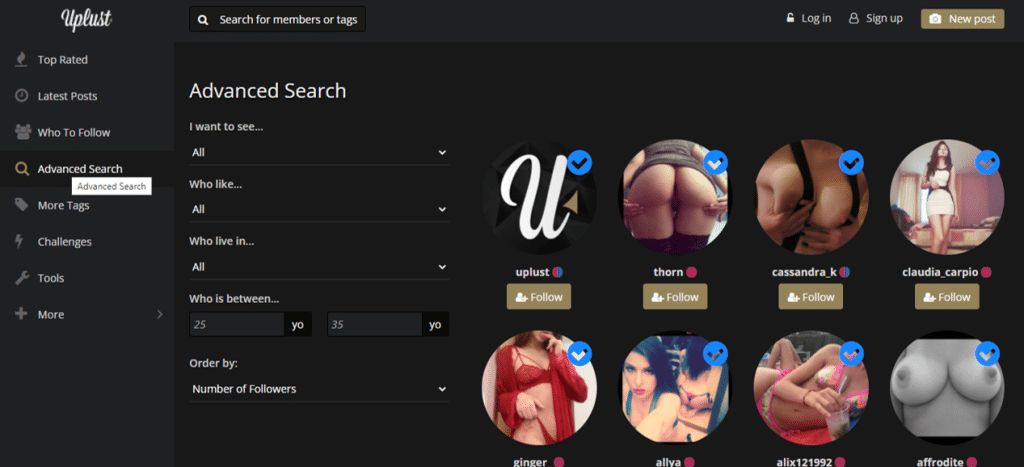 Uplust provides its whole collection freely. Yes, you do not need to spend anything nor spend extra to grasp the horniest materials. Porn fans can get to enjoy complete nudity, amateur flicks, couple-sex, and more in one venue. Indeed, you can have all the time of your life jerking and fapping to these social media superstars. The acts are great, and the babes are explosive. Definitely, everyone is excited for Uplust.
Take a look at the full review of Uplust.
PROS:
Free site for porn addicts
Various materials available
Amateur images and videos
Clean site design
Great sorting features
Regular updates
Great community
CONS:
---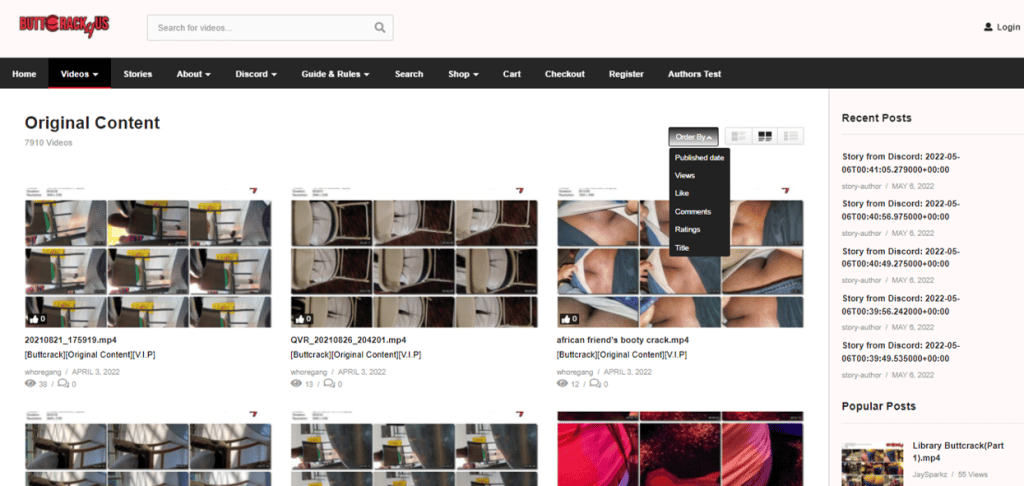 Butt Crack's collection is enormous that your voyeur thirst will be easily quenched. It is also inevitable to notice that Butt Crack captures moments perfectly. The creators keep adding treasures regularly, and thousands of materials are on the way.
Here's a full Butt Crack review.
PROS:
Candid and voyeur butt crack deals
Thousands of movies and free stuff
Download materials
Authentic voyeur deals
Huge and active community
Register to create and contribute
Free butt cracks for non-members
CONS:
VIP membership is pricey
Advertisements
---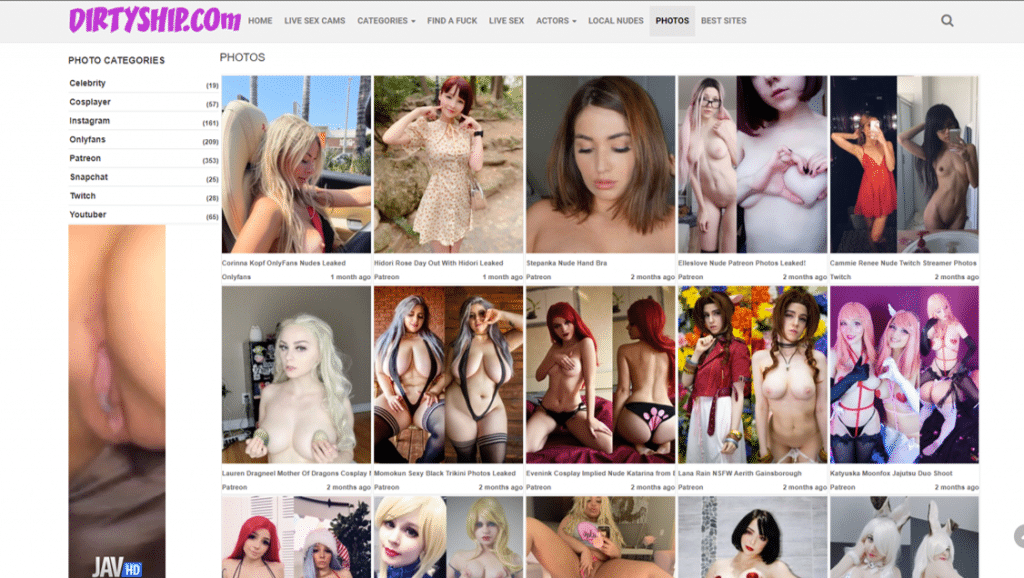 Are you in for some fun? Head over to DirtyShip, where you can find free excellent contents to jerk off. Coming from various sites, they collected the hottest and most daring nudes and videos from Gamer Girls, Snapchat, Cosplay, Instagram, and many more. Loaded with your favorite sexy girls in streaming videos, amateur, and other naughty stuff you can think of. If you want to see a masturbating girl in the public or bathrooms and some pussy-eating dudes taking pleasure from their super hot girlfriend, then this is undoubtedly the best platform for you. Unwind and relax by just watching and viewing!
Read the DirtyShip full review.
PROS:
Nudes are plenty to jerk off
Updates regularly its contents
Videos of amateur couples or singles are free to watch
CONS:
Advertisements are plenty and annoying
Website design is boring
---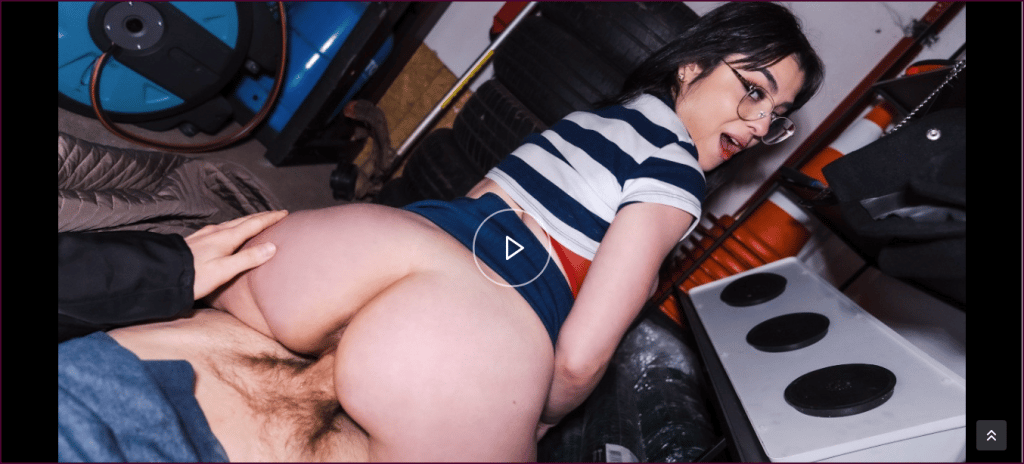 Public Agent has a real-like porn concept where the casting agent randomly approaches ladies on the main road and presents them with a "deal." It stands out from the rest because of its excellent production, regular updates, gorgeous females, and steamy adventures. This level of excellence in reality porn released by PublicAgent.com is not surprising. Anybody who enjoys amateur and fake films about beautiful women engaging in sleazy activities for money have my full recommendation.
Check out the full review of Public Agent.
PROS:
Entry to the whole FakeHub networks
Frequent uploads
Stunning European newbies and upcoming stars,
Unique reality porn scenes
Almost 4000 clips are available for download
CONS:
Downloads charge an additional amount
No image galleries included
No sophisticated search tool and model database is available
---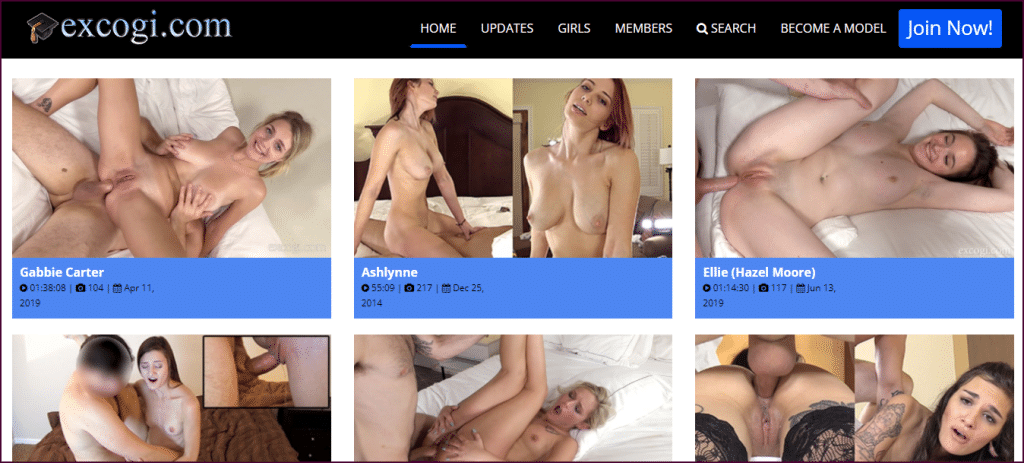 ExploitedCollegeGirls offers a fresh beauty, or a brand-new chick will be on camera weekly, so you will never know what you're going to see next. Also, the production is surprisingly outstanding for a film made by amateurs and featuring novice actresses. And since the site is a premium amateur-porno, its overall usability is expected to be efficient and easy to use. All the buttons and navigation systems are smoothly running, so you don't have to worry about lags or any fuss.
Click to see the full ExploitedCollegeGirls review.
PROS:
Lovely College hotties featured
Huge collection of amateur videos
Downloading is available
Photos are in ZIP files
Videos come in a different format
Real amateur girls
CONS:
Requires registration
Needs Premium subscription
---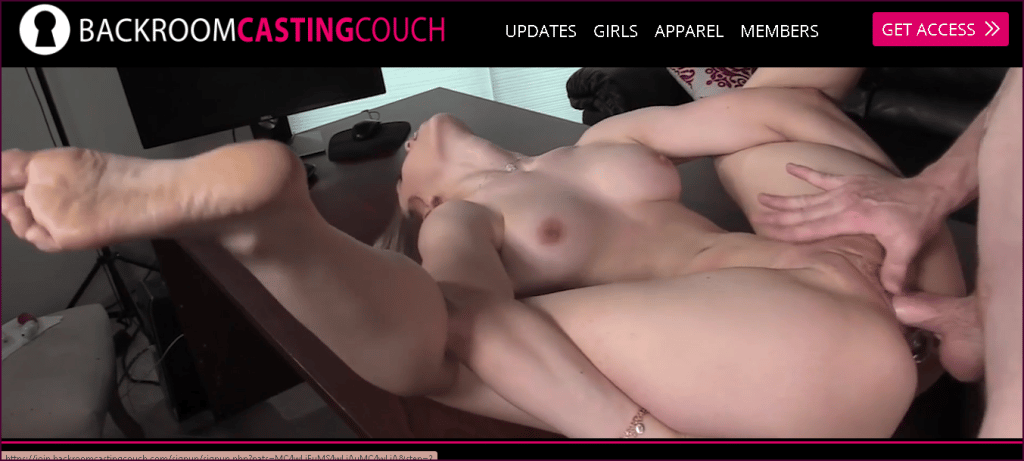 Backroom Casting Couch is the newest offering produced by a similar creative mind that gave you the highly recommended site, Exploitedcollegegirls.com. All the scenes and unscripted lines are documented on its massive BackroomCastingCouch collection. As for the girls themselves, they're of varying standards. Some were ordinary and unappealing, whereas some looked sultry and blazing with beautiful figures. There's more and more homemade stuff to watch, and the number of ultra-high-definition clips uploaded each week is growing steadily.
Learn more about Backroom Casting Couch with this full review.
PROS:
Amateur and authentic
Girls are gorgeous
Scenes are appealing and tempting
Not scripted
Plenty of content
Usability is simple
CONS:
---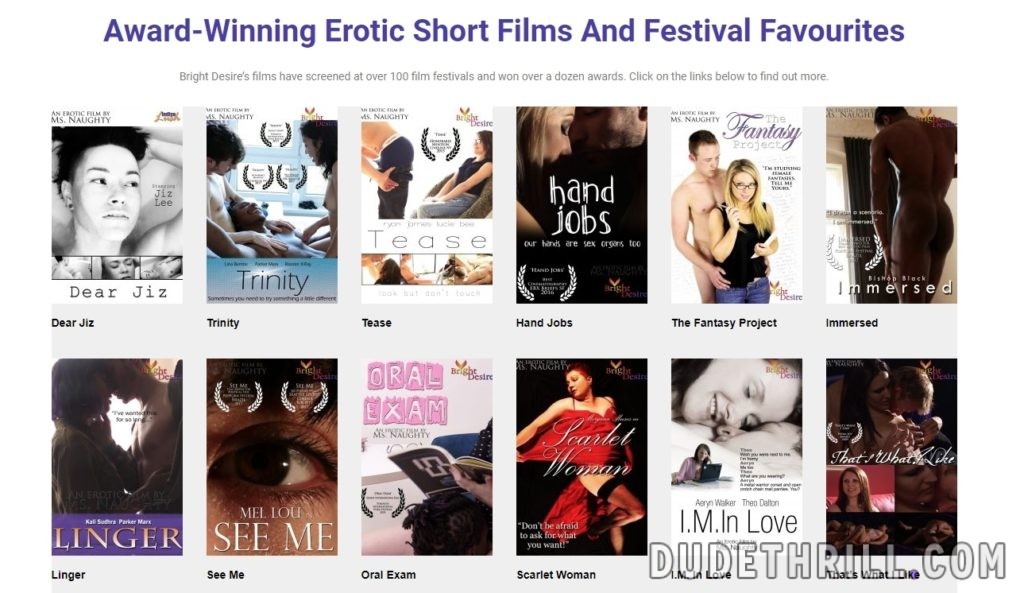 This website takes pride in combining amateur porn with professional work. Unlike other porn sites, they focus on intimacy (usually between real partners) and that's all taken with high-quality footage. The website is also known for bagging several awards for its feminist and hardcore contents. Bright Desire also has a lot of solo amateurs aside from couples, coming from different gender identities. Their contents usually have a wide array of concepts: from traditional ones to the usual narrative fantasies. Their content is something to look forward to and they even show behind-the-scene footages and interviews to let users get to know the performers better.
PROS:
It's mostly female-oriented porn so you can have your fill of sexy babes here and there
Videos are made in high quality
Contents are usually exclusive
Its paid membership has a reasonable pric
CONS:
Advanced search isn't available
Members cannot post comments
Photosets don't have .zip files for download
---
Bottomline
So, there you have it. SwapSmut is your ticket to explore a world where fetishes flourish and preferences parade. It's like an adult amusement park where every attraction caters to your naughtiest desires. Plus, who can resist an amateur porn site where you're not just welcome but encouraged to be as wild as your imagination allows? So, fellow masturbators, suit up, dive in, and get ready for a rollercoaster of amateur porn fapping. After all, with SwapSmut, the only limit is the one you set yourself.
All 55 Other Sites in This Category Worth Checking Out:
Your Porn Dump Review & Top-12 Amateur Porn Sites Like YourPornDump.com Show Me 12 Alternatives for YourPornDump.com Alright, buckle up, thrill-seekers! Dudethrill here, your go-to guide in the wild world of online adult entertainment. Today, I've got the lowdown on a hidden gem – a porn tube about to blow your mind. Drumroll, please! Enter YourPornDump, […]