Updated on: December 4th, 2023
CamWhoresBay Review
& Top-12 Amateur Porn Sites Like CamWhoresBay.com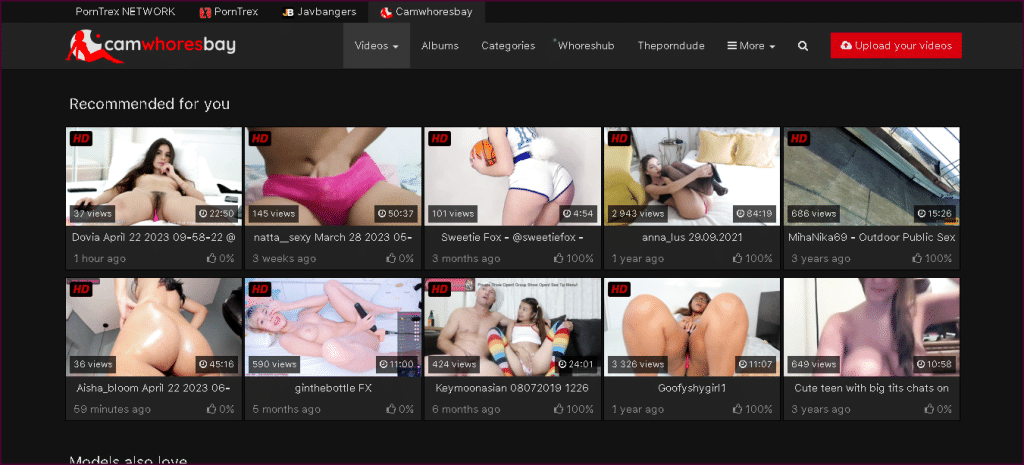 Hey there! Do you want to add some spice to your day? Well, you're in luck because we are all in a significant era where technology allows us to access adult entertainment at our fingertips. It's no secret that many women are comfortable sharing their erotic pics online, and some even go all out on camera. That's where CamWhoresBay comes in, one of the many websites catering to this growing trend of amateur adult content. So, are you ready to join the fun and add heat to your mundane routine? Let's dive in!
Official URL: https://www.camwhoresbay.com
CamWhoresBay: The Rising Star of the Amateur Entertainment World
Are you on the lookout for a fresh and exciting adult entertainment experience? Then look no further than CamWhoresBay! This new star on the scene has been operating for just a year; however, it has made an impact. Recently, their active users have skyrocketed, attracting millions of visitors each month — including all you dirty-minded pervs out there!
But let's be honest; we all have needs, and CamWhoresBay seems to have cracked the code to fulfill them. The website has been attracting a staggering more or less five million users monthly! So, it's safe to say that CamWhoresBay has captured the hearts and… well, let's say, the other parts of many people.
How did they do it, you ask? Well, CamWhoresBay understands what its audience wants, and they deliver it fun and engagingly. Moreover, the site's content is for the eyes and the soul. Also, they've created a community where people can feel free to express themselves and explore their desires in a safe and inclusive environment.
From risqué selfies to full-blown adult content, CamWhoresBay has got it all. And if you're wondering what sets them apart, it's their fresh and edgy approach to adult entertainment. Unlike the other sites, they don't take themselves too seriously and know how to have a little fun.
Camming with a Twist: Not Your Ordinary Cam Whores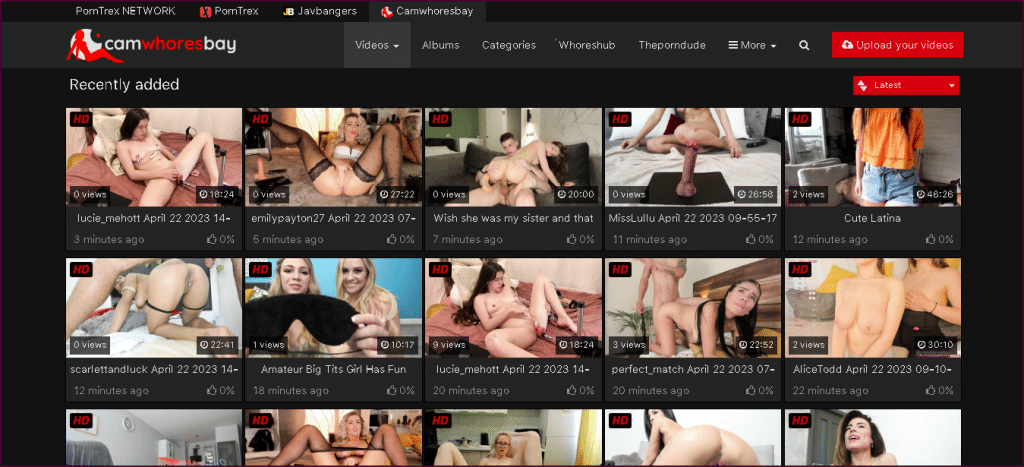 Alright, picture this: I opened up CamWhoresBay's site, expecting to indulge in live-cam action with gorgeous ladies. But, lo and behold, what I found was a stash of pre-recorded videos that left me pleasantly surprised! Seeing this treasure trove of homemade videos was way better than obtaining a greasy Weiner Schnitzel in your takeout bag.
Additionally, while these girls technically fall under the "cam model" category, you can't chat or make cam2cam sessions with any of them. Anyway, let's not dwell on the technicalities, shall we? The bottom line is that there's no need for shady tricks or scams to get people to watch these hot videos — they're all readily available on CamWhoresBay's free site.
Well, I gotta admit, the site's name is a bit misleading. When you hear "cam website," you expect some live-action, right? But fear not, my fellow horndogs, because CamWhoresBay's amateur video stash will satisfy your cravings for adult entertainment. Certainly, it doesn't matter what they call it, as long as it delivers the goods. And trust me, CamWhoresBay's got the goods.
Your Very Own Personalized Collection of Clips, Curated by CamWhoresBay Just for You!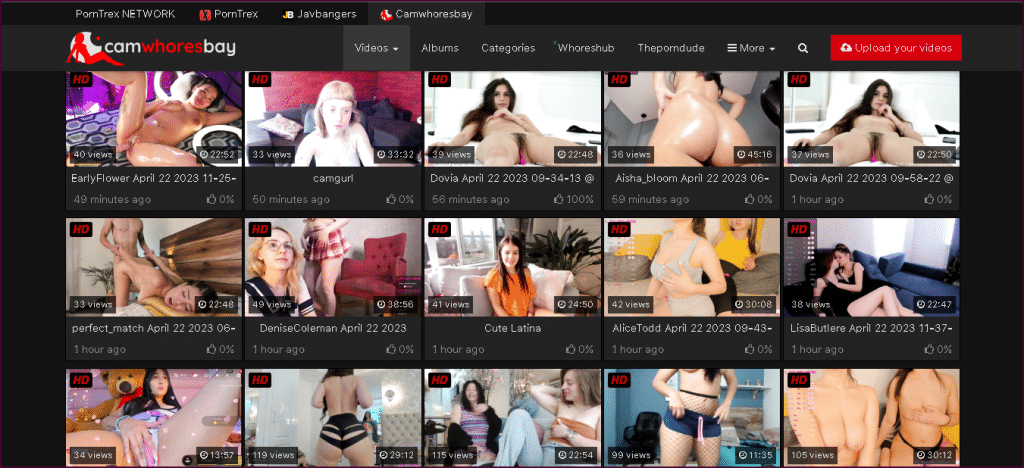 Let's clear the air immediately — CamWhoresBay is not your typical auction site — no bidding on goods or bidding on love here. No, sir, this is a site that caters to your, ahem, more adult needs. And boy, does it deliver! As soon as you load up the homepage, you'll be greeted by many amateur clips, guaranteed to make your heart race and your palms sweat. The main page features recommended clips tailored to your preferences — assuming you've visited CamWhoresBay enough times to analyze your preferences. So, if you're a newbie, expect a mix of solo and vanilla scenes to get you started.
But wait, there's more! Below the "Recommendation" section, you'll find the recently added videos. Certainly, the site is expanding at lightning speed. In fact, within 24 hours, a whopping 100+ freshly added videos. Also, every page has around 40 videos – nearly 100K+ clips since the site features over 3K+ video collection pages. Not terrible for a place that's only been around for a short while.
Indeed, I know what you're thinking: "But CamWhoresBay is such a young site; how can they have such a huge collection?" Well, my friend, it's all thanks to the dedication of the site's users. These amateur babes are happy to share their naughty escapades with the world, and we're all better off for it.
Meanwhile, its user-friendly interface makes searching for your favorite categories and performers easy. And with new videos being added constantly, there's always something new to discover. Overall, CamWhoresBay is a refreshing addition to the adult entertainment scene. It's a site that celebrates the beauty and sexuality of real, everyday women — something worth getting excited about.
Almost a Live Sex Cam Website, But Not Quite! Or is it?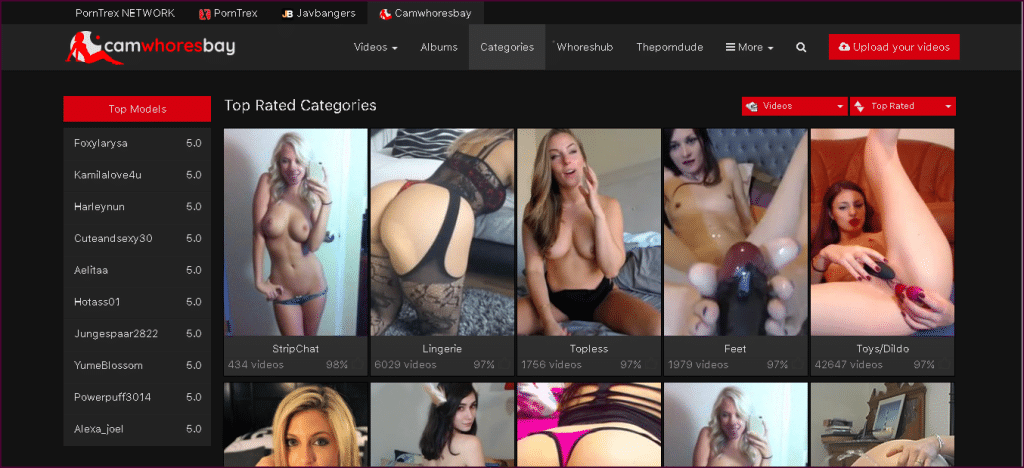 I know I said earlier that CamWhoresBay wasn't your typical cam site, but it's pretty darn close. The difference is, instead of live shows, you get a bunch of pre-recorded clips of amateur babes getting down and dirty on their webcams. Obviously, the site is not just your run-of-the-mill boring solo scenes; there's a lot of naughtiness going on here. As a matter of fact, these ladies know how to put on a show, and they're not anxious or fearful to experiment and test new things.
Of course, like any good amateur site, some professional scenes are mixed in with the real stuff. But CamWhoresBay doesn't rely on those fake scenes to get you off. Instead, the real draw here is the authenticity of the clips. These people are doing real things, and you can tell they're actually enjoying themselves.
However, don't just take my word for it. The collection has plenty to explore and enjoy, with nearly 100K+ clips. And with new videos being added daily, you never know what kind of kinky goodness you might stumble upon. So, get ready to have your mind (and maybe a few other things) blown by CamWhoresBay.
Saving Grace for Cheapos: How CamWhoresBay Helps You Enjoy without Tipping Big Bucks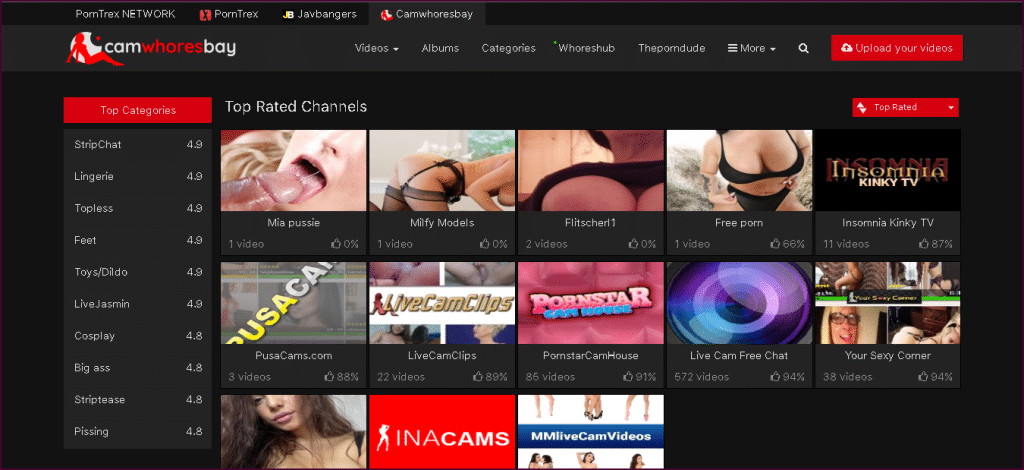 When you first stumble upon CamWhoresBay, you might think it's a typical live cam site where you can chat and interact with the cam model. However, once you start exploring, you realize that it's actually a collection of pre-recorded clips featuring amateur babes putting on a show in front of their webcam.
Also, some of you might be disappointed that you can't engage in lively banter with the model or make requests. At least you don't need to feel guilty for not giving tips, right? And let's face it, some freeloaders out there never planned on tipping anyway.
But this site has got you covered for those who are into a pre-recorded cam show. You can relax and enjoy the show without any pressure to interact or spend money. It's like watching porn but with the added thrill of knowing that the girl is performing just for you.
Keep Your Eyes on the Prize: Don't Miss the Pictures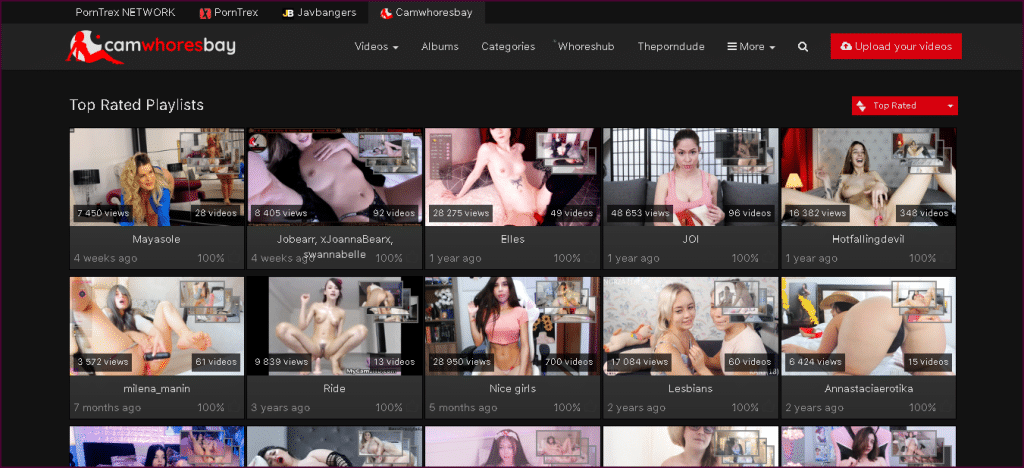 Let's talk about the photos and albums. I have to say; I love scrolling through the erotic snaps that the amateurs have uploaded. However, one thing irks me: so many albums only have a single featured picture! When I find a babe that catches my eye, I prefer to revel in a whole collection of her pics. Certainly, it would have been an effortless search of the galleries that the image quantity could sort.
Aside from that, I have to give credit where credit is due. The site's overall layout is spot-on. Certainly, CamWhoresBay's design is clean, modern, and comfortable to navigate. Also, you can easily find whatever you're in the mood for. Also, I appreciate that my adblocker worked like a charm, and I didn't have to put up with annoying spam while browsing. Definitely, it's a nice feeling to enjoy the content without feeling like you're constantly being sold something.
In fact, the only thing missing from CamWhoresBay is a sense of community. I'd love to see a forum or chat room where fans can discuss their favorite models, trade tips, and even request specific types of content. Maybe they could even offer exclusive access to particular cam shows for active members — just a thought.
Amateur and Pro Cam Models Performing for Your Pleasure at CamWhoresBay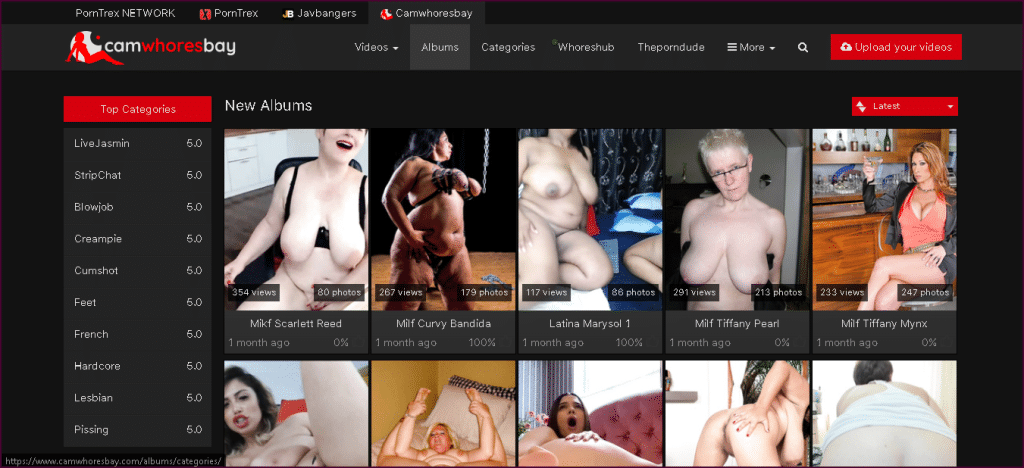 Do you know what's excellent about CamWhoresBay? It's like having a library of your favorite porn stars. It doesn't matter if they're not famous or only did a handful of webcam shows before disappearing; this amateur site has got you covered. But sometimes, finding your favorite girl can be a bit of a treasure hunt. Take Nicole, for example. I stumbled upon one of her clips and was instantly smitten. After clicking on her name, I faced a sea of Nicoles. Certainly, it was like searching for a needle in a haystack.
After some sleuthing, I finally found her. It turns out she had a dozen webcam shows on CamWhoresBay, and her fans had dutifully uploaded them for all to enjoy. Of course, it's funny to think that these fans are now the gatekeepers to this collection. They're the ones who decide what's worthy of uploading and what's not. Likewise, that's excellent news for those worried about spending our hard-earned cash on a subpar cam show.
With CamWhoresBay, you can rest easy knowing that the shows you're watching have been approved by others who have watched and jerked off them. And best of all, they're completely free!
Pros and Cons of CamWhoresBay.com
PROS:
free to use
Check out some missed live shows
Lots of amateur models
Great for cheapskates
CONS:
Offers pre-recorded live shows only
---
Top-12 Amateur Porn Sites Similar to CamWhoresBay.com: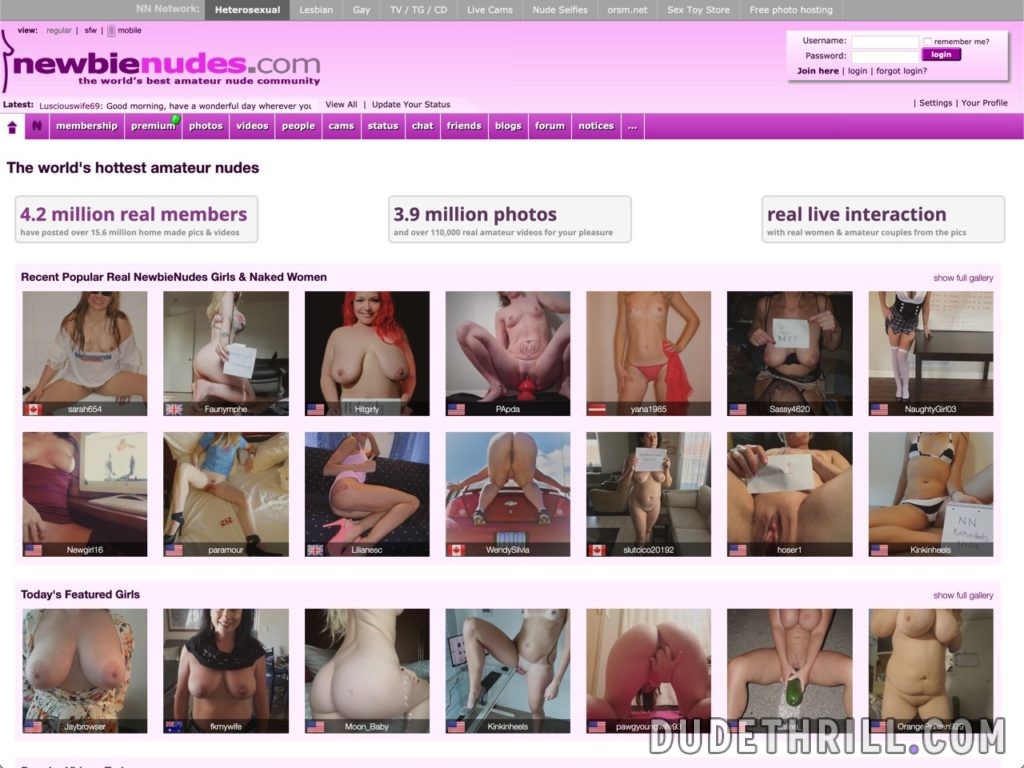 From the name itself, it can already convey you a hint as to what this site offers to its enormous audience. Technically, Newbienudes is a community loaded with amateur content of nudes and videos. Recognized by many as the world's top amateur nude community, Newbienudes offers a wide array of collections for your daily sexual desires. Perfect for those sexually erotic individuals who are exhausted with scripted pornographic content on the Internet.
All the contents in Newbienudes are homemade and range from softcore activities to hardcore ones from people all around the planet. According to reports, you can watch thousands of videos here, and you can even join by submitting your own. If you are open to this sort of kinky experiment, then Newbienudes is entirely perfect for you.
Here's the full review of Newbienudes.
PROS:
Free viewing of all types of amateur porn videos
It has a simple and easy registration process
Premium members can watch more porn videos and exclusive perks
Regardless of the SD format, porn videos are excellent in quality
Extensive library of porn content to enjoy
Everything is free and does not annoyingly promote premium subscription
Numerous filtering choices
A safe and secure browsing experience
You can upload personal homemade porn videos
CONS:
Some of the videos are of low quality as members upload them
Plenty of content materials present that develops confusion occasionally
Do not allow downloading
There are features available only for premium members
---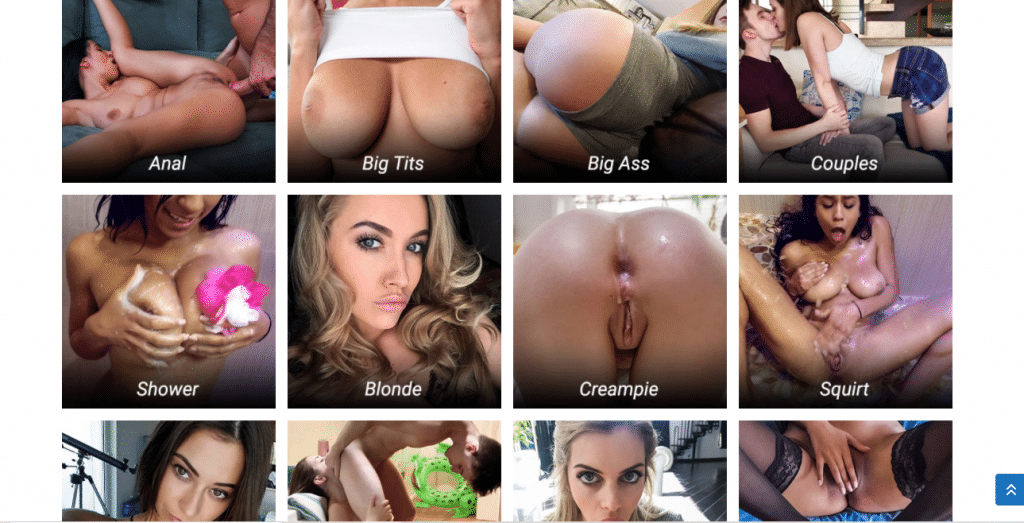 For folks seeking authentic amateur couples personally filming themselves while having intimate or hardcore sex, then TrueAmateurs.com will surely give you precisely what you need. Since 2017, the year it was launched, the site has upgraded its website interface and design to provide consumers a new and fresh experience. Be a member now and explore numerous categories of amateur porn right and relieve stress instantly by jerking it off.
Click here for a full review of TrueAmateurs
PROS:
Updates of HD quality videos are frequent
Hardcore porn videos are exclusive to watch
Website features and design are straightforward to understand
User-friendly interface to help users navigate the site easily through categories, ratings, favorites, filters, and basic searching features.
CONS:
The index for the model does not provide information about them
---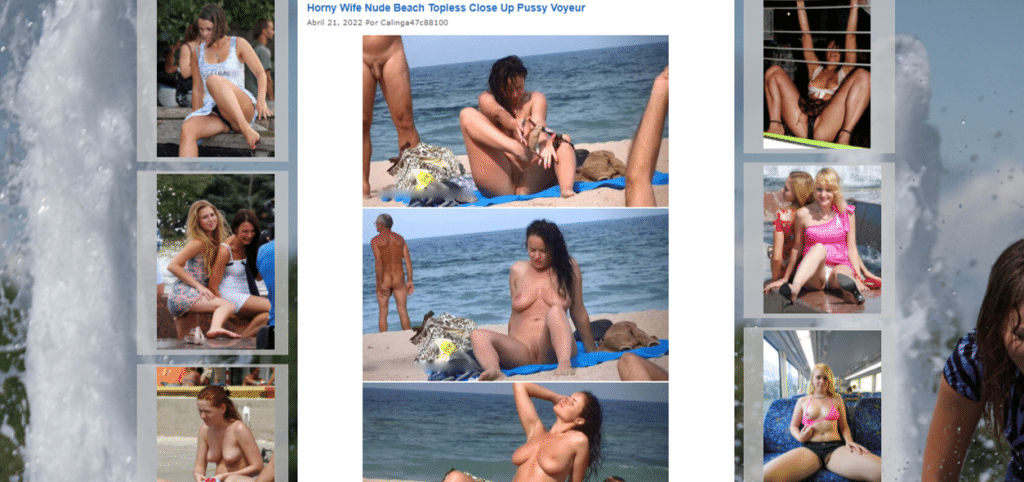 Nice Upskirt delves into the areas of intense satisfaction while streaming anonymously diverse babes worldwide. The rawness and freshness of the materials are orgasmic, and one can't resist the urge to fap hard. Nice Upskirt features terrific and hot amateur babes simply doing their daily errands without knowing eagle-eyed horny individuals are around. These ladies got an enormous appeal that could genuinely beat you off and later provide an ecstatic orgasm.
PROS:
Regular voyeur updates
Thousands of materials to choose from
Hot categories
Exclusive offerings and materials
Easy to navigate
Good blog-style format
Tags are everywhere
CONS:
The download is a challenge
Adverts are present
---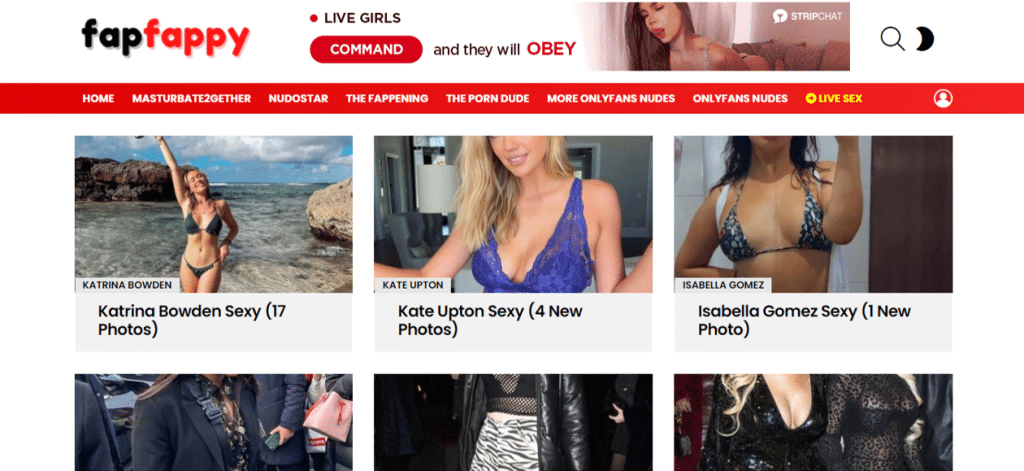 Fap Fappy delivers an incredible collection of dripped erotica from various sources. The salivating materials will touch every porn fan's sexuality and induce fapping right away. Who does not take pleasure in these situations? The sexy and enticing photographs and videos of your most-loved personalities and new blossomed babes are within your reach.
Click to see the full review of Fap Fappy.
PROS:
Dozens of leaked materials
A mouthwatering collection of hot images and videos
Caters to amateur and celebrity babes
Free downloads available
Free site
Various site partners
CONS:
Annoying advertisements
Site design needs improvement
No sorting and options
---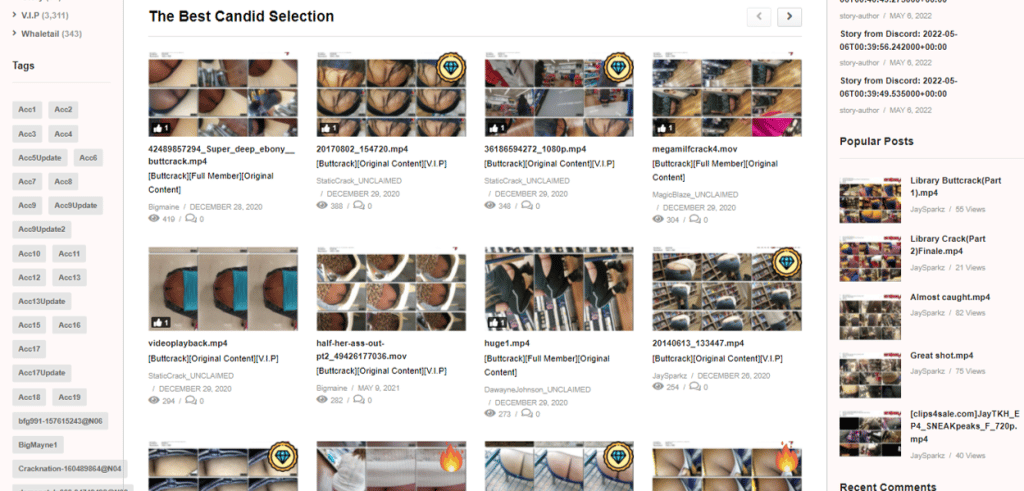 Butt Crack's collection is enormous that your voyeur thirst will be easily quenched. It is also inevitable to notice that Butt Crack captures moments perfectly. The creators keep adding treasures regularly, and thousands of materials are on the way.
Check out the full review of Butt Crack.
PROS:
Candid and voyeur butt crack deals
Thousands of movies and free stuff
Download materials
Authentic voyeur deals
Huge and active community
Register to create and contribute
Free butt cracks for non-members
CONS:
VIP membership is pricey
Advertisements
---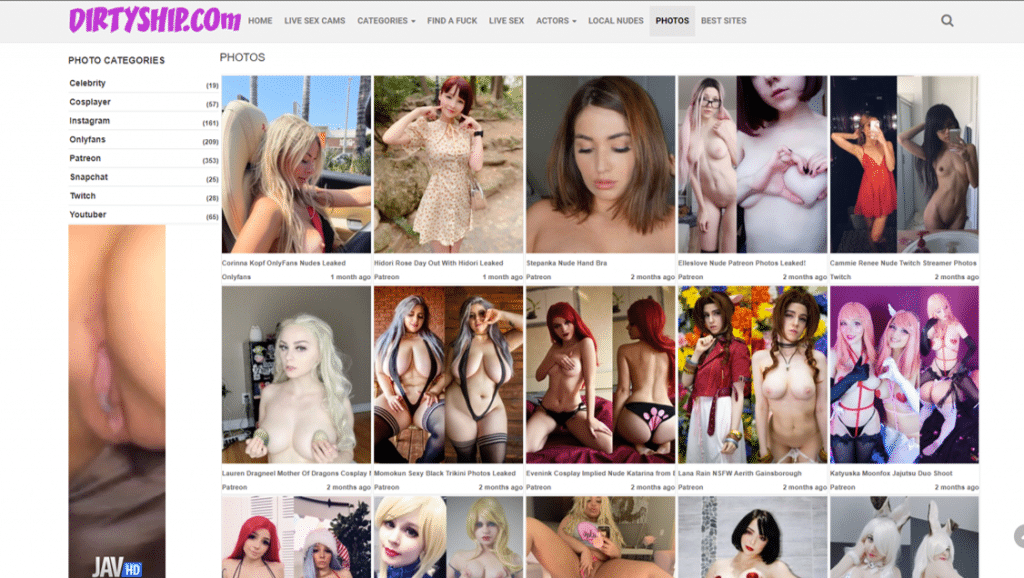 Are you in for some fun? Head over to DirtyShip, where you can find free excellent contents to jerk off. Coming from various sites, they collected the hottest and most daring nudes and videos from Gamer Girls, Snapchat, Cosplay, Instagram, and many more. Loaded with your favorite sexy girls in streaming videos, amateur, and other naughty stuff you can think of. If you want to see a masturbating girl in the public or bathrooms and some pussy-eating dudes taking pleasure from their super hot girlfriend, then this is undoubtedly the best platform for you. Unwind and relax by just watching and viewing!
Take a look at the full review of DirtyShip.
PROS:
Nudes are plenty to jerk off
Updates regularly its contents
Videos of amateur couples or singles are free to watch
CONS:
Advertisements are plenty and annoying
Website design is boring
---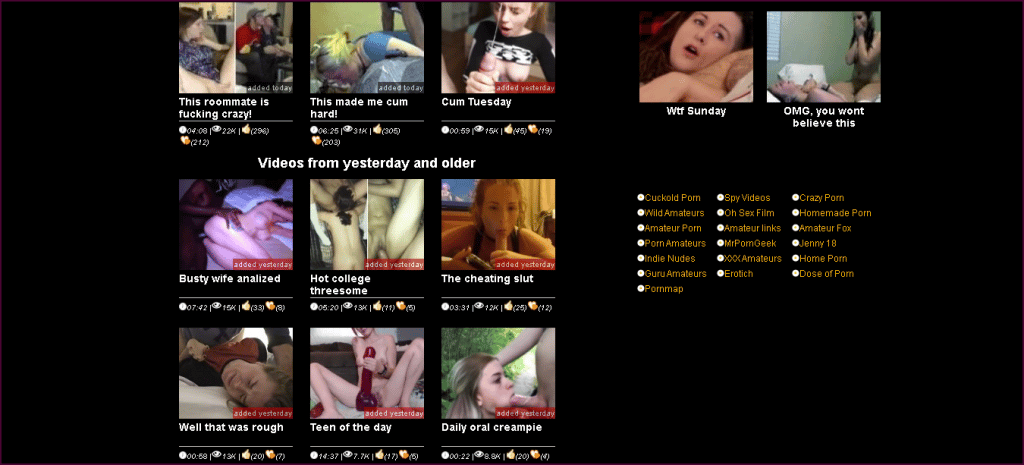 In Terk, no professional porn videos are included in their collection. This site is an excellent source of amazing amateur videos to jerk off. Users will be fascinated by the features it offers, especially among its paid members. The videos are divided into categories to easily navigate and choose specific videos you like to see. Every day, the website uploads new videos everyone will look forward to.
PROS:
Videos are free to watch
The website is up-front to navigate and use
Do not require to register if you want to use
CONS:
Requires more genres of videos
Information on the models is not available
---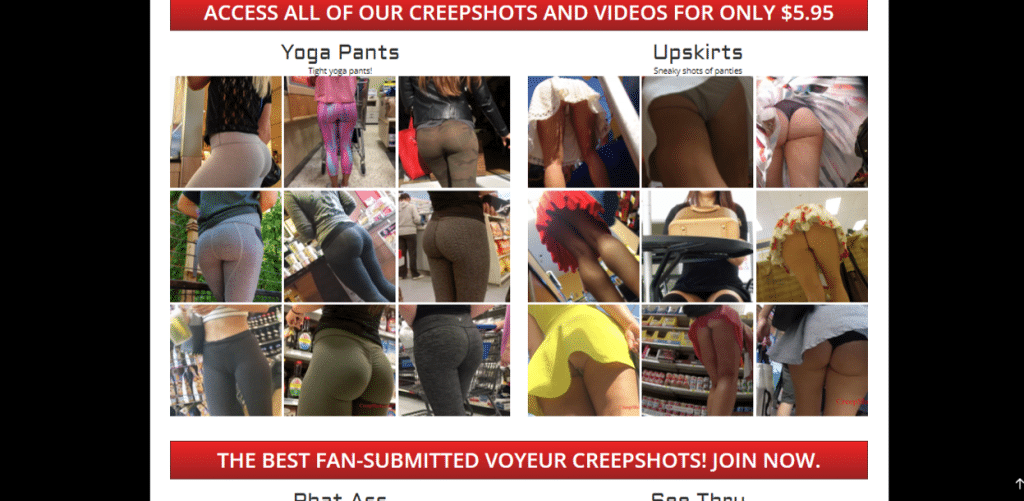 Creepshots taught us how to appreciate the beauty of women in their unguarded moments immensely. In fact, babes do not need to be all dressed up and in full makeup to make us want them in our beds. Their natural environments' moves, looks, and activities can easily make men horny. Thus, the authentic materials at Creepshots are perfect in giving porn fans arousal even if they are not voyeur type of individuals.
Read the Creepshots full review.
PROS:
User-submitted repository
Thousands of candid voyeur collection
Hot and genuine women
Real environment
Affordable price
Efficient segments and categories
CONS:
Standard quality materials
---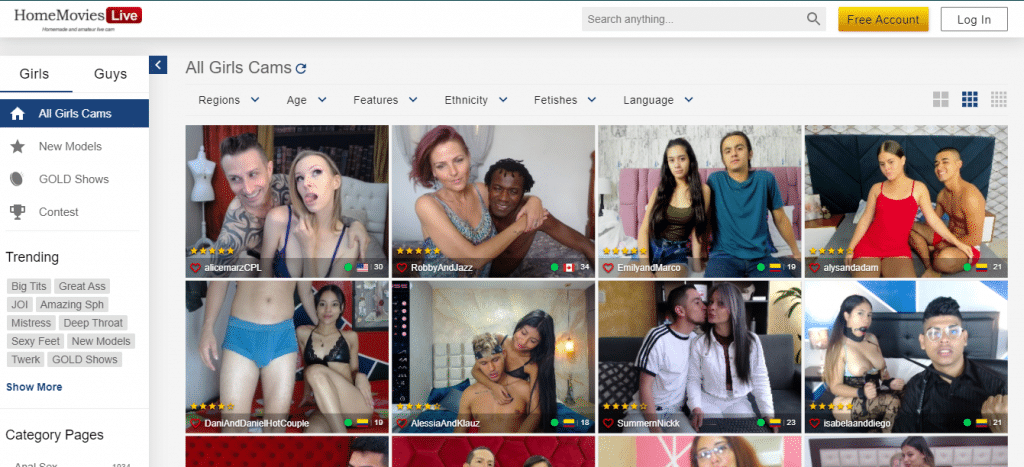 HomeMoviesTube is a perfect platform that highlights amateur pornographic videos. Due to the apparent great flexibility to the massive audience, many people worldwide patronize this platform. HomeMoviesTube offers much more conventional services relative to several other amateur porn websites. This platform is truthful to its material, free of schemes and craps, and committed to providing amateur content only. Since the site has a vast range of excellent sex videos and great set categories to pleasure in every day, you can rightfully say you are in excellent hands.
Check out the full review of HomeMoviesTube.
PROS:
Source of genuine amateur videos
Plenty of sex content for free
Regular updates and video uploading
CONS:
Advertisements are plenty and annoying
Paid users can view high-quality resolution videos
---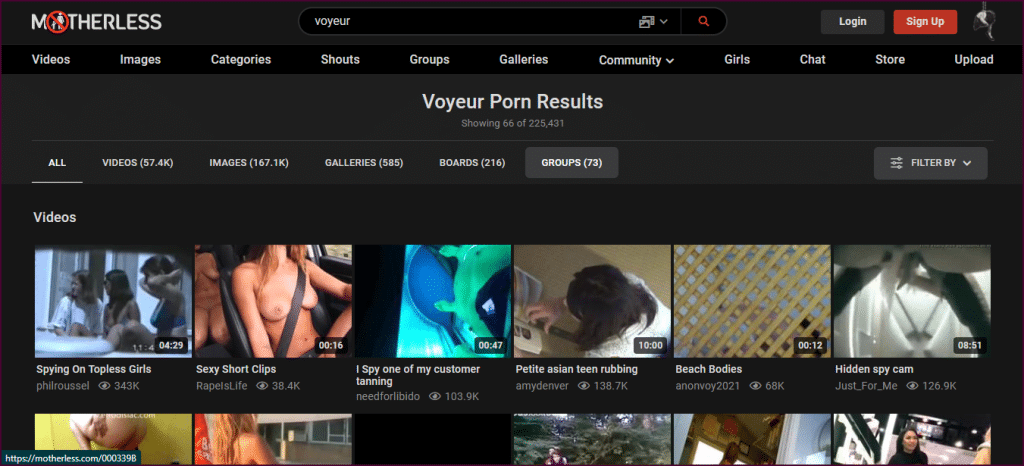 Motherless is a bizarrely famous, almost mainstream porn website that seems to be on the verge of breaking through. This website is undoubtedly unique and quite peculiar in so many ways compared to other free porn websites out there. Sure, you can say it's something you've never seen before —with primarily amateur content yet weirdly made.
Certainly, Motherless is not for everybody's taste. It would help if you had a stomach to deal with its stuff, including incest, scat, torture, feces, and so much more. They have a great collection if you have a fetish for this kind of genre. Don't worry about legal terms, though; everything you see at Motherless.com is purely legal and does not tolerate anything the law prohibits.
Click to see the full Motherless review.
PROS:
Fantastic set of an archive of contents
The collection of videos and images is huge
Porns are genuinely amateur, and no scripts
CONS:
Features to sort are limited
Advertisements are quite plenty
The quality of videos is the average level
---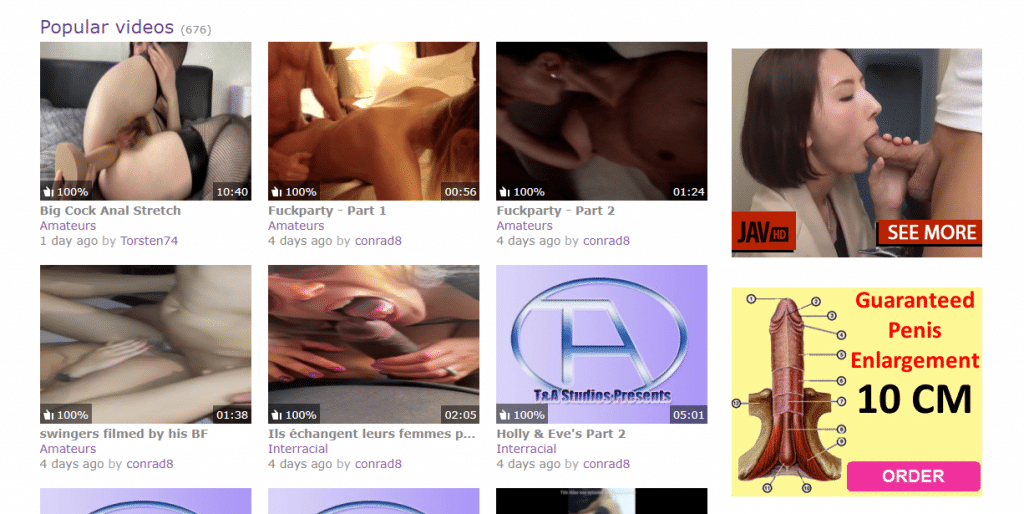 This is a superb option for individuals seeking a secured venue to quickly find quality videos of diverse lesbians, gays, escorts, anal, and many more. One of its remarkable features is the capacity to make members build meaningful interaction and not just merely watch videos all the time. Users have control over liking and disliking videos, making ratings, and providing feedback. On top of these, the website has an excellent interface that delivers straightforward yet classy.
Learn more about Eroprofile with this full review.
PROS:
Various categories to choose from
Numerous quantity of porn collection
Videos with full-length duration are available
Full-length videos also include homemade and pro-type
CONS:
Paid members are allowed to access HD quality videos
Annoying advertisements are abundant
---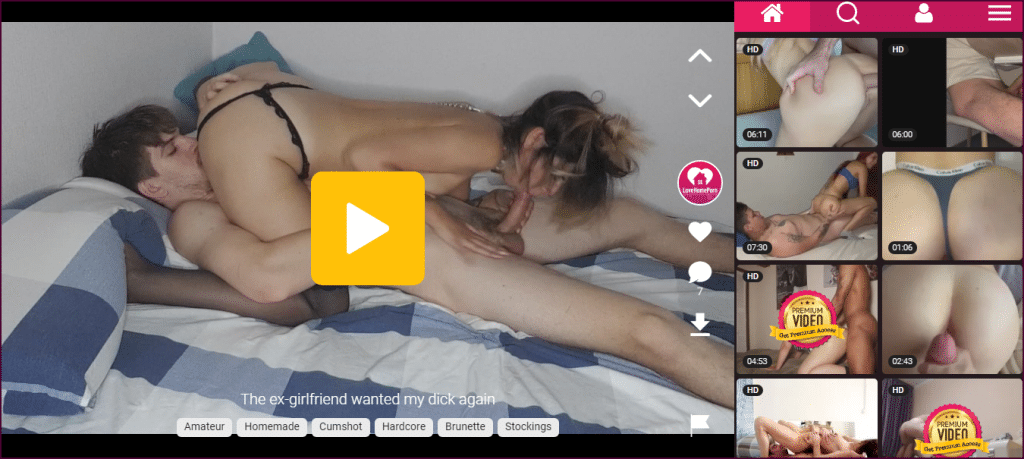 I've visited many sites online, from premium and free to amateur and webcam, but there are only a few that could live up to the task of delivering authenticity in every scene. You can get the best and most authentic homemade adult films on the LoveHomePorn site. Every day, LoveHomePorn brings you new videos and photos of women and lovers having intense, real-life sex sessions.
Check out the full review of LoveHomePorn.
PROS:
Amateur and homemade porno
It has porn pictures
Some free content
Simple web page design
Easy usability
Hot amateur girls
CONS:
No community features
Some content is premium
---
Final Words
Overall, CamWhoresBay is a fantastic resource for anyone who enjoys the webcam genre. It's a paradise for anyone looking for free, high-quality webcam content. Come on! Let's face it — we all love a good webcam show. But what we don't love is shelling out our hard-earned cash for them. So, if you're looking to get off to some amateur babes without spending a dime, this site is definitely worth checking out.
From beautiful babes to kinky couples, CamWhoresBay certainly has it all. And the cherry on top? It's effortless to navigate and won't spam you with annoying ads. Thus, the next time you're feeling frisky and want to explore the world of webcams, why not try CamWhoresBay? Who knows, you might discover your new go-to amateur porn site.
All 55 Other Sites in This Category Worth Checking Out:
Your Porn Dump Review & Top-12 Amateur Porn Sites Like YourPornDump.com Show Me 12 Alternatives for YourPornDump.com Alright, buckle up, thrill-seekers! Dudethrill here, your go-to guide in the wild world of online adult entertainment. Today, I've got the lowdown on a hidden gem – a porn tube about to blow your mind. Drumroll, please! Enter YourPornDump, […]