Updated on: December 10th, 2023
TabooHeat
& TOP 12 Premium and Free Taboo Porn Sites Like TabooHeat.com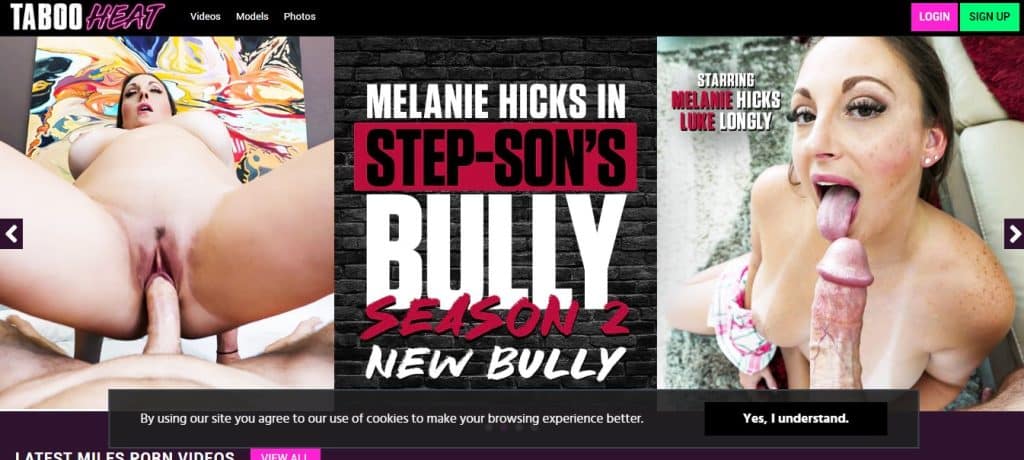 Ladies and gentlemen, prepare to enjoy a sizzling adventure into the world of TabooHeat – a place where the heat isn't about scorching summer temperatures or skyrocketing AC bills. No, this heat will lead you to a new experience and excitement. Imagine a premium taboo porn site that not only meets your expectations but sets a whole new standard, thanks to Cory Chase. Yes, you read that right, the queen of taboo movies herself. Buckle up, folks, because we'll dive into the trendiest taboo site in the adult entertainment industry.
Official URL: https://www.tabooheat.com
Getting into The Heat of TabooHeat!
Let me introduce you to Cory Chase, the name that requires no guides and further digging, especially if you've been navigating the exciting seas of the internet for the past fifteen years. Odds are, you've had jack off to her movie productions before, most specifically to those people who got a soft spot for the fabulous world of MILFs. She's been gracing our screens in early 2009 and officially donned the MILF cape, and she's even scored impressive porn awards. But honestly, you don't need any of these to see that she's a blazing inferno of beauty and sexual prowess.
Now, let's talk about TabooHeat, where Cory is the captain of this steamy ship. But hey, it's not just her being the star of the show on the site. In fact, other seductive ladies are equally sexy and featured in every scene. Imagine it as a star-studded Hollywood blockbuster, with way more action between the sheets.
As you venture onto the homepage, you'll be greeted by a mesmerizing gallery of thumbnails. It's like a sneak peek into the world of temptation, with Cory teaming up with some of the most famous stars in the adult entertainment galaxy.
Taking the Taboo Theme to A Different Level!
Well, dudes, strap in because I haven't been on other sections yet, and I'm already witnessing more group action and sapphic love than you can shake a stick at. Those thumbnails? Well, they're like tiny windows into a world of naughty tales that are dirtier than your grandma's attic.
Also, when I initially found out about the site's name, I immediately thought the whole shenanigans were family taboos and incest scenarios. But guess what? These folks aren't sticking to the usual smut. It's like they're in a buffet of taboos, and they're ready to savor every dish.
However, finding free previews wasn't a walk in the park. Most links seemed like they were leading me straight to the registration section, and that's a move that gets my eye-roll of disapproval. But hold onto your hats because I did some detective work and found few previews. They're like hidden gems waiting to be discovered.
TabooHeat: The Game-Changer in the MILF Porn and Taboo Niche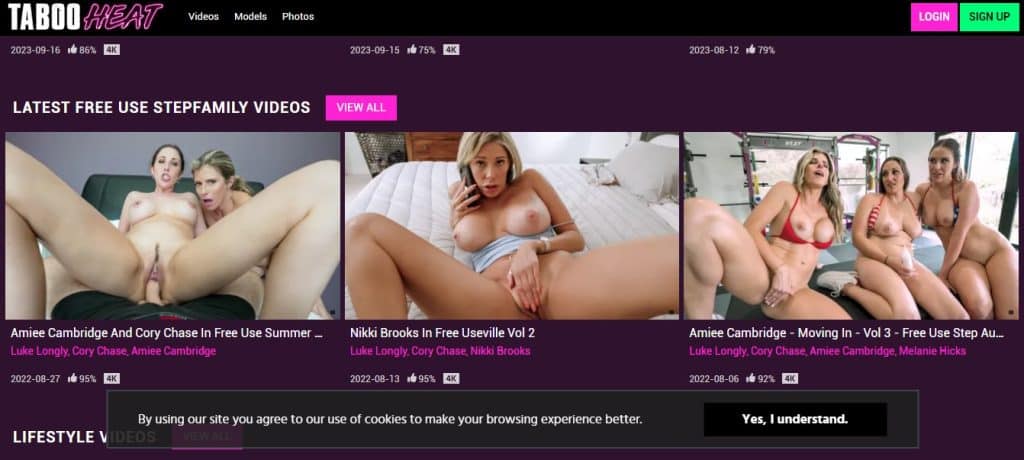 TabooHeat is a real game-changer for those who relish a dash of the forbidden and have a soft spot for MILFs. It doesn't matter if the site only releases one video for the entire week; they'd still be a top pick. But hold onto your hats because these dudes are taking competition to school by churning out an absolute tidal wave of top-notch films.
I mean, thoughtfully, they've tapped into a secret well of creativity and are serving it up on a silver platter. If you're a fan of the content that makes your heart race and your eyebrows raise, TabooHeat is your one-stop shop. It's as if a filmmaking factory is working around the clock, cooking up so enticing scenarios they could make a librarian blush. It's like a buffet of tantalizing tales where the taboo meets the sizzling allure of mature women.
So, whether you're a seasoned enthusiast or just dipping your toes into these waters, TabooHeat is the place to be. They've taken the rulebook and tossed it out the window, leaving us with an explosion of daring content that will keep you coming back for more. Get ready to be wowed!
Enjoy Multiple Updates and Easy Registration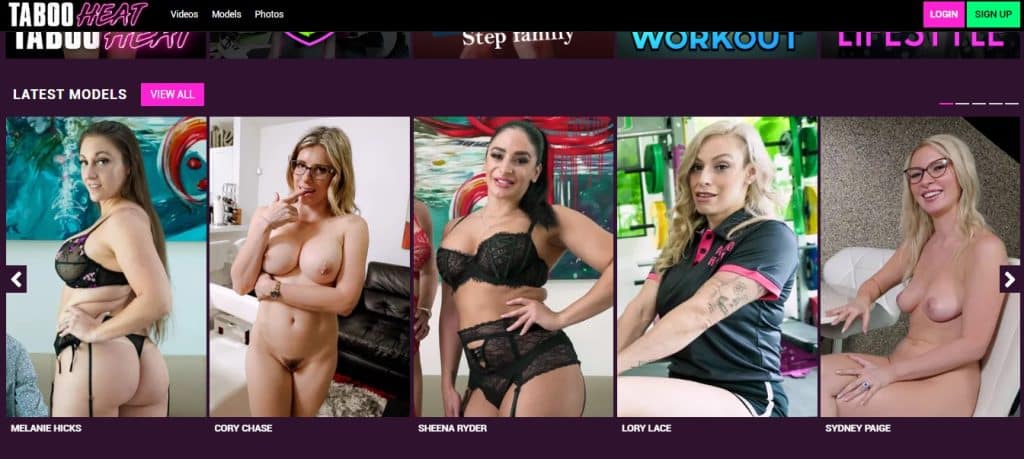 TabooHeat's registration page doesn't just promise the moon and stars; it delivers! Brace yourselves for a video bonanza that'll make your head spin. You see, they're not kidding around when they excite several uploads week after week – it's a full-blown video marathon.
I've got to say my expectations on any premium porn site are the promise of a fresh movie regularly. But guess what? This site takes that standard and turns it up to eleven. We're talking about a brand-new flick dropping daily. Now that's what I call a fap-worthy bargain than a fireworks show on the Fourth of July.
But here's the kicker: once you've taken the plunge and signed up, they'll dangle some juicy deals for several mainstream adult platforms right before you. Of course, this makes me quite disappointed. While I'm all for discounts and saving hard-earned cash, it can be unpleasant to be bombarded with sales pitches right after logging in. I mean, the number one and most common reason why users fork out the dough for premium content is to dodge the spammy ads. It's like ordering a fancy dinner and getting handed flyers for fast food joints.
Be a Member and Download Anything Porn You Want!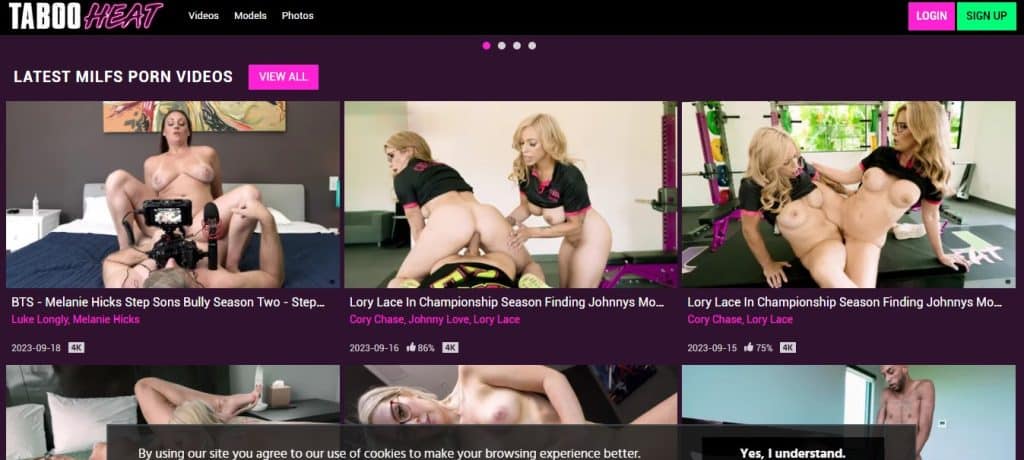 With the regular TabooHeat membership, you get the bonus of downloads, and that's when I thought, "Hey, it's time to secure my very own permanent collection." Brace yourselves, dudes, because my day's productivity will take a nosedive.
So, now I've got this membership, and it's like having a golden ticket to the chocolate factory. I mean, who can say no to downloads, right? It's like being in a candy store, and I'm the kid with an insatiable sweet tooth. But here's where things get interesting. I decided it's time to build my little treasure trove of content, something I can revisit anytime I please. Think of it as creating your museum, filled with artworks that speak to your soul.
Once those downloads start rolling in, don't expect too much work for the entire day… or even a month! Yeah, it's pretty much gone with the wind. It's like trying to steer a ship in a whirlpool — you're just along for the ride.
Getting Huge Porn Stash is Easy Peasy at TabooHeat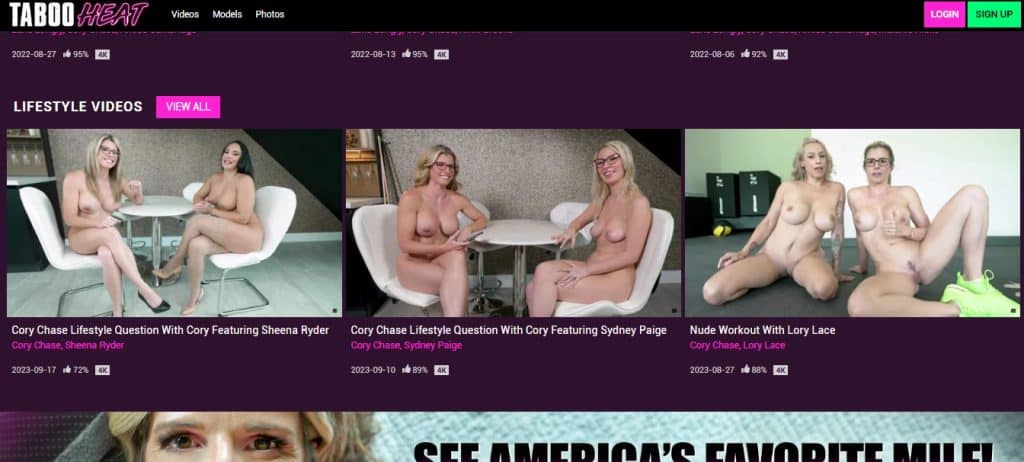 TabooHeat may be relatively new to the game, with just a couple of years under their belt, but boy, have they been busy bees when it comes to getting frisky on camera. Their collection has swelled to hundreds of movies, and as I'm typing this up, they've just crossed the impressive 800 mark. But here's the kicker – that number's likely to skyrocket by the time you dive in yourself.
Of course, with this collection at my fingertips, I faced some challenges. I mean, where do you even begin with hundreds of choices, right? It's like being a kid in a candy store, except the candy is a variety of mouthwatering taboo scenes. Should I kick things off with a sizzling girl-on-girl scene, perhaps dive into a threesome action, or take the plunge into an interracial orgy? The options were so tempting that I almost wanted to watch them all simultaneously. Ah, the struggles!
Get the Best Bang For Your Money at TabooHeat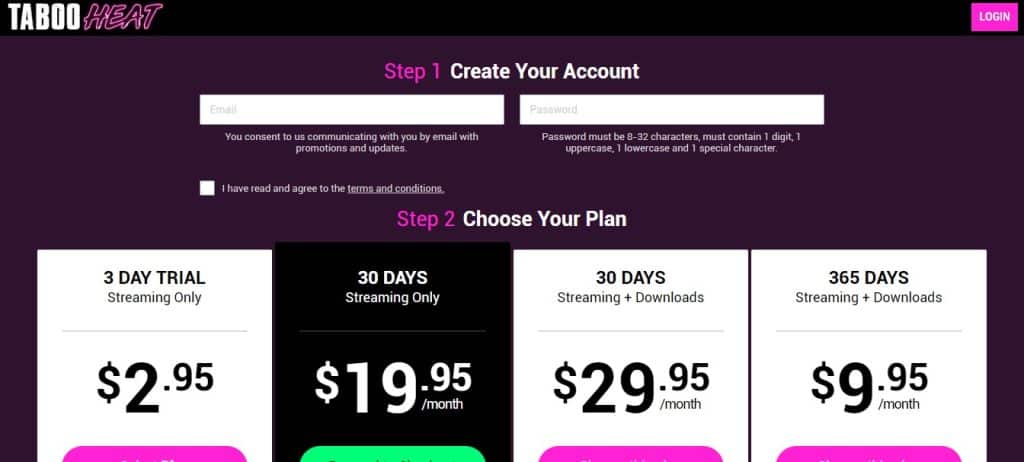 To unlock the full spectrum of delights this site has to offer, you'll need to part ways with thirty hard-earned dollars monthly. It's a price tag that's become the gold standard in the world of premium sites. But here's a little tip for those budget-conscious adventurers out there – if you're not planning to amass the TabooHeat smut collection, then it's better to choose the most money-friendly package with video streaming service only.
But wait, because the real treasure chest is the yearly subscription. At just $10 a month, the ultimate steal grants you the power to save and stream your favorite videos whenever you want. Think of it as scoring an all-access pass to your favorite theme park, except here, the rides are way more exhilarating.
Finally, let me spin a tale of intrigue for you. Imagine yourself on the verge of hitting that tempting signup button, and out of nowhere, a crafty chatbot emerges, offering you an irresistible discount. It's like having a digital sales ninja lurking in the shadows, ready to pounce when it detects a hint of hesitation. You see, you can never predict what to expect here. So, it's always a good practice not to rush into things when using premium porn sites.
Pros and Cons of TabooHeat.com
PROS:
Numerous scenes and content
It is all about taboo niche
Some videos have free previews
Membership includes download
Premium quality porn
Amazing pornstars
Updates several times a week
Hundreds of taboo movies
CONS:
---
TOP 12 Premium and Free Taboo Porn Sites Like TabooHeat.com: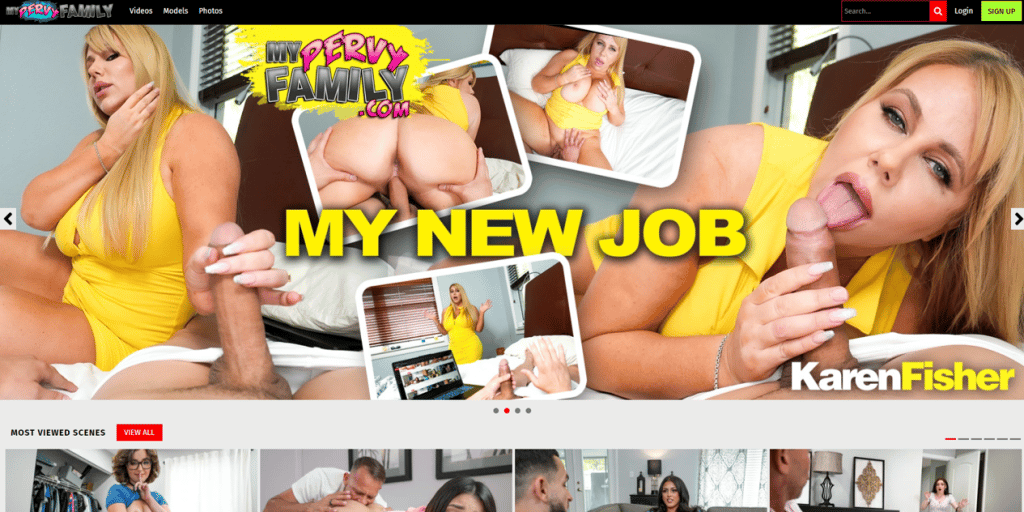 If you are hooked on watching brothers and sisters banging, son and mom having the best sexcapade, and dads flirting with stepdaughters, you will love the fantasy around My Pervy Family. The site got loads of passionate hardcore stuff to address your bulging cock. It also collated enough perverts itching to get regular updates and a selection of incest porn. Undoubtedly, the area has so much fun, with loads of high-definition flicks and consistent updates.
Here's the full review of My Pervy Family.
PROS:
Steamy incest porn collection
Moving thumbnails and video previews
Hundreds of high-definition flicks
Budget-friendly subscription
Exciting deals
Hot porn performers
Exclusive and original materials
CONS:
Few details on the model index
---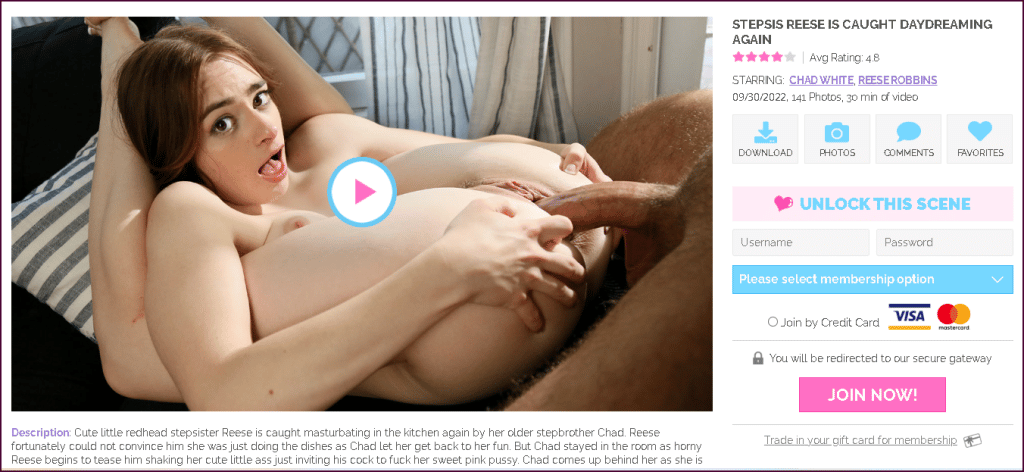 FamilyXXX offers all these kinky and taboo situations, featuring stepsiblings, step-parents, and even step-grandparents. It is really high-quality, thanks to its high-definition videography, attractive leads, and professional production values. There are files to save, videos to watch, albums to explore, and additional websites to visit — all included in your paid subscription. With this quality, I'm pretty sure you won't leave out on even the tiniest detail of banging, masturbating, and other hardcore stuff.
Click here for a full review of Family XXX.
PROS:
High-definition and 4K videos
Convincing acting and top-quality production
Exclusive videos
Bonus sites
CONS:
Requires premium Membership
---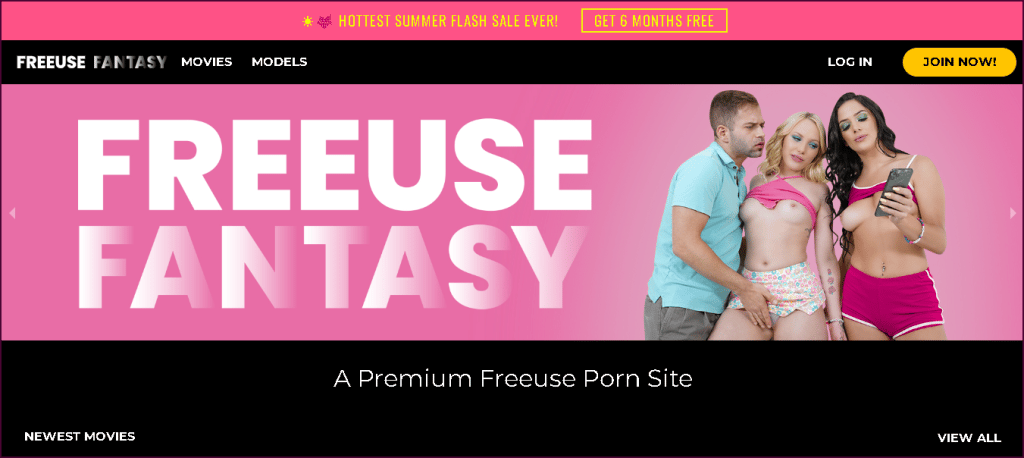 Freeuse Fantasy is a premium incest porn site that features all the nasty things any horny family would do. This site does not only offer premium services, but it also gives you opportunities to watch and save countless intense taboo porn videos whenever you like. Its fantastic and intense video scenes are constructed in a dream fantasy where the ladies are always hungry for sex whenever there's a guy around. Finally, all users can watch unlimited content inside its collection, and there's non-stop taboo action everywhere.
PROS:
Lots of Taboo collection
Numerous bonus sites and content
Some videos are free to watch
Premium quality movies
CONS:
Requires premium subscription
Not all videos are 4K quality
---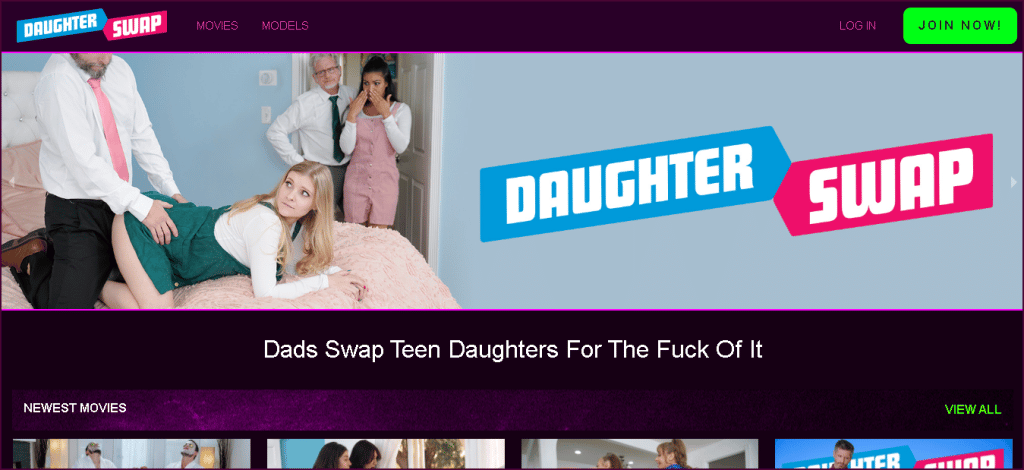 The DaughterSwap site belongs to the TeamSkeet network and shows appreciation for incest sex and daughter swapping niche. The nicest element of the DaughterSwap episodes is how the porn actors and actresses portray their characters convincingly. Probably, that's why this site became so popular. Currently, DaughterSwap is adapting to new technology and development by integrating high-definition videos into the mix.
Click to see the full review of Daughter Swap.
PROS:
Unlimited browsing and streaming
Unique scenes
Real-like storylines
Gorgeous pornstars
The plots are convincing and interesting
Access to bonus series and sites
CONS:
Requires premium Membership
Downloading costs an extra fee
---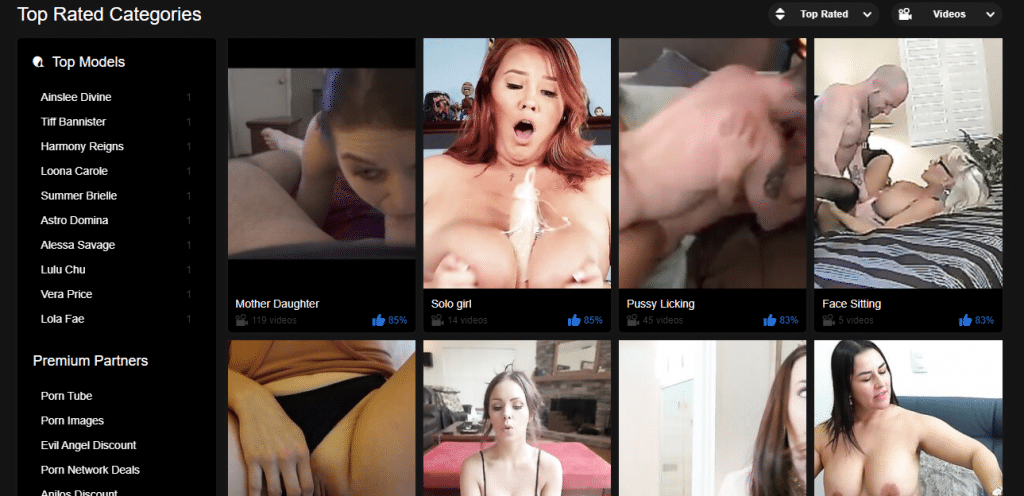 MomZR has indeed left a mark as a notorious source of mom-son incest porno from the title itself. It has all your MILF fantasies covered and a whole lot more! We all know mommy bitches have plenty of experience in sex, and they got a lot of skills to show off.
Being a FREE porno source, I know many of you think they don't pay much attention to quality and resolution. But to my surprise, MomZR that despite its open-source system, there's plenty of high-definition collection, full-length scenes, and some SD movies.
Check out the full review of MomZR.
PROS:
Exclusive MILF pornos
Amazing features
Free to use
Premium-like video quality
Categories and pornstars are plenty
CONS:
Some videos are SD quality
Few ads
---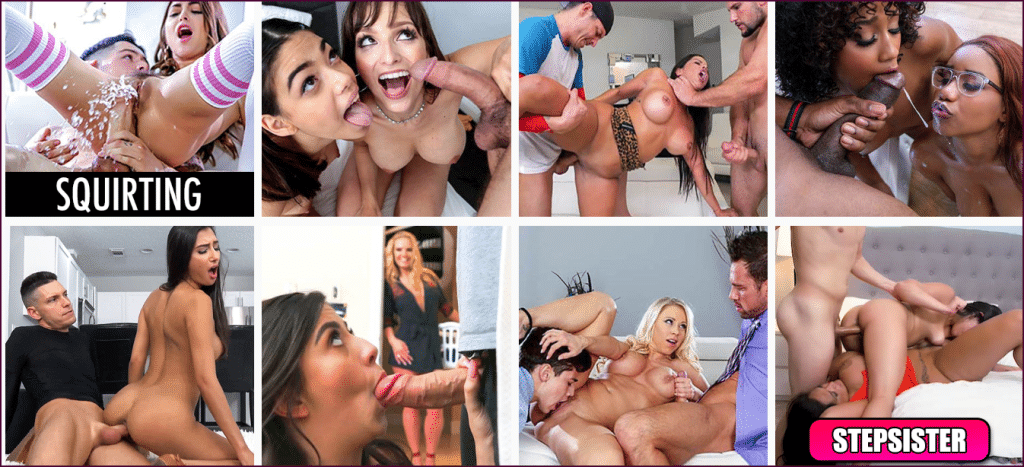 There are numerous ways for families to connect and bond, from swimming outings to family game night —literally everything is possible. But what happens when things become a little more intense? The creators of BangBros' filthy series, FilthyFamily, bring us a new take on the stepfamily niche that has long been the backbone of the adult entertainment industry. Despite the collection's small content, new filthy videos are added on a regular basis. Plus, you will also enjoy bonus networks and high-definition videos in one membership perk.
Take a look at the full review of FilthyFamily.
PROS:
High-definition incest pornos
Open for downloading and streaming
Filthy and amazing scenes
CONS:
Requires membership
Limited collection
---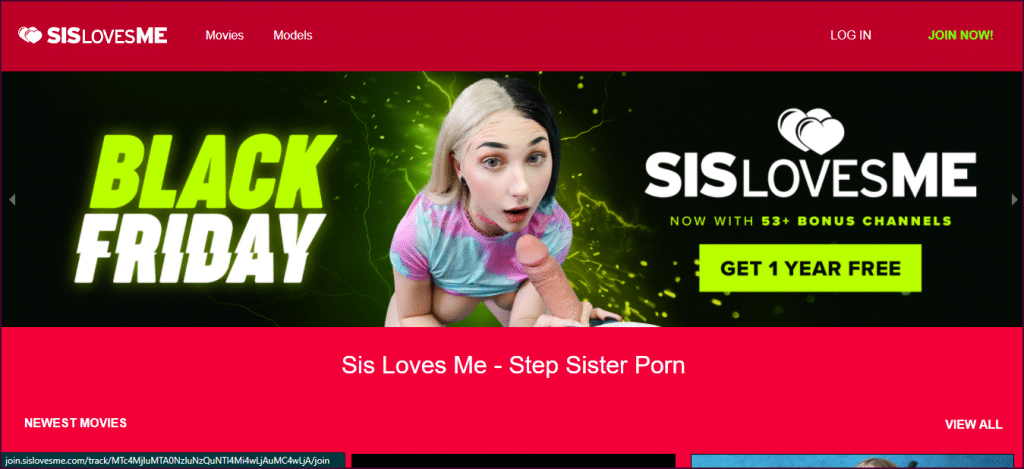 You now know what SisLovesMe is about to bring to your screen from the name itself. This premium porn offers amazing videos and themes that focus on taboo niches like step siblings, mom-son sex, dad-daughter fucking, and so much more. The actresses are all gorgeous, so you'll enjoy your subscription here for sure. As part of your subscription, you can access the exclusive content of the TeamSkeet site.
Here's a full SisLovesMe review.
PROS:
Plenty of sites in one subscription
You can download and stream videos in HD
A lot of themes to enjoy
CONS:
Cannot comment
Full-length videos are only available for premium members
---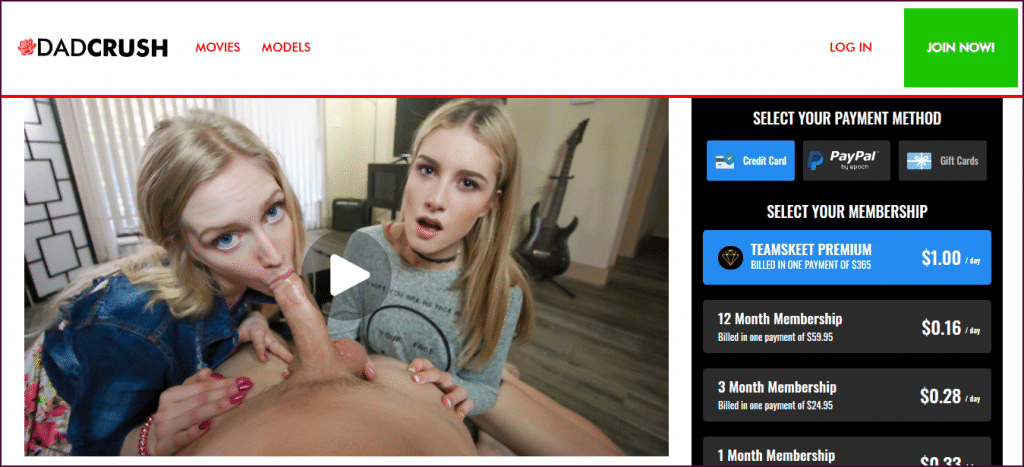 DadCrush is all about pornos of step-dads fucking and screwing their beautiful and young stepdaughters. There are plenty of storylines here, and themes could range to hundreds. You won't get bored because every video has exciting and unique scenes that keep you entertained the whole time. What's more exciting is that all their content is recorded in POVs, so you'll experience everything almost real.
Read the DadCrush full review.
PROS:
It has a trial period
Videos have previews and teasers
Plenty of themes to check out
CONS:
No model information
No available filters and sorting options
Simple design
---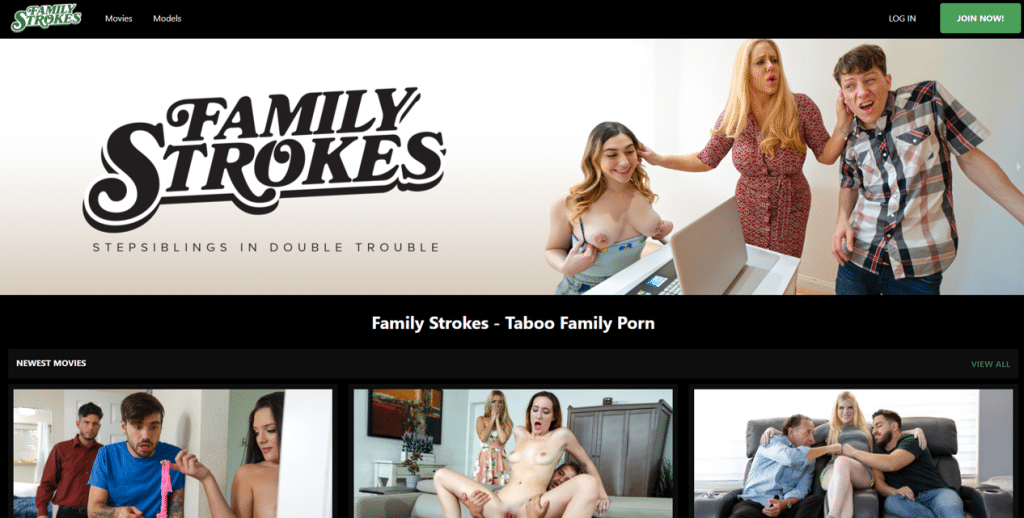 FamilyStrokes has been in the business for years now and has never failed to offer entertaining material. What made this site even more delightful is that you have access to other Team Skeet network sites since it is part of the network. If you wish to also explore different areas, there are over a thousand different videos to view. Indeed, a loaded site that offers every inch of your cravings.
Check out the full review of FamilyStrokes.
PROS:
Epic scenes and excellent quality content
Good movie plotting
Unlimited downloads
High definition videos and downloads
Bonus sites
Lengthy videos
Good mobile display
Wide selection of models
CONS:
Taboo materials
Limited scenes
Minimal contents
---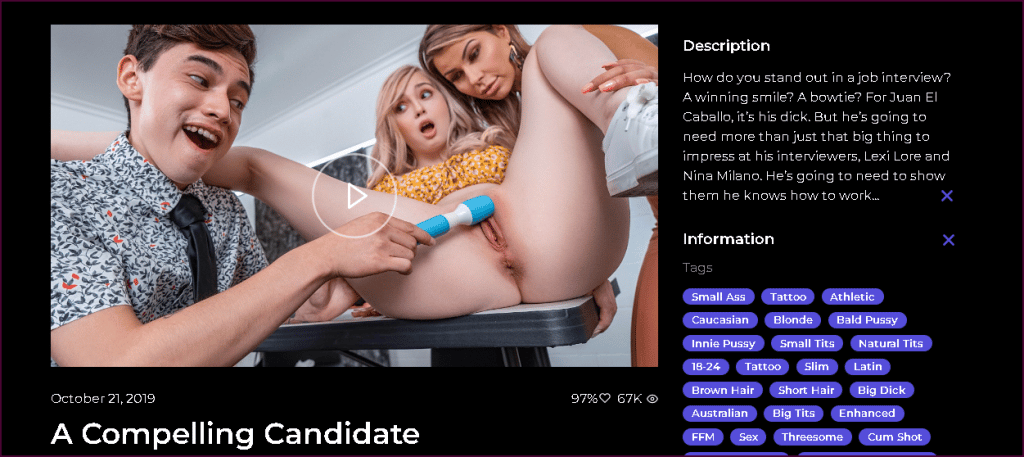 There are plenty of incest porn sites online, especially now that everybody has internet, phone, and laptop. But, being unique and unordinary is a different story. MomsBangTeens is jam-packed with amazing scenes featuring hot mommas fucking and banging young, fresh teens. Every scene is expected to be incredible and oozing with the right amount of hardcore banging. Kudos to the camera angles and overall production of MomsBangTeens for making everything awesome. Also, the creative team and producers guaranteed every video had a different story to show. But, all of them will give you incredible orgasms and jerk-off-worthy materials.
Click to see the full MomsBangTeens review.
PROS:
High-quality videos
Bonus sites
Usability and design are great
Amazing pornstars
Production value is top-notch
CONS:
Requires membership
Slow updates
---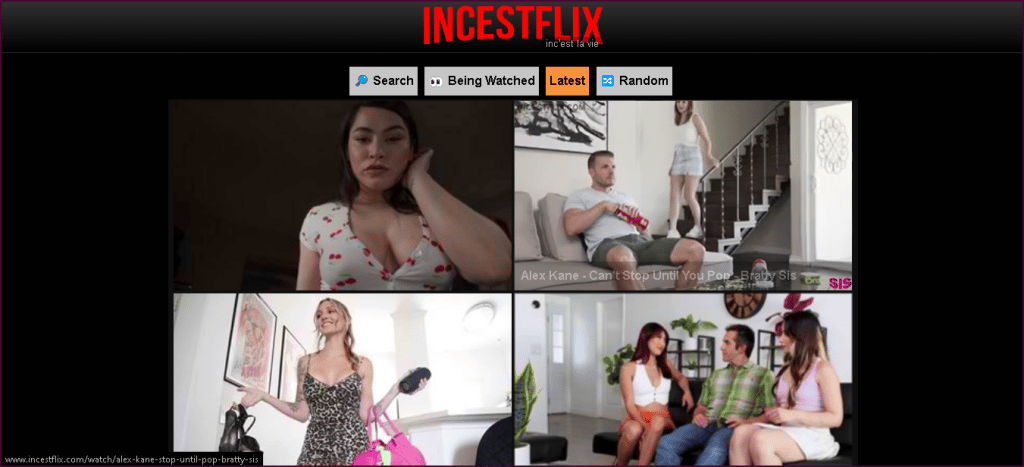 Incest Flix is an epic combination of Netflix and Incest porn sites on one platform. Pretty sure you won't find some of these filthy combos just anywhere. Most of its collection revolves around incest relationships between aunt and nephew, uncle and niece, step-mom and stepson, stepdad and step-daughter, and step-siblings. IncestFlix also includes a wider variety of genres than most incest role-playing adult websites, making it appealing to those who enjoy family role-plays smut. Above all, you can enjoy it without charge, either for streaming or downloading. Despite the site's excessive advertising, visitors can access a wealth of high-quality content at no cost.
Learn more about Incest Flix with this full review.
PROS:
Multiple pornstars playing incest role-play
Made explicitly for incest lovers
No illegal content
A convenient source of incest porn
CONS:
Website design could be improved
Lots of advertisements
Lacks organization, tags, and categories
---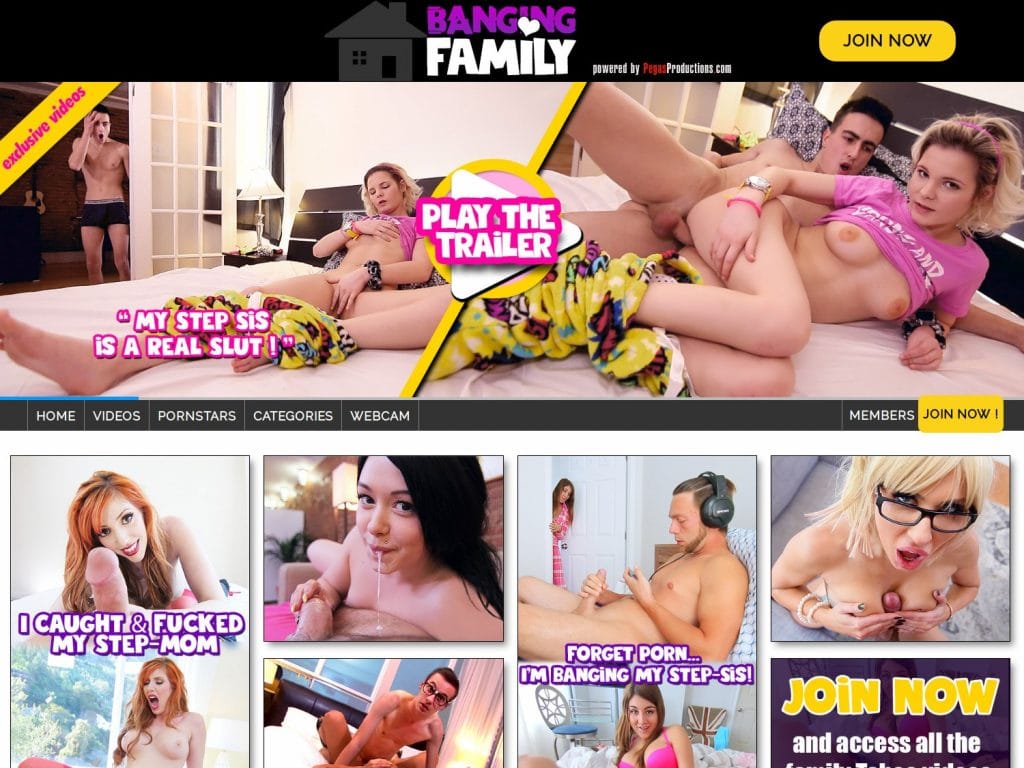 BangingFamily is a taboo and incest porno page jam-packed with all siblings and family-themed sex. I've seen stepdads are banging their naughty stepdaughters and some MILF fucking her stepson in the master's bedroom. All in all, there are plenty of storylines that incest porn enthusiasts would love.
PROS:
There are bonus sites
It has Spanking category and is very popular
Plenty of pornos that can keep you entertained
CONS:
No previews for unregistered users
No trial period
Some ads for a basic account
---
Conclusion
In the taboo delights scene, TabooHeat doesn't disappoint. With the legendary Cory leading the way, this site exceeds expectations. The women are both stunning and talented, and the quality matches the fame of those involved. Also, let's not forget about the resolution and values of production put into each video. They're through the roof, matching the reputation of the famous names involved. So, if you're in the mood for a taboo adventure that doesn't cut corners, TabooHeat should be your next destination.
All 34 Other Sites in This Category Worth Checking Out:
Taboo Porn Review & Top-12 Incest and Taboo Porn Sites Like TabooPorn.to Show Me 12 Alternatives for TabooPorn.to Ever feel stuck in the routine of everyday life and just crave a break from the ordinary? Well, let's keep it real; nothing sparks curiosity like the enticing world of taboo and incest porno. Dive into TabooPorn.to, where […]