Updated on: December 8th, 2023
MomsBangTeens
& Top-12 Incest Porn Sites Like momsbangteens.com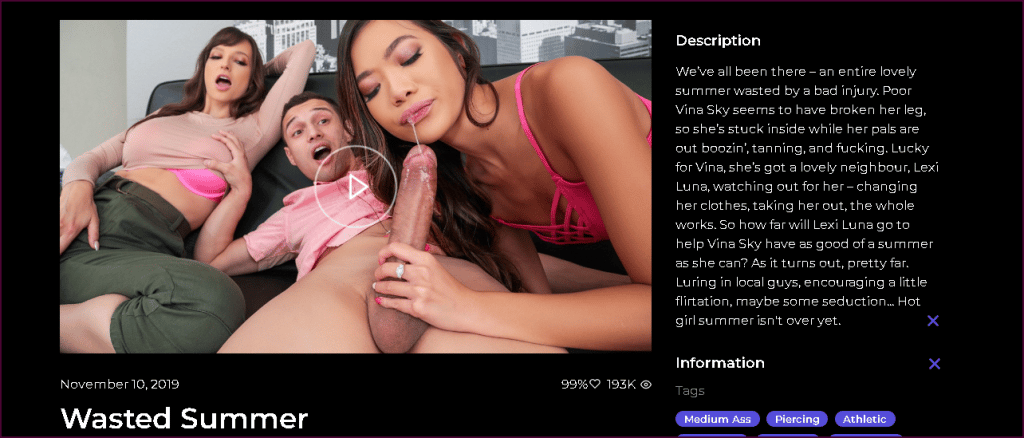 Are you familiar with the saying, "Mothers know best?" If not, well, from its words, this saying sounds wholesome. But after seeing the MomsBangTeens site, it now has a different meaning. Definitely, moms know best, especially how to bang teens like a pro. Our friends from RealityKings created a new line of porno where a unique incest theme is the main star. They delivered us amazing MILFs to teach young teens how fuck, suck and bang in hardcore style! Many people have already spoken good things about the MomsBangTeens site, but it's time we personally dig this and see what more this site is in store for us!
Official URL: https://momsbangteens.com
Banging Hot MILFs of MomsBangTeens
MomsBangTeens is jam-packed with amazing scenes featuring hot mommas fucking and banging young, fresh teens. The site's collection will blow your mind because every video here is mind-boggling and filled with controversies. Obviously, MomsBangTeens is an incest porn site, but of course, the team behind this site made sure to make it unique and stand out.
There are plenty of incest porn sites online, especially now that everybody has internet, phone, and laptop. But, being unique and unordinary is a different story. Every site can provide sex and fucking, but only MomsBangTeens can offer high-quality scenes while ensuring each scene is top-class and hardcore.
I guess we can say thank you to RealityKings, the main brain of this site. Without their ideas and concept, we won't be enjoying MomsBangTeens right now.
Plus, since this is a sister site of RealityKings, you can also enjoy other channels of RealityKings for a price of one. Enjoy downloading videos and saving pictures in zip format, and go the extra mile in your fapping sessions.
Enjoy Hot Threesomes in Full HD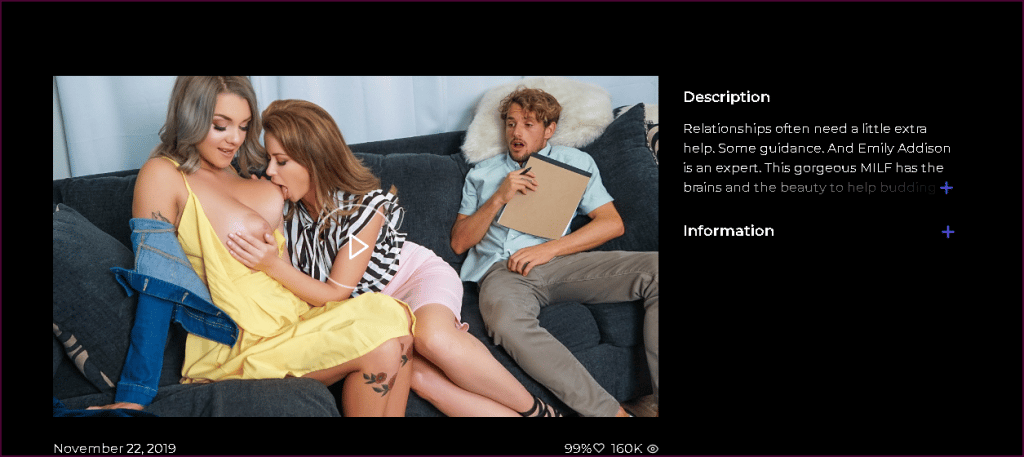 You can't trick us with whatever is inside the MomsBangTeens because you can already tell what to expect when you first look at the site's name. Every scene is expected to be incredible and oozing with the right amount of hardcore banging. The usual videos here are threesome; it could be two teen girls, two teen boys, or a mix of both. Of course, since this is MomsBangTeens, we can't forget the main devil of all: MILF.
Watching these videos, you'd wish to have a hot stepmom who would teach you a first blowjob, first anal, first fucking, and first hardcore smut. Kudos to the camera angles and overall production of MomsBangTeens for making everything awesome. I know incest porn like this one is just a bunch of scripted bullshit, but with witty storylines and fantastic shots, you will think it's a good, real fucking shit.
As a matter of fact, stories at the MomsBangTeens site really project creativity, adventure, and all-out fun. Of course, the models' acting is absolutely incredible, which adds to its already excellent scripts. Also, the hot threesome is not recycled even though the site's primary genre is incest threesome. The creative team and producers guaranteed every video had a different story to show. But, all of them will give you incredible orgasms and jerk-off-worthy materials.
Usability and Webpage Layout of MomsBangTeens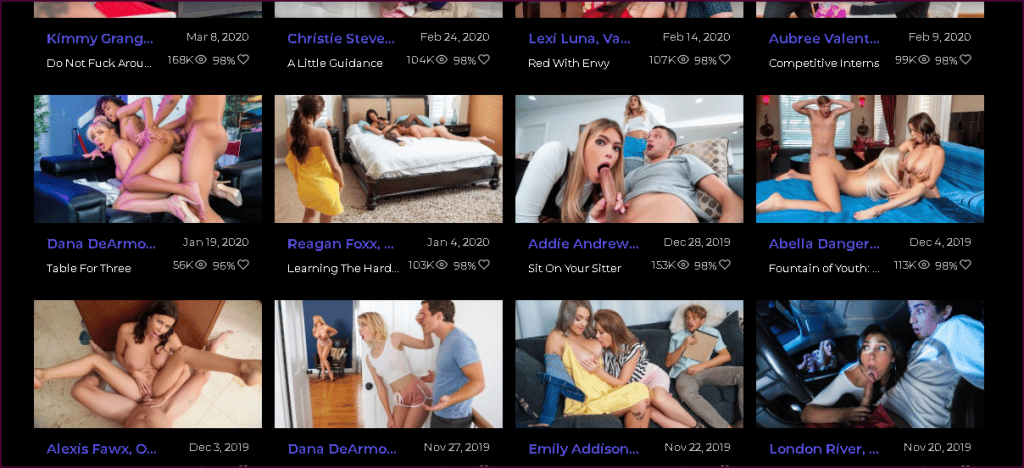 Since it's part of RealityKings, MomsBangTeens has a fantastic design. It's good that the team behind the page chose darker colors for the background and overall aesthetic because it accentuates the site's vibe. Also, there are plenty of great graphics and usability in place. Because it's a premium incest site, you should expect better quality in all aspects.
However, the main page of MomsBangTeens seems to be a bit bland compared to the homepage. The developers should try to improve it if they want more audiences to make this a hotspot. Because from what I see, only the RealityKings page has a great appearance. Also, one more thing I'd like to mention is how RealityKings took its sister sites under its umbrella up to this day.
I thought they would separate MomsBangTeens from the main RealityKings page, considering that the incest porn site is already unique alone. I'd like to see MomsBangTeens grow separately and enjoy it as an individual porn site, away from the limelight of RealityKings. But, since that is not happening yet, you will have to go through the RealityKings portal and click on MomsBangTeens to get into the site.
Although, once you are there, you won't find it challenging to manage the page, especially when looking for videos, pics, and whatsoever. Every video has clear markings, labels, and categories depending on the scene, story, and nature of the video. Even the other bonus sites of RealityKings have visible and organized tags. So, it's impossible to get lost exploring.
Full HD Movies and Top-Class Pornstars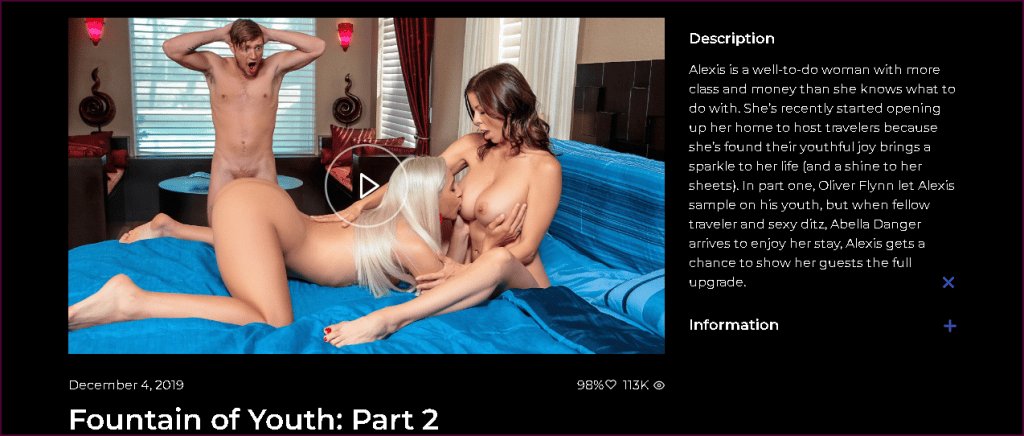 MomsBangTeens has the best resolution and most awesome content I've ever seen this week. You'd be lying if you needed more clarity and quality videos. It's probably because it's a premium Incest site, so that's already a must and top priority to deliver. Also, the pornstars featured here understand their job reasonably well. The young teens and hot MILFs casts know how to seduce the audience through dialogs, storylines, camera angles, and scenes.
So far, MomsBangTeens has 200+ videos available and continuously updated its collection. I know what you are thinking; it's too low. Yes, you're right. I find it limited, especially since I'm a huge jerk-off warrior. But I really can't grumble about the feature and excellence of MomsBangTeens videos. So, even if it's too low for a porn site to have, I still enjoy it to the fullest! Unfortunately, MomsBangTeens has recently slowing updates, and that's very disappointing. Initially, they are adding new content weekly, but as time passes, there's only one new video every month.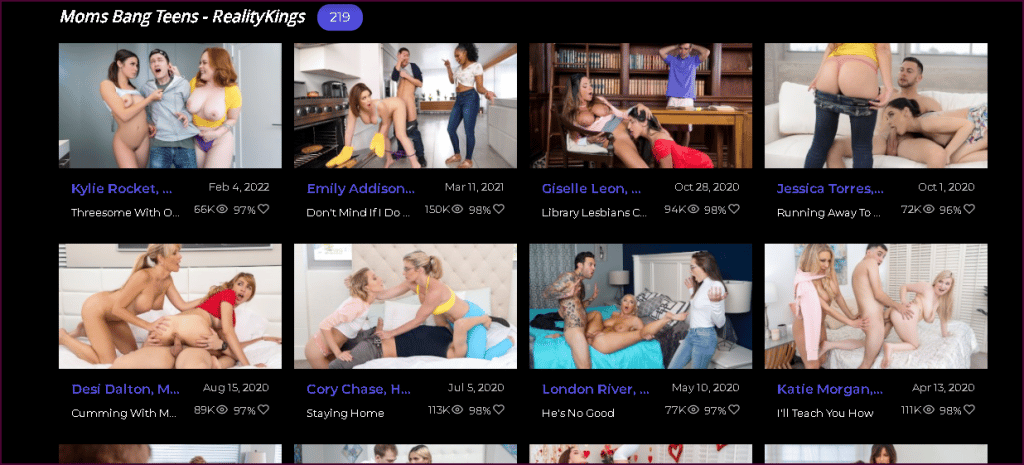 Anyway, the site's content is streamable in full 1080p quality, and the streaming resolution is very smooth. Unfortunately, downloading a video requires an additional payment of around $15 per month. Sounds expensive? Well, that is what you get if you need a top-quality video for offline viewing. Along with this purchase, you can enjoy high-resolution pictures and save them in zip file format. Certainly, for a price like this, even if it's pretty pricey, I still think it's worth every dollar!
MomsBangTeens' Multiple Bonus Networks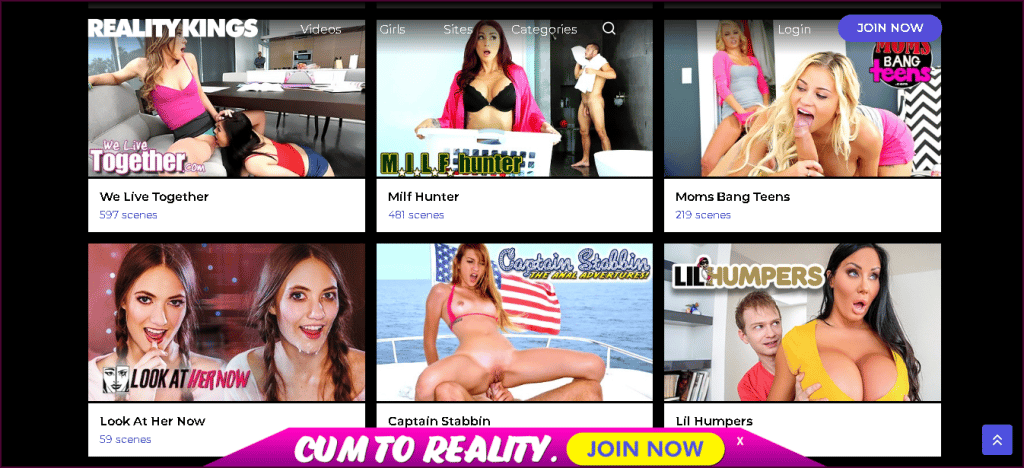 MomsBangTeens is already a huge site, but with your subscription package, you can also enjoy other RealityKings networks. Yes, that's right, for a price of one, you can access the main site, RealityKings, and other different porn sites available without an extra fee, whatsoever.
Some of the sites I noticed were BigTitsBoss, Pure18, MoneyTalks, Monster Curves, and Round and Brown. When you subscribe to RealityKings, you can browse, explore, and download videos and pictures from these porn sites. Obviously, each of them delivers a different yet new genre that I'm sure all the hardcore and fetish fanatics would die for.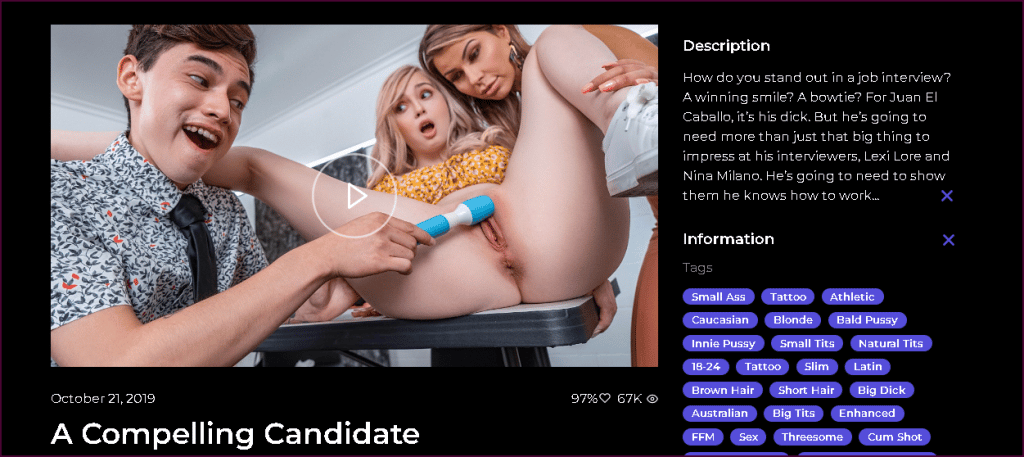 If that's not enough, EuroSexParties, Tranny Surprise, 8th Street Latinas, InTheVIP, Wives in Pantyhose, and FirstTimeAuditions also provide equally impressive production and quality entertainment. These sites are not just Incest-themed but cater to numerous stories, genres, and models. Just imagine what a single subscription could give you! Not only incest pornos of MomsBangTeens but uniquely good deals from RealityKings networks.
And to wrap up my jerk-off journey, I went to check out some quirky but delightful sites like MegaCockCravers, WeLiveTogether, and MomsLickTeens. There are still more sites available on RealityKings besides the ones I mentioned here. However, I can't list them all because I may have to do separate reviews for each. But, if you want to check out, feel free to do so.
Things To Improve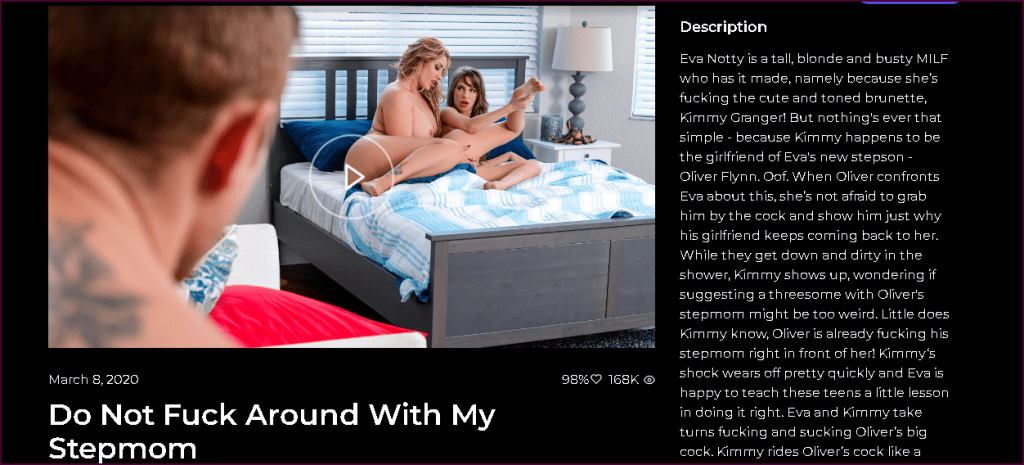 Oh boy, I still can't get enough of the MomsBangTeens site. Even just reading the title of the page ignites an unusual sensation. However, for a incest porn site like this that has been operating for years, I was expecting to have thousands of content already. To my surprise, it only has 200+ videos and hundreds of pictures.
Of course, that kind of number only means the MomsBangTeens is not updating regularly. As a matter of fact, there are times it's not uploading any video for one to two months. I know this site is top-class in quality scenes and models, but they really have to step up and do a little kick in updating its collection. We all love to see new videos every time we visit, and it's pretty disappointing to see it's the same content for a straight week or month.
Additionally, a while ago, I mentioned that you need to pay extra to download videos and pictures, right? Well, I thought that was the end of my disappointment; surprisingly, there's more. MomsBangTeens and RealityKings have a downloading limit of 10GB per day. So, even if you like to store around 20 videos on your laptop, there is no way you can do that. Take note, the videos here are full high-definition, so you might be able to download less than twenty.
Membership Perks of MomsBangTeens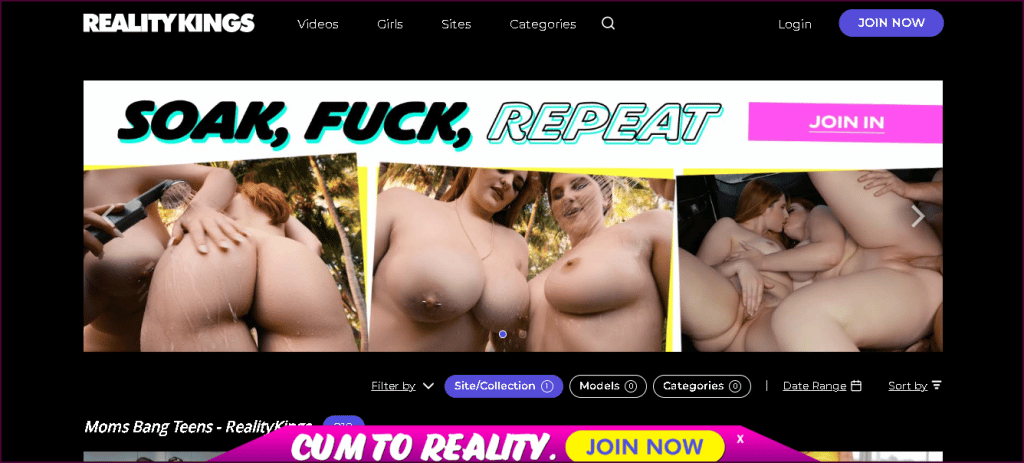 A MomsBangTeens membership will be the right choice and a good deal because the site has a great mix of teens and MILF characters, scenes, and storylines. Perfection and hotness abound in this incest threesome, sexmongering stepdaughter, stepson, and MILFs. Even if the number of new materials has dropped, the MomsBangTeens site already has a respectable library, thanks to the extra features of RealityKings. It remains a good deal and always is.
This subscription provides unlimited access to the MomsBangTeens incest collection and RealityKings bonus channels. The massive collections and models you can enjoy with just one membership package will surely blow your mind. For only $7.95 monthly, Dudethrill viewers can easily access the MomsBangTeens and over 40+ high-quality porn websites of RK. Several are MILF-focused genres, incest, hardcore, gangbang, bukkake, and several other themes, categories, and fetishes.
Pros and Cons of MomsBangTeens
PROS:
High-quality videos
Bonus sites
Usability and design are great
Amazing pornstars
Production value is top-notch
CONS:
Requires membership
Slow updates
---
Top-12 Incest Porn Sites Similar to MomsBangteens.com: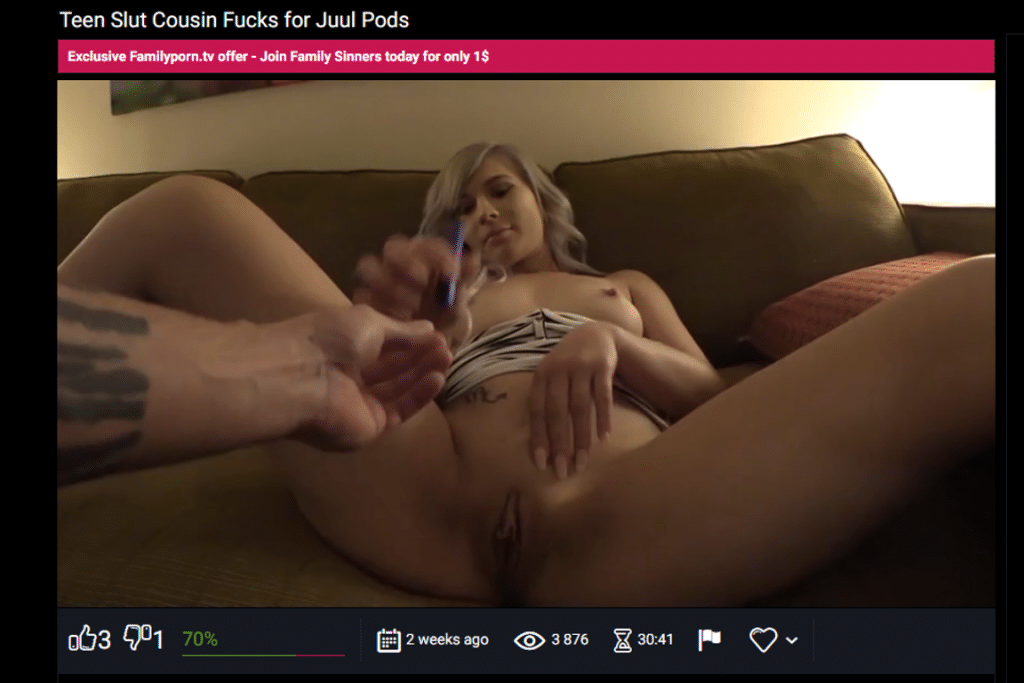 The guys at Family Porn take their fetishes very seriously. They compiled one of the most remarkable collections of forbidden pornography that I have ever seen. Also, the scenarios appeal to a wide range of fancies on the site, including stepdad-stepdaughters, uncle-niece, grandparents-grandkids, mother-son encounters, and many more.
Here's the full review of FamilyPorn.
PROS:
Free pornographic site
Taboo and incest porn are available
Effective role play categories
Hot actresses and actors
Simple design
Good search and filter options
Some high-definition contents
CONS:
Pop-ups and banner ads
No downloads
---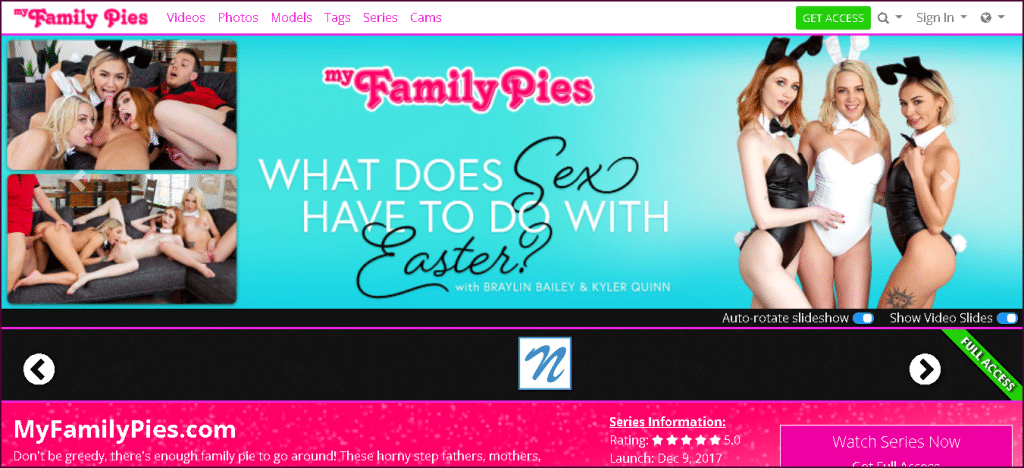 MyFamilyPies is a premium incest porn site jam-packed with taboo and incest videos. Of course, since this is a premium site, you can enjoy regular content updates, and typically its content is high-definition, ranging from 1080p to 4K Ultra quality resolution. This site really took taboo porn to another level by bringing us an intriguing yet shameless incest series. It has a fantastic incest collection with great models, exceptional production quality, satisfying storylines, and top-quality scenes.
Click here for MyFamilyPies full review.
PROS:
Access other porn sites
Numerous gorgeous models
Interesting storylines
Fantastic series and scenes
Easy to use
High-quality videos
CONS:
Requires premium subscription
---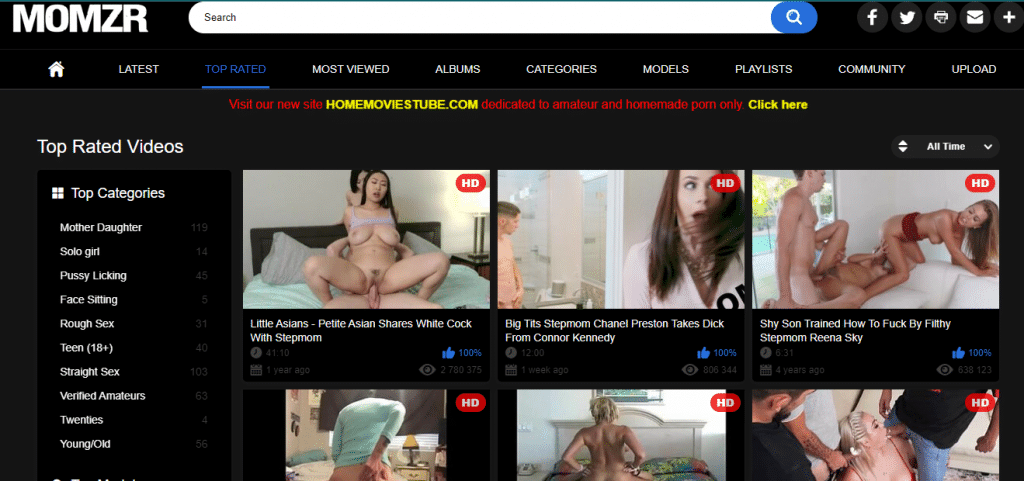 MomZR has indeed left a mark as a notorious source of mom-son incest porno from the title itself. It has all your MILF fantasies covered and a whole lot more! We all know mommy bitches have plenty of experience in sex, and they got a lot of skills to show off.
Being a FREE porno source, I know many of you think they don't pay much attention to quality and resolution. But to my surprise, MomZR that despite its open-source system, there's plenty of high-definition collection, full-length scenes, and some SD movies.
PROS:
Exclusive MILF pornos
Amazing features
Free to use
Premium-like video quality
Categories and pornstars are plenty
CONS:
Some videos are SD quality
Few ads
---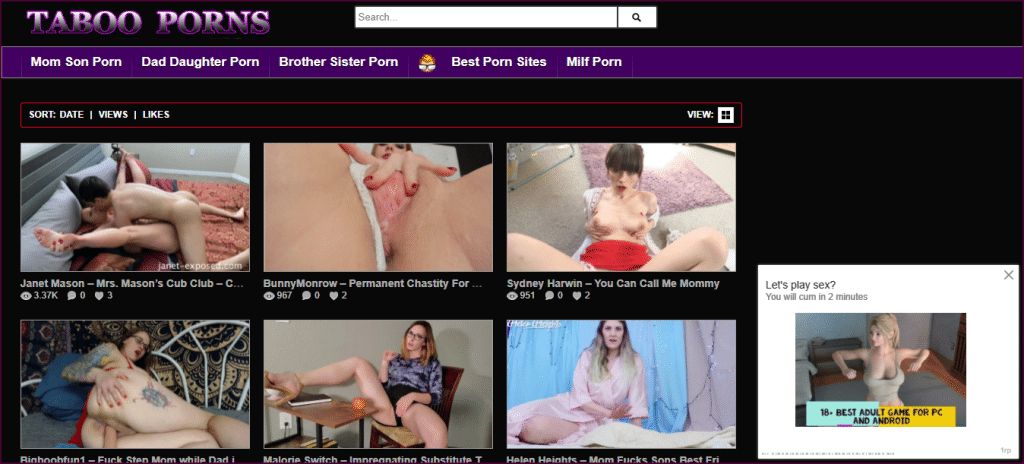 I know incest-themed porn is not for everybody's taste, and some may have a hard time watching them. Despite the taboo nature of incest porn, TabooPorns managed to grow after years of operation. That only proves how many people love taboo entertainment. Every scene has a different thing to offer; whether they are screwing each other, stepsister getting hammered, pussy-licking on stepmoms, or hot double penetration from horny stepdad and stepson, TabooPorns really bring out amazing scenes and moments.
Click for a full review of TabooPorns.
PROS:
Videos are full-length
Top-quality scenes
Amazing pornstars
Massive archive
CONS:
Basic design
Poor media streaming tool
May experience buffering while streaming
Plenty of ads and pop-ups
---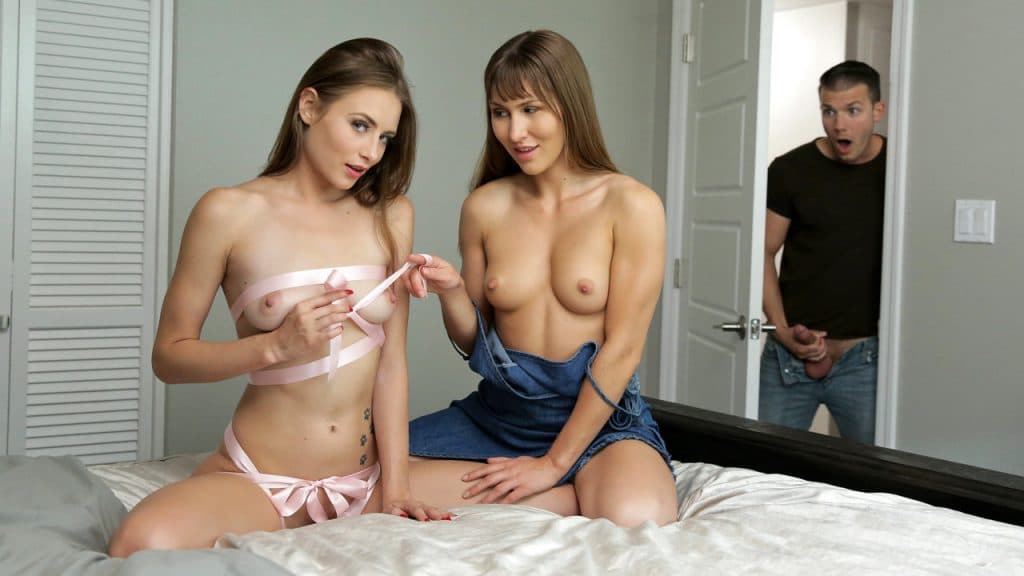 StepSiblings is a filthy website where you can watch videos of stepsisters and step-brothers having erotic fun, flirting, screwing, and enjoying various shitty things. What can you expect? When sexually frustrated teenagers are trapped together inside a house, they get into all kinds of shenanigans. Plus, StepSiblings is among the subset of the TeamSkeet web community. Meaning you'll have access to a slew of new channels, as well as hundreds or thousands of shows and movies.
Check out StepSiblings review.
PROS:
It has a trial subscription
You can watch previews without signing up
Plenty of categories available
Streaming and downloading in high-quality
Extensive model list
CONS:
Too simple design
The user-rating feature is not available
---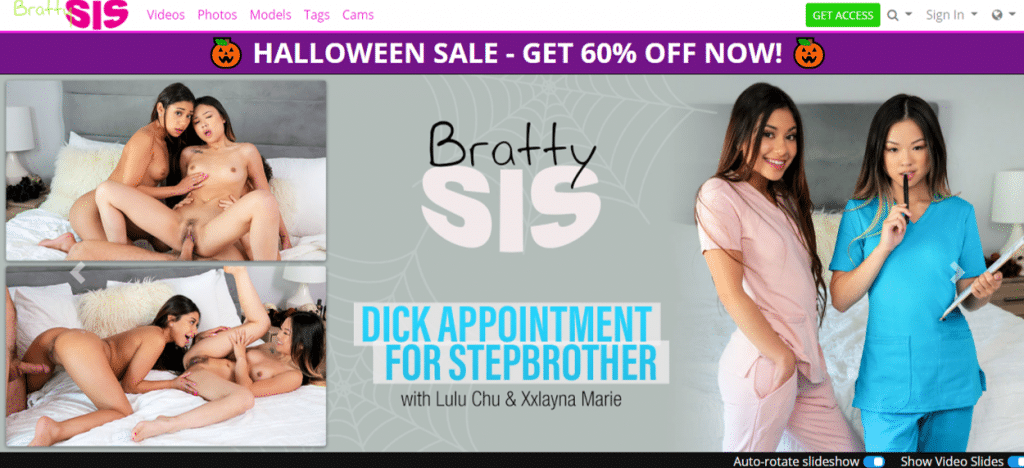 Bratty Sis has been producing quality porn since 2017. From that, they quickly become an exceptional source for incest porn. Porn fanatics lure around Bratty Sis with its high-quality erotic and steamy sexual contents, all in full high-definition streaming and downloading. Also, expect to see a slew of sassy sisters who cannot get enough sex and other erotic sorts. These brat sisters are all gorgeous and fresh teen girls.
PROS:
Hot family porn contents
Alluring professional and amateur models
Videos are available in high definition
Download high-resolution contents
Photo galleries are available
Variety of exclusive materials
CONS:
No trial membership
Small archive
No bonus contents
---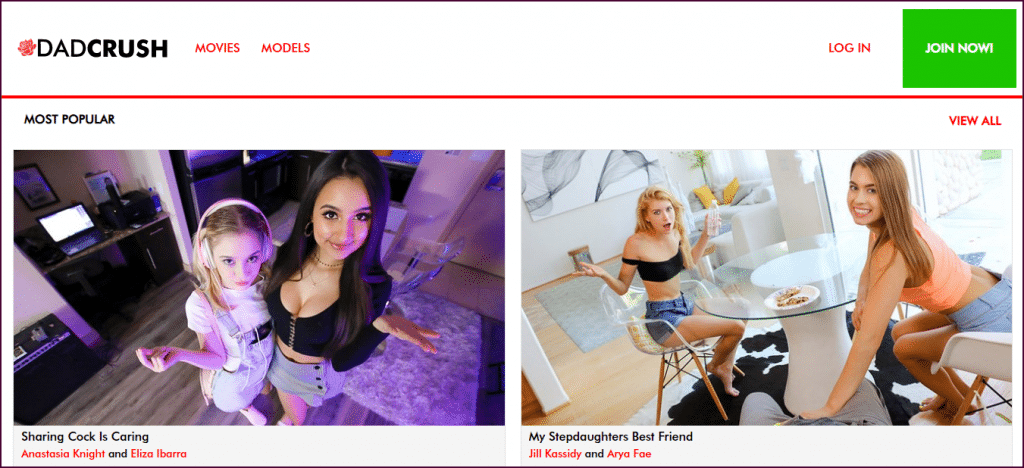 DadCrush is all about pornos of step-dads fucking and screwing their beautiful and young stepdaughters. There are plenty of storylines here, and themes could range by hundreds. You won't get bored because every video has exciting and unique scenes that keep you entertained the whole time. What's more exciting is that all their content is recorded in POVs, so you'll experience everything almost real.
Take a look at DadCrush review.
PROS:
It has a trial period
Videos have previews and teasers
Plenty of themes to check out
CONS:
No model information
No available filters and sorting options
Simple design
---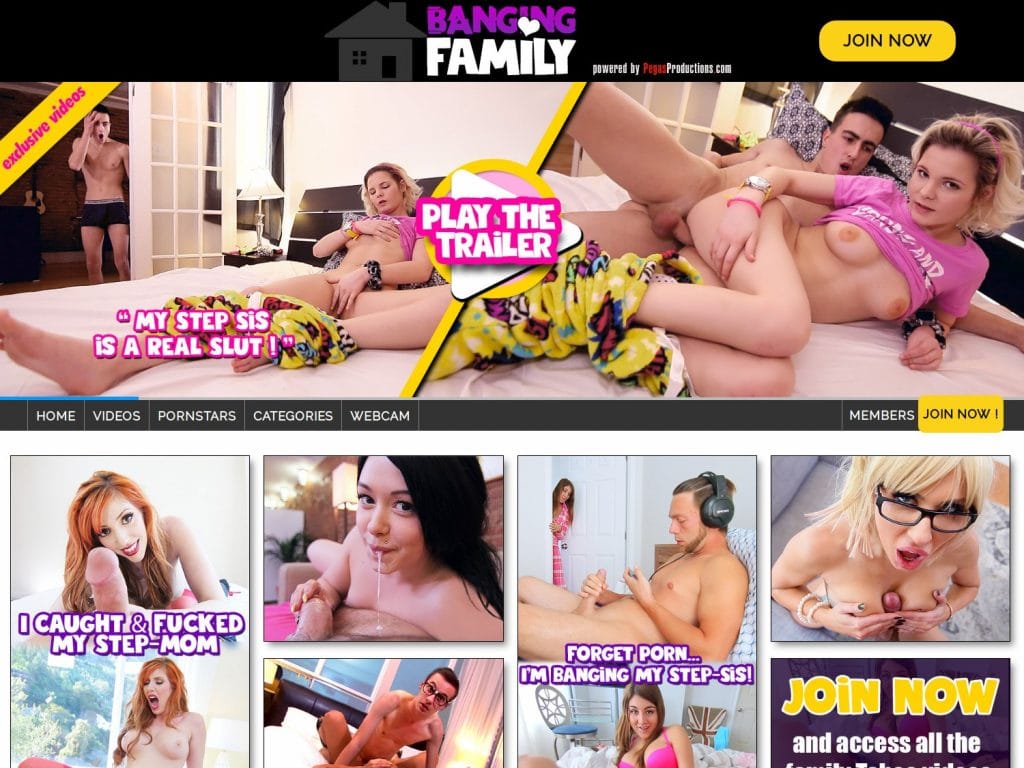 BangingFamily is a taboo and incest porno page jam-packed with all siblings and family-themed sex. I've seen stepdads banging their naughty stepdaughters and some MILF fucking her stepson in the master's bedroom. All in all, there are plenty of storylines that incest porn enthusiasts would love.
PROS:
There are bonus sites
It has Spanking category and is very popular
Plenty of pornos that can keep you entertained
CONS:
No previews for unregistered users
No trial period
Some ads for a basic account
---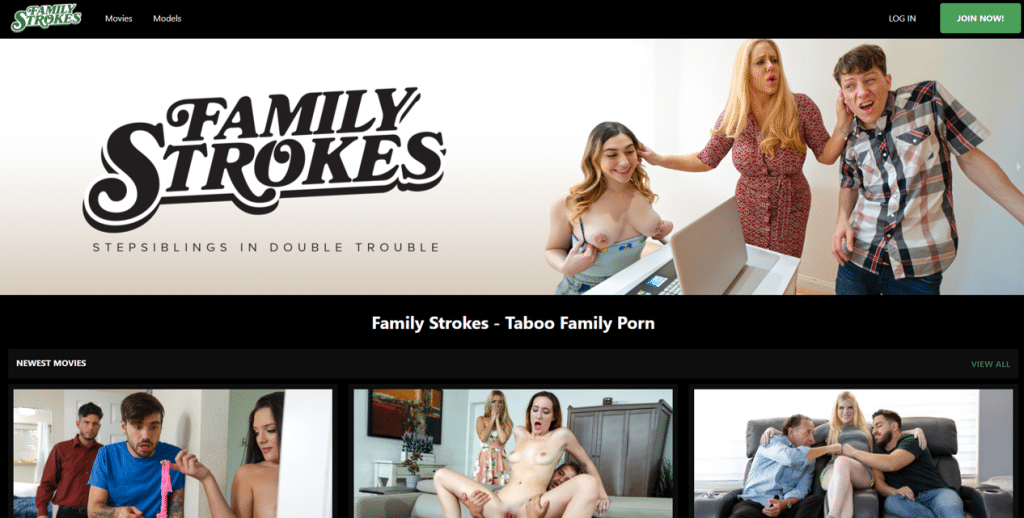 FamilyStrokes has been in the business for years now and has never failed to offer entertaining material. This site is delightful because you have access to other Team Skeet network sites since it is part of the network. If you also wish to explore different areas, there are over a thousand videos to view. Indeed, a loaded site that offers every inch of your cravings.
Full review of FamilyStrokes here.
PROS:
Epic scenes and excellent quality content
Good movie plotting
Unlimited downloads
High-definition videos and downloads
Bonus sites
Lengthy videos
Good mobile display
Wide selection of models
CONS:
Taboo materials
Limited scenes
Minimal contents
---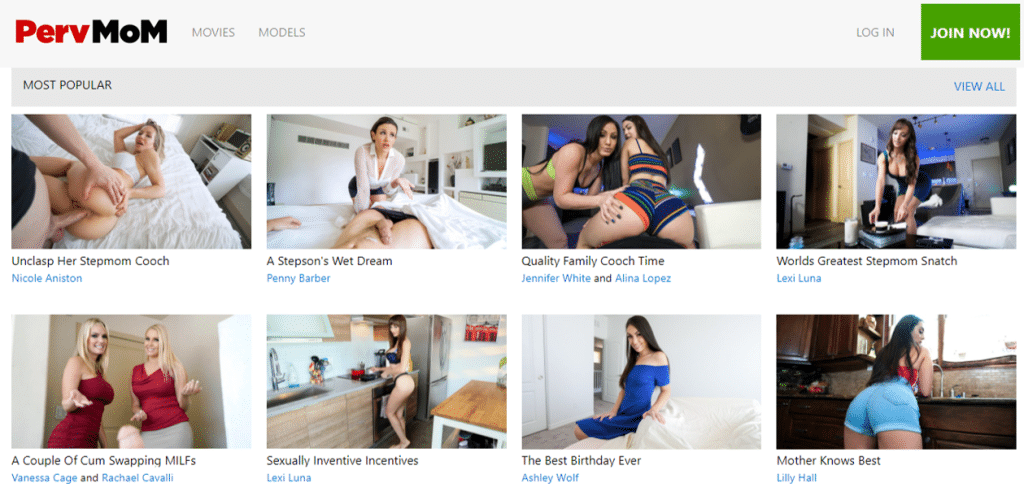 Perv Mom started its wild escapade in 2017. The platform is a part of the Team Skeet community and eventually becomes one of its bankable sites. Perv Mom allured various porn fanatics worldwide with its fresh and mouthwatering delicacies. Undeniably, the materials are fap-inducing even though you aren't a follower of the taboo porn niche.
Click for a Perv Mom full review.
PROS:
Hot and expert performers
Exclusive full-length materials
High-definition porn
Great site layout
Download videos
Clean platform
POV shots and great storylines
CONS:
Small collection
Weekly updates
Few site features
---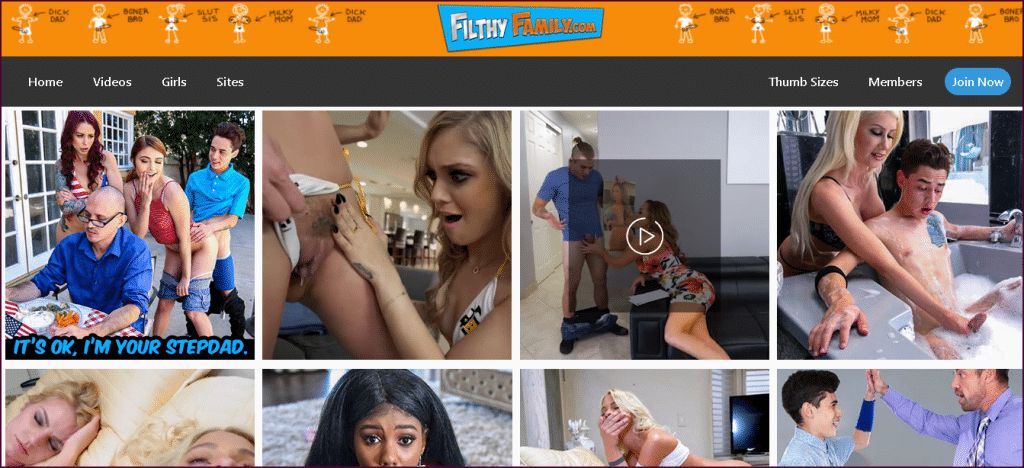 There are numerous ways for families to connect and bond, from swimming outings to family game night —literally everything is possible. But what happens when things become a little more intense? The creators of BangBros' filthy series, FilthyFamily, bring us a new take on the stepfamily niche that has long been the backbone of the adult entertainment industry. Despite the collection's small content, new filthy videos are added regularly. Plus, you will also enjoy bonus networks and high-definition videos in one membership perk.
PROS:
High-definition incest pornos
Open for downloading and streaming
Filthy and amazing scenes
CONS:
Requires membership
Limited collection
---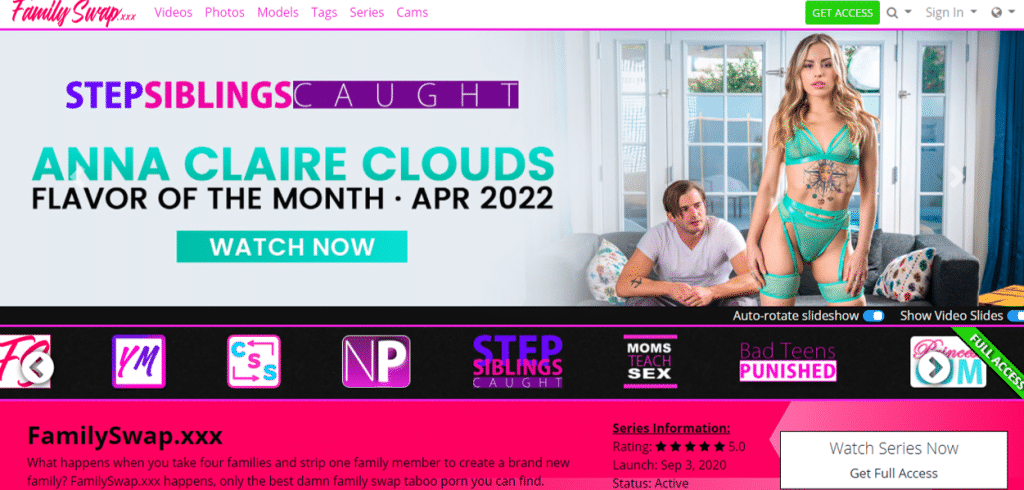 Family Swap elevated the game of taboo and incest sex themes. You can find a delightful array of incest porn elevated by familial sex, group exhibitions, and caught-in-the-act horny sessions that will make you squirm in excitement and fun. The site does not only provide fresh releases but a bunch of series, episodes, and high-quality materials.
Check for review of Family Swap.
PROS:
Great porn site concept
High-quality erotica
Download materials
Bonus sites available
Hot porn tags
Delectable flicks and pictures
CONS:
Subscription is the key
Not so frequent updates
---
Takeaway
RealityKings has always been known for producing high-quality video, and the MomsBangTeens site's latest offerings are no exception. Overall, I have no complaints regarding its videos, scenes, production, and models because they have mastered the craft. Every angle is calculated, and every line is well-written, so each dollar you spend here is worth every jerk-off.
MomsBangTeens' ranking would surely skyrocket if they simply increased their update frequency. I don't think 200+ videos would be enough for my regular fapping session. They must be confident since you have other options through RealityKings' bonus sites. Besides, the membership fee is good enough to justify its quality. So, if it sounds interesting, why not visit MomsBangTeens today!
All 34 Other Sites in This Category Worth Checking Out:
Taboo Porn Review & Top-12 Incest and Taboo Porn Sites Like TabooPorn.to Show Me 12 Alternatives for TabooPorn.to Ever feel stuck in the routine of everyday life and just crave a break from the ordinary? Well, let's keep it real; nothing sparks curiosity like the enticing world of taboo and incest porno. Dive into TabooPorn.to, where […]