Updated on: October 1st, 2023
MomsTeachSex
& 12 Best Premium Incest Porn Sites Like MomsTeachSex.com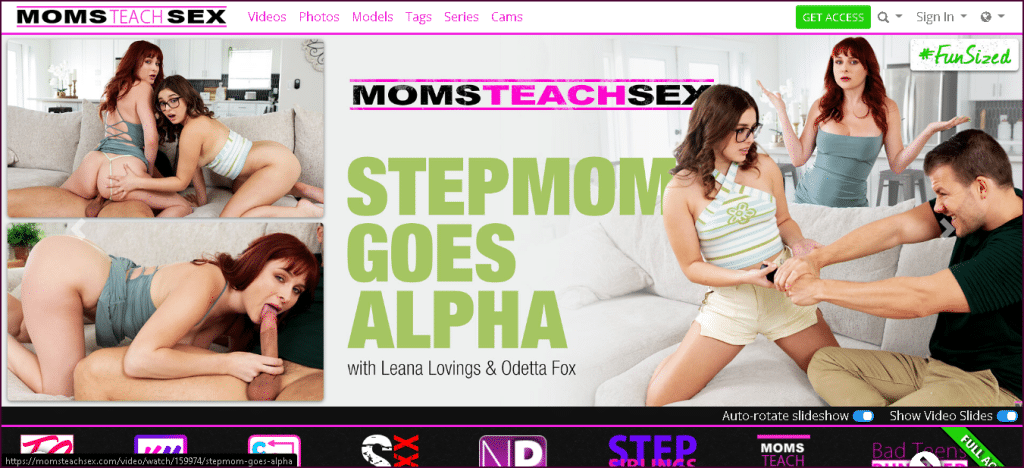 Sex, in general, is an exciting and rewarding experience, but have you ever thought of doing this with your stepmom? I'm pretty sure it will be amazing when the hot MILF stepmom decides to take the girlfriend role and join the fun. Those phat-ass and big-titted MILF really knows what they are doing in bed, and men will leave them begging for more. Unfortunately, not everyone has a hot stepmom at home. So, to fill in the gap, MomsTeachSex.com is here to help. It's an incest porn site packed with hot moms teaching the younger generation how to give a good spanking properly. Many high-definition videos are waiting for you to check out. Plus, there are bonus porn pics and top-quality studios accessible for free! Let's see what else MomsTeachSex.com can do for us below.
Official URL: https://momsteachsex.com
Learn the True Art of Fucking from The Expert MILFs of MomsTeachSex.com
Ahh, MomsTeachSex.com; just by reading its name, you can already tell what the site is all about. This premium incest site has some of the great "stepmom teaches stepson and stepdaughter" scenes where you can enjoy the naughty bits happening inside their own house.
Viewers can watch unique videos where naive girls or boys get a sex lesson from an expert MILF who knows a shitload about pleasure and sex. Certainly, there are no other ways to learn some things about adult entertainment but from an experienced stepmom, right?
Watch these stepmoms do the right tricks for the job and indulge in your stepmom's sex fantasies. Their hands-on method of giving pleasure is definitely something to look forward to, and wait for these naive girls and boys to understand who the boss is in bed!
The Best Stepmom Incest Scenes You'll Ever See
The gorgeous MILFs of MomsTeachSex.com have decided to demonstrate their incredible expertise to numerous couples who need "help" on how to make the most out of fucking. Because of their superior skill, they couldn't help but help the young lovers out there with the proper way to do "it."
This tiny website has a shitload to consider, as it is updated fairly regularly. It also features a variety of high-definition videos, photos of the sizzling threeway in action, and other incestuous scenes. Every scenario involves a famous MILF and a young adult — usually in their teenage years — and all of them stick to some basic plots that MomsTeachSex follows.
Some Roleplay Scenes Before Reaching Climax at MomsTeachSex.com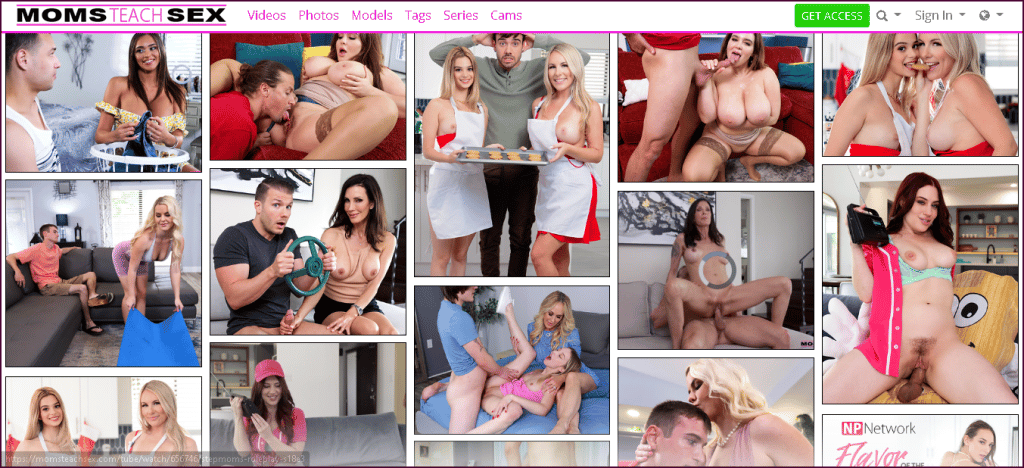 A healthy amount of suspense is also created before the action begins, so you'll be fully energized before the climax arises. For instance, there's one scene where a sex tape starring a hot stepmom's teenage stepdaughter and her lover unintentionally played while chilling in the living room. Of course, as a horny stepmother would do, she provides them with some constructive criticism and demonstrates ways to enhance their sex performance.
Meanwhile, in a separate video, there's a scene where the stepson is at home with his dad's newfound wife. While his dad was away for business, the hot horny stepmom started masturbating in his presence and invited him to join the action.
High-Definition Videos With Top-Notch Production Values and Amazing Pornstars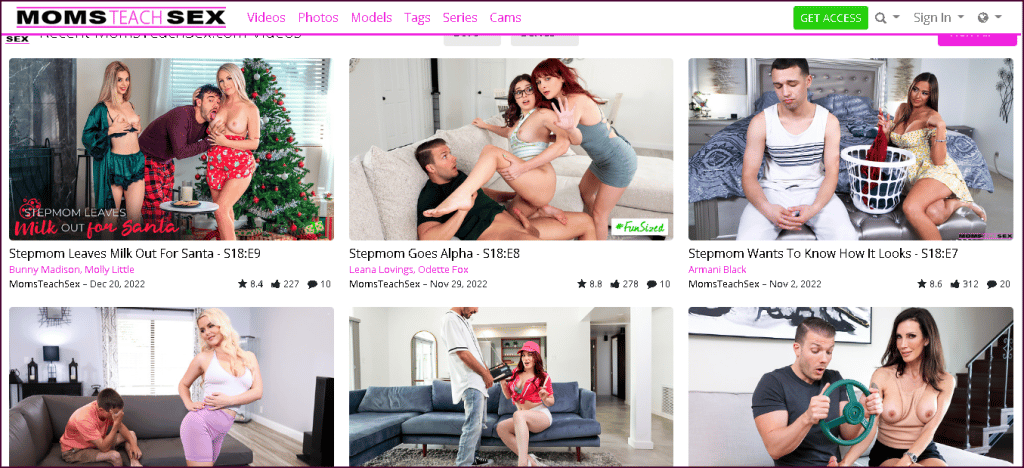 MomsTeachSex.com has over a hundred videos available that are streamable or downloadable in high-definition quality. Some of them are even in 4K resolution, so that's crispy explicit entertainment, enough for an all-night jerking. Also, every video runs for a decent duration and mainly has a length of 30-minute pleasure. In terms of downloading, the quality is also excellent, with options to use lower-quality resolutions. Lower resolutions are the better option if you have bad luck with your internet connection. But of course, I will recommend streaming this collection in the highest possible quality so you'll experience an almost-realistic encounter.
Meanwhile, the content of MomsTeachSex.com is highly valued and produced by a renowned production studio. As a matter of fact, the videos are distinct and play in longer storylines. However, some plots seem repetitive and run the same narrative. Regardless, MomsTeachSex.com is a fantastic alternative to your usual stepmom incest porno.
MomsTeachSex Supports Intuitive Mobile Browsing, Streaming, and Downloading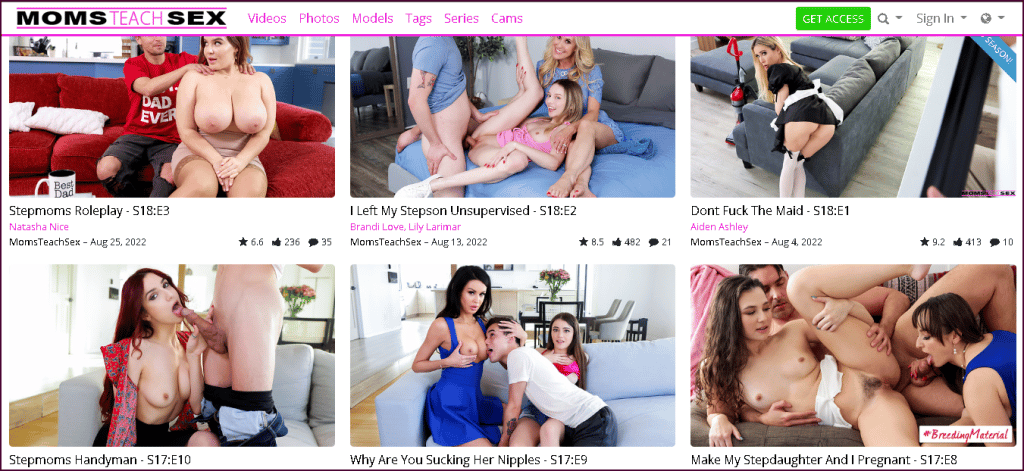 Surprisingly, MomsTeachSex.com is great when accessed using smartphones. It has a much better appearance and somewhat more comfortable navigation. For instance, the video thumbnails are bigger-looking, and you can easily touch them and watch their preview. Of course, you can disable it if you want, but we all like previews, don't we?
Additionally, MomsTeachSex.com has a fantastic filter option where you can narrow down your searches to your liking. You can also use the "Tags" and browse your favorite categories. There are hundreds of tags available on the page, and I'm sure you'll find one that suits your taste. Otherwise, MomsTeachSex.com allows you to submit your personally made-up tags and let other members enjoy your contribution.
More Navigation Features That Will Make Your Fapping Experience More Satisfying!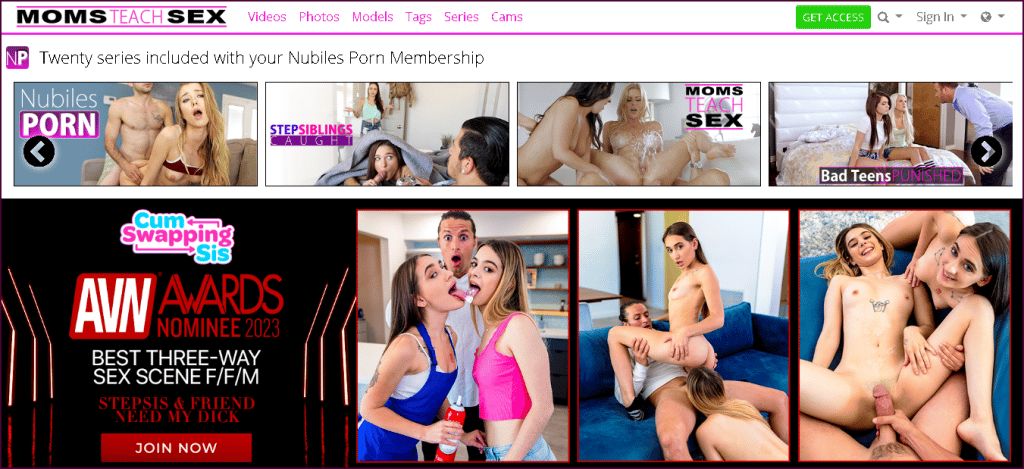 Meanwhile, for more extensive category filters, MomsTeachSex features "Advanced Search." Many of its filter options are very specific and could extend to your most quirky needs. Some of these include particular plot scenes, actresses, and more. Also, if you have favorite videos on the site, you can keep them in the "Favorites" section and get back to them whenever you want.
The mobile-responsive version of MomsTeachSex.com allows you to stream while browsing or switching to another tab. That's very convenient and effortless fapping on the go! But if you prefer a cinematic experience, a Theater Mode feature will give you an outstanding advantage.
So far, MomsTeachSex.com has provided us with a fantastic experience, but in case you don't like what you see, leave some comments on the page or rate the videos appropriately. This way, the creators of MomsTeachSex.com will know what areas to improve.
Movie-Like Porn Experience and Stunning HD Photos of MomsTeachSex.com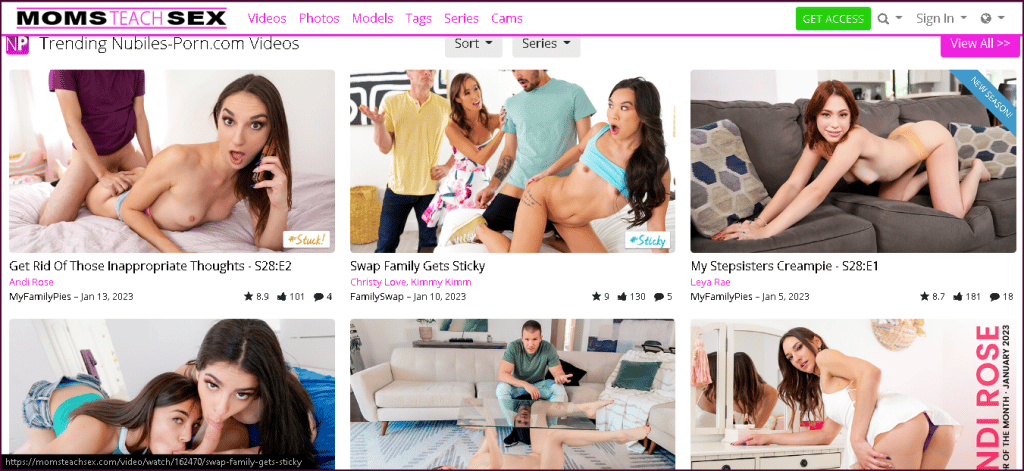 In all fairness, with MomsTeachSex.com, the team behind it really did a fantastic job in terms of production, scenes, and quality. It creates a very cinematic-like resolution and enhances the streaming experience. Definitely, it's awe-inspiring how a top-quality video could improve your usual fapping game. I guess it's not about the scene but the quality itself.
Additionally, MomsTeachSex.com knows how to work with camera angles and close-up shots. You can see the actresses' pussies right at a perfect time. Also, the scenes are captured in the highest quality possible or 1080p quality. If you prefer to stream offline, there's an option to download the movies at either 540p or 720p resolutions. For those with internet connection problems, don't worry; there are lower resolution rates available, and you can modify the format suitable for your device.
Meanwhile, the photo section of the site is equally amusing. Every gallery is loaded with stunning high-quality pics and shot most beautifully and creatively. You can say it has similar features as the videos, and clearly, the producers have put a lot of thought before taking shots. Lastly, these pictures are available for downloads, so you can browse the galleries even you're out.
Checking Out Numerous Bonus Porn Sites for Free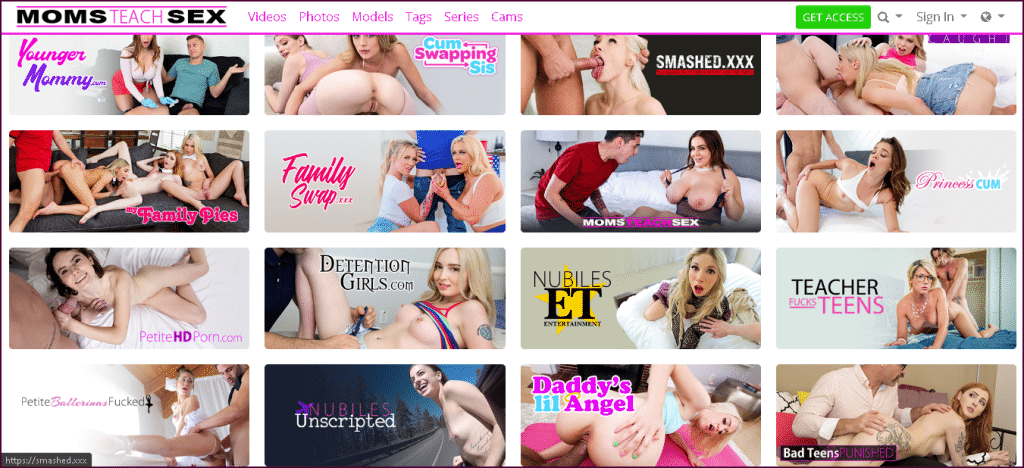 Hundreds of Video Collections from Different Networks
MomsTeachSex is a massive porn site, not because of its collection but because of the enormous amount of porn sites you can access using one subscription plan. Being related to the NubilesPorn, you can enjoy an all-access to its twelve different porn networks with unique niches.
So, when you grow tired of watching stepmom fucking, you are free to check out other incest-themed pornos from StepSiblingsCaught and MyFamilyPies. There is also a shitload of teen porn sites, like the DriverXXX, that store over a thousand of content. I guarantee that each video is similar to MomsTeachSex's — top-notch, nicely produced, and, most importantly, quality pornstars.
Bonus Porn Pictures from Renowned Sites
Some bonus sites also offer picture galleries. Yes, MomsTeachSex.com already has its own galleries, but isn't it great to explore more? Fortunately, MomsTeachSex provides a list of galleries to enjoy, with resolutions at 5304p. Of course, most of these bonuses are stepmom-related content, so every day, there's always an excellent opportunity to jerk off to a hot MILF.
Don't worry; these galleries are easy to navigate. The site has a built-in feature where you can automatically browse all photos hands-free. Certainly, it would help you jerk off quickly without using your other hand for scrolling.
MILF Pornstars Playing the Best Stepmoms at MomsTeachSex.com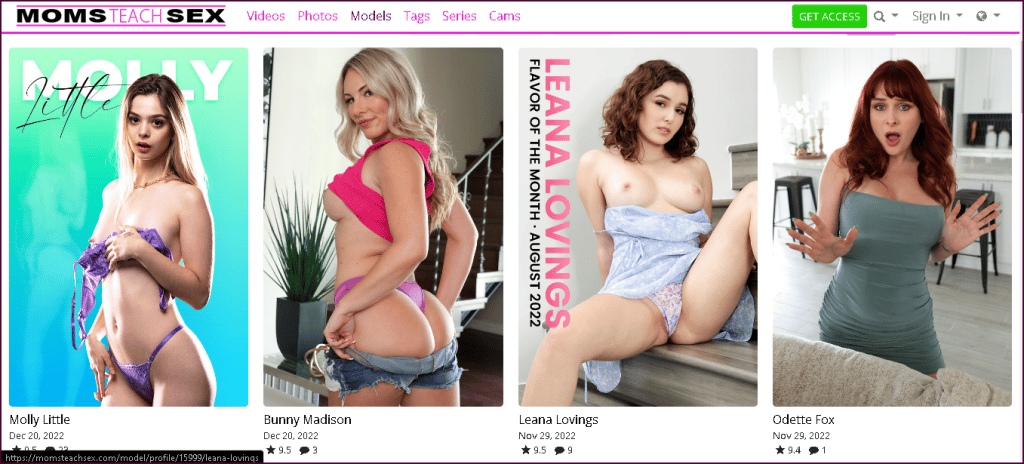 MomsTeachSex may not have the most extensive list of pornstars, but each of them is stunning and skilled. Currently, the site has hundreds of MILF, and it can be sorted according to names. You can also use the filter option by narrowing the specific pornstars from different featured channels.
Additionally, the pornstar profiles have detailed information about them. Users can get to know the model apart from watching them through their brief biographies and statistics. If you already have a favorite MILF, feel free to include her in your favorite list and maybe extend your admiration by commenting and rating videos.
Don't Miss the Updates and Newly Uploaded Incest Content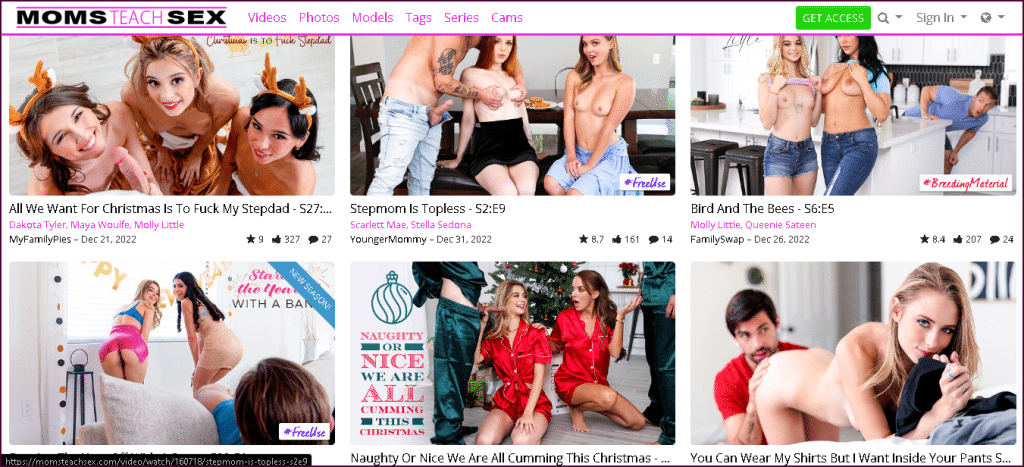 In terms of updates, MomsTeachSex.com may not satisfy your expectations. It does not update very often and is usually inconsistent in volume. But don't worry; I guarantee you'll still have a great time here. Plenty of videos and photos make you jerk off in minutes.
Definitely, MomsTeachSex will provide a stepmom and daughter/son sex bonding experience. Enjoy the hottest MILF supermodels in a variety of wicked and original step-sex adventures. As an added perk, premium memberships grant access to even more content thanks to extra websites. What a solid deal!
Pros and Cons of MomsTeachSex.com
PROS:
Lots of incest videos and photos
It has several bonus sites
Offers smooth photo navigation
Top-quality content
Unique incest entertainment
CONS:
Requires premium membership
Not the most extensive list of pornstars
---
12 Best Premium Incest Porn Sites Similar to MomsTeachSex.com: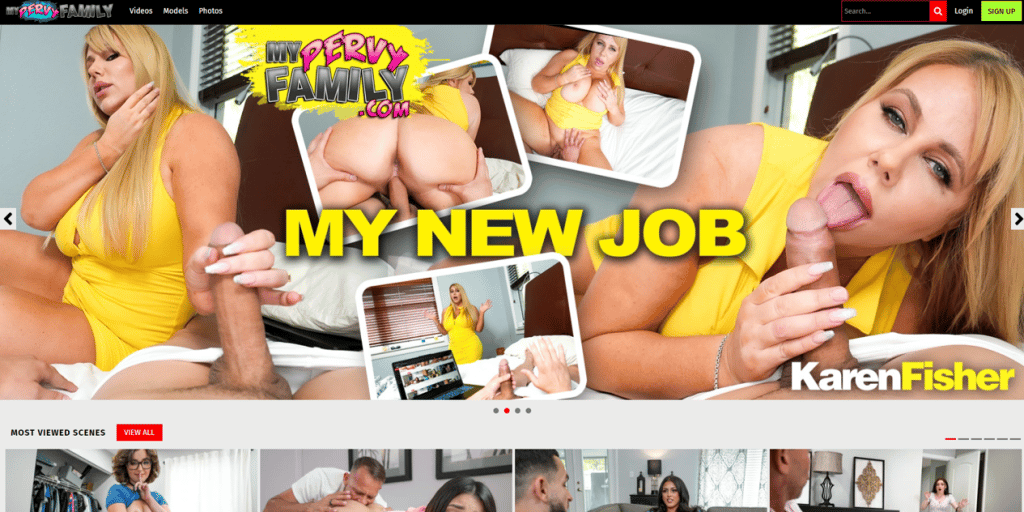 If you are hooked on watching brothers and sisters banging, son and mom having the best sexcapade, and dads flirting with stepdaughters, you will love the fantasy around My Pervy Family. The site got loads of passionate hardcore stuff to address your bulging cock. It also collated enough perverts itching to get regular updates and a selection of incest porn. Undoubtedly, the area has so much fun, with loads of high-definition flicks and consistent updates.
Here's the full review of My Pervy Family.
PROS:
Steamy incest porn collection
Moving thumbnails and video previews
Hundreds of high-definition flicks
Budget-friendly subscription
Exciting deals
Hot porn performers
Exclusive and original materials
CONS:
Few details on the model index
---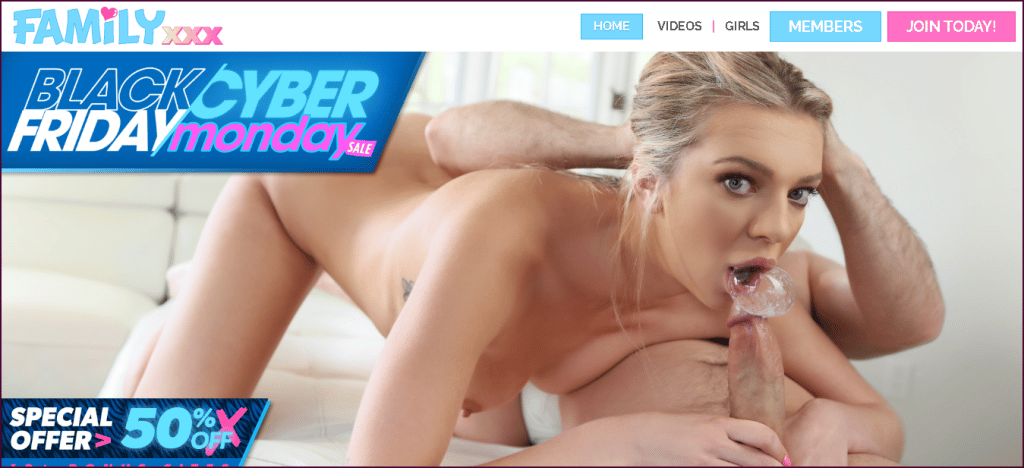 FamilyXXX offers all these kinky and taboo situations, featuring stepsiblings, step-parents, and even step-grandparents. It is really high-quality, thanks to its high-definition videography, attractive leads, and professional production values. There are files to save, videos to watch, albums to explore, and additional websites to visit — all included in your paid subscription. With this quality, I'm pretty sure you won't leave out on even the tiniest detail of banging, masturbating, and other hardcore stuff.
Click here for a full review of Family XXX.
PROS:
High-definition and 4K videos
Convincing acting and top-quality production
Exclusive videos
Bonus sites
CONS:
Requires premium Membership
---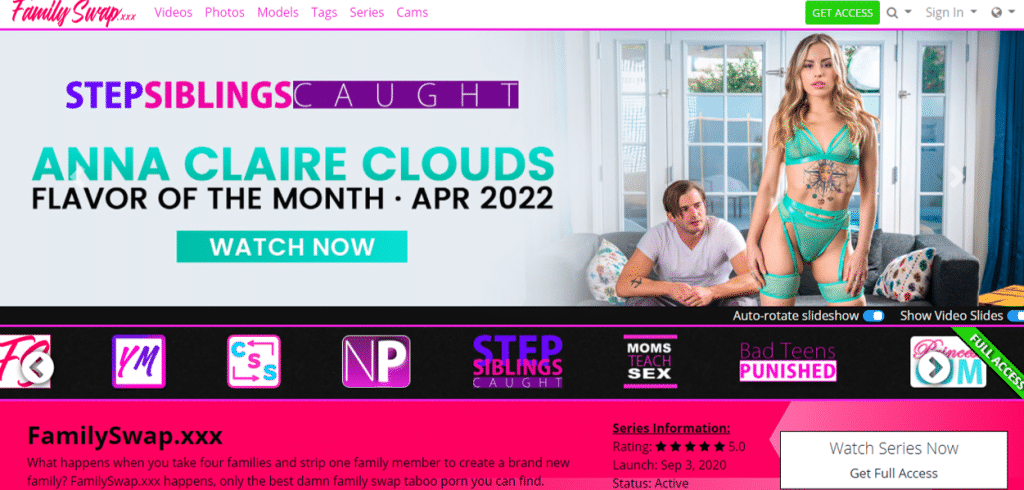 Family Swap elevated the game of taboo and incest sex themes. You can find a delightful array of incest porn elevated by familial sex, group exhibitions, and caught-in-the-act horny sessions that will make you squirm in excitement and fun. The site does not only provide fresh releases but a bunch of series, episodes, and high-quality materials.
PROS:
Great porn site concept
High-quality erotica
Download materials
Bonus sites available
Hot porn tags
Delectable flicks and pictures
CONS:
Subscription is the key
Not so frequent updates
---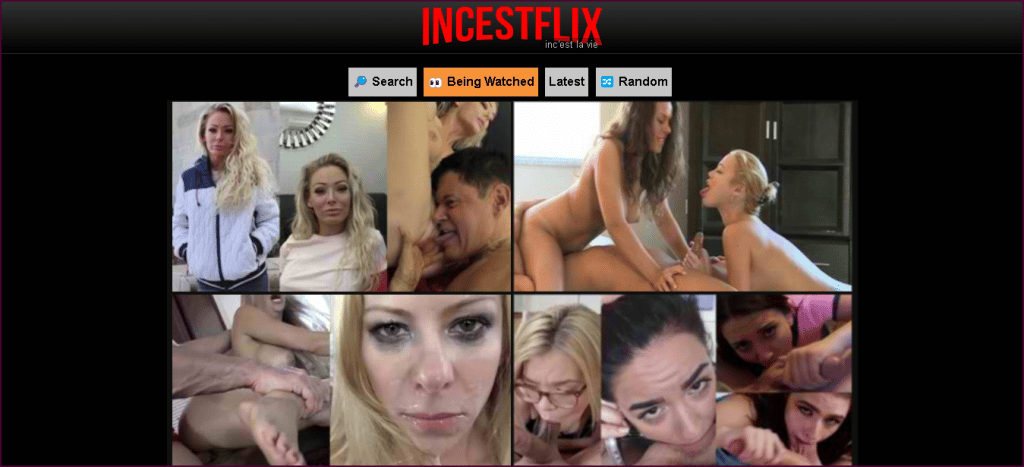 Incest Flix is an epic combination of Netflix and Incest porn sites on one platform. Pretty sure you won't find some of these filthy combos just anywhere. Most of its collection revolves around incest relationships between aunt and nephew, uncle and niece, step-mom and stepson, stepdad and step-daughter, and step-siblings. IncestFlix also includes a wider variety of genres than most incest role-playing adult websites, making it appealing to those who enjoy family role-plays smut. Above all, you can enjoy it without charge, either for streaming or downloading. Despite the site's excessive advertising, visitors can access a wealth of high-quality content at no cost.
Click to see the full review of Incest Flix.
PROS:
Multiple pornstars playing incest role-play
Made explicitly for incest lovers
No illegal content
A convenient source of incest porn
CONS:
Website design could be improved
Lots of advertisements
Lacks organization, tags, and categories
---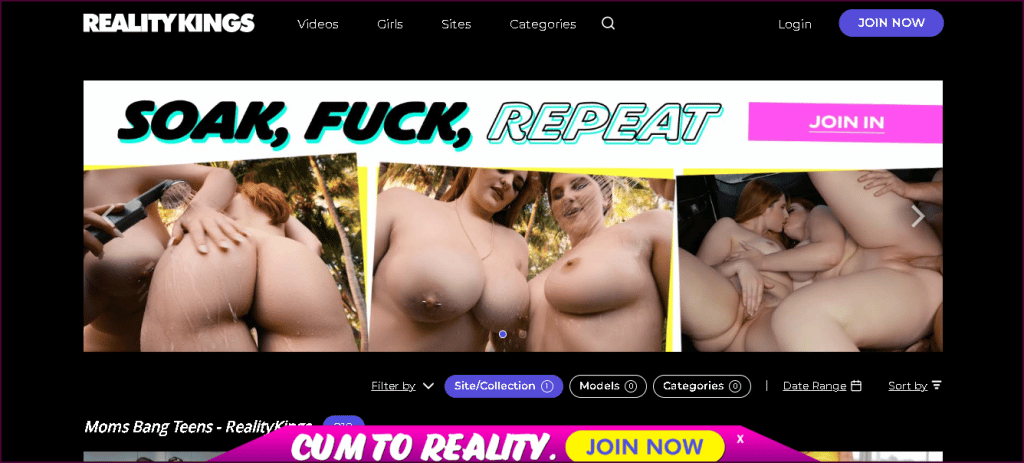 There are plenty of incest porn sites online, especially now that everybody has internet, phone, and laptop. But, being unique and unordinary is a different story. MomsBangTeens is jam-packed with amazing scenes featuring hot mommas fucking and banging young, fresh teens. Every scene is expected to be incredible and oozing with the right amount of hardcore banging. Kudos to the camera angles and overall production of MomsBangTeens for making everything awesome. Also, the creative team and producers guaranteed every video had a different story to show. But, all of them will give you incredible orgasms and jerk-off-worthy materials.
Check out the full review of MomsBangTeens.
PROS:
High-quality videos
Bonus sites
Usability and design are great
Amazing pornstars
Production value is top-notch
CONS:
Requires membership
Slow updates
---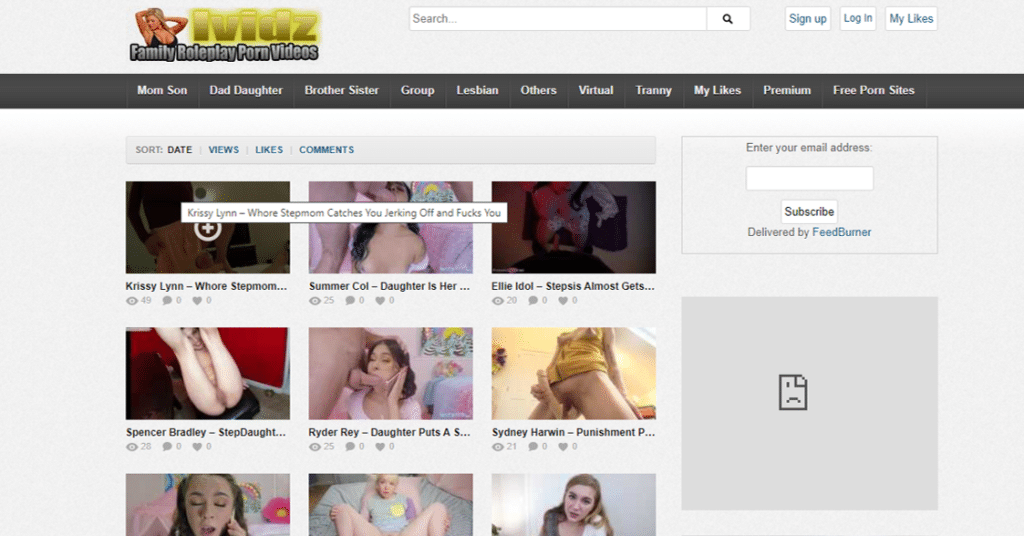 Incest Vidz started its purpose in the industry in 2011. The site founders are situated in Belize and continuously provide the roleplaying flicks of our dreams. This site is provides the most incredible family erotica suited for your desire. Indeed, porn fans can hardly get enough of these perks and its free good quality erotica stuff.
Take a look at the full review of Incest Vidz.
PROS:
Numerous incest porn collection
Unlimited and free access
Hot porn performers
Enough sorting features
Straightforward site
CONS:
Too many advertisements
Basic site design
---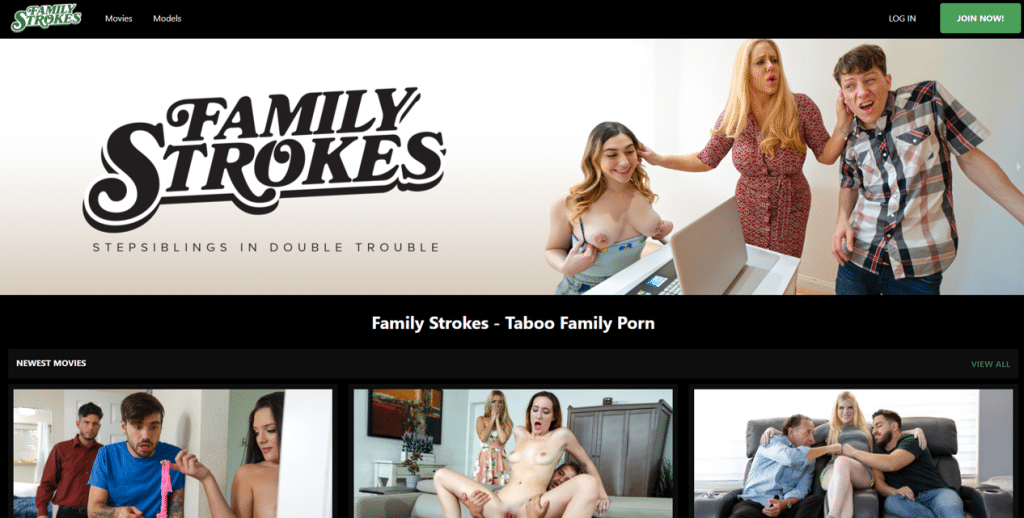 FamilyStrokes has been in the business for years now and has never failed to offer entertaining material. What made this site even more delightful is that you have access to other Team Skeet network sites since it is part of the network. If you wish to also explore different areas, there are over a thousand different videos to view. Indeed, a loaded site that offers every inch of your cravings.
Here's a full FamilyStrokes review.
PROS:
Epic scenes and excellent quality content
Good movie plotting
Unlimited downloads
High definition videos and downloads
Bonus sites
Lengthy videos
Good mobile display
Wide selection of models
CONS:
Taboo materials
Limited scenes
Minimal contents
---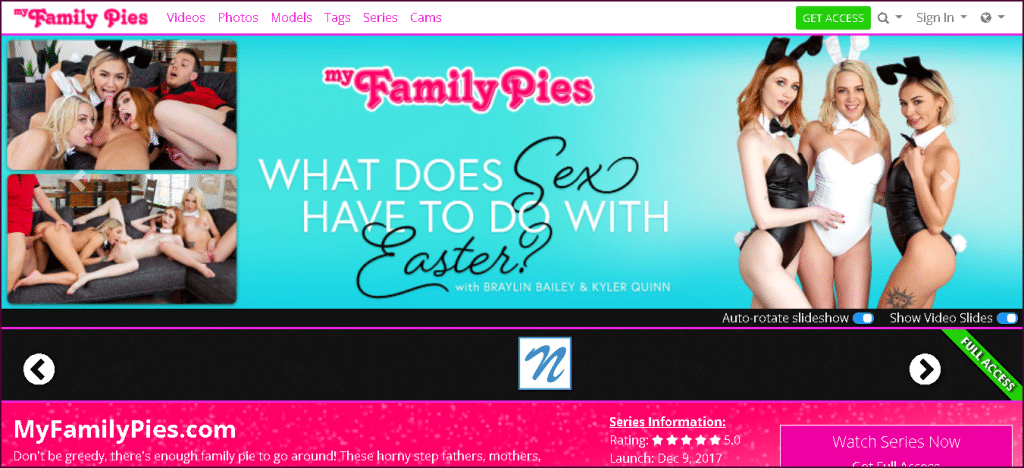 MyFamilyPies is a premium incest porn site jam-packed with taboo and incest videos. Of course, since this is a premium site, you can enjoy regular content updates, and typically its content are high-definition, ranging from 1080p to 4K Ultra quality resolution. This site really took taboo porn to another level by bringing us an intriguing yet shameless incest series. It has a fantastic incest collection that features great models, amazing production quality, satisfying storylines, and top-quality scenes.
Read the MyFamilyPies full review.
PROS:
Access other porn sites
Numerous gorgeous models
Interesting storylines
Fantastic series and scenes
Easy to use
High-quality videos
CONS:
Requires premium subscription
---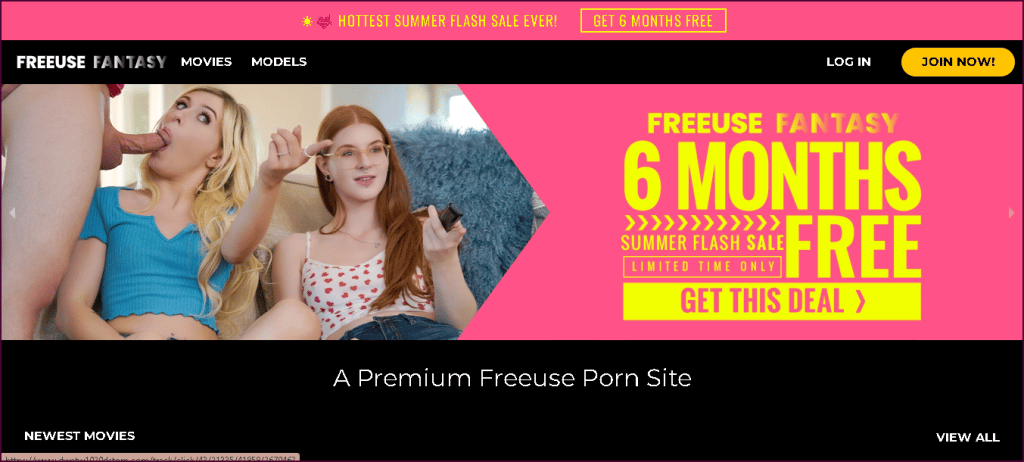 Freeuse Fantasy is a premium incest porn site that features all the nasty things any horny family would do. This site does not only offer premium services, but it also gives you opportunities to watch and save countless intense taboo porn videos whenever you like. Its fantastic and intense video scenes are constructed in a dream fantasy where the ladies are always hungry for sex whenever there's a guy around. Finally, all users can watch unlimited content inside its collection, and there's non-stop taboo action everywhere.
Check out the full review of Freeuse Fantasy.
PROS:
Lots of Taboo collection
Numerous bonus sites and content
Some videos are free to watch
Premium quality movies
CONS:
Requires premium subscription
Not all videos are 4K quality
---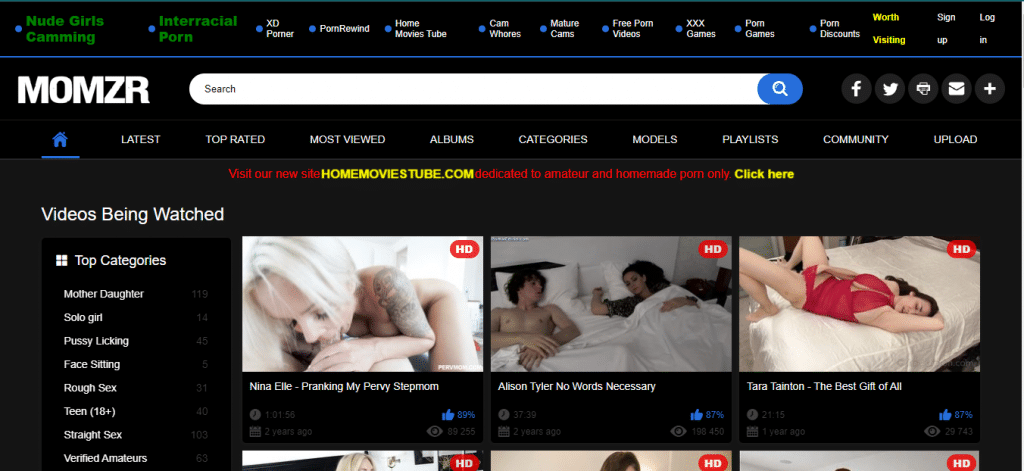 MomZR has indeed left a mark as a notorious source of mom-son incest porno from the title itself. It has all your MILF fantasies covered and a whole lot more! We all know mommy bitches have plenty of experience in sex, and they got a lot of skills to show off.
Being a FREE porno source, I know many of you think they don't pay much attention to quality and resolution. But to my surprise, MomZR that despite its open-source system, there's plenty of high-definition collection, full-length scenes, and some SD movies.
Click to see the full MomZR review.
PROS:
Exclusive MILF pornos
Amazing features
Free to use
Premium-like video quality
Categories and pornstars are plenty
CONS:
Some videos are SD quality
Few ads
---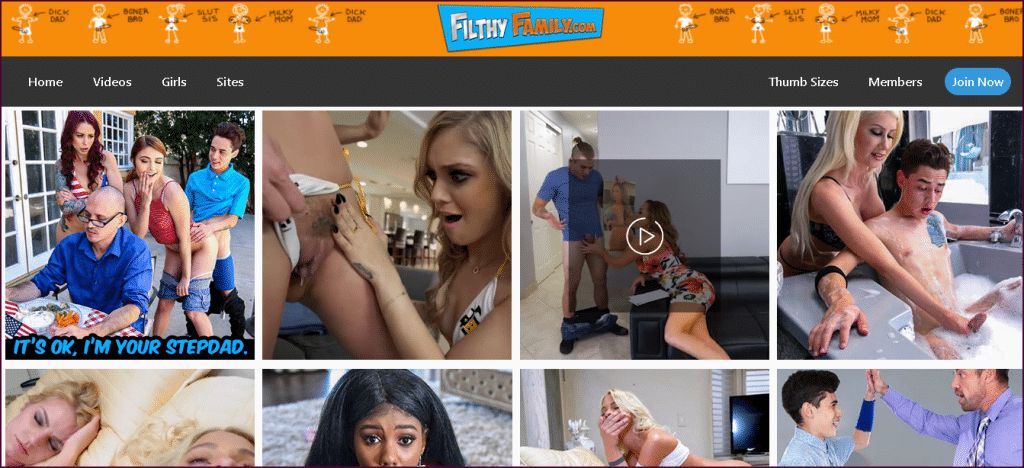 There are numerous ways for families to connect and bond, from swimming outings to family game night —literally everything is possible. But what happens when things become a little more intense? The creators of BangBros' filthy series, FilthyFamily, bring us a new take on the stepfamily niche that has long been the backbone of the adult entertainment industry. Despite the collection's small content, new filthy videos are added on a regular basis. Plus, you will also enjoy bonus networks and high-definition videos in one membership perk.
Learn more about FilthyFamily with this full review.
PROS:
High-definition incest pornos
Open for downloading and streaming
Filthy and amazing scenes
CONS:
Requires membership
Limited collection
---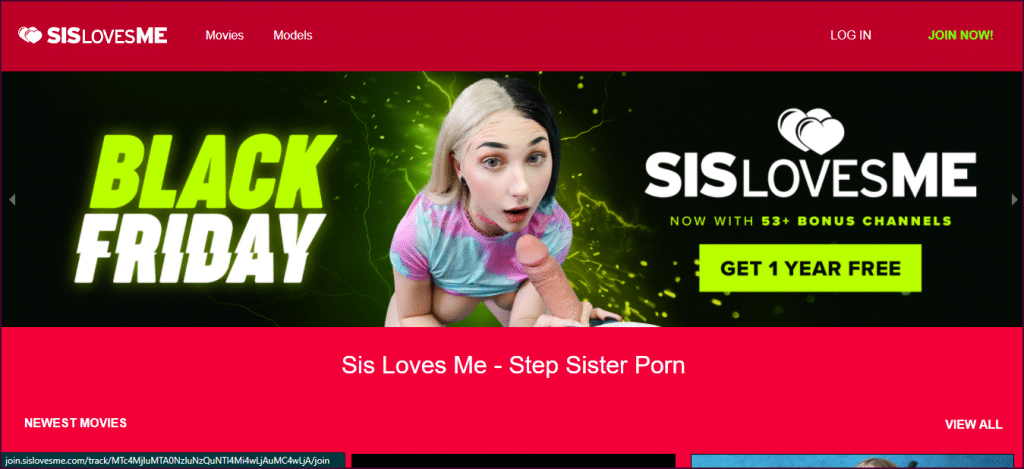 You now know what SisLovesMe is about to bring to your screen from the name itself. This premium porn offers amazing videos and themes that focus on taboo niches like step siblings, mom-son sex, dad-daughter fucking, and so much more. The actresses are all gorgeous, so you'll enjoy your subscription here for sure. As part of your subscription, you can access the exclusive content of the TeamSkeet site.
Check out the full review of SisLovesMe.
PROS:
Plenty of sites in one subscription
You can download and stream videos in HD
A lot of themes to enjoy
CONS:
Cannot comment
Full-length videos are only available for premium members
---
Final Words
MomsTeachSex is undoubtedly one of the best incest porn sites I've visited this month. It may not have the biggest collection of MILF pornstars, but the quality of its content and bonus porn sites make up for it. For a price of one, all users can enjoy and explore stepmom and daughter/son porn at the highest possible resolution. I guess, for that price, it's already worth every buck. Try and check out MomsTeachSex.com today, and see how those MILFs make you cum like crazy!
All 29 Other Sites in This Category Worth Checking Out:
TabooHeat & TOP 12 Premium and Free Taboo Porn Sites Like TabooHeat.com Show Me 12 Alternatives for TabooHeat.com Ladies and gentlemen, prepare to enjoy a sizzling adventure into the world of TabooHeat – a place where the heat isn't about scorching summer temperatures or skyrocketing AC bills. No, this heat will lead you to a new […]