Updated on: December 4th, 2023
XFollow Review
& 12 Best TikTok Porn Sites Like XFollow.com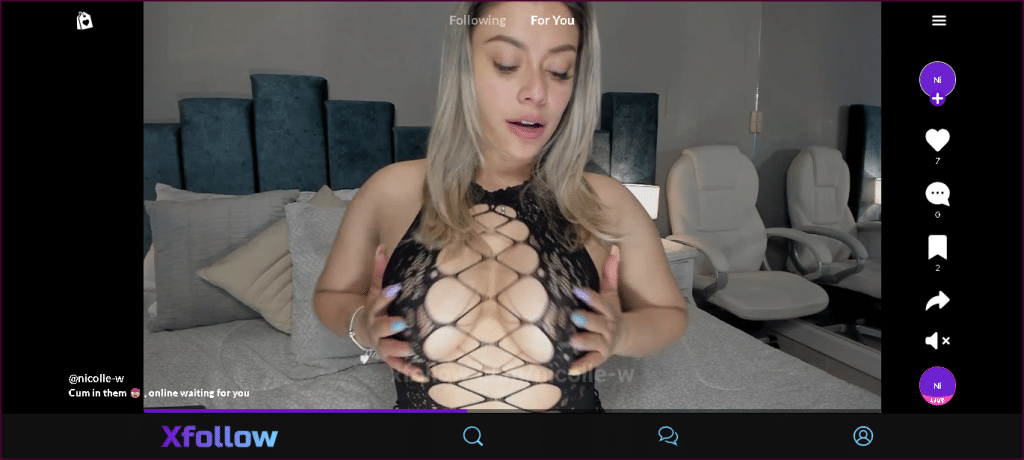 Well, my fellow porn lovers, today I embark on a journey to find out who I should XFollow on this new social media porn site called XFollow. As you can expect, the area is brimming with sultry sirens, but what sets it apart from other sites? Is it the scorching hot models, the diverse video selection, or even more? I don't have the answers yet, but one thing's for sure, I'm more pumped up than a gym rat on steroids to discover it all.
Official URL: https://xfollow.com
XFollow is the new kid on the block, and it takes inspiration from the likes of TikTok with its premium-like design. However, while TikTok can be a buzzkill with its SFW restrictions, XFollow promises a liberating experience with its premium content. My doctor advised me to steer clear of vanilla porn and switch to adult entertainment, and I'm excited to explore XFollow to see if it will help alleviate any problems down there. Join me as we venture into the unknown and uncover the best XFollow has to offer!
Spice Up Your Solo Play With Videos of XFollow That Leave TikTok in the Dust!
When I got on the XFollow homepage, I was immediately captivated by a gorgeous Black model who oozed self-assurance with bold crimson lips, alluring lingerie, and impeccable curves. Her lace underwear temptingly hinted at what lay underneath, and her perfectly round derriere as she moved for the camera.
XFollow's design closely resembles popular video platforms, with a big looping video dominating the screen. However, subtle nuances set XFollow apart, such as buttons to follow, like, and share the content. Additionally, users can leave comments, making it a perfect platform for like-minded individuals to interact. If you're familiar with video apps, you'll have no trouble navigating XFollow's intuitive interface.
Overall, XFollow captivates its audience with its visually stunning content and interactive features, making it a popular platform for those seeking excitement and connection with others.
XFollow is The Ultimate Mobile Platform That Brings Immersive Fun to Your Fingertips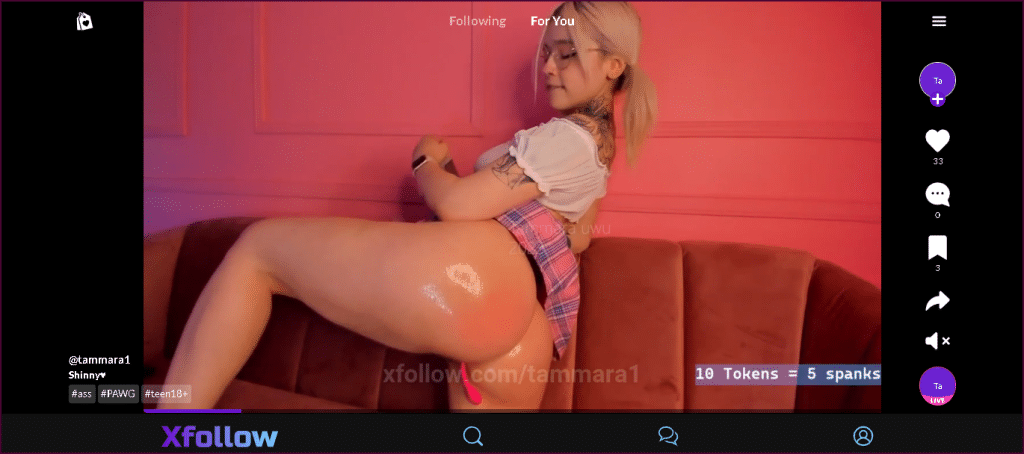 One thing that blew me away was the site's mobile optimization. XFollow claims to be mobile-friendly and delivers an exceptional smartphone viewing experience. The interface is designed to mimic trendy apps, making it effortless to flick through your mobile videos. It's rare to find a site that performs better on mobile than on desktop, but XFollow is definitely one of them.
XFollow is an array of sexual content that caters to all tastes and preferences. It's like a pornographic buffet, with an endless array of delectable treats waiting to be sampled. Whether you're into solo play or hardcore action, XFollow covers you. In just a few quick swipes, I was exposed to everything from the hottest Tiktok-style scenes to expertly produced scenes from the biggest names in the business. There's twerking, spanking, and everything in between, so you can quickly jump from one kink to another without skipping a beat.
Overall, XFollow provides an immersive and exciting platform for discovering new adult content and interacting with the community. It's refreshing to see a site that understands the importance of content and user experience, and I can't wait to explore more of what they offer.
XFollow Lets You Tailor Your Feed to Your Unique Tastes and Offer a More Personalized Experience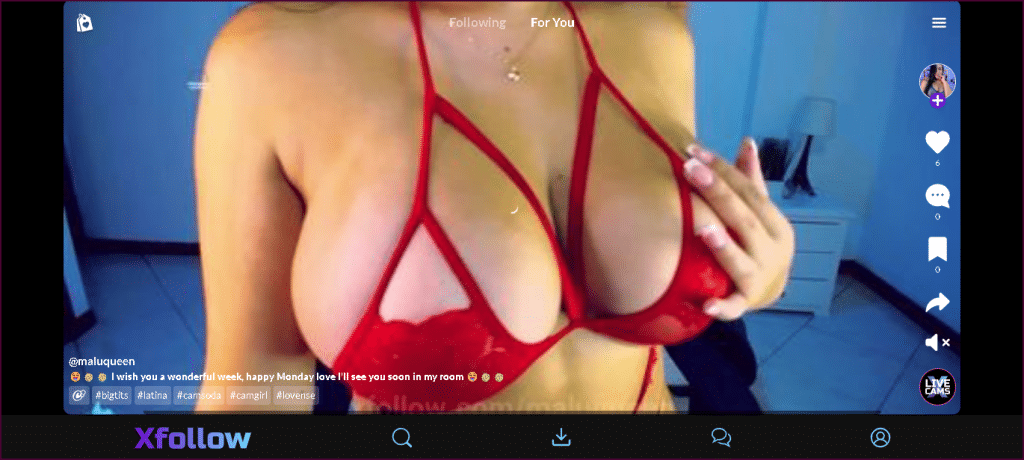 Whether you're into tit fucking, foot-sucking, or hardcore action, you can easily find it with just several clips at XFollow. And with the bonus of being able to follow your favorite creators, you can easily customize your feed to your specific preferences. Plus, unlike other porn sites, XFollow includes tags that allow you to filter content and find exactly what you want.
While the exact number of videos on the platform is difficult to determine, there are easily thousands to choose from. And with many videos uploaded by content creators, there's always fresh content to enjoy. Speaking of content creators, XFollow allows them to set their own prices for optional subscriptions that offer bonus content. While this may not be for everyone, it does give paying customers something extra to look forward to. And for those who don't want to pay, don't worry – most videos XFollow are free.
That being said, there are some minor downsides to XFollow. The pricing structure for some paid content can be puzzling, and it's not usually clear what you're getting for your money. Additionally, there are some limitations to what you can do on the site without paying. For example, messaging specific creators may come with a fee. However, these minor inconveniences are outweighed by the free content available on the platform.
Freedom for Content Creators to Take Control and Set Their Prices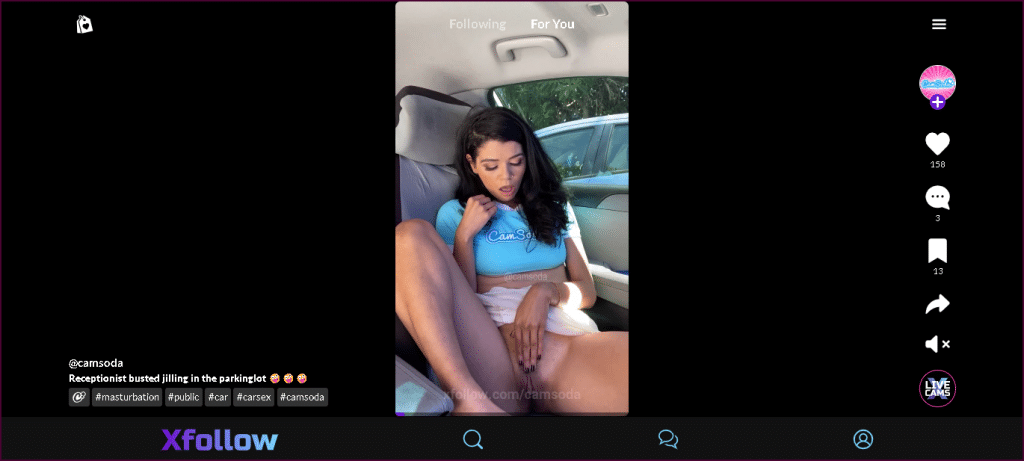 I've had mixed experiences with porn sites similar to Tiktok in the past, mainly because few of them lack a tagging system altogether. But with XFollow, things are different – it boasts all the standard porn site tags, allowing you to tailor your feed to your preferences. And the best part is there's no need to provide your email address when signing up, making the registration process hassle-free.
Upon signing up and following my favorite content creators, I discovered that some offer subscriptions for exclusive content at varying monthly prices, ranging from $5.00 to $20.00. Nevertheless, the majority of clips are still accessible without spending a dime.
However, while attempting to message one of the models I followed, I encountered a paywall that costs $5.00 per month for a complete experience of premium benefits. Yet, I hesitated to pay for it since her content was already publicly available. Hopefully, XFollow will enhance its pricing strategy and communicate better with its users.
Get Ready for a Heart-Pounding Adventure with XFollow's Juicy Pleasures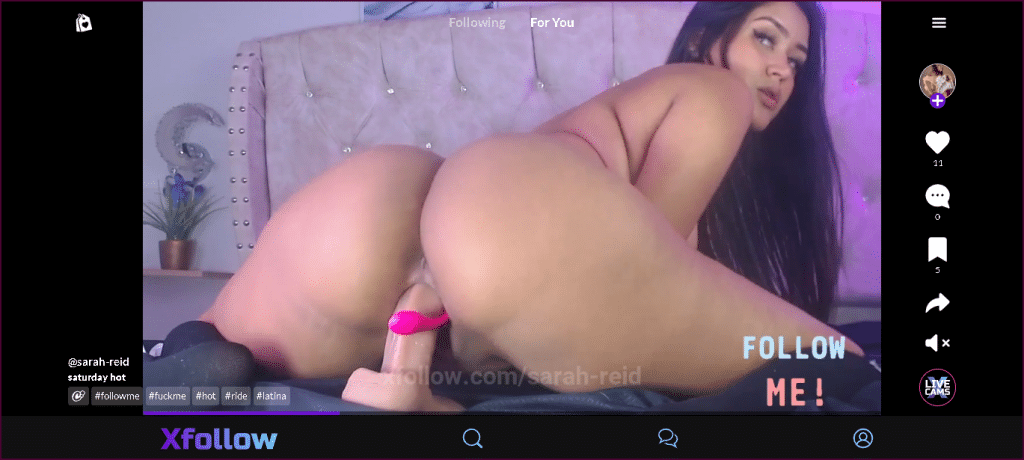 One thing that bugged me about TikTok-inspired porn sites before is their lack of tagging. You end up swiping through content without being able to curate your preferences, which can be a real buzzkill. XFollow, thankfully, offers the kind of tags you'd expect from any good porn site, letting you hone in on what you're craving.
It's tough to get an exact count on how many videos XFollow has since their layout is more focused on swiping than organizing. But it's clear there is tons of content here, and it seems like more is constantly being added. I'm not sure how they're getting all this content, but the sheer amount makes any porn lover feel giddy with anticipation.
I can tell that some of this content is originally from the creators themselves. XFollow claims to pay them an impressive 80%, a nice incentive to create even more deliciously dirty content. The best part? I've been browsing for ages without running into any paywalls or user accounts. It looks like XFollow is totally free, which is music to my ears and porn to my eyes.
XFollow's Growth Offers Unli Possibilities and Lets You Experience What Premium Content Should Be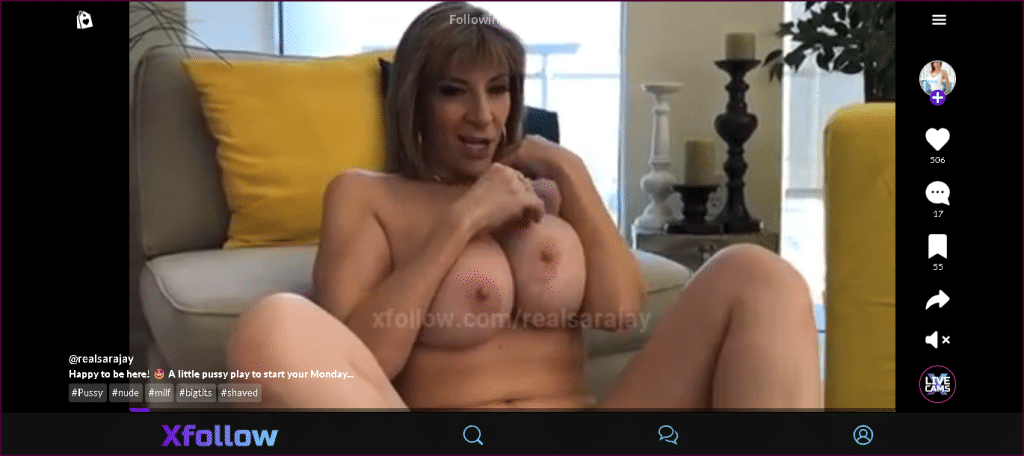 XFollow is a platform worth exploring, offering a wealth of potential for growth and development as a comprehensive content hub. Although if you prefer not to spend money, the venue features a vast collection of short and entertaining videos, making it an ideal escape from daily routines. Whether browsing during a lunch break or planning a weekend-long binge-watch session (like myself at the moment!), XFollow offers something for everyone.
As a rapidly rising porn site, XFollow is becoming a significant player in the paid content platform industry. Nevertheless, there are still plenty of free; bite-sized videos delivered in rapid-fire style, similar to what you'd find on TikTok, ensuring a steady stream of exciting and engaging content for all users.
And let's be real, who doesn't love a good freebie? With such a vast selection of videos, you're sure to find something that delights your fancy, whether you're sneaking in a quick jerk session during your coffee breaks or planning on spending the entire stay in bed.
Pros and Cons of XFollow.com
PROS:
Free to use
It's user-friendly and addictive,
Numerous videos to enjoy
CONS:
Some content is free, while other content requires a subscription.
The pricing scheme can be confusing
---
12 Best TikTok Porn Sites Similar to XFollow.com: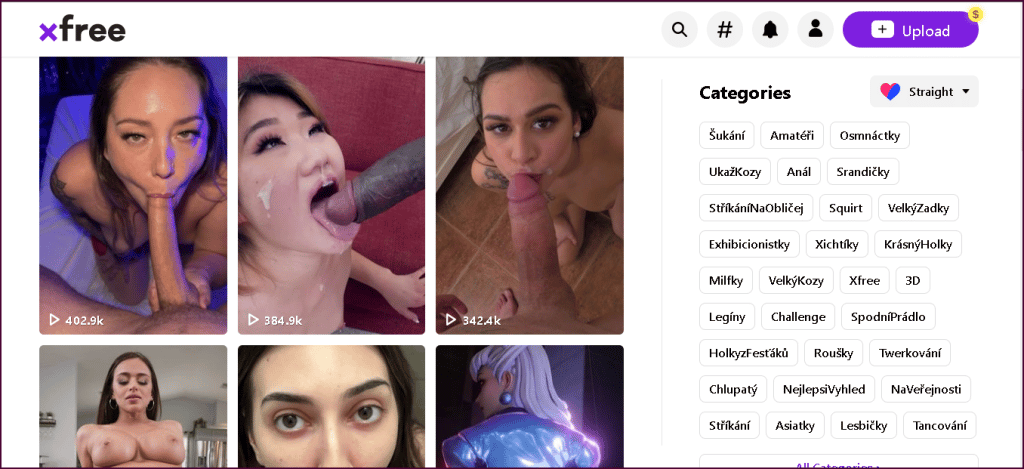 With fantastic Tiktok-style entertainment, Xfree.com has been a great go-to place whenever you need refreshments or new things to enjoy. It has a special category section where you can find some good fetish and kinky niches. They are certainly not afraid to explore the wildest side of sex, so every click will always blow your mind. While the design could use some work, xFree.com gets it right regarding lightning-fast streaming and Tiktok-style porn.
Here's the full review of Xfree.
PROS:
Tiktok-style porn
Amazing categories and variety
Professional and amateur collection
Hottest pornstars
Intuitive design
Pays a dollar for every video submitted
CONS:
Short clips, no full-length
---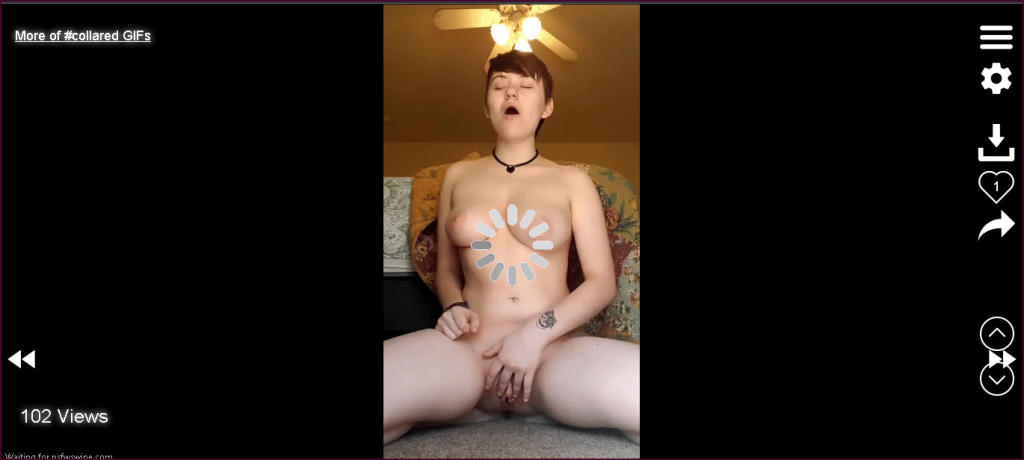 NSFW Swipe is taking a new twist to the typical porn entertainment by bringing Titkok interface and pleasure. It's loaded with amateur and homemade porno from your favorite internet stars, aspiring models, and amateur girls. Every time I swipe the screen, I get unique, enticing scenes all the time. Even the videos with the lowest resolution still have incredible scenes and amateur girls. Thanks to nsfwswipe.com, we can finally cut the talking scene and get straight to the climax.
Click here for a full review of NSFW Swipe.
PROS:
Similar style and vibe to Tiktok
Free to use
Thousand of amazing short porn
Easy-to-navigate website
Diverse and unique x-rated entertainment
Lots of girls, mostly amateur
Easy downloading feature
CONS:
No available tags or genres specified
---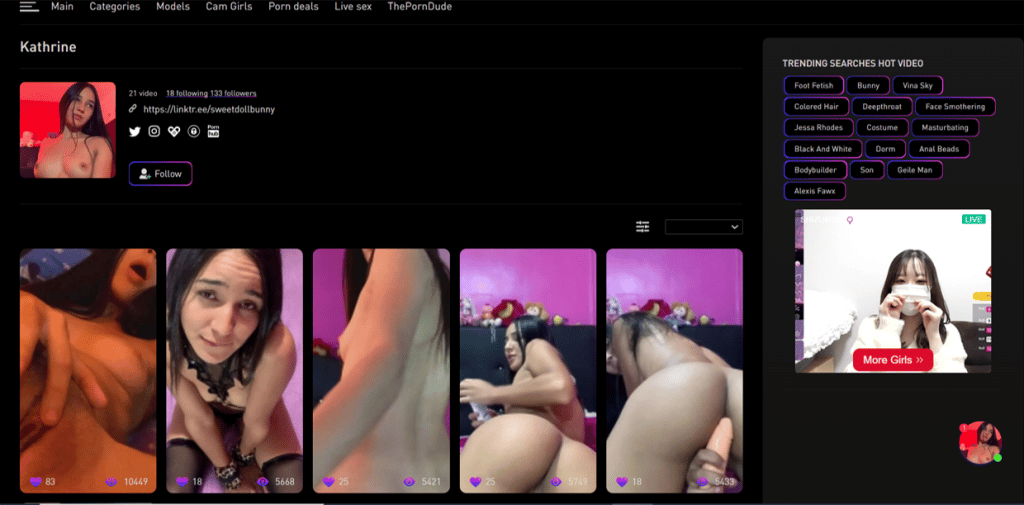 If you wish to stream a video, simply click TikTits and enjoy. No hassle, no redirects, and no other pop-ups you need to shut down. Since the site has a vast range of excellent sex videos and great set of categories to pleasure every day, you can say you are in excellent hands. Sure, there are plenty of Tiktoks and pornos online nowadays, but I have to commend TikTits for having pleasant navigation and usability features.
PROS:
Plenty of sex content for free
Regular updates
Amazing sex videos
CONS:
Unorganized categories
Only short clips
Design could be improved
---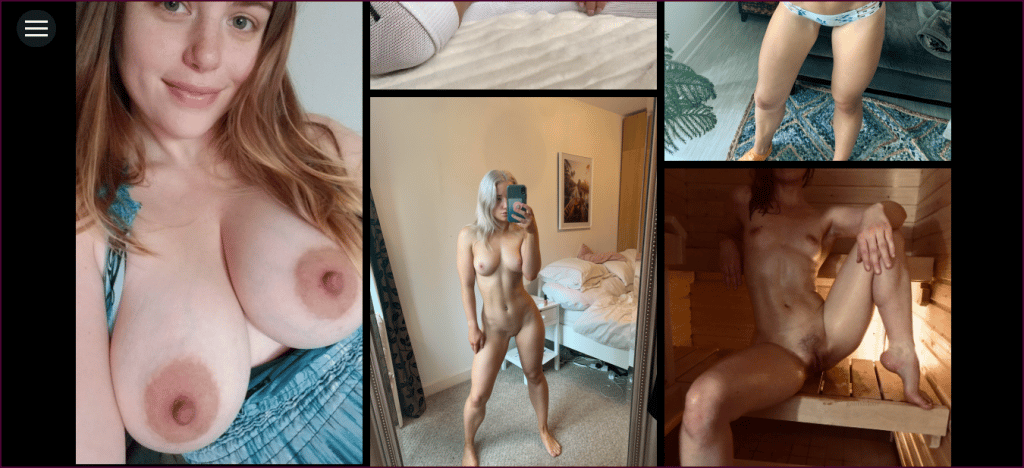 FiqFuq is a Tiktok porn site offering amazing deals and collections for all the cheapskates online. It provides viewers with videos and unique niches most likely accessible with a premium subscription only. Also, the layout of FiqFuq is pretty similar to Titkok but only comes with explicit content. No cheapskate out there would miss this site. So, better prepare your lube and tissue because every swipe of your finger is definitely worth fapping!
Click to see the full review of FiqFuq.
PROS:
Similar layout to TikTok
Numerous videos
Hot and famous internet stars
Easy-to-use app
Mobile browsing friendly
CONS:
Needs improvement on categorization
---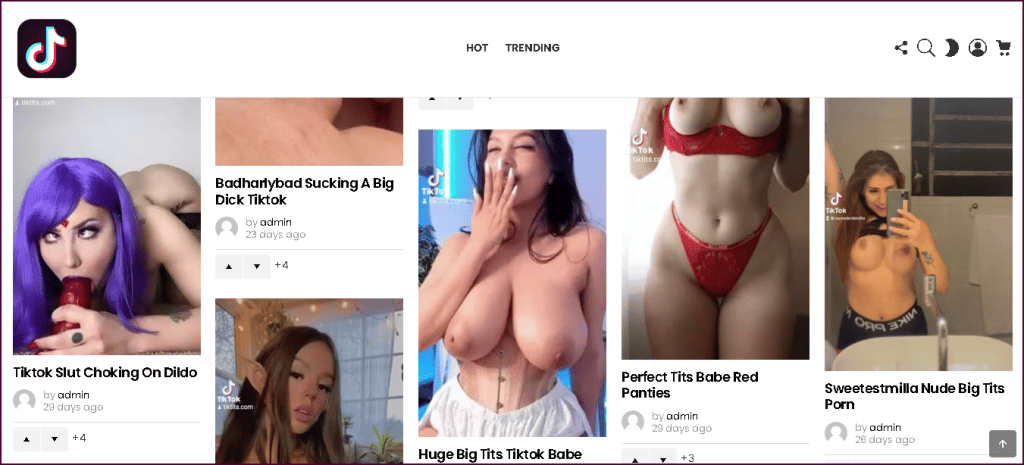 Plenty of people are desperately trying to get the attention of horny audiences, and they don't care if they have to expose themselves online shamelessly. We can enjoy every bit of these naughty girls by using NakedTikTok18. Compared to another Tiktok-style porn site, this one is serious about getting us daily updates on the latest leaks from Titkok. Other porn sites may claim they got TikTok porn, but you get a bunch of cropped amateur porn. Nobody will taste any of that here because NakedTikTok18 is not fucking anyone with its TikTok porn collection.
Check out the full review of NakedTikTok18.
PROS:
Tiktok-style porn
Lots of amateur girls and pro models
Regular updates
Shitload of banned videos from Tiktok
CONS:
---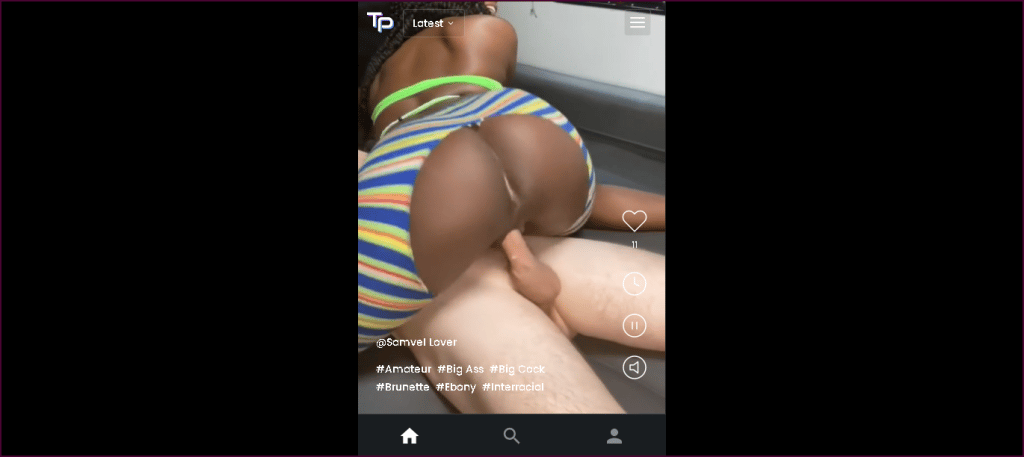 TikPorn.tube emerged in the adult entertainment scene and made waves online. Just like TikTok, it delivers incredible short videos for our entertainment. The site won't miss a single spot of explicit scenes and themes online and will display them on your screen immediately. Certainly, it has nailed the formula to attract more followers, and they are not stopping producing more fapping-worthy content soon.
Take a look at the full review of Tik Porn Tube.
PROS:
Similar style to TikTok
Videos are nasty and filthy
Smooth and easy-to-use website
Numerous categories and tags
Features authentic amateur girls
Free to use and stream
CONS:
---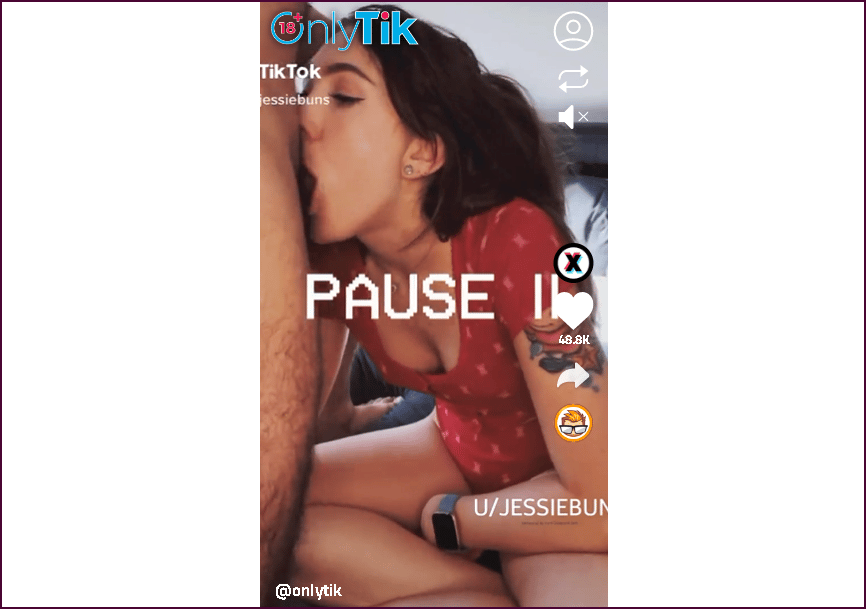 OnlyTik is a mature counterpart of TikTok that gives off a Tiktok-style formula minus the content restrictions. Quick accessibility and speed are, in my opinion, the two most striking features of the site. Once you download OnlyTik to your Android device, you'll have instant access to thousands of adult scenes and twerking videos. Not to mention, all the previously-deleted content from TikTok is stored within the app.
Here's a full Only Tik review.
PROS:
The browsing experience is like TikTok
Features explicit content
Hottest girls and models
It also features several pornstars
A convenient and easy-to-use app
Free download
Free registration
CONS:
Some ads
Tagging feature needs to be improved
Uploading clips need an account
---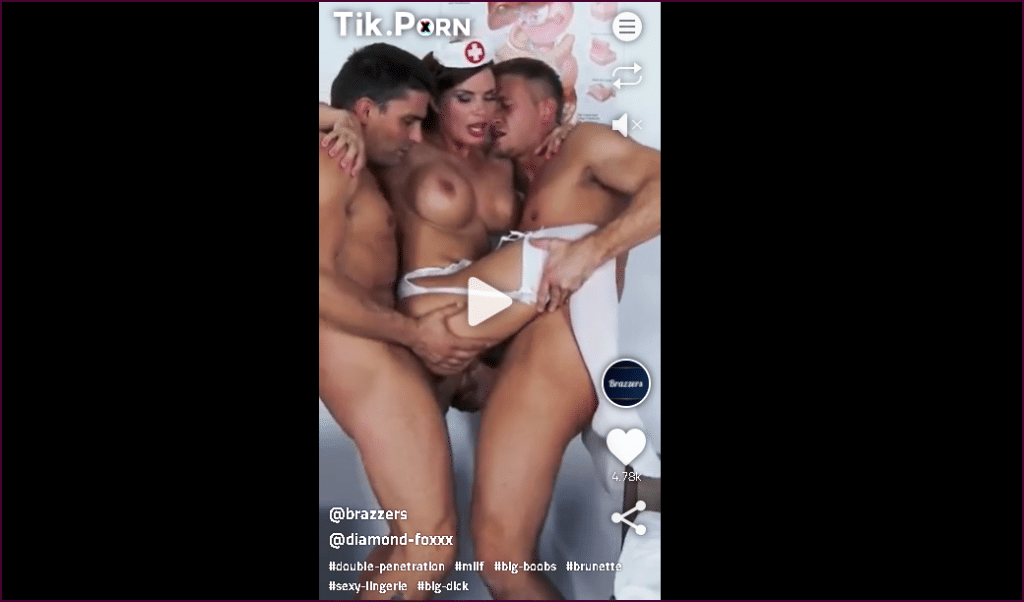 TikPorn is not a Tiktok video aggregator but instead uses a similar interface and concept to Tiktok with a twist. What is the twist? Unlike Tiktok with dancing shit videos and annoying skits, TikPorn has porn, porn, and nothing but porn.
PROS:
Lots of sex videos
Mobile friendly
Gorgeous girls
Easy to use
CONS:
No option to select porn themes
---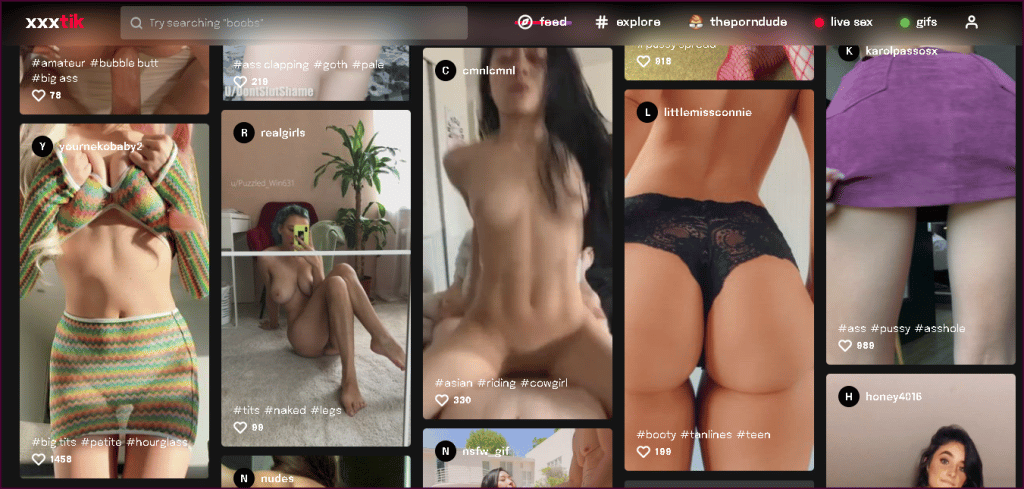 XXXTik is not a Tiktok generator site but uses a similar interface, design, and concept to Tiktok. Of course —with a twist. Compared to Tiktok app, XXXTik has lots of porn, sex, anal, fucking, blowjob, and more. You'll never see any trace of dancing shits, fucked up challenges, and nonsense videos.
Check out the full review of XXXTik.
PROS:
Similar interface to TikTok
Gorgeous amateur girls
Shitload of sex videos
Free and easy to use
CONS:
---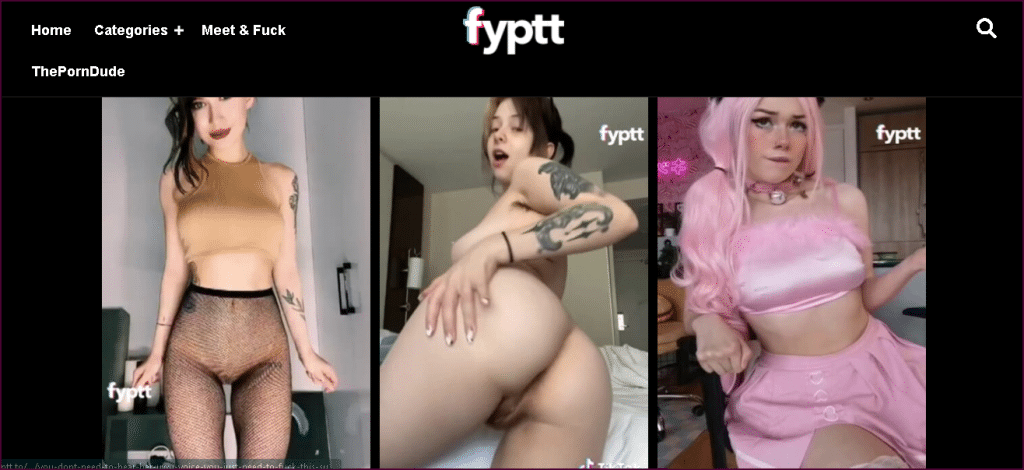 Have you been dreaming of jerking off to hot women on Tiktok? Then, you've come to the right place! FYPTT is a dream destination for anyone craving nude, hot, and sizzling Tiktoks. It is constantly updated with the latest NSWF Tiktoks, so we would not miss a single beat of those girls' pussies, titties, and asses. Plus, FYPTT adds more sources apart from the Tiktok page, so you'll surely enjoy different NSWF clips from numerous platforms where nasty things don't typically happen.
Click to see the full FYPTT review.
PROS:
Shitload of Tiktok videos
Smooth browsing
No buffering
Simple design
Free to use
CONS:
No sorting or filter options
Categories and tags are few
Updates are not regular
Some ads
---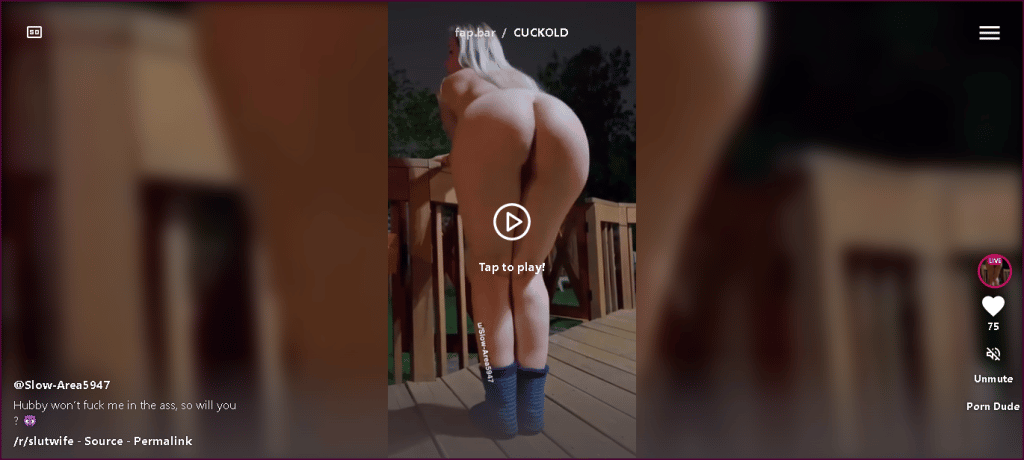 If you want to experience a Tiktok-like style website, but prefer porn and explicit content, then FapBar is a good option. FapBar is a one-stop shop for all your wicked girl needs, providing you with all the movies, clips, and recordings in one great location. Rather than wasting your time searching for nasty chicks on other platforms, FapBar is to provide you with all of the movies, clips, and recordings in one great location.
It is among the most extensive library of porno I've ever seen, and every video and category of FapBar offers many unique scenes. Although you will encounter some ads and pop-ups in exchange for free stuff, I believe it's a worthwhile place. Certainly, you'll be blown away by this website's sheer volume of top-notch video content.
Learn more about FapBar with this full review.
PROS:
Lots of content
Unique and different
Easy to use
Free access
No need to register
Many categories available
Reliable sources
Downloading is free
CONS:
---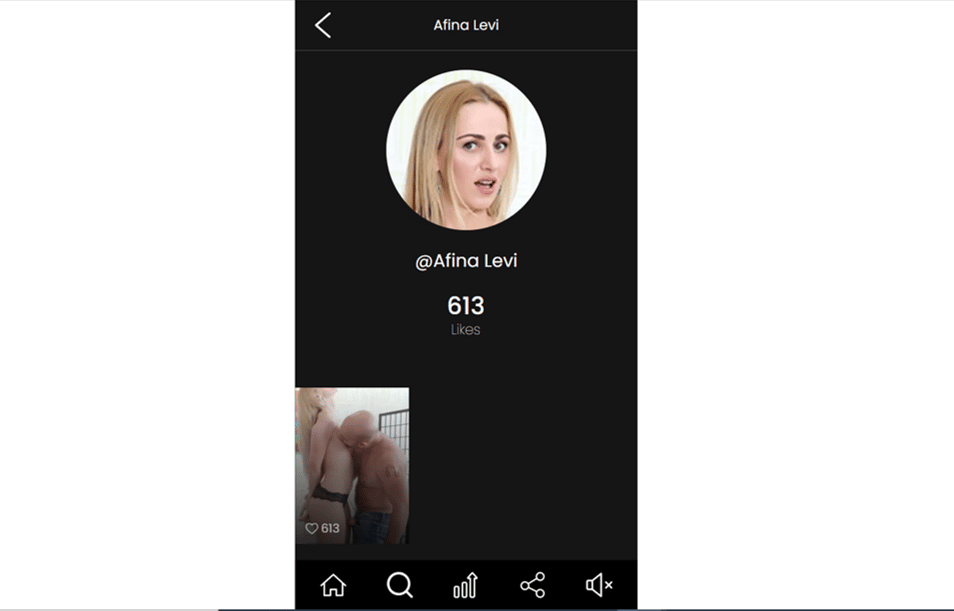 PinPorn is an amateur TikTok-style site that copies the looks and concept of Tiktok but obviously features unique porn content. It also adds more porn sources apart from the Tiktok page, so you'll surely enjoy multiple x-rated clips from different porno apps and platforms.
Check out the full review of PinPorn.
PROS:
Free and easy to use
Shitload of sex videos
Similar style to Tiktok
Save and download videos for free
CONS:
---
Final Thoughts
Overall, XFollow is a fantastic addition to the world of online porn. One of the great things about XFollow is that it caters to various kinks and fetishes. With content ranging from TikTok-style clips to professionally shot scenes from major paysites, the site truly has something for everyone. Also, with its wide variety of content, easy-to-use interface, and plentiful free options, it's a great place to indulge in your deepest desires. So why hold back? Try it — trust me, you won't regret it!
All 19 Other Sites in This Category Worth Checking Out:
OGFAP & 12 Best TikTok Porn Sites Like OGFAP.com Show Me 12 Alternatives for OGFAP.com Welcome, dear Dudethrillers, to the thrilling world of OGFap – where your fapping adventures might reach a whole new level. Okay, let's be honest here, folks. OGFap is not precisely the "OG" fap, especially if you've been living under a rock […]