Updated on: December 5th, 2023
FapBar Review
& 12 Best TikTok Porn and Porn Sites Like fap.bar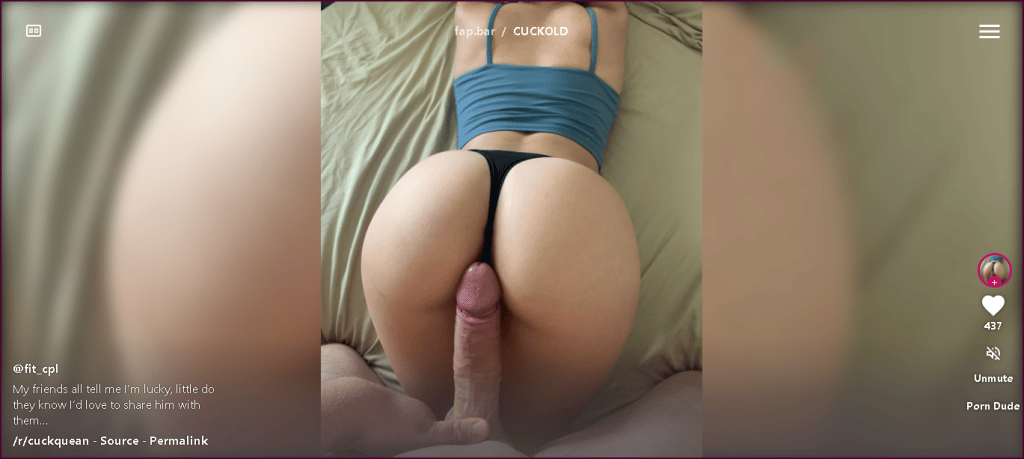 After seeing FapBar somewhere online, my first thought was it's a good shit to drink, get drunk, and enjoy. But, little did I know, FapBar is actually a fun and delightful place to jerk off. Definitely, there are no beers and liquors here because this site is only bringing us the best shit in town! FapBar is where you will find many porn clips from Tiktok, Snapchat, OnlyFans, and Cams.com. Thank goodness for FapBar; now we can enjoy some brand new addition to the adult entertainment world. Just like porn, this one is a hit in giving quick pleasure, fun, and a mind-blowing fapping session. FapBar's style and approach can make everyone's porn addiction a lot easier and more convenient. Let's see what else is around here!
Official URL: https://fap.bar
FapBar: 24/7 Fapping Spot!
A significant development in these apps has occurred due to the emergence of social networking sites. For instance Facebook, this site has become a powerful tool for people to express their passions and desires to the world, resulting in a positive impact on their daily existence. Many of these folks have created a career by using social networking sites when you think about it.
Setting up public recordings of their own dirty, homemade acts has always been a staple on the Internet since its inception, so it should be not shocking news that the entertainers who are earning a fortune from advertising obscene stuff have found ways to integrate their online social presence. Unfortunately, due to these platforms' strict policies prohibiting the publishing of explicit material, the sultry females who appeared on them have discovered a method to share their movies with the world without abandoning us.
Rather than wasting your time searching for wicked chicks on other platforms, FapBar is to provide you with all of the movies, clips, and recordings in one great location. Thanks to the restrictions of other sites, we can enjoy porn clips from OnlyFans, Reddit, Snapchat, and Tiktok for free. FapBar is a one-stop-shop for all of your wicked girl needs. Better loosen up and fap your way through as many sexy clips as possible till your cock says 'no more.'
Quick Updates and New Content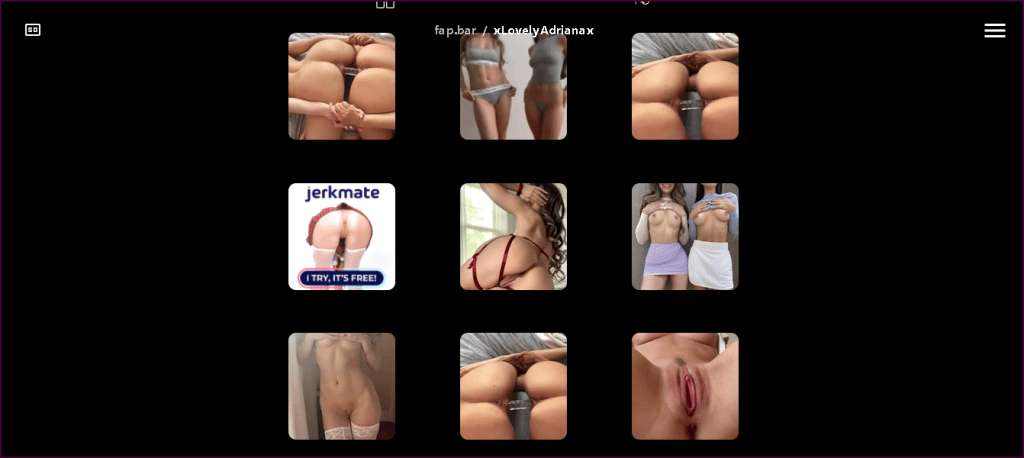 Browsing your beloved Reddit, OnlyFans, Snapchat, and Tiktok users here is the easiest way to do so. Taboo movies and images may now be viewed via FapBar, a brand-new NSWF site that takes things to an entirely different level. You may consider it a "Tiktok," but with porn twists. Like Tiktok, you may stream your beloved NSFW TikTok clips as you normally would and enjoy them like how you enjoy porn sites. Of course, since it's a different platform, exciting things await you. New items, new themes, and new genres really urge cool and awesome feelings.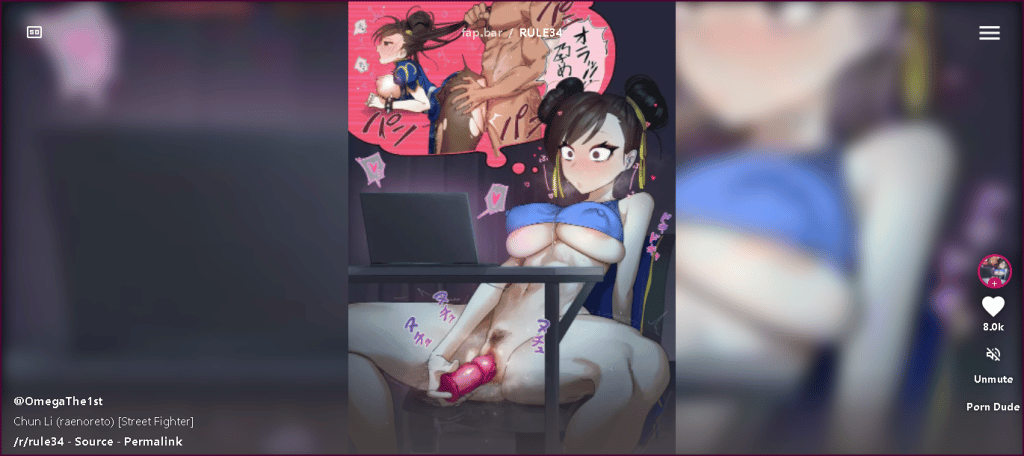 It would be like enjoying sex on TikTok with the FapBar site since it has the quality and reliability of the actual application. So, if you're looking for some TikTok for smut, this is it! The most recent posts from the most popular Reddit, OnlyFans, Snapchat, and Tiktok users are added every day. Take note, they are not just amateurs, but even members of the most prestigious erotic subreddits are posting on FapBar. Certainly, you'll be blown away by the sheer volume of top-notch video content available on this website. And to make sure you never run out of new NSFW films or pictures, FapBar is constantly adding hundreds more to its already massive library. No wonder the site's feed seems never-ending; that's probably because it has thousands on top of thousand more content available.
Design, Features, and Usability of FapBar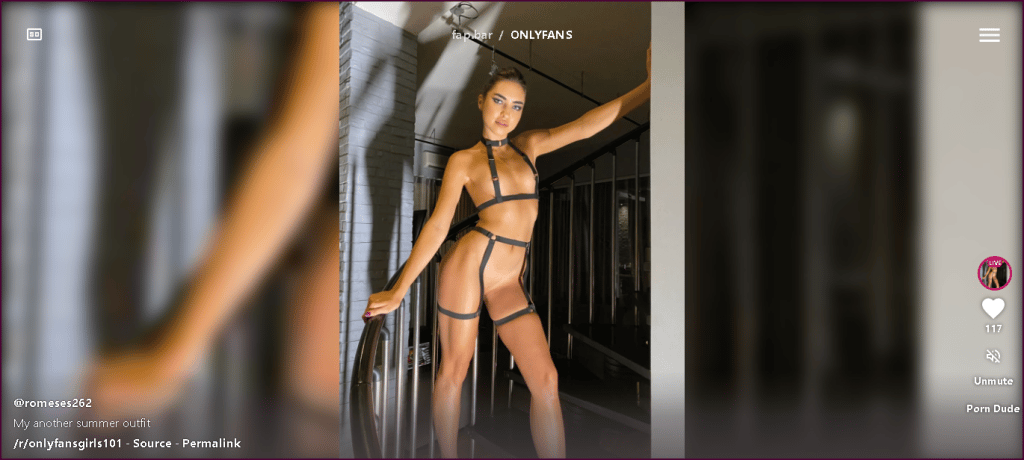 One thing you will notice when visiting FapBar is its unique setting and design. It looks like a typical porn site, but the vibe gives a different perspective. Well, it is a porn site, after all, so it's good to see the content right off the bat. In case you hadn't realized it by now, this site is mobile-friendly. Approximately the majority of the visual content on the website is vertically set up, and they're often taken on the same device that visitors will be using to access the site.
Additionally, there are several tabs at the bottom of the page, but obviously, these features are not helpful as you expect. In fact, these buttons will only direct you toward other pages rather than accessing exclusive shots or supermodel videos. Anyway, if we talk about buttons, there's no better thing than the "Download." Even while FapBar has a sleek, contemporary design, they maintain the old-school approach of allowing you to download whichever fuck you wish to have. Certainly, it is a wonderful luxury to be able to do that nowadays since many paid platforms don't allow it.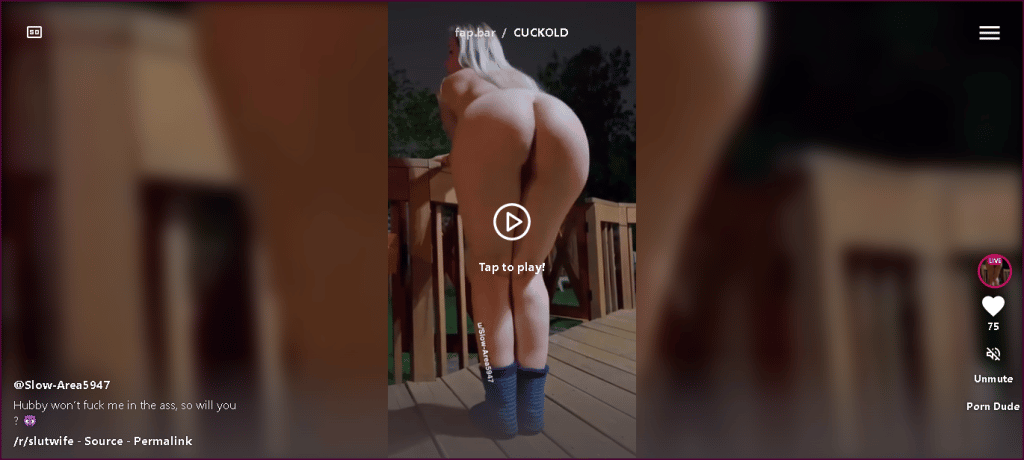 Moreover, those who prefer their sexy scenes to be a little less romantic and more sexually explicit can scroll to the following clip by tapping on the screen down and up. Meanwhile, when using a MacBook or desktop pc to browse the page, use the up and down arrow keys to advance through the content. Honestly, any site should probably duplicate this functionality because FapBar appears and acts like a smartphone app yet functions perfectly on just about any computer. We like functionality similar to this because it gives more convenience —just pure pleasure and fun.
Watching Porn With Style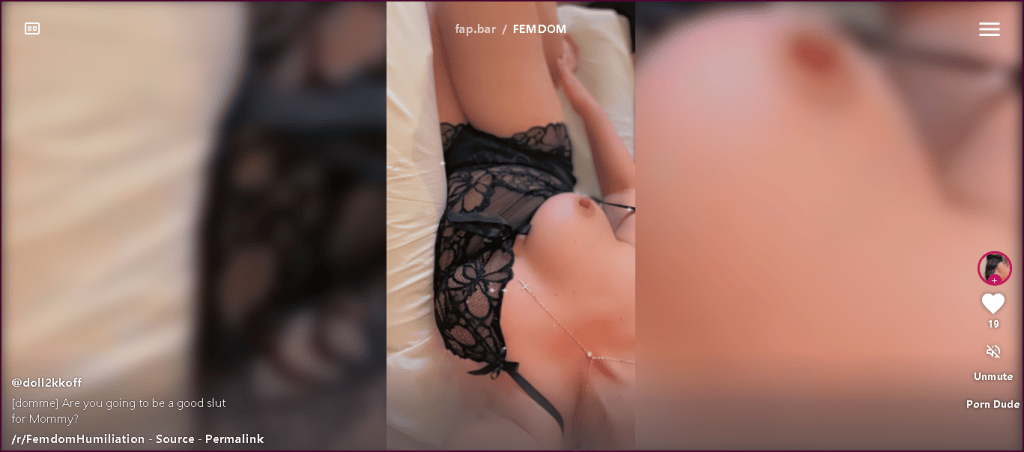 This new-generation video streaming website, FapBar, has a new-generation revenue strategy. Even though I had my spamming blocker app active, I still saw a few advertisements while scrolling through homemade chunky females, animated characters pounded by creatures, and attention-seeking teenagers. However, they weren't the standard advertisements or flash adverts you encounter with other free streaming channels. I guess that's the downside of free sites: ads. And regardless what you say or do, they always exist. I'm always good and chill as long as they are not disturbing your streaming. FapBar was able to fulfill that because they have maintained an uninterrupted watching while popping ads all over.
Certainly, FapBar's main selling point is its abundance of online entertainment and its quick and easy supply. Literally, its content is nonstop and countless. When I was scrolling up and down, I thought the feed was unending. And no matter how many hours I spent scrolling over and over, FapBar is like an endless pit that holds no end. Above all, I'm blown away by its application layout, which makes it a pleasure to access using your smartphone. So, this is a much better alternative if you're in a rage and don't want to spend the time trawling through other sites' collections. Better take a look at FapBar next time you need to use the toilet.
FapBar Porn Categories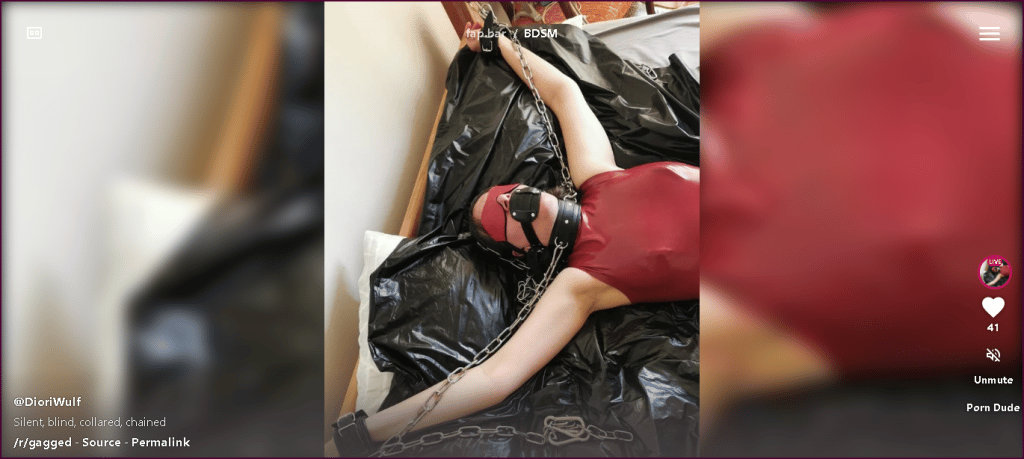 FapBar doesn't exist without the help of real users from different sources. This site outsources its content from numerous apps and trending videos from Tiktok, Snapchat, Cams, and Onlyfans. Of course, it also has other featured videos coming from different places, but these apps/sites really stood out the most.
As we all know, Tiktok, Snapchat, Cams, and Onlyfans are popular sites that most people would run to when they like to share recordings and homemade videos. So, when you check out FapBar, expect to see a shitload of amateur stuff mixed with a couple of pornstar content. Plus, FapBar does not stop there from bringing you amazing content because the team behind this site managed to incorporate other categories we might like.
Some of the things I enjoyed were 15 Seconds, Anal, Crossdressing, PAWG, OnOff, Lesbian, Femdom, Doggy, BDSM, and Cumsluts. I could not actually believe that FapBar would have categories in the first place. I mean, I've seen some Tiktok-inspired sites and apps in the past, but none of them offers categories. They just give you videos and let you scroll through the feed. Luckily, FapBar is different, and I don't regret a single bit clicking that button.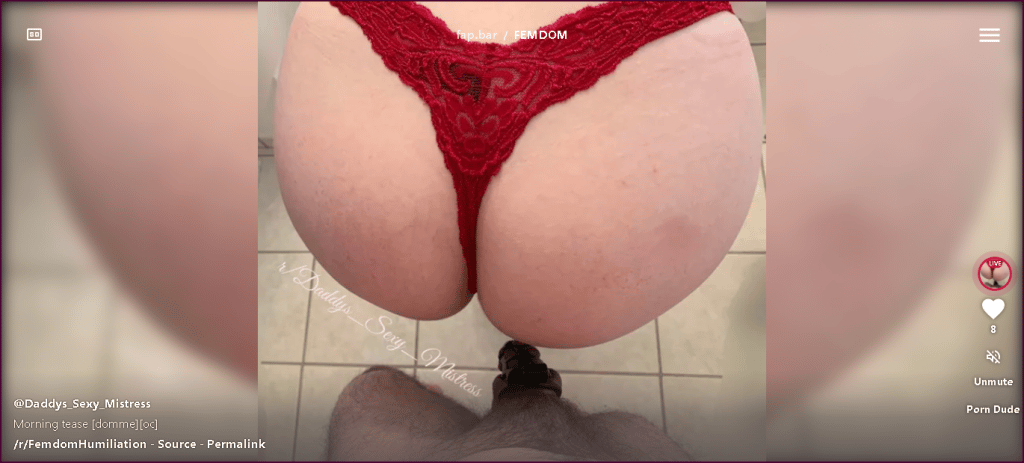 My journey did not stop there, and I checked out Asian, Booty, Gay, LGBT, Trans, Toys, Petite, Nerdy, MILF, Ebony, Goth, and BBW. These categories definitely blew my mind, but I could not stop myself from jerking off. The lovely ladies of FapBar are worth my seconds, and I guess you will experience what I encountered here too.
Additionally, the Blowjob, Chubby, Cuckold, College, Feet, Hardcore, Insertion, Mature, Oral, Orgasm, POV, Public, and Teen categories were equally amazing since they all give different fapping excitement that other clips can't match. Certainly, every video and category of FapBar offers a lot and unique scenes. In fact, the site even has Hentai and rule34 clips too. Now, everything is complete. But wait, there's more. Did you know that this site also features Belgium, Germany, India, Netherlands, Russia, and United Kingdom clips? The girls come from these countries, so you should expect to experience and taste the goodness of every culture.
Pros and Cons of FapBar
PROS:
Lots of content
Unique and different
Easy to use
Free access
No need to register
Many categories available
Reliable sources
Downloading is free
CONS:
---
12 Best TikTok Porn and Porn Sites Similar to Fap.bar: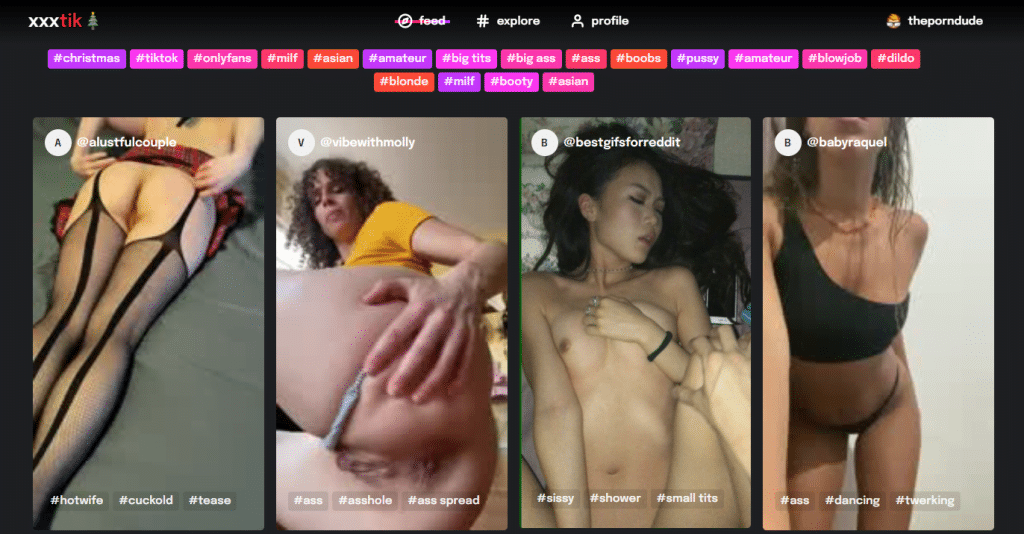 XXXTik is not a Tiktok generator site but uses a similar interface, design, and concept to Tiktok. Of course —with a twist. Compared to Tiktok app, XXXTik has lots of porn, sex, anal, fucking, blowjob, and more. You'll never see any trace of dancing shits, fucked up challenges, and nonsense videos.
PROS:
Similar interface as TikTok
Gorgeous amateur girls
Shitload of sex videos
Free and easy to use
CONS:
---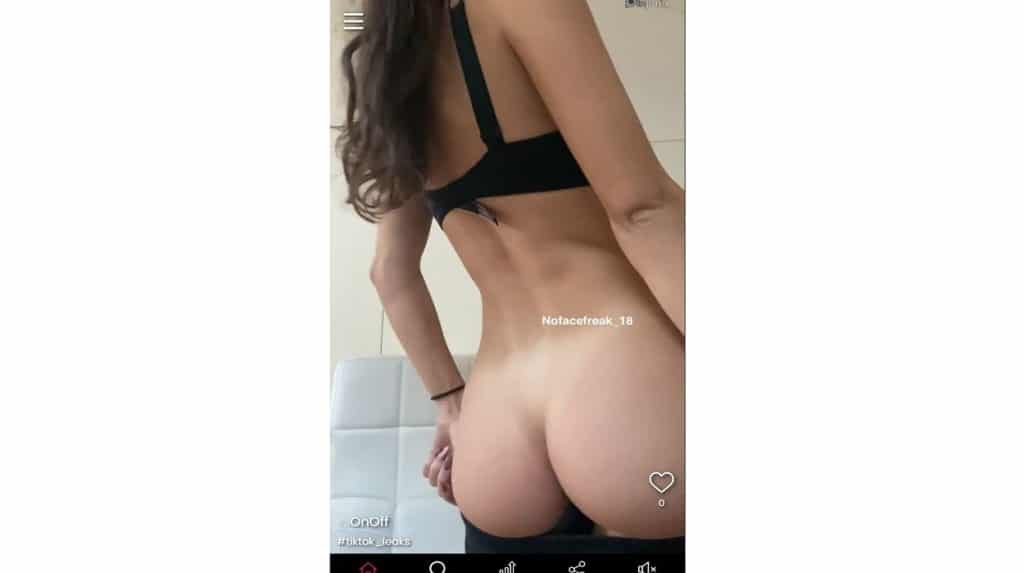 PinPorn is an amateur TikTok-style site that copies the looks and concept of Tiktok but obviously features unique porn content. It also adds more porn sources apart from the Tiktok page, so you'll surely enjoy multiple x-rated clips from different porno apps and platforms.
PROS:
Free and easy to use
Shitload of sex videos
Similar style to Tiktok
Save and download videos for free
CONS:
---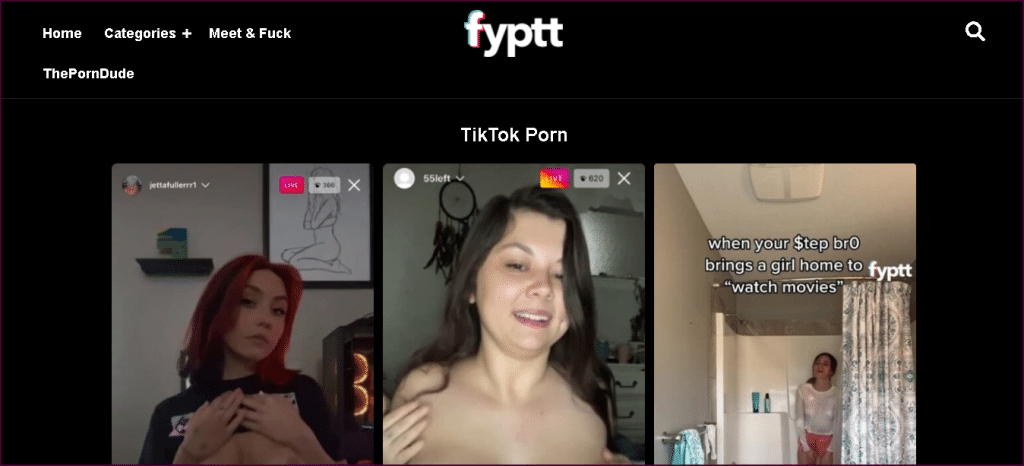 Have you been dreaming of jerking off to hot women on Tiktok? Then, you've come to the right place! FYPTT is a dream destination for anyone craving nude, hot, and sizzling Tiktoks. It is constantly updated with the latest NSWF Tiktoks, so we would not miss a single beat of those girls' pussies, titties, and asses. Plus, FYPTT adds more sources apart from the Tiktok page, so you'll surely enjoy different NSWF clips from numerous platforms where nasty things don't typically happen.
PROS:
Shitload of Tiktok videos
Smooth browsing
No buffering
Simple design
Free to use
CONS:
No sorting or filter options
Categories and tags are few
Updates are not regular
Some ads
---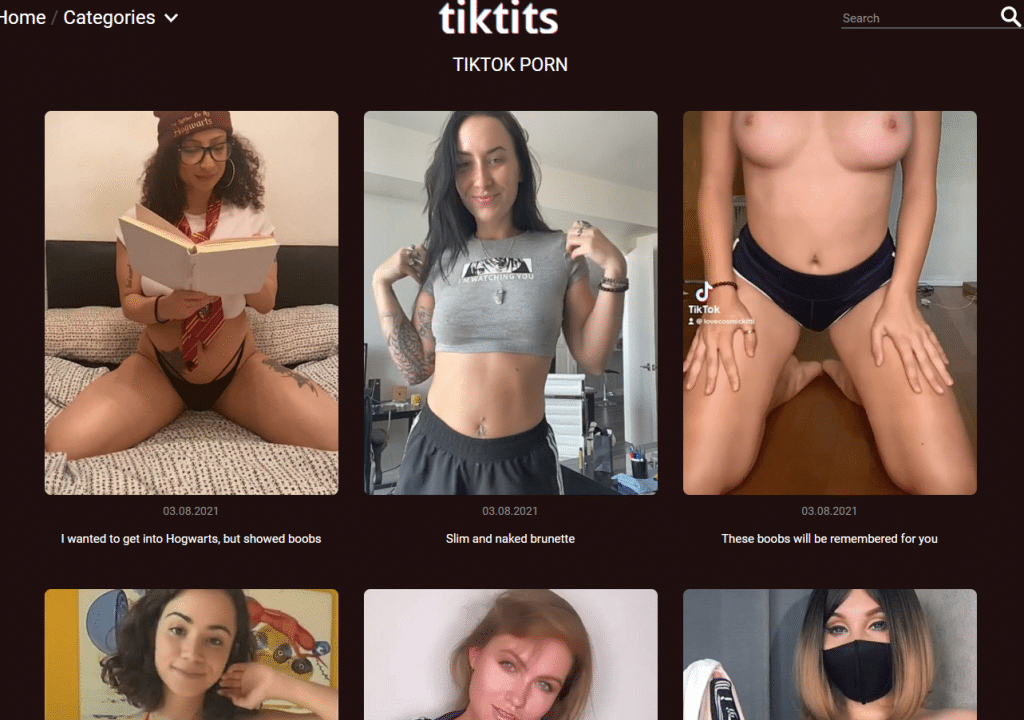 If you wish to stream a video, simply click TikTits and enjoy. No hassle, no redirects, no other pop-ups you need to shut down. Since the site has a vast range of excellent sex videos and great set categories to pleasure in every day, you can rightfully say you are in excellent hands. Sure, there are plenty of Tiktoks and pornos online nowadays, but I have to commend TikTits for having pleasant navigation and usability features.
PROS:
Plenty of sex content for free
Regular updates
Amazing sex videos
CONS:
Unorganized categories
Only short clips
Design could be improved
---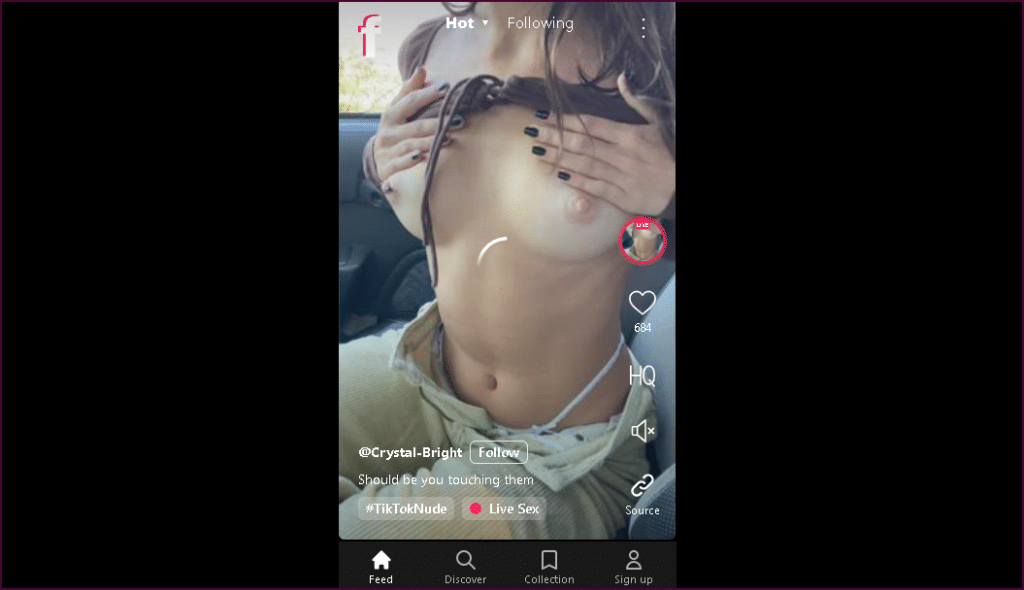 Before visiting FikFap, I really imagined it was similar to Tiktok with bullshit dance videos, lip-sync songs, and vexing challenges. Still, I was totally blown away by seeing what was behind the curtain. FikFap is a homemade site that copies the looks and concept of Tiktok yet introduces unique porn content. Yes, that's right, FikFap has plenty of big titties, huge assess, masturbation, and pussy-fingering.
PROS:
Similar style to Tiktok
Various porn videos
Free to use
All amateur content
CONS:
Only short clips
Still improving
---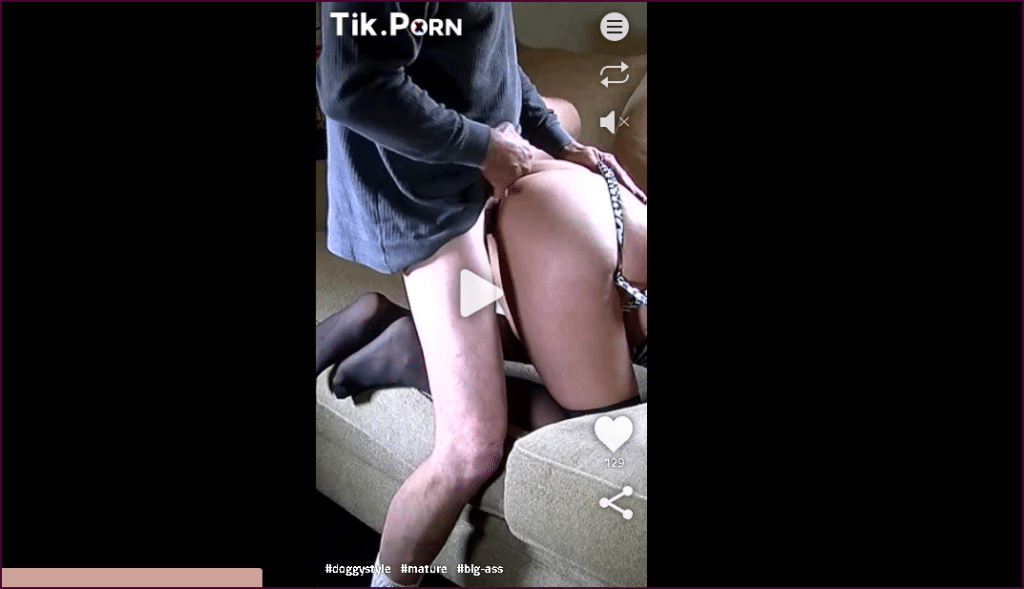 TikPorn is not a Tiktok video aggregator but instead uses a similar interface and concept to Tiktok with a twist. What is the twist? Unlike Tiktok with dancing shit videos and annoying skits, TikPorn has porn, porn, and nothing but porn.
PROS:
Lots of sex videos
Mobile friendly
Gorgeous girls
Easy to use
CONS:
No option to select porn themes
---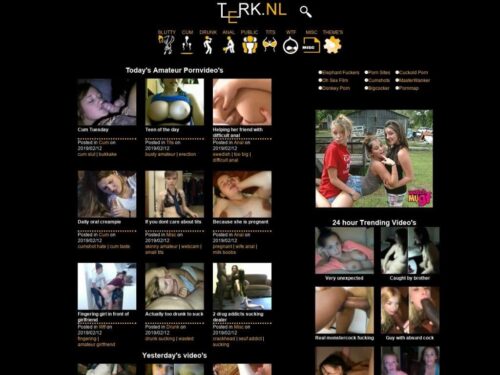 In Terk, no professional porn videos are included in their collection. This site is an excellent source of amazing amateur videos to jerk off. Users will be fascinated by its features, especially among its paid members. The videos are divided into categories to navigate and choose specific videos you like to see easily. Every day, the website uploads new videos everyone will look forward to.
PROS:
Videos are free to watch
The website is up-front to navigate and use
Do not require to register if you want to use
CONS:
Requires more genres of videos
Information on the models is not available
---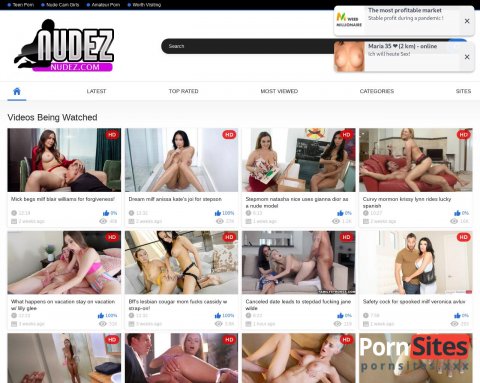 Nudez is a reputable nude site that offers the best quality content for first-timers eager to get hardcore sex with their boyfriends. The majority of the contents here are amateur videos so expect that some recorded videos are of low quality. Nonetheless, they are all exciting and display freaky private and public displays of sexual urges. The registration in Nudez is free of charge, and you can already enjoy great perks. It has no issues in terms of site loading and is constantly praised for its undying commitment to producing quality amateur porn clips.
PROS:
Thousand collections of videos free for viewing
Website design is simple and sleek
Multiple category options
CONS:
Advertisements pop up aggressively
---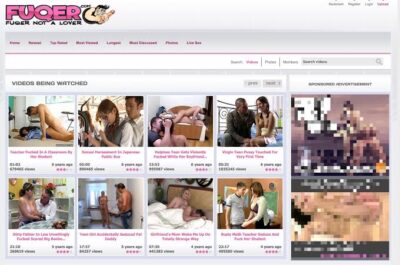 Getting access to the best amateur porn videos for free is a dream we all want to experience. Good thing Fuqer is here to the rescue. This site has been known worldwide and gained a massive reputation through its undisputed service and features offered to everyone. Loaded with free amateur porn, the site upholds its motto by providing videos that will never disappoint you.
Looking at its homepage, you can effortlessly say that the people behind this great site have dedicated their lives to making sure it looks aesthetically pleasing. It has a few categories to choose from, including the Newest, Popular, Top Rated, Random, Sexy Photos, and Live Sex.
Check out the full review of Fuqer.
PROS:
It has a great collection of amateur vanilla porns
Sorting of videos is an excellent feature of the site
Erotic photos are available in the collection
It does not require registration to watch amateur porns
Additional benefits for registered members
Variety of contents to choose from
Massive library of amateur video contents
The majority of the videos are in high quality
There are available videos that are lengthy
CONS:
Downloading videos require signing up and creating an account
The majority of the videos are on average length
---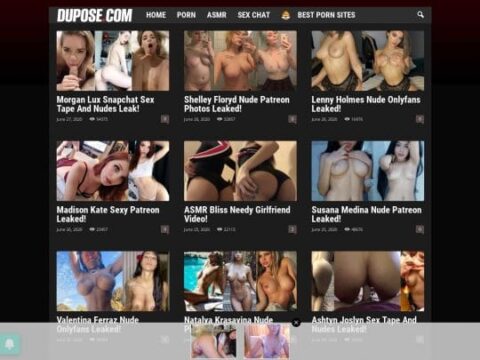 If you need some videos worthy to fap, visiting the Dupose website will be the best decision. It is loaded with sexy amateur content. There are hundreds of them to be exact and gathered across different platforms. These include Youtube, Snapchat, and multiple other sites. The best thing about this is it always keeps its contents updated so everyone will see fresh and brand new videos to jerk off every day. Dupose is the best site for people seeking genuine amateur archives. Drop everything you are doing and take a jerk off.
PROS:
Amateur contents here are numerous
Updates on the contents happen daily
All features and videos are free to view
CONS:
Advertisements are plenty
Downloading videos is not possible
---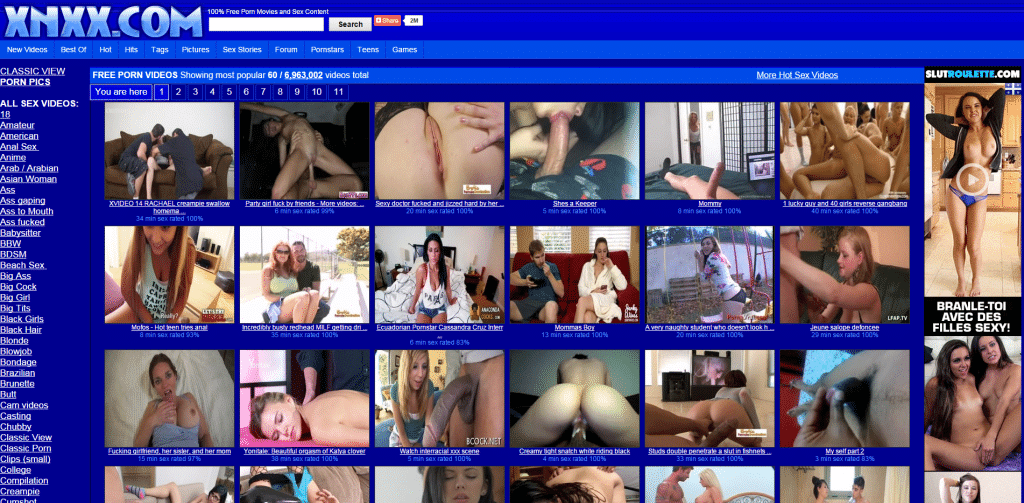 Although it looks a bit outdated, XNXX offers a lot of content — for FREE. If you fantasize about 18+ photos and videos, you can find them here. You also have plenty of categories to choose from. All you have to do is key in what type of babe or dude you want to see, and you can easily find one that will satisfy everything in you. They have lots of arousing pictures, homemade porn, and just about everything that will fulfill your kinks and fantasies. Although it might seem not that nice to look at, mind you, its functionality is at par with the latest porn sites we have today.
Learn more about XNXX with this full review.
PROS:
Adult content that will surely satisfy you
Millions of videos can be found here
User-friendly and open-minded community
Forums are established to promote communication
Mobile-supported
CONS:
Ads
Blue color webpage could be improved
---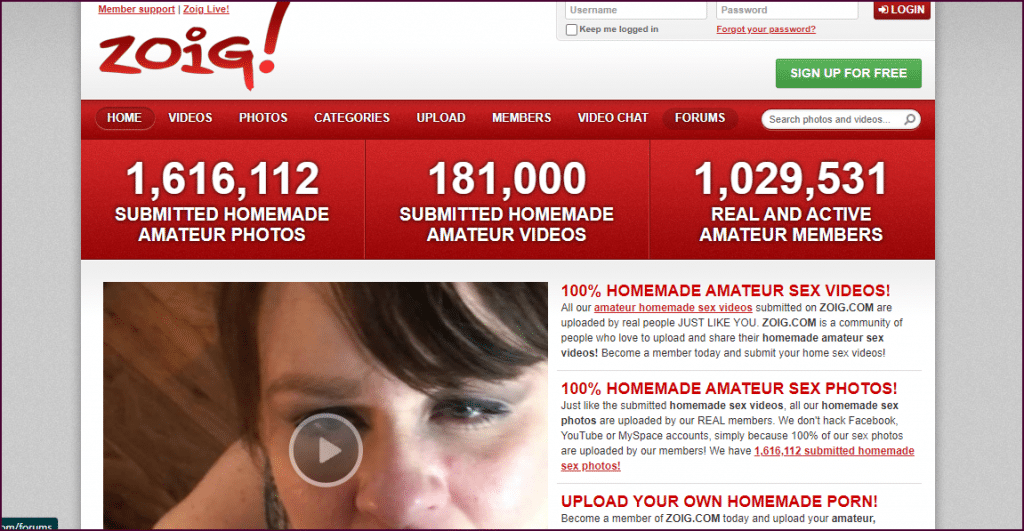 Zoig is a one-stop shop for all aspiring pornstars looking for a place to call "home." It is a good and widely known explicit site with a pretty polished design and few advertisements.
Also, you can browse loads of different video and image categories on this website. Unfortunately, Zoig's video collection only runs a quick minute in length, but I promise they are all excellent standards. The images also come with higher resolution and include good slideshow options. When you visit Zoig, you'll be able to see updated image galleries and videos, so there's plenty of fapping material to go around.
Check out the full review of Zoig.
PROS:
Top collection of amateur/homemade content
User-generated
Plenty of categories
Free to use
Additional perks for subscribers
Accessible as guest
CONS:
Some features require membership
A bit cluttered forum
All amateur, no pornstars
---
Final Words
If you want to experience a Tiktok-like style website, but prefer porn and explicit content, then FapBar is a good option. This site is known for having massive content, and after checking it out, I can finally end this rumor. Yes, definitely FapBar is among the largest library of pornos I've ever seen. But what I really like most about this site is its free access. Although you will encounter some ads and pop-ups in exchange for free stuff, I believe it's a worthwhile place. I'm not saying it's perfect, though. FapBar also shares downsides just like other porn sites nowadays. But, I have to say, the good sides outweigh the bad. So, if you're having a rough day, better chill at FapBar, drink some beer, and fap on!
All 19 Other Sites in This Category Worth Checking Out:
OGFAP & 12 Best TikTok Porn Sites Like OGFAP.com Show Me 12 Alternatives for OGFAP.com Welcome, dear Dudethrillers, to the thrilling world of OGFap – where your fapping adventures might reach a whole new level. Okay, let's be honest here, folks. OGFap is not precisely the "OG" fap, especially if you've been living under a rock […]