Updated on: September 24th, 2021
BlueChew Review
Official website link: https://www.bluechew.com
My Honest BlueChew Experience – Is It The Best ED Pill?
(Updated on February 2021) – If you're searching the web for an effective sexual enhancer aka ED solution ("blue pill" if you may), one of the products that you'll most likely encounter is Bluechew. It has become very popular recently because of it's online ordering process – it's simple, quick and convenient. That's why I decided to write a detailed bluechew review myself. More so, a lot of its customers are extremely satisfied with their experience with it. And I ain't no exception; so let's dive in and find out if it's truly worth the praise!
BlueChew is basically a US-based company that offers a subscription service for chewable tablets that work similarly to Viagra or Cialis. These tablets are made with either Tadalafil or Sildenafil, which licensed physicians prescribe to men suffering from sexual problems. They have been found to be very effective in treating some of the most common sexual issues in men, including impotence and erectile dysfunction.
I myself was curious about this company at first, especially after reading all the positive reviews written about it. And like everybody else, I wanted to know if this product is really worth the hype.
Will BlueChew be able to solve your sexual issues? How does this company work?
To address all these questions, I did my own research and gave the service a try.
So, here's my honest review of BlueChew.
TL-DR – A Prompt Video Overview
For those who don't have time to read – here's a short video review of guy which I think did a quite a good job explaining all the key features.
What is BlueChew?
BlueChew is a pill that contains either Tadalafil (main ingredient of Cialis) or Sildenafil (main ingredient of Viagra).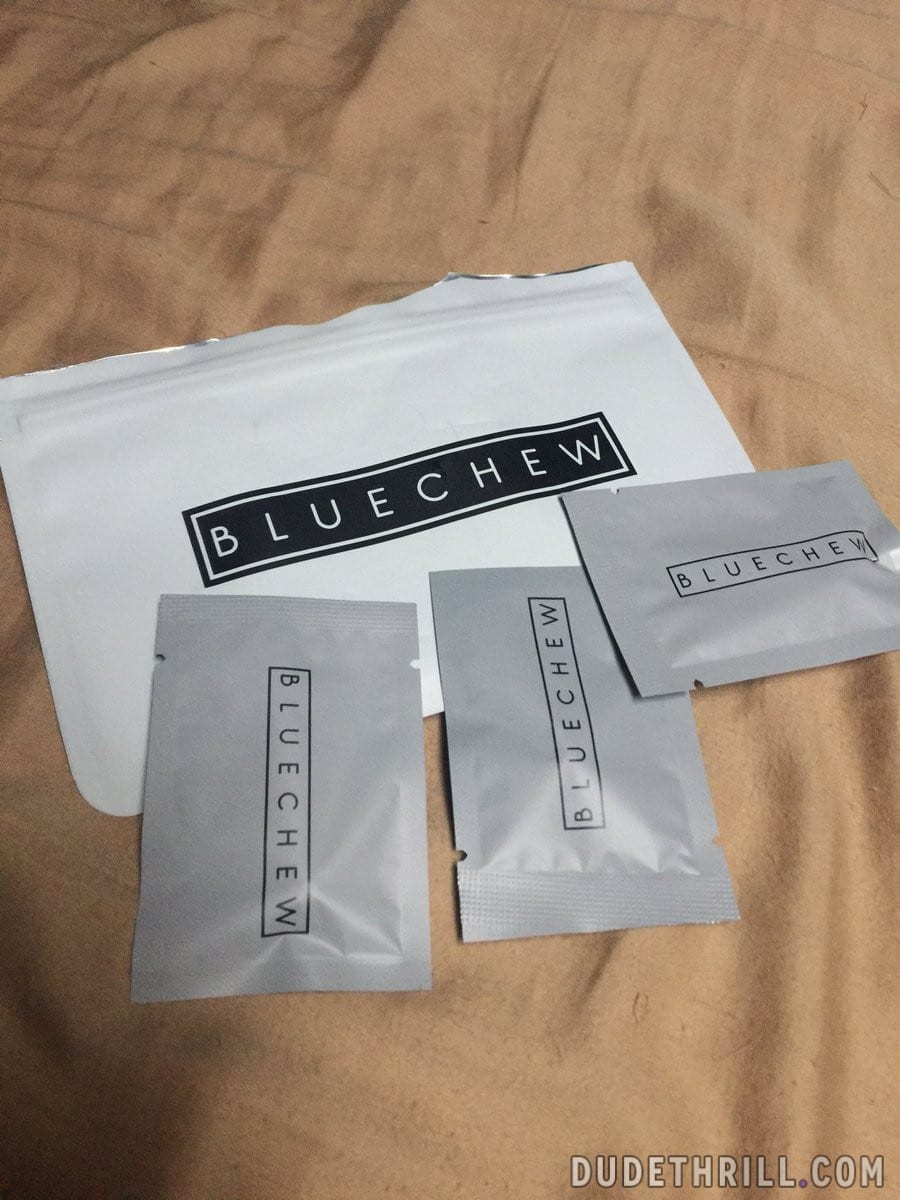 Its main function is to treat erectile dysfunction among men. In this day and age, there has been an increasing number of men suffering from sexual issues.
Or.. just those who want to perform 150% better in bed than usual and increase their endurance like never before.
Unfortunately, not a lot of us are open about the idea of getting treatment. There's often taboo associated with sexual impotence and could lead to embarrassment for most men. This "hurdle" is pretty much resolved by BlueChew, because of their discreet online ordering process.
Erectile dysfunction could be due to various reasons. Most of the time, this usually takes place after the patient undergoes surgical operations like prostatectomy. This operation requires surgically removing the prostate gland.
In some men, erectile dysfunction could be a result of excessive drug use and alcohol consumption. Sometimes, the reason could be psychological. Men suffering from anxiety, depression, and other disorders could end up with erectile dysfunction as well.
BlueChew aims to help men suffering from ED without the embarrassment that comes with having to purchase the pill from the drugstore. Which is a very good thing in my opinion. You can check they're site and pricing by clicking here.
Who's Behind BlueChew?
In order to determine the safety and effectiveness of taking BlueChew, I did some research about the people who made it. I found out that a certain Dr. Alex Jovanovich was behind this pill. Along with his team, he developed this revolutionary drug to help men suffering from ED.
It's clear that the team has been successful because BlueChew is now one of the trusted and most reliable medications for the treatment of erectile dysfunction. This condition affects millions of men all over the world.
BlueChew has helped them address this issue without the fear of getting embarrassed. It brings back their confidence and they now feel good about themselves.
BlueChew Ingredients
Just like with buying any other drugs or medication, it's important that you check the ingredients used for the pill to figure out if it's safe or effective for you to use. I found out in my research that several professionals in the field of medical industry have endorsed BlueChew. That alone is proof of its safety and effectiveness.
But here are the main ingredients used in making this pill:
Sildenafil is a versatile ingredient used by various medical companies for the treatment of erectile dysfunction. It's the main ingredient used in widely known Viagra Its main function is to help men achieve and sustain an erection for longer, resulting in a more satisfying sexual intercourse with their partners.
Sildenafil also comes with several secondary functions. It is effective at treating dysfunctions as a result of antidepressants. Most antidepressants in the market are known to cause sexual problems among men. They tend to decrease men's sexual appetite, lower their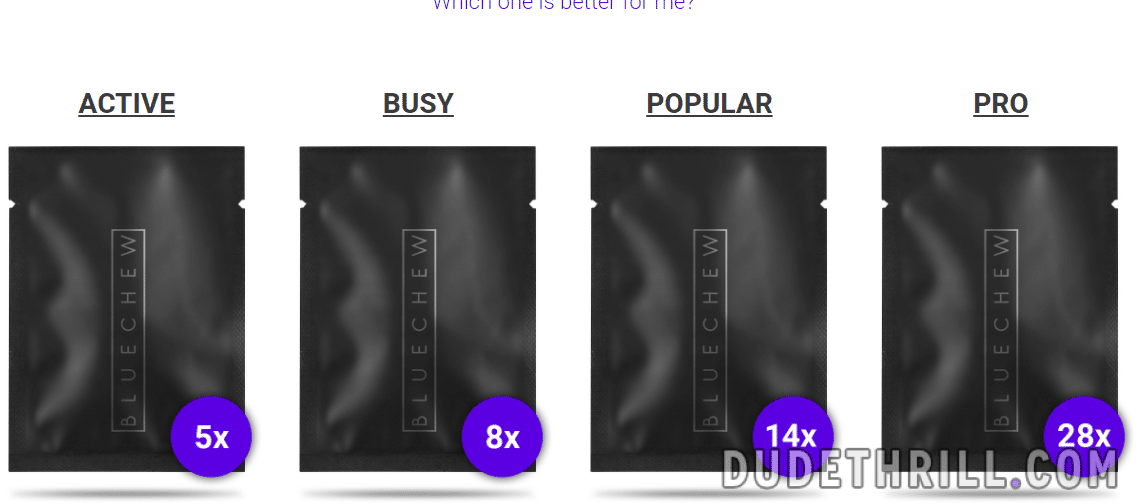 stamina, and prevent them from achieving sexual climax. That's because antidepressants work by forcing the level of serotonin to go up. Sildenafil will be its catalyst.
Furthermore, Sildenafil can help minimize the effects of a condition known as pulmonary-arterial hypertension, which is a result of an abnormally high level of blood pressure. It may also help to treat a condition called the Raynaud's phenomenon as well as the buildup of fluid in the lungs.
As you see, sildenafil is not only helpful for those with sexual conditions. It can also help a person suffering from various conditions mentioned above.
You can check the sildenafil option on their website by clicking here.
Another major ingredient in BlueChew is Tadalafil. It's the main ingredient used in widely known Cialis. Similar to Sildenafil, this ingredient is also a phosphodiesterase inhibitor. In case you're wondering what the difference is between the two, here's the answer.
Although both the Sildenafil and Tadalafil are phosphodiesterase inhibitors that help improve blood flow, the biggest difference would be on the amount of time that the substance remains in the body.
Usually, Sildenafil will take effect after only a short period of time, which is within 25-30 minutes and will stay in your system for up to six hours (although I myself felt the effects even after 12 hours). On the other hand, Tadalafil could stay in your system for up to 36 hours.
In addition, Tadalafil is effective for people who have problems with their bladder and prostate. Since Tadalafil can help improve blood flow, it's also effective at treating benign prostatic hyperplasia.
Aside from Sildenafil and Tadalafil, the BlueChew pills have several other ingredients, such as a sugar of some kind that serves a flavoring to the pills. That way, it will be much easier to chew. All the ingredients work together in helping to improve the blood flow and treat ED in men.
You can check the tadalafil option on their website by clicking here.
It must only be taken when needed. Also, the dosage will be different from one person to another. Depending on the amount of time that the substance will stay in your system, it's very important that the BlueChew pill is taken accordingly.
Personally I started with only 1/2 of the Sildenafil tablet and it really made a BIG difference. Later, 1 took a whole tablet and it worked even better.
How Does It Work?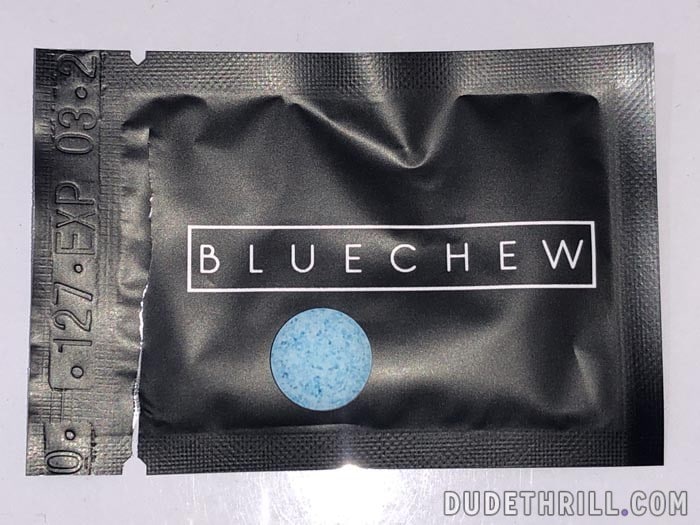 By now, it's clear that BlueChew is a type of sexual enhancer that can make your "mr. D" harder than ever. Nevertheless, a prescription is required for your safety. But the good news is that you don't have to visit your doctor's clinic to acquire a prescription to get it. You can do it online, which is very convenient.
What's unique about BlueChew is that they have their own team of online medical professionals. They are authorized to assess patients and issue prescriptions. Therefore, you can get your prescription without having to see your doctor. Once you have the prescription, you'll be able to sign up for the online subscription service of BlueChew and get the supply of your pills.
I've seen a lot of people asking if BlueChew is the same as Viagra. It is similar to Viagra and works the same way as well because it has similar ingredients. But the biggest difference is that it is available in the chewable form. Even better – it's cheaper too!
Chewables are more effective for most men. It's easy to digest and works faster. Therefore, you can get your results fast, which is important when you're already about to start "playing" with your partner.
As for the way these tablets work, there are several technicalities involved behind this. The moment you take this medication, it will immediately improve your blood flow. This is the first thing to overcoming ED. The other ingredients will then work to promote arousal resulting in a more satisfying sexual experience with your partner.
BlueChew Benefits
So, what benefits can you get from choosing BlueChew over other types of sexual enhancers out there?
Here are some of them:
BlueChew is truly effective, as shown by the various reviews written by customers about this drug. A lot of customers are very satisfied with the result. So, if it worked for them, then it will definitely work for you!
BlueChew has a team of licensed physicians who will prescribe the medications to patients after medical assessment. Therefore, you can be sure that taking this drug is safe and effective. There's a very low chance of suffering from adverse side effects. Nevertheless, I would highly suggest taking the questionnaire seriously and honestly in order to avoid any unnecessary effects.
As mentioned, BlueChew offers an online subscription, which means acquiring the pill is easy and convenient. Plus, they are individually wrapped so you can take it with you wherever you need to.
Perhaps the biggest benefit of BlueChew over other sexual enhancers is that you can avail of the drug discreetly. As stated, these pills are individually wrapped in a very discreet packaging so you will not have to worry about anyone finding out that you're using them
BlueChew Disadvantages
Of course, like any product out there, there are also drawbacks that come with using BlueChew.
Here are some of them:
You Have to Subscribe to the Service
Signing up for the BlueChew subscription service might seem daunting. But there's really no risk involved. You can always choose to discontinue or hold your account if you need to.
Where Can You Buy BlueChew?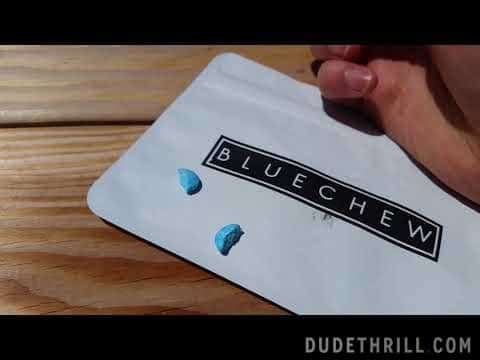 You need to visit the official website of the company to sign up for the service. It's pretty straightforward. All you need to do is fill out an online form and answer some questions. After you fill out the form, you just have to make a payment. They will ask you for your ID card so make sure you'll be able to provide this.
Some states require customers to undergo an online consultation with their licensed physicians so you may have to go through that as well. There are various subscription plans for you to choose from so check out what these plans are and choose the right one for you.
Who is BlueChew For?
If getting a hard-on has been a struggle lately, then taking the BlueChew pill might be necessary for you. This is especially the case for older men. But there are also middle-aged men who are already suffering from sexual dysfunctions due to some factors.
Or.. even those who're doing good, but want to do even better in bed.
Furthermore, if your partner has been complaining about your lack of interest in sex, then this may be the pill that can solve your problem. BlueChew is also the best solution for your declining sexual performance. This pill might just be what you need to save your relationship with your spouse.
If you're a couple who are joining swinger clubs – you might also benefit from BlueChew. It works by improving your blood flow, which allows you to go on several rounds and with as many partners as you want.
Who Should Avoid BlueChew?
For your safety, you should avoid using BlueChew if you're suffering from certain conditions in the heart, liver, or kidney. Also, men with an irregular level of blood pressure and those that suffer from other related conditions should stay away from this pill. If you are not sure, you better talk to your physician and open up about your desire to take the BlueChew pill in order to address your sexual problems.
Luckily, BlueChew has its own team of medical experts who can diagnose your condition and offer a free consultation. It's also important to note that this sexual enhancement pill is only recommended for men who are at least 18 years old.
The BlueChew pill is truly effective at addressing your sexual problems. But it must be taken moderately. Just like with any drugs, taking it excessively could lead to some unwanted results. Also, it's not good to take it while you're drinking alcohol or taking any recreational drugs.
BlueChew Side Effects
Some of the reported side effects for pills that contain Sildenafil are nausea, headaches, redness, congestion, back pain, blurred vision, muscle aches, diarrhea, hot flashes and sometimes, hearing or memory issues.
On the other hand, people taking pills that contain Tadalafil may suffer from coughing, lightheadedness, abdominal pain, flushing, muscle aches, low blood pressure, and long-lasting erection (that's an interesting side effect…).
Personally, aside from minor headache, I have not suffered from any other harsh side effects after taking the BlueChew pill. But then again, the effects will vary from one person to another. So you should try it yourself and see how it goes.
You can click here to see and try it for yourself.
Is It Safe to Use?
Two of the main ingredients used in BlueChew are Tadalafil and Sildenafil and these are the same ingredients used in making Viagra or Cialis for several years now. These ingredients are totally safe and have no adverse effects.
Of course, it's very important that you adhere to the proper dosage when taking the pill. Also, consider consulting with your physician and make sure you follow his/her advice.
Is BlueChew Legal?
I contacted BlueChew myself to ask about the legality of their business. They told me that they are legal in certain states, but there are sates where they don't ship.
Here's the list where they don't do any business at the moment:
Idaho
Alabama
North Dakota
South Carolina
However, they assured me and other customers that they are in the process of getting legal approval from several other states so the list might soon change.
How Do They Ship BlueChew?
BlueChew has various shipping methods available, and one of them is through the USPS Ground Shipping. Upon confirmation of your order, you should get the product in 3 to 4 days. The USPS is the cheapest option, as it will only cost you ~$5 for the delivery.
If you would prefer to get the package sooner, then you can go for the Priority Shipping that will understandably cost you more. For this option, you'll get your package in 2-3 days but you'll be charged $6.95 for shipping.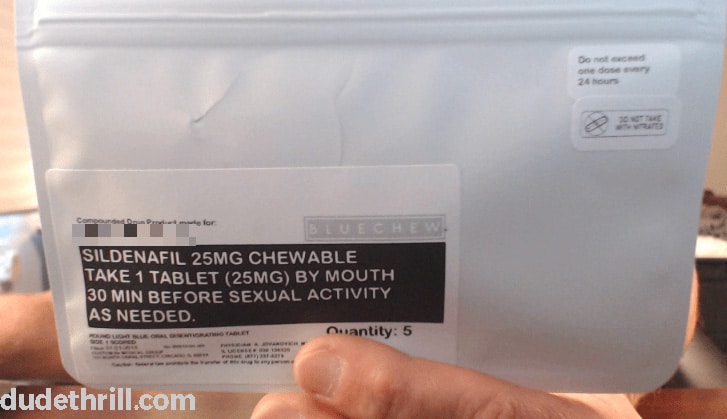 You can also choose overnight delivery if you really need the pills badly. For this option, you'll pay $30, and your package will be sent through UPS Overnight Shipping.
What's great about BlueChew is that they give importance to their customer's privacy. Therefore, your package will be packed discreetly regardless of the shipping option that you will go for. Also, they won't provide any information on the package of what's inside, which will save you from any embarrassment, although personally i don't think it's something to be embarrassed about.
Is There Any Guarantee from the Company?
This will actually depend on the situation. You just cannot return the stack of tablets back just because you change your mind or you find that it will not work for you. Remember, the effects will be different from one person to another, but it's a powerful drug, so 98% chance that it will DELIVER the results for you.
No matter how good a product is, there will always be individuals who might find it not useful. It is for this reason why BlueChew is not offering any guarantees to customers asking if the product will be effective for them. Otherwise, they could suffer from legal consequences.
But BlueChew will not really rob you of your money. If you find that you don't want it anymore, you can get your money back for as long as you return the product within 30 days. What's even better is the fact that you don't have to go through any hassles of sending the products back. They will let you keep them while still giving your money back.
Therefore, you have 30 days to experiment with different timing and dosages and figure out if it is really effective. Otherwise, you can ask for your money back.
Also, if you want – the subscription can be paused or canceled at any time.
Bluechew Reviews by Others
We need to understand that ED and similar "private" problems are rarely discussed publicly. Thus, there aren't that many personal experiences publicly shared online compared to other more common products. although, I've managed to find a couple of ones from Reddit and Trustpilot.
On the other hand, if the product didn't work or didn't do what it supposed to — you would definitely see some public outraged comments. In the case of bluechew — you can't see those. So it's a pretty good thing when you think about it.
Of course, there are quite a lot of single reviews on various forums, youtube and etc. The vast majority of them are positive. So I wouldn't be too skeptical about it.
Reddit & Trustpilot Reviews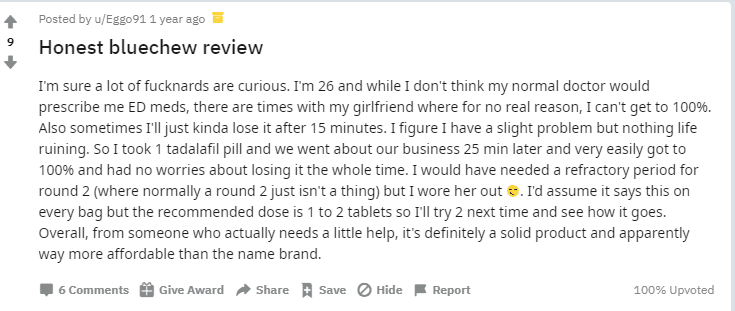 Here we can see a reddit testimonial from user "Eggo91. He's only 26, but he had some problems getting hard up to 100%. According to his experience, Bluechew has helped him a lot. And he also mentions the fact that it's a lot more affordable compared to other stuff.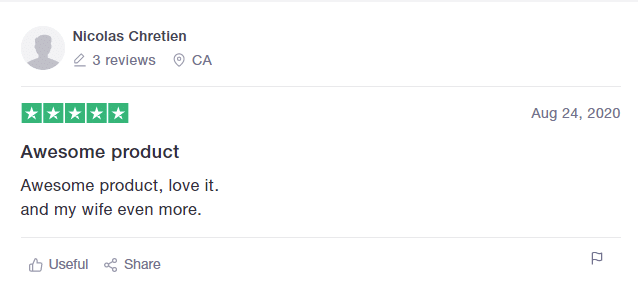 In this case, we can see a short and sweet testimonial from Nicolas Chretien from California. He loves it and apparently, his wife loves it as well.
What is the Refund Policy?
BlueChew has a pretty straightforward return policy. You'll get a full refund if you have requested the return within 30 days from when you purchase the pills. But take note that they will only refund you for the cost of the pill and not the shipping fee.
The price that you will be paying will mainly depend upon the plan that you have chosen to sign up for. If you're going to sign up for the Active Plan, which is the most basic of all, you'll be paying $20 per month. This includes five chewable tablets containing sildenafil.
If you sign up for the Busy Plan, you'll pay $30 each month and get 8 tablets. The Popular Plan costs $50 and comes with 14 tablets while the Pro Plan is $90 per month and consists of 28 tablets.
FAQs
How long does BlueChew take to show any effect?
BlueChew works in the same way as other sexual enhancers, except that it's more effective. It comes in chewable form, which is why it's easy for most men to take. If you're taking a BlueChew pill that contains Sildenafil, the effects should be felt within 20-30 minutes. This could last for up to 6 hours. If it's the Tadalafil, the effect will last for up to 36 hours!
I myself felt the effects kicking in after ~20 mins or so.
Is BlueChew approved by the FDA?
Yes it is! Also, the FDA approves the two main ingredients used in making the BlueChew pills – the Tadalafil and Sildenafil. They have also complied with the Good Manufacturing Practice when producing the pills.
Furthermore, these ingredients are non-GMO.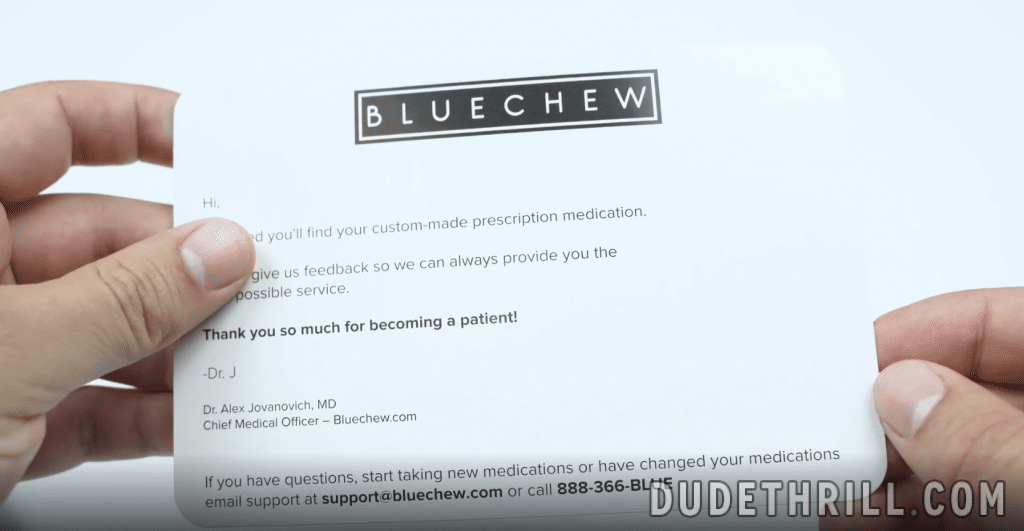 Can I use BlueChew with alcohol?
A small amount of alcohol will not interfere with the drug's efficacy. However, if you're drinking alcohol excessively, then the effects of BlueChew will be greatly affected.
So, limit your alcohol consumption to one to two glasses when taking the pill to guarantee its safety and effectiveness.
Can I cancel the subscription?
Yes, you can always cancel or deactivate your subscription temporarily. It's easy to do. You just need to access the website and go to My Account. On this page, you'll find the option "Put on Hold".
Click on this option and your account will be temporarily put on hold. This means, you won't be charged in your card and you'll stop receiving these products as well.
How's it different from Viagra and Cialis?
Although the effects of BlueChew are the same as Viagra and Cialis (since they're made from the same generic ingredients), these are two different products. Both are effective in treating erectile dysfunction but they differ in quite a few ways.
One thing that makes BlueChew different from Viagra is the fact that it is chewable. On the other hand, Viagra and Cialis are only available in tablet form. Another difference, of course, is discretion and ordering the product online – which you can't do with Cialis or Viagra.
Can I chew BlueChew pills?
As the product title itself suggests, yes – it's a chewable pill and has a slightly sweet taste. It can be absorbed a lot quicker compared to other medications used for erectile dysfunction. Several users who have tried other sexual enhancers were able to prove this and have talked about this on their reviews.
How many times should I take it?
BlueChew is available in different doses, from 20 mg to as low as 2.5 mg. Your prescribed dosage will be determined based on your condition. A licensed physician online will make the assessment online.
Generally, BlueChew should be taken every day in order to effectively treat your sexual disorder. It must be chewed a few minutes before you get involved in sexual activity with your partner.
Will BlueChew make me last longer in bed?
BlueChew can certainly help you last longer in your sexual tryst. These chewable pills have helped thousands of men around the world in the treatment of their ED. The licensed medical professional from BlueChew will assess you first and will guide you into choosing the right dosage for you.
BlueChew with Sildenafil has been proven to help you last up to 6 hours long in bed. As for the Tadalafil, you can last for up to 36 hours, which is really amazing!
Will it make my dick bigger?
That's a question I get from a lot of guys… And the answer according to them is – no. This is not a 'make-your-penis-larger' product.
But honestly, if you asked me – yes it made my D slightly bigger and bulkier. At first i thought ' i guess why'? But now I think I have the answer. So, naturally, these pills are greatly improving the blood flow all around your body (including the D) and as a result – larger veins, more blood flow = larger dick. 🙂
If you're curious – click here to check it out yourself. They also have a great support.
Final Thoughts
Based on my research and my own experience as well, I can really say that the BlueChew pills are truly effective. I also find that the subscription service is very convenient because you don't have to keep on coming back to the pharmacy to buy.
Since you will keep on receiving the pill unless you discontinue the service, you are certain that you will not run out of it.
I also find it to be very effective, thanks to its amazing ingredients, namely the Sildenafil and Tadalafil. I didn't have a big ED problem, but it improved my performance in bed greatly and boosted my confidence overall.
If you like the information provided here, please share it with your friends and if you are interested in buying this product, I encourage you to use the affiliate links anywhere in this review to help support this website.
So, if you're like me who was curious but are hesitant to purchase the pills in a regular "in-person" way, I would suggest signing up and trying BlueChew now.