Updated on: December 4th, 2023
Fleshy Pro Review
& Top 5 Other Best Male Masturbators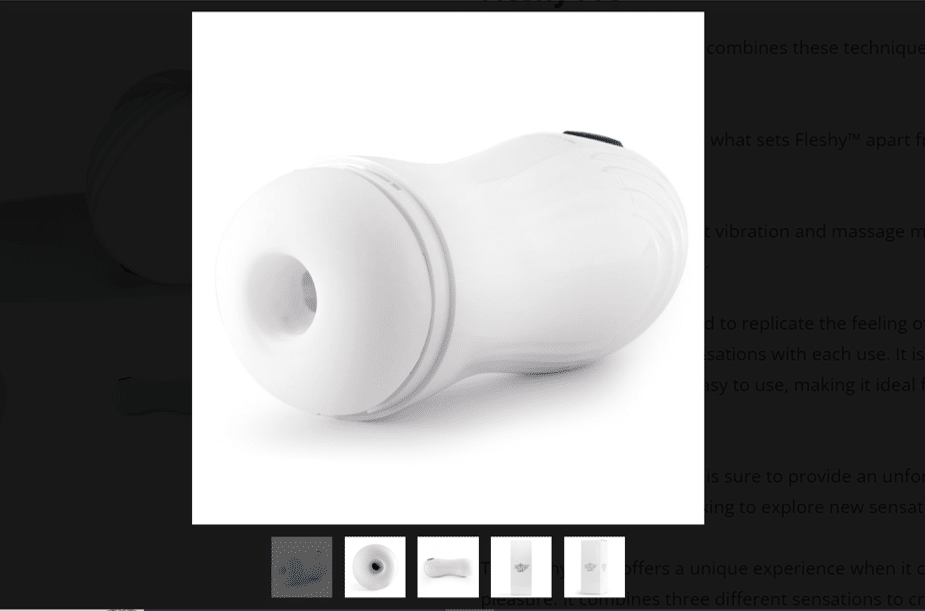 Shall I give you a new option for a perfect masturbatory tool? I know you are looking for a new best friend, dude. If not, you would not be here reading this review after seeing my blog title. Anyway, you are welcome to take a short peek and see my newfound sexual discovery. I am talking about Fleshy Pro, a device created for all perverts and horny pals in the neighborhood. Fleshy Pro is not limited to those avid masturbators from a few blocks away but also includes worldwide addicts in various parts of the globe.
Official URL: https://getfleshy.com
Meanwhile, I shall briefly retrospect why I decided to share males' masturbation tools in today's review. Months ago, I received fervent requests from my readers to share my cents about this niche. Initially, I thought it was a good idea to somehow give in to my followers. After all, it is their pleasure that must come first. So, I asked a few of them via private message to check what product they desired to be dissected. Significantly, Fleshy Pro came on top of the list. Hence, we are here! If you are one of those readers who hid in anonymous or pseudo names, fasten your horny belts as we navigate on to Fleshy Pro's exclusive features.
Horny? Grab Fleshy Pro and Add it to Your Cart.
All masturbators are happy to get their toys online for a hassle-free process. I remember years ago, getting one was a challenging experience. Discriminations and judgments are prominent once the community knows you are buying a masturbatory toy. Significantly, today's generation is more open, fluid, and accepting in pursuing learning things and tools to stimulate ourselves. Hence, the question, "Why should I buy when I have my girlfriend with me?" or "How similar is this masturbatory toy to a real pussy?" arise. Fleshy Pro seems confident to give you the answers.
Fleshy Pro offers incredible features to uplift your mood and revitalize your sexual pursuits. Most professional fappers are adding this product to their online cart. With this, I am not surprised by its popularity and in-demand qualities. The online market tallies great sales for Fleshy Pro since its launch. Nicely, you may access and get your item in big online stores worldwide. Fleshy Pro has given massive discounts as of this writing. In fact, it is a mega 50% off. I checked today's price rates, and you may purchase your Fleshy Pro for $69.99 from the regular rate of more than 100 bucks. Grab the sweet chance to avail yourself of this limited offer.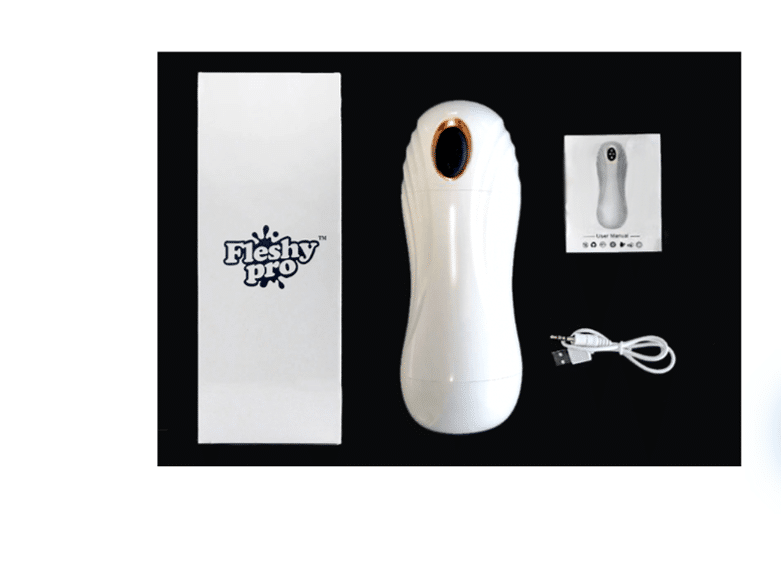 Setting the Records Straight for Discreet Purchases
Before we dive into the full product review, I know you are curious about the shipping of sex toys and your valued privacy. Of course, I will not let that swipe away, pal. Your friend here tried several online platforms that sold Fleshy Pro and were pleased to note that all of them pact for a discreet buying process. Apart from the competitive pricing and high-quality features that is satisfying, pleasurable, and provide excellent value for money, Fleshy Pro sellers guarantee fast delivery and secure packaging.
I bought Fleshy Pro, and it arrived swiftly and carefully. The item was packed and delivered in perfect condition. Most importantly, the sellers and platforms understand privacy and anonymity; thus, packages are wrapped carefully to avoid unwanted attention. I suggest you buy your Fleshy Pro masturbation tool on its website to ensure all these promises. I can attest that the shipment does not stipulate the product and company name. All you can see is your name and delivery address for a confidently salivating shopping. Not just that, tracking your orders is applicable in a few taps.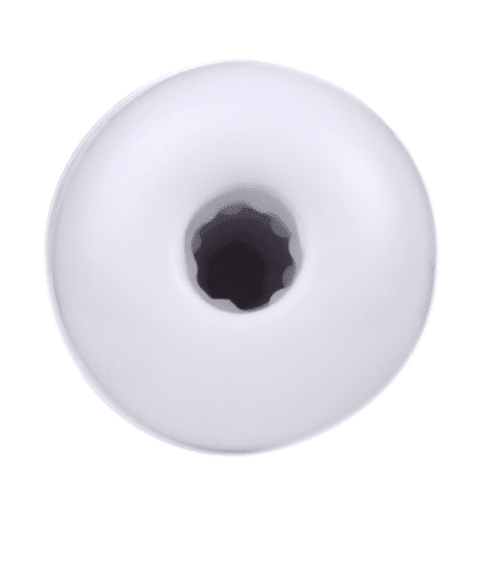 We Shall Start with Fleshy Pro's Design and Packaging
You know the price and the shipping facts; I bet you are ecstatic to learn about my Fleshy Pro in-depth thoughts. The day it came to my doorstep, I did not waste time uncovering this luxurious piece. Yes, dude, I consider my sex toys and masturbatory tools heavenly treasures because they lighten my darkest and loneliest nights. Whenever girlfriends are away, we stick to our tools to make our penises happy. Going back, the packaging was a thumbs up. Fleshy Pro gave a classic and sophisticated approach with its item box alone.
As soon as I opened it, I already sensed the top-grade quality of the product. The clean white box showcased the most uncomplicated Fleshy Pro logo, nothing else! With this, it is intensely compelling, stimulating your brain to open and reveal the palpable item swiftly. The Fleshy Pro device is neatly tucked inside together with its essential accessories. Fleshy Pro comes with a user manual and a power adapter. The device is sleek, easy to grasp, and in a clean white hue. I don't know why I have a thing for whites lately, and Fleshy Pro made a great decision in selecting the color.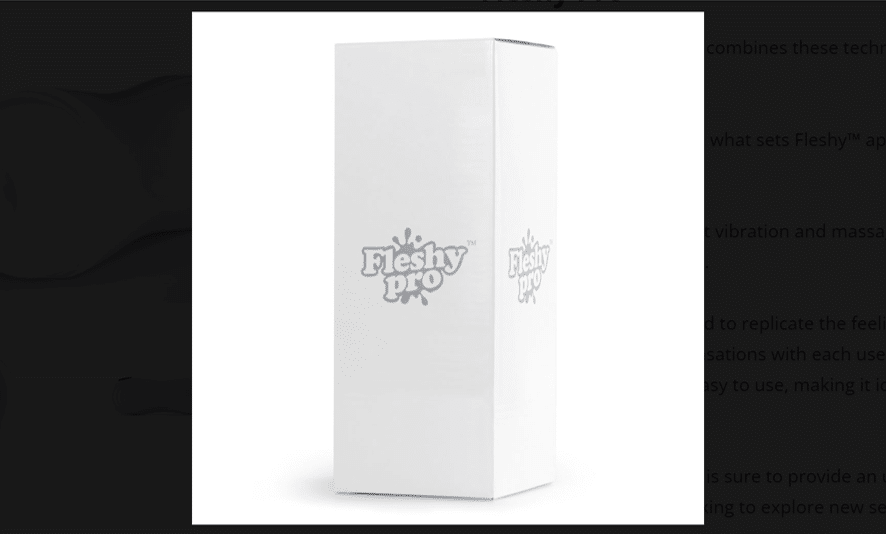 Setting Fleshy Pro is No Sweat, Pal!
There is a significant chance that Fleshy Pro is one of the leading male masturbation brands because of its effortless setup and design. Fleshy Pro is straightforward, which makes it attractive to all masses. Fleshy Pro is highly in-demand regardless of background, culture, and location. I had a friend who ordered bulk an hour ago to savor the tremendous discounted rate. Meanwhile, my experience was lit. I read the user manual, and it says starting Fleshy Pro means you must charge it for two to three hours. Would that be too long or short for you, dude?
I know starting the ritual with your new Fleshy Pro is tempting. However, I suggest you take your time and wait. While allowing the time to pass for hours, I did a few exercises to prepare myself for a good night's battle. My friend, keep yourself busy and divert your attention for three long hours. As soon as your device is fully ready to cater to your penis, apply lubes (water-based lubes) and gently attach the Fleshy Pro sleeves to the main device. When done, pressing the power button will give you an incredible masturbatory experience with various sexual modes. Depending on your preferred rhythm, these modes come in varied or combined vibrations, suctions, and delectable speed controls. Sounds fun, right?
Fleshy Pro's Combination of Techniques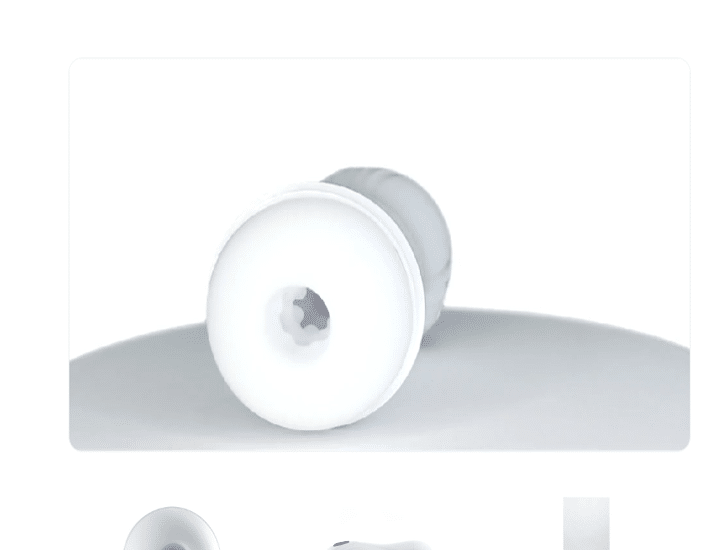 This charming and efficient male masturbation tool is designed to replicate the human skin. Hence, Fleshy Pro delivers realistic experiences and sensations. It has three different feelings to provide a meaningful and salivating escapade. While watching your favorite porn material, you may toggle between vibration, suction, and tugging. Your dick would be happy when you utilize each or join them into a full-force fap. Fleshy Pro and yours truly suggest you use all three for a popping adventure. More so, Fleshy Pro and its techniques are crafted for varying sexual positions.
Relish the Suction and Blowjob Mode at Fleshy Pro
Fleshy Pro has a solid suction feature that is impactful and penis friendly. Users can efficiently adjust the intensity to promote a total jerk. Fleshy Pro's suction technology is considered to be its most irresistible feature. This function perfectly mimics the nicest and most orgasmic blowjob experience. I must say, compared to the other tools I have used, Fleshy Pro has the closest sucking sensation I experienced. The device is indeed living up to its name. It is a professional in real flesh pleasures. So far, Fleshy Pro exhibits good-buy qualities.
Furthermore, users may opt to control and enhance the suction power. You can watch POV blowjob porn scenes while enjoying this technology. Fleshy Pro is proud to highlight its Real Skin technology; fans are feasting on this satisfying mechanism. Close your eyes, pal, and focus on the happy happenings on your penis. Fleshy Pro guarantees a remarkable sucking, and it ultimately feels like a babe is doing magic on my friend down there. Damn, dude, I had a good one!
Those Vibrations Are Killing Me With Superb Satisfaction
The suction and vibration features work well together, but if you try each function, you will not regret it, my friend. The vibrations are so potent that you would utilize it for extra spice and fun. This works perfectly by targeting the penis head. Hence, you may expect that most of the vibrating channels are found at the sleeve's main gate or shall we say, the opening. My comrades told me about their incredible experience as soon as they toggled the vibrations. When it was my turn to purchase, dude, I came to Cloud 9.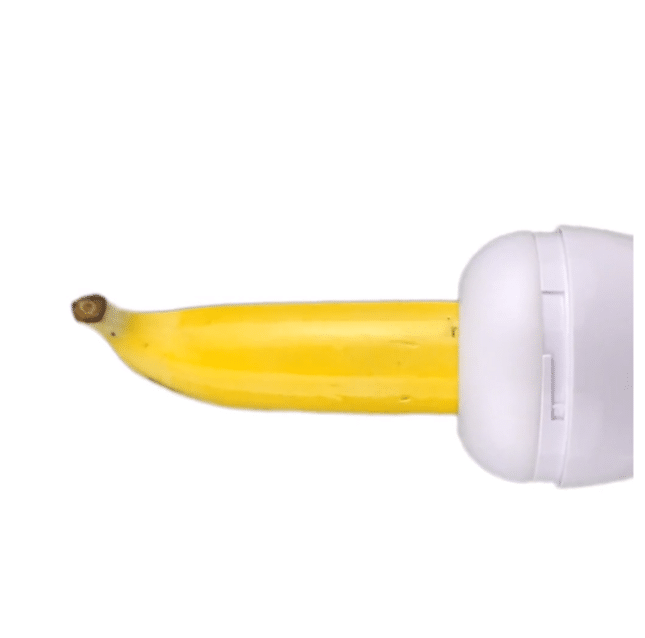 Furthermore, the device gives its owners complete control. You may experiment with the power and speed. Fleshy Pro has a touch-sensitive control panel; therefore, shifting to varying modes is handy. I liked how the device did not disengage with the perverts' ability to personalize masturbation. After all, every jerk is different in style, ways, and preferences. But what sets Fleshy Pro apart from its various competition in the industry is its most realistic approach. I must say, this sex toy is sensitive to my needs. You may bring it everywhere and do your routine 24/7.
Easy to Clean, Use It Daily!
Like its straightforward design, Fleshy Pro comes with easy cleaning strategies. The sleeves are waterproof, and detaching is done in less than seconds. Taking care of your masturbation material comes handy-dandy, as Fleshy Pro is friendly to mild soaps and warm water. Be sure to dry it thoroughly before your next kinky adventure. Not just that, the features, design, and the entirety of Fleshy Pro speak about durability and ergonomic quality. However, I discovered one downside with Fleshy Pro; the product noise may be much for you.
The Pros and Cons of Fleshy Pro
PROS:
Top quality male masturbator
Sleek design
Classy packaging
Intense suction and vibration technology
Varying modes to choose from
Easy to maintain and convenient to clean
Addicting customizable exploration
Long lasting playtime
Hands-free
CONS:
It may produce a bit of noise
---
Top 5 Best Male Masturbators Similar To Fleshy Pro:
#1 — Foreglad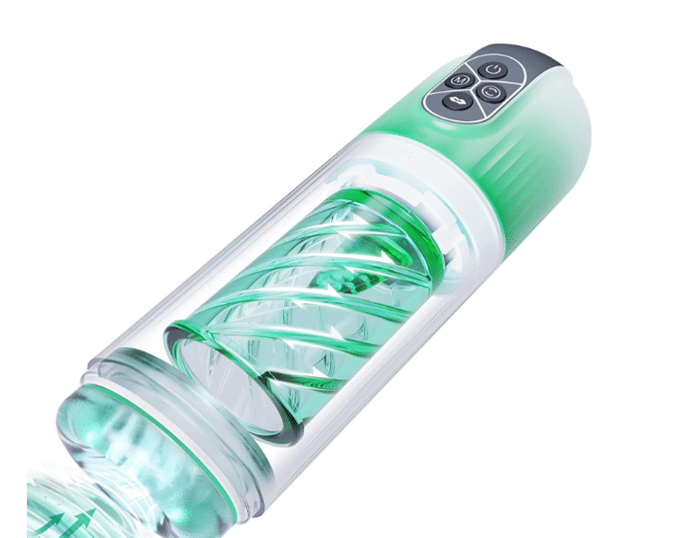 Foreglad is built to give a pleasurable experience at home, office, school, or any location. This male masturbator comes in appealing functions and packaging. It is best known for its compelling design and multiple modes. Foreglad combines seven suctions that are adjustable and blended with vibration powers. It comes in handy built-in batteries, which is travel friendly and convenient. Foreglad is inked to be a quality investment with its waterproof system and impeccable sensations.
PROS:
Seven suction modes
Premium product quality
The discreet and quiet machine sound
Built with friendly adjustable buttons
Built-in batteries
Handy
CONS:
Few customized sensations
---
#2 — Autoblow A.I. Plus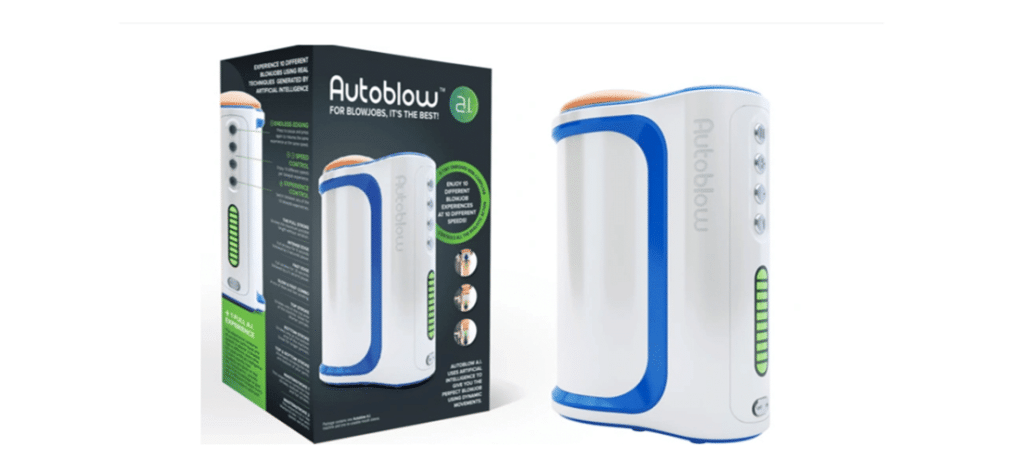 With its name, this male masturbator product is a high-end automatic pleasuring machine. Also excellent in providing natural oral sex stimulations, Autoblow A.I Plus arouses jerkers with its preprogrammed modes. The product was crafted after intense research and porn exploration. Makers utilized flesh-like materials and quality penis-gripping mechanisms—one best things about Autoblow A.I Plus is its exclusive Edging Function. How does it work? This feature lets you control your mid-stroke sessions to practice your ejaculation routine. Immensely perfect for pals with ejaculation problems.
PROS:
Exclusive edging function
Preprogrammed modes
More than twenty blowjob features
Smart technology
Utilized skin-like materials
CONS:
---
#3 — The Lovense Max 2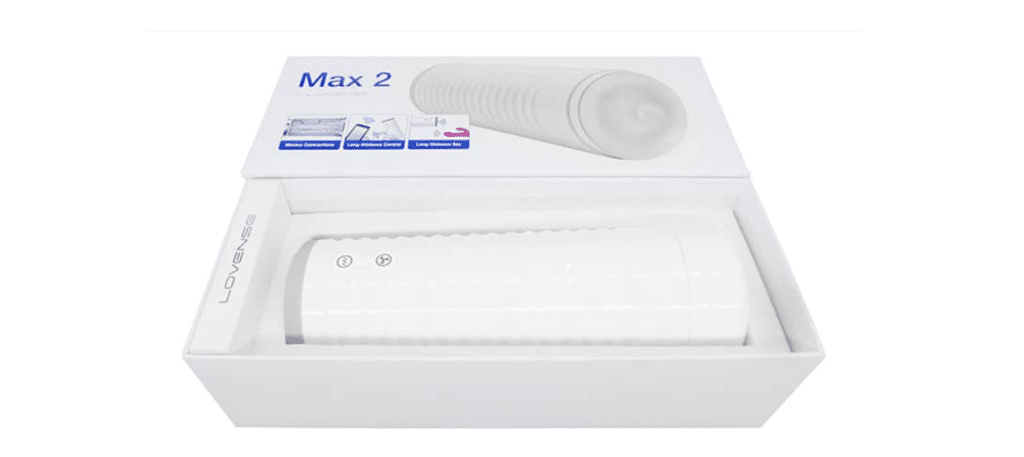 The Lovense Max 2 caught my dick's attention with its fancy and sophisticated look. You may display the Lovense Max at home. However, I suggest you place it in your bedroom. Your kids might think it's a kitchen tool. The Lovense Max is another automatic penis stimulator with high-tech features to deliver realistic vibrations. Its ergonomic design applies quality grip for your jerking satiation. The elasticity and texture cover intense pleasure with flesh-like materials. Lovense Max 2 promises powerful contractions.
PROS:
Easy to use and grip
360-degree contractions
Ability to control the speed
Great for beginners
CONS:
---
#4 — Cafatop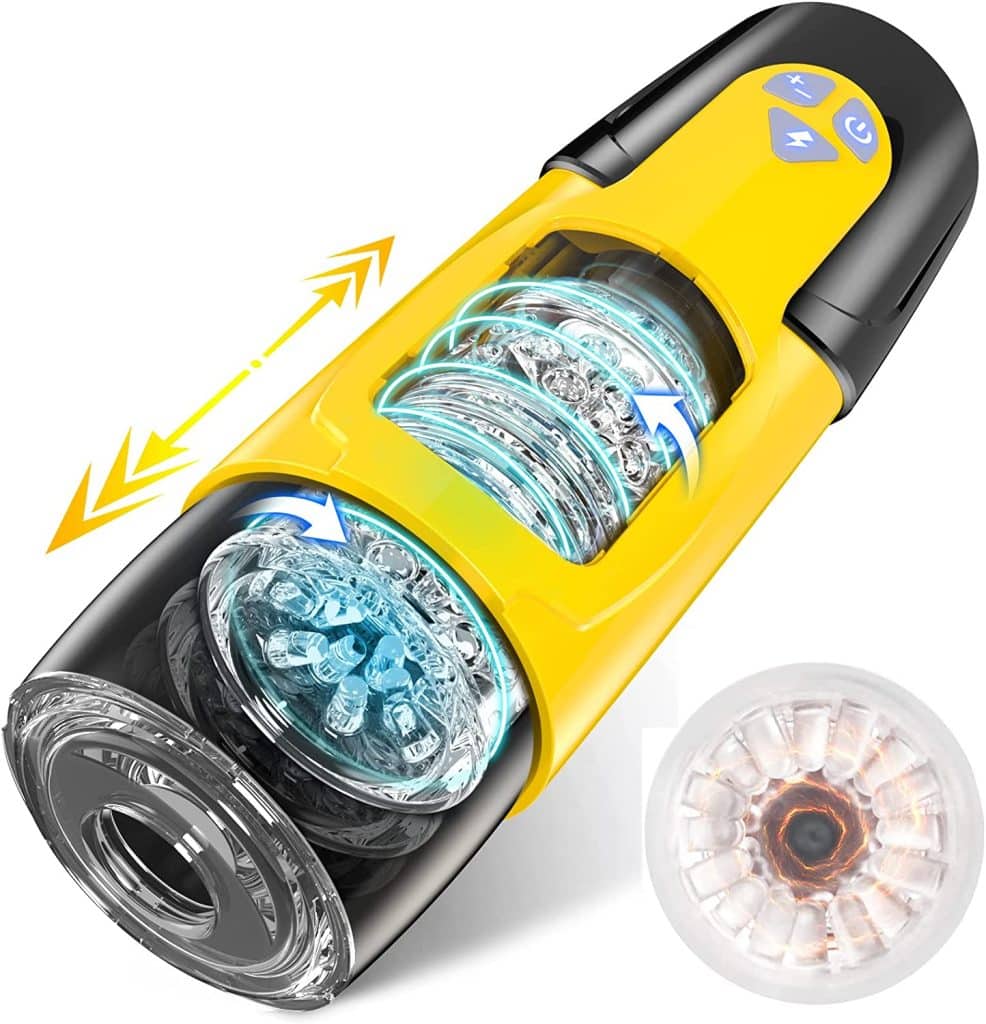 Cafatop got seven masturbation modes for its users. It comes with pleasurable twistings and thrustings. Using Cafatop today guarantees your orgasm with quality sensations and accessible setups. It is also easy to use and clean up. The grip is good, but the machine is a bit loud. I also found its limited capacity. Thus, this product may not be suitable for larger-sized men. Few batteries and charging issues also engulfed Cafatop. However, its users are still recommending this product as a good buy.
PROS:
Decent design
Multiple modes
Pleasurable sensations
Convenient grip and cleanup
CONS:
Battery issues
Loud sound
Not suitable for large-sized men
Few design problems
---
#5 — Kiiroo Keon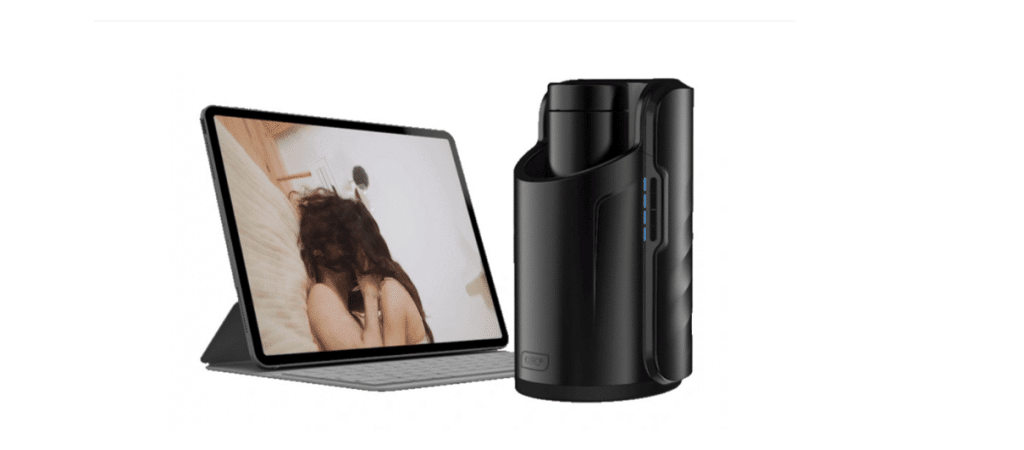 Another automatic high-end sex toy for your growing collection is Kiiro Keon. This product is a classic user-friendly toy with a penis-stimulating mechanism. Kiiro Keon is popular with its longer strokes and intense speed control system. This masturbator also contains virtual erotica movie content for ideal streaming sessions. Perfect for your nightly routine while the babe is far away. Kiiro Keon exhibits a sturdy and durable design that may last years of fapping.
PROS:
Autopilot function
Lengthy strokes
VR reality porn
Good solid design
Rechargeable batteries
CONS:
---
Verdict
Fleshy Pro is considered the market's top in delivering a realistic blowjob sex experience. Its suction technology mimics the skin sensations that will make your dick crazy. The intensity is adjustable; thus, you may navigate the power buttons according to your preference. This male masturbator comes in varying modes that you can readily shift anytime. The vibrations are incredible, crafting a tantalizing and salivating effect. Perhaps, today is the best time to add Freshly Pro to your shopping carts. It is convenient, easy to clean, durable, and pleasurable. What else are you looking for, pal?
All 3 Other Sites in This Category Worth Checking Out:
Fleshy Pro Review & Top 5 Other Best Male Masturbators Show Me 5 Alternatives for Fleshy Pro Shall I give you a new option for a perfect masturbatory tool? I know you are looking for a new best friend, dude. If not, you would not be here reading this review after seeing my blog title. Anyway, […]
Huge.com Review Is It the Best Pill for ED? (My Honest Experience) Jump to Benefits and Features of Huge Official website: https://huge.com Huge.com — this is the groundbreaking solution for today's ED problems. Erectile dysfunction is one of the most common problems in male reproductive health. According to statistics, there are around 33% of males, aged […]
BlueChew Review – My Honest BlueChew Experience – Is It The Best ED Medication? Official website link: https://www.bluechew.com Show Benefits of BlueChew This article contains affiliate links. We may earn a commission from it. If you're searching the web for an ED solution ("blue pill" if you may), one of the service that you'll most likely […]