Updated on: December 6th, 2023
GoneWild Review
& 12 BEST Reddit NSFW Subreddits Like r/gonewild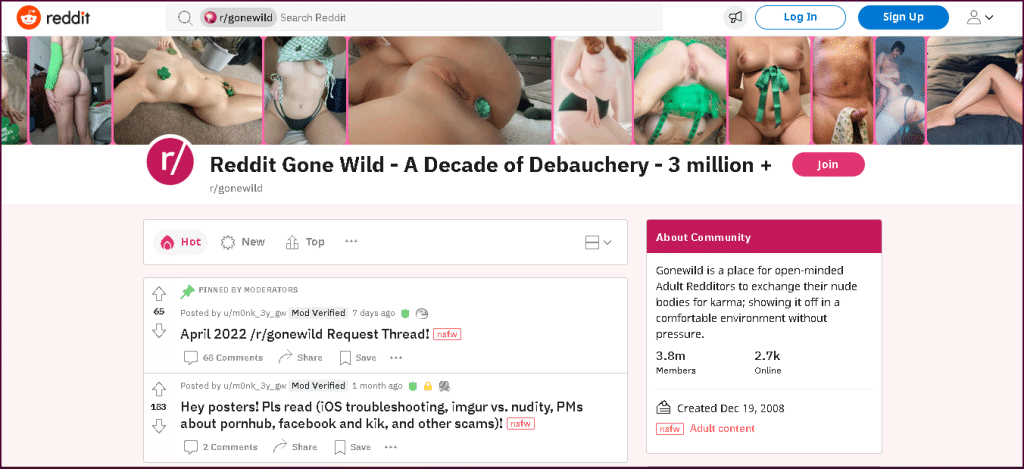 As the Reddit online community rises to popularity, more and more people are going wild with their posts. And you know me when it's about "wild," I'm always game for anything! Speaking of wild, "GoneWild" is among the most well-known subreddits devoted to erotic entertainment, and personally, it's hard to imagine of a better one. This subreddit is a fantastic place where girls can proudly flaunt their sexy curves, get dirty, and just enjoy delightful moments with the admiration of strangers. All of its content was created and submitted by horny women, so you're sure to find thought-provoking content!
Official URL: https://www.reddit.com/r/gonewild/
Get Ready to Go Wild!
The Gonewild subreddit, popularly known as r/gonewild, is where Redditors can enjoy openness, exclusivity, and pleasure without spending a single cent. As we know, a subreddit like this one offers a welcoming setting and an excellent vibe to enjoy adult entertainment without judgment and pressure.
Plus, it has tons of shameless amateur girls ready to take off their innocence for the entire Redditors to see. Who the fuck on this earth wouldn't like that? Not me! Certainly, when it comes to porn and nudity, as long as it's free, I'm all in!
Browsing r/gonewild, I can attest to how many people are seeking attention and craving attention. They are wildly exhibitionists and love taking photos of themselves in whatever poses they wish. I'm sure they worked out routinely to achieve those voluptuous bodies, so I don't mind jerking to it.
I get these Redditors, though; all of us have horny pleasures within us, and the only way to release it is by posting images, videos, and more. Some others would love to show off their cam performances and enjoy unlimited sexcapades whenever they like. These exhibitionist Redditors got no time to look innocent; they live to go wild and to dare with sexual journeys. And it's us that's taking all the benefit *wink.*
Today, you can easily find fake photos, deepfake videos, and scammers in the online world. Some of them even pretend to be amateurs, but they are chock-full of catfishing shits. That's why r/gonewild has stepped up its game and gave us a perfect venue to break the rules! Get freaky! Get horny! Do whatever you want!
Gonewild Is Getting Bigger and Bigger!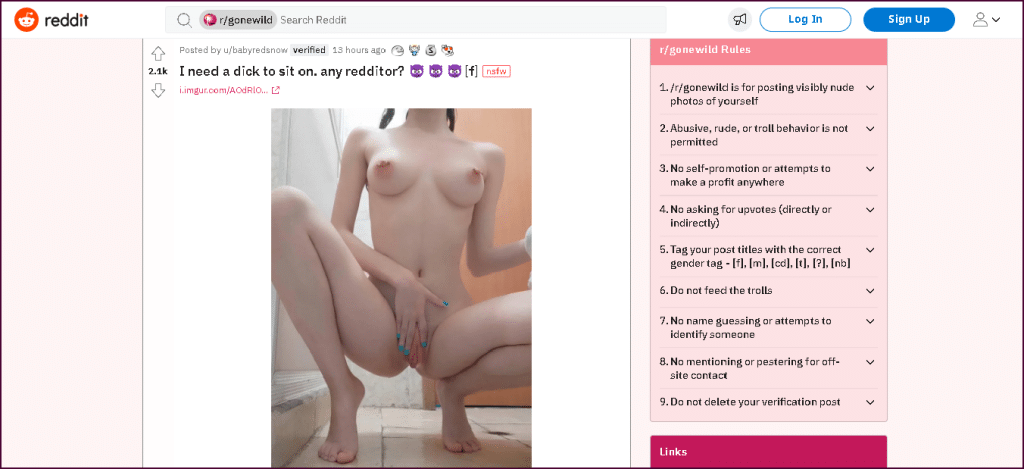 When I initially visited r/gonewild back in the days, it only garnered around 800K+ subscribers and hundreds of active users. But, when I checked it ot now, I didn't expect to see how the numbers skyrocketed to roughly 3.6M+ subscribers. With that number, you should expect to see thousands of active users any time of the day. Can you imagine how popular r/gonewild is? Well, those stats should be enough proof of how huge and famous these Subreddits are. In months to come, I'm sure there will be more millions adding to its page.
Additionally, r/gonewild posts roughly ten to twenty updates every hour, so you'll stay up-to-date with the latest trends in adult entertainment and exhibitionists activities. Expect to find lots of shits around here every time you visit, and when I say lots, I mean a shitload of amateur pics, exhibitionistic videos, and gonewild posts! Lucky for us, r/gonewild is not only exclusive to all its subscribers but opens its door to everyone! Don't worry; there are no subscription fees or monthly payments you need to make because r/gonewild is FREE to enjoy!
Active Engagement and Constant Updates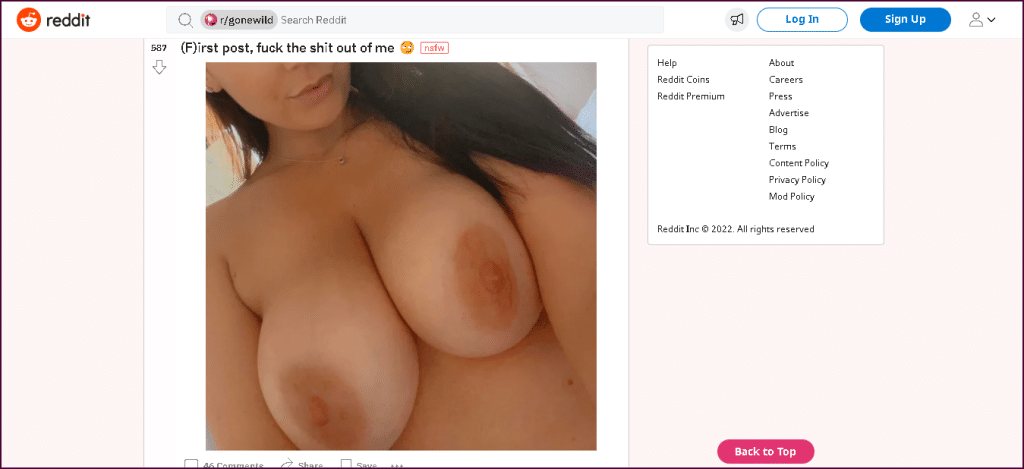 For many years, r/gonewild has strived to maintain and even improve its reputation and credibility as a "wild" subreddit. Of course, with hard work, r/gonewild has surpassed its 2M+ subscriber goal and even went beyond expectations. Certainly, there's no other subreddit you can find that would sustain its accomplishments. The page owes its massive library to all its Redditor supporters, who constantly upload their personal and private content. Definitely, they all make this community more vibrant and active.
Looking at the numbers, r/gonewild obviously has impressive engagements and participation from its subscribers. In fact, there are plenty of topics that remain active because Gonewild subscribers are constantly discussing, commenting, and sharing posts every tick of the clock. This kind of vibe should be favorable to newbies or first-time Redditors because the welcoming experience should make you feel better sexcapades.
User-Generated, Spam-Free & Homemade Smut from r/gonewild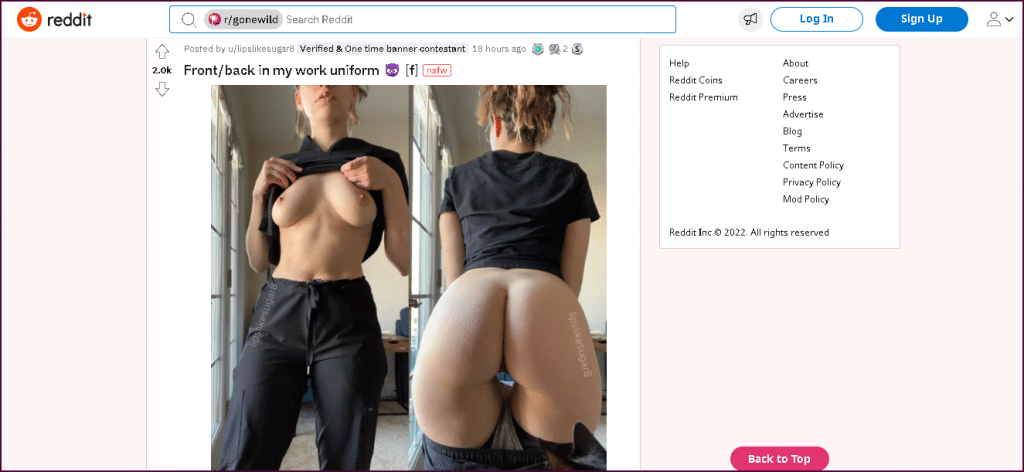 As I mentioned previously, r/gonewild is a place where exhibitionists come together and enjoy public attention. The team behind r/gonewild pride themselves on what the subreddit has made and will make in the future. Perhaps, it's one of the few subreddits that don't post deepfake shits and nasty fucks online. Plus, r/gonewild is never known for malicious ads and spam on its page. You'll never have to experience clickbait chick posing seductively, only to get redirected to another shit posting of cock enlarger pill.
Certainly, r/gonewild will never post anything that could spam your email or credit cards. The Gonewild Subreddits has dedicated its effort to providing thrills and excitement on anything sexy, erotic, and dirty entertainment. So, you'll get everything right without spending a dime. Gonewild was not created to take your money, so browsing here should be a fun experience every single time.
Also, everything you find here is consensual. There's no single pic or video that was stolen without the owner's consent. In fact, the users themselves submit the content, so, It's pretty homemade and' authentic.
Usability and Other Relevant Content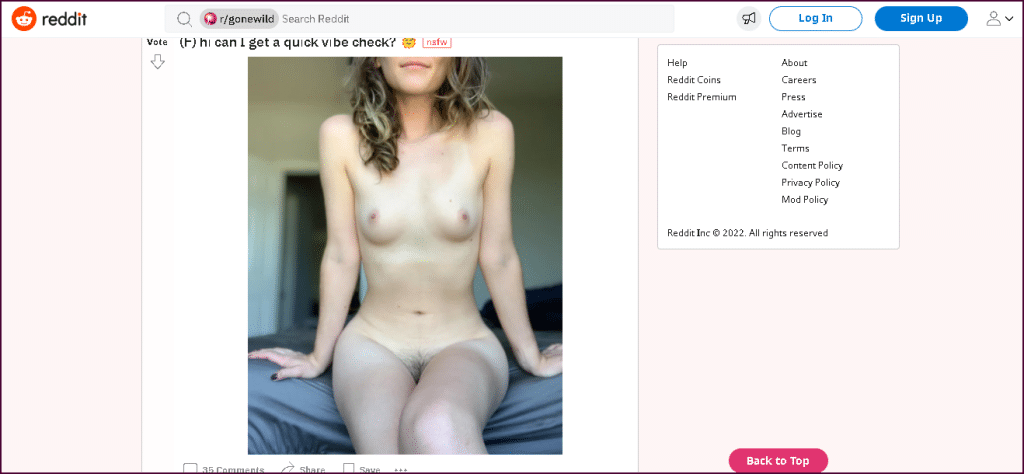 Reddit is an uncomplicated site to use, so expect that r/gonewild is pretty simple and easy to understand. The main page has everything you need right off the bat, but if you wish to make viewing and browsing more in line with your preferences, r/gonewild has several organization sections: Hot, Rising, New, Top, and Controversial. Personally, I like to dive into the hottest content first and see the trending stuff the r/gonewild Redditors have been up to.
As expected, the Hot section will give you thousands, if not millions, of hot pics, videos, and amateur posts. This content has the highest upvotes from the subscribers, so it's definitely the "treasure chest" of r/gonewild. Meanwhile, the New section has the latest updates on the page. If you want to browse the freshest amateur pics and vids, this one's got you. The remaining sections are pretty obvious, and one thing is for sure, they all have horny babes waiting in line for you.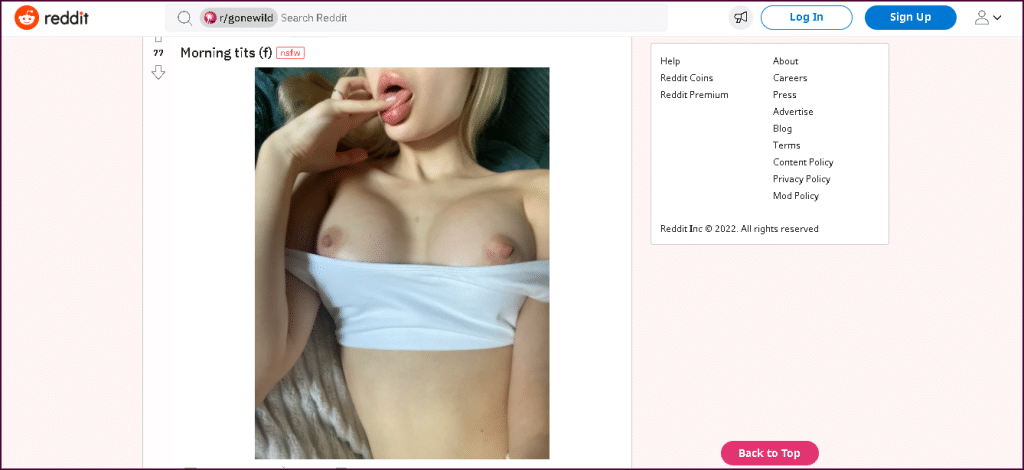 The Rising content is pretty much anything that has the potential to be on top. This content is capturing the attention of many Redditors and quickly soaring high. Plus, the Controversial section is jam-packed with anything scandalous and out-of-ordinary treats. Definitely, they are something you don't see regularly. So if you like "unique" things but keep the thrills and excitement, this must be for you! Horny chicks are everywhere, so if you wish to see one, don't hesitate to visit r/gonewild. Not only you'll find a sizzling hot amateur babe, but jerking-worthy stuff too!
Is It Jerk-Off Worthy Subreddit?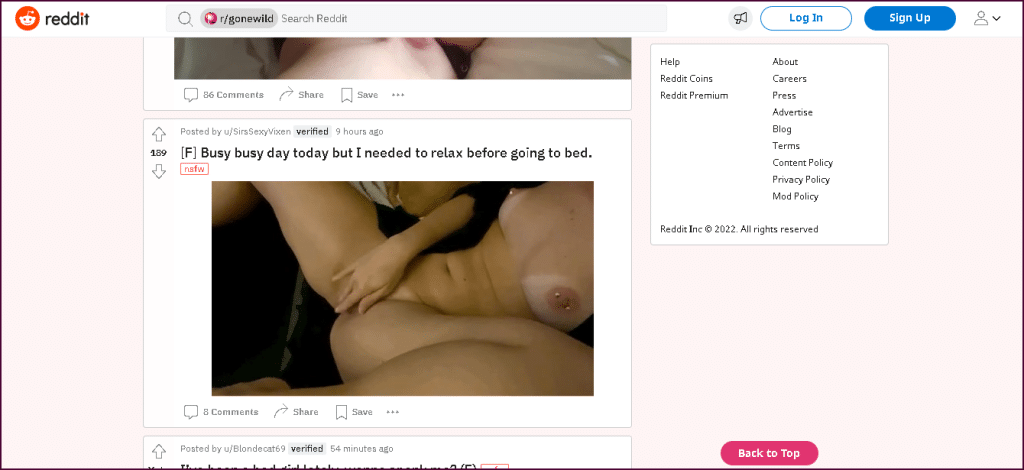 Why? Do you really have to ask that? Well, r/gonewild is worthy of your time for the simple reason that it's completely FREE! All the streaming sites nowadays hide their best content behind subscription fees, and you can't even browse without paying upfront. With all these restrictions, r/gonewild is a pretty excellent option.
Compared to the r/gonewild subreddit, several sites don't actually feature real, authentic homemade videos or pics as the r/gonewild subreddit does. I'm sure you've thought for a second if every content here is genuinely amateur and homemade, but by looking at it, you can already tell which one is living up to the standards. For so long as you got all-in accessibility to Reddit, you can freely experience these amateur sex and violence pretty much any time — whenever your dick calls for pussy time, r/gonewild is here to rescue!
The most important thing to know about the Gonewild Subreddit is that: there's always something fun going on here. And if 3.6M+ subscribers believe in it, then who are we to argue? Many people flock to the r/gonewild subreddit because of the abundance of user-generated content that can't be found (and will never find) elsewhere. The moment these hot blondies, brunette, ebony, Asian, and real-life lovers voluntarily upload content makes r/gonewild even more appealing and fun. It's also free, and I already mentioned how I love free goodies. So, if this subreddit hasn't already caught your attention, perhaps now is the time!
Pros and Cons of r/gonewild
PROS:
Millions of subscribers
All amateur and homemade
Real amateur babes
Millions of content
Active community
No spam ads
Free to use
CONS:
No hardcore-themed content
Few men submit dick pics
---
12 BEST Reddit NSFW Subreddits Similar to /r/gonewild: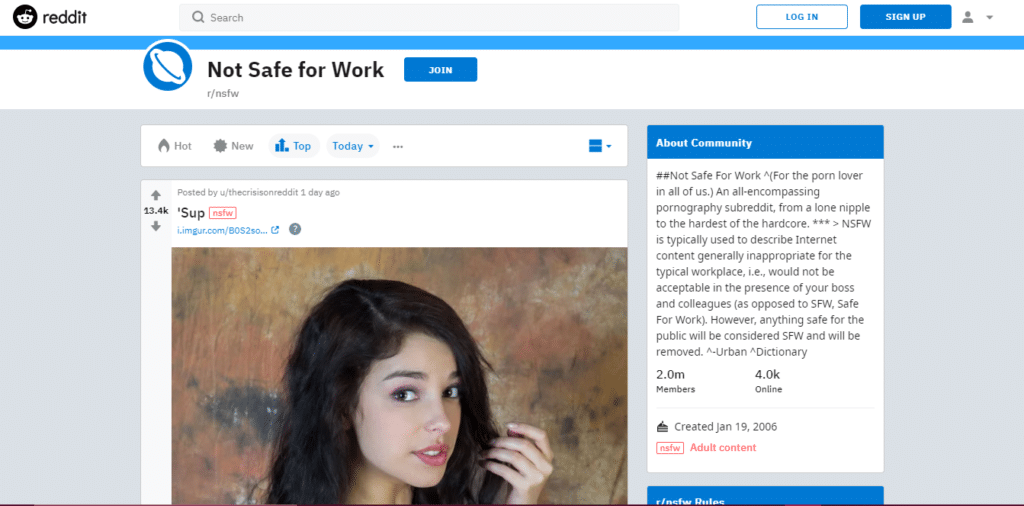 This subreddit is the second largest in terms of porn in the whole Reddit community. It has always been the go-to place for everyone to enjoy some adult entertainment. It currently has 1.3 million followers and this subreddit has been around for over 13 years already. If you are looking for some adult material you can jerk off on, then simply visit /r/NSFW and you'll be in for some good time.
Almost, if not all, of the contents on this subreddit, is in the softcore category and usually GIF and picture-based since videos are not allowed. Compared to /r/GoneWild, no one can submit any content that falls as self-promotion. For some subreddits, you can share your smutty contents for profit but with /r/NSFW, that is a big no. As for the contents and update frequency, you can expect over 100 entries daily since this is such an active community.
PROS:
Frequent updates
Well-moderated community
Lots of link tools
More than 1.3 million followers
CONS:
Just pure softcore content
Videos are not allowed
No self-promotion posts
---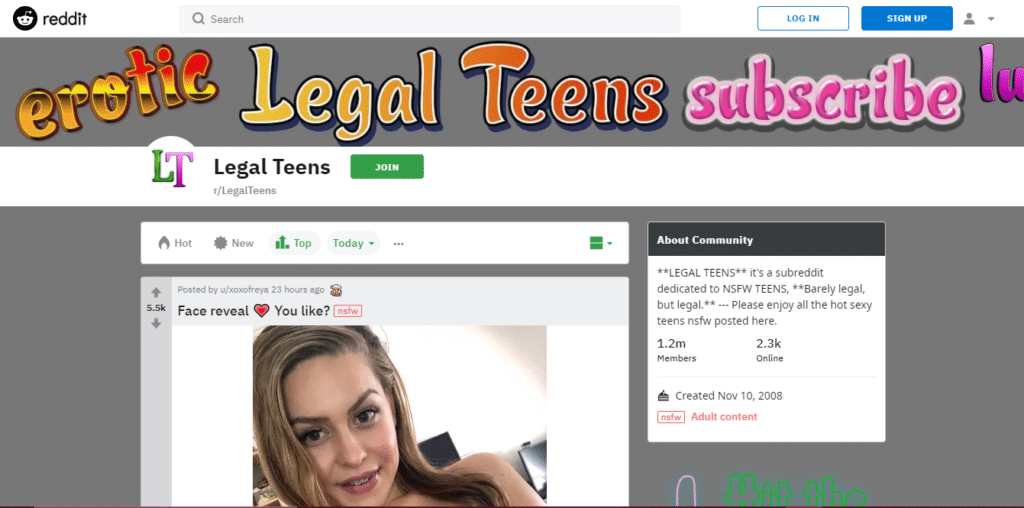 One of the more well-known NSFW subreddit is r/LegalTeens. With their catchphrase "Barely legal, but legal." You get to scroll over pictures of hot babes in just nudes or provocative clothing and showing off their tits for everyone to see. To be successfully verified, you need to at least show more skin and body parts so the moderators can compare them to your future posts.
Check /r/legalteens review here.
PROS:
100% free nudes
Well-moderated community
Lots of amateurs
Frequent updates
CONS:
strict rules
Some bots and trolls on the comments
Spam commenters
---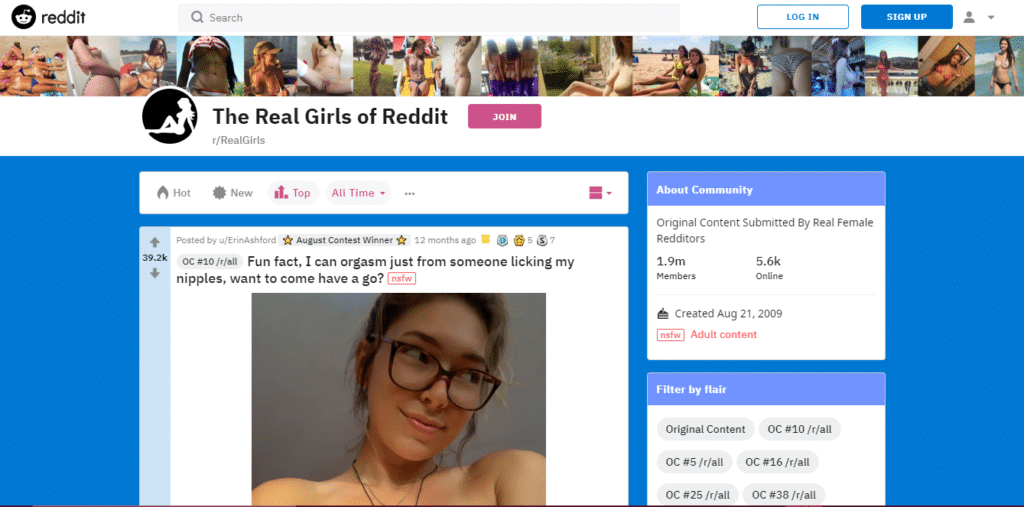 With more than 1.3 million subscribers, this very active NSFW subreddit gets updated with around 100 new submissions on a span of 24 hours. Unlike most subreddits where anyone can just submit content, with /r/RealGirls, submissions are well-moderated since each poster needs to go through some verification process. RealGirls is technically a very strict subreddit as it disallows girls who are Pornhub-verified, or even just have some wishlist on their profile or just about anyone who tries to make a profit by selling stuff. In other words, with its amount of content regularly, RealGirls has become one of the best destinations for amateur porn.
PROS:
Lots of amateurs
Regular updates
100% original submissions
CONS:
Very strict rules
More on photos
Pornhub-verified girls are not allowed
---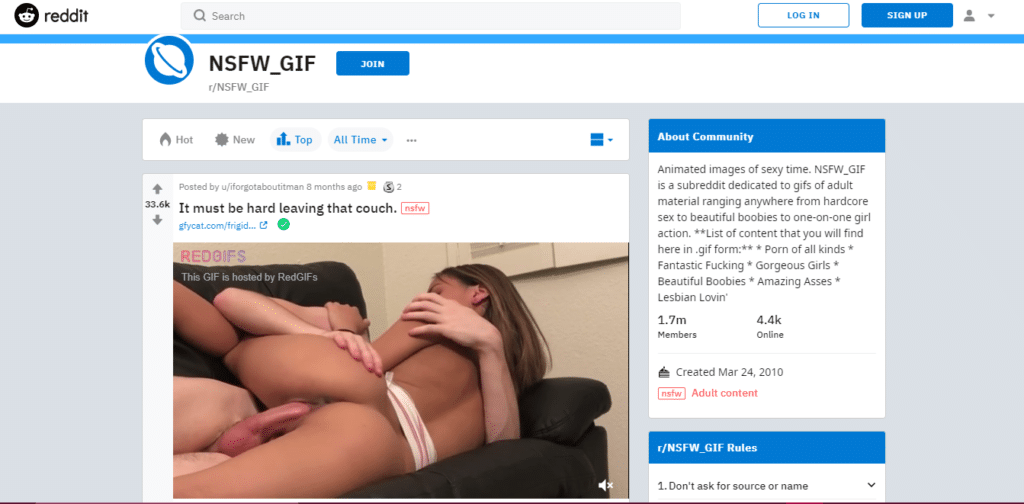 If you are one of those who have witnessed the growth of this subreddit from when it started more than 10 years ago, you would never think that a day would come where such contents would ever be available. More than 1.3 million subscribers have been enjoying NSFW GIFs from various places like Imgur and GFYCat and feed your need for anything sexually-pleasing. Both softcore and hardcore porn content are being submitted regularly; the ratio of subscribers to the submitted content is actually on the lower side.
PROS:
Softcore and hardcore porn contents
LOTS of videos
No ads
CONS:
Spam commenters
Content to subscribers' ratio is pretty low
Strict reposting policy
---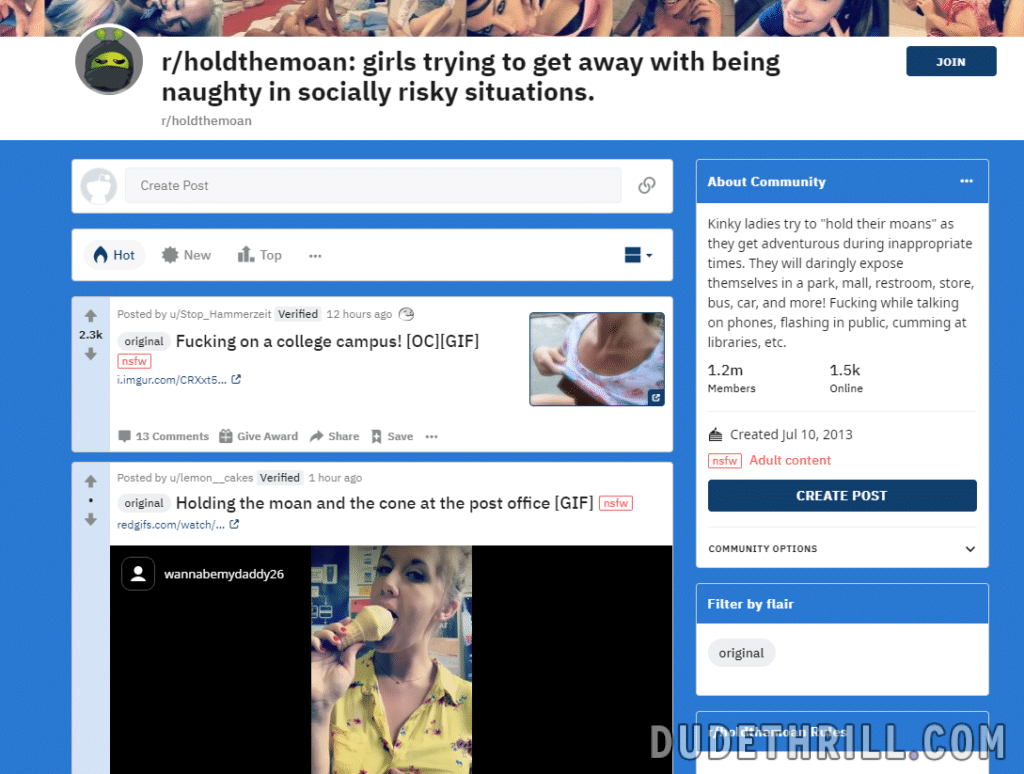 The name itself sounds intriguing and sexy, right? If you want to squeeze your hog for a bit and indulge in tempting contents, then /r/HoldTheMoan is one of the best niches to visit on Reddit. Compared to adult-centered subreddits, this one is one of the most unique in terms of contents because /r/HoldTheMoan is mainly about porn done in public and has elements of risk and thrill involved. By now you would have figured out why it's called the way it is — you get to see everyone holding their moans so people in public won't realize what's going on.
Although the subreddit has more than 900K subscribers as of writing, they don't have lots of submissions because they only have around 25 new posts in a week. And compared to other subreddits with similar niche, /r/HoldTheMoan is more focused on moving contents, aka GIFs and videos. You're in for some treat with videos and just about anything that people do in the name of some sexual thrill in public.
PROS:
Great public porn
Good moderation
Celebrates the wild side of girls via public porn
CONS:
Slow updates
No images, only GIFs and videos
---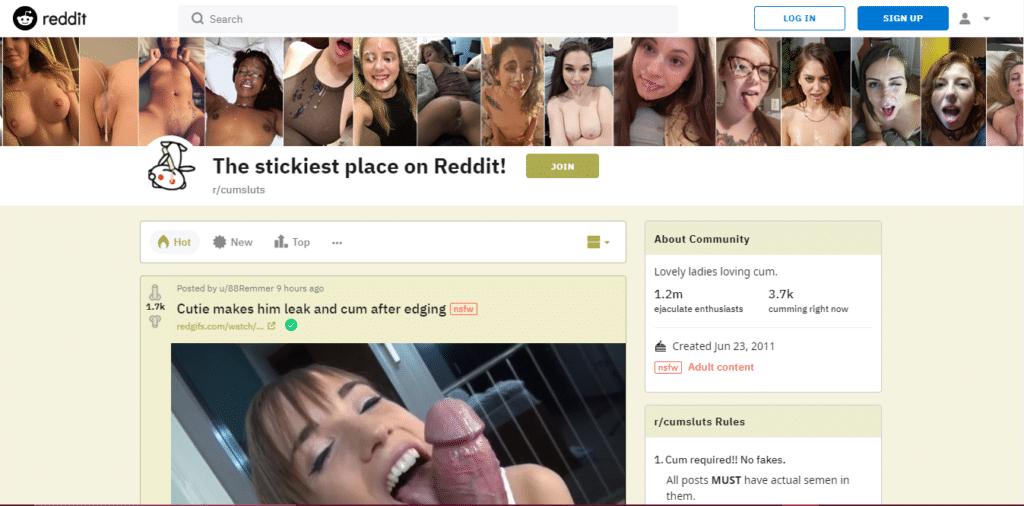 If you've ever fancied girls who can't seem to get enough of a guy's seed, then you will enjoy cumming to /r/CumSluts. You will see girls who love the feeling of cum on them and are not shy at all to show them off. Short clips of girls getting cum all over them – from their pussies, faces, or just from head to toe shots – doesn't matter where as long as they get their dose of that sticky and delicious load from guys. This subreddit focuses mainly on girls getting their cum fix and you get to see them doing anything just to be blasted with some guy's sticky cream and the best thing about this subreddit is that they accept both photos or video submissions. Content and update-wise, they get around 100 submissions in just a day so that is also a good plus for this sub.
PROS:
Frequent updates
Already established and known community
Lots of photo and video contents
CONS:
Full-length videos are limited
Usually features straight girls or boys only
Few contents featuring guys
---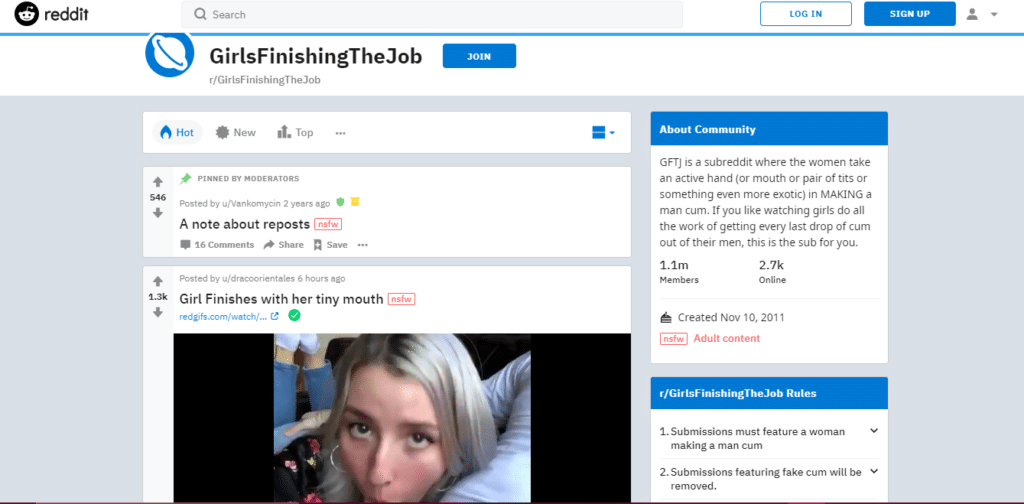 If you read the name, you'll immediately think of hot girls working hard in sex to enjoy the loads they want out of guys' penises. Of course, cumshot vids can use girls for "accessories" but sometimes we all want a little rough action and see women earning their keep to finally get a taste of their favorite cum.
There are plenty of NSFW subreddits and each of them provides different niches and categories, but /r/GirlsFinishingTheJob is by far the most unique. You don't always see girls putting much effort just to have a taste, right? Sensual videos of sexy girls getting blasted with hot and thick cum will make you shake to the core as well. They did justice to their name— girls do finish the job here.
PROS:
Unique niche
Regular updates
High-quality videos
Very little to no spam at all
Off-topic materials are banned
CONS:
Only a few full-length videos
Only GIFs, no images
---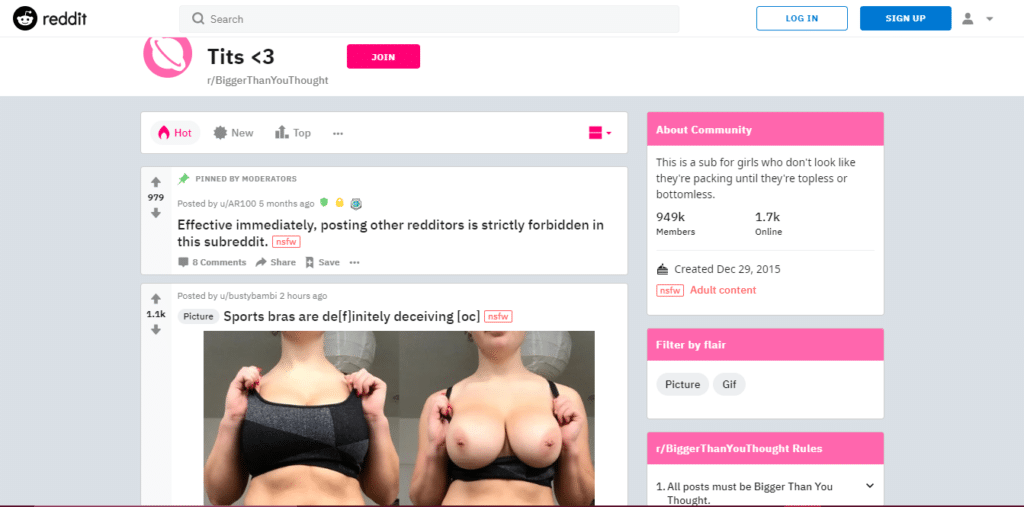 Guys would admit that one of the first few features they notice in a girl is the size of their tits. For some, we might mistake them for having just the average size but turns out they're holding on to some surprising size. This is exactly how BiggerThanYouThought works. Most of the girls looking sexy with regular-sized boobies at first glance, but wait for it — once they strip in front of you, you'll find out that they have some enormous pair of heaven in the name of tits.
Content-wise, images and videos are in 50:50 ratio so you can always have some fun in your titty adventures. User-submitted contents showcase their boobs and you could only drool and feast your eyes on them.
PROS:
Many videos available
Minimal spam
Lots of homemade porn
CONS:
Slow updates
Many strict rules
---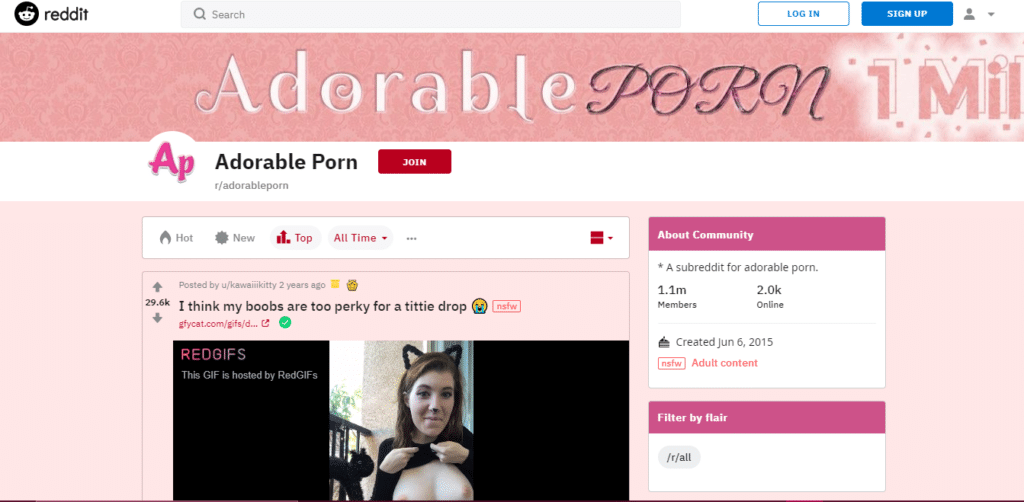 One of the biggest NSFW subreddits with over 700K subscribers, /r/AdorablePorn is home to cute girls who get hot and horny with sexual encounters and self-pleasuring. They also have a pretty good update frequency since there are about 25 or more posts daily. One thing you would notice with the girls on Adorable Porn is that they are really cute and wifey material since you can't see them as cum whores and sexual brats.
PROS:
Not too many rules
Frequent updates
Cute girls for adult contents
CONS:
Some girls who don't fit the "cute" description
More on images
---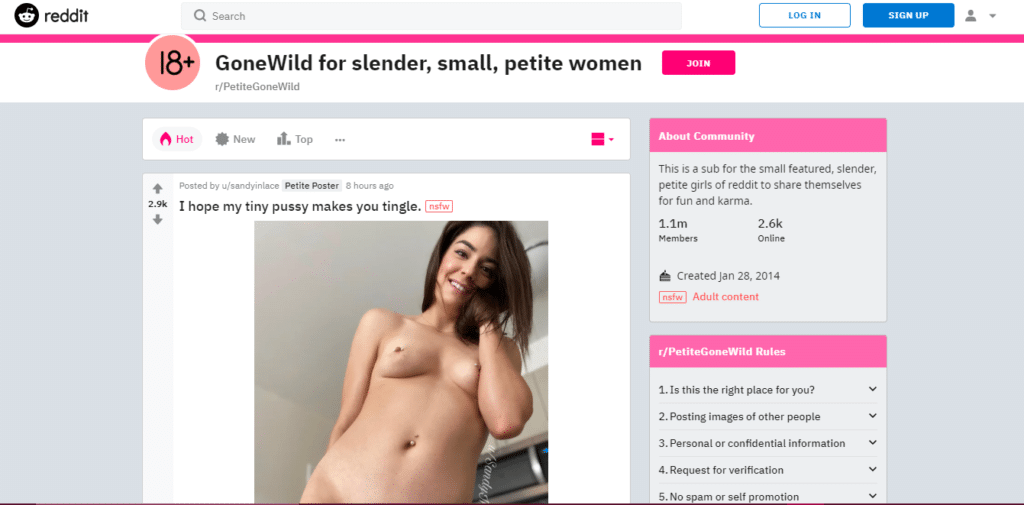 Only small girls are allowed here! This subreddit is one of the most active communities and you get to enjoy petite girls showing off their bodies for everyone to see. Even its update frequency beats other top NSFW subreddits like Hold the Moan and Cum Sluts. Although most of their content is purely images, you can still stumble upon short clips every once in a while. Pure amateur content can be enjoyed with Petite Gone Wild and nothing more pleasurable than seeing petite girls unleashing their inner sex goddesses.
PROS:
Super active community
Amateur-like contents
Lots of petite girls submit their contents
CONS:
Just a few video clips
More focused on images
Pretty restrictive rules
---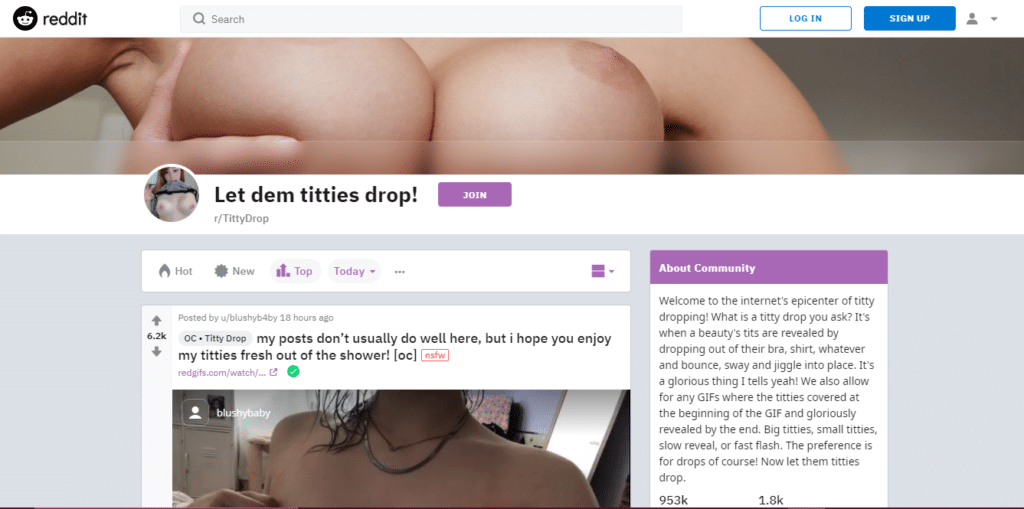 This niche used to be just some organic genre on Reddit that no one has ever heard of until everyone started to talk about it for real. With almost 600K subscribers and counting, TittyDrop is run by the same guy who is behind other popular porn sites like Juicy Asians, OtherWalter. While some of you might have no idea what "Titty Drop" is, it's actually when a girl keeps her upper clothes on and slowly lifting it, revealing enormous tits that would somehow "fall" and also bounce all over the place. It's such a sight to see that even just imagining it gives guys a hard-on.
PROS:
Unique niche
Well-moderated rules
Mostly GIF contents
CONS:
Strict rules
Lots of "thirsty" comments
Not too frequent updates
---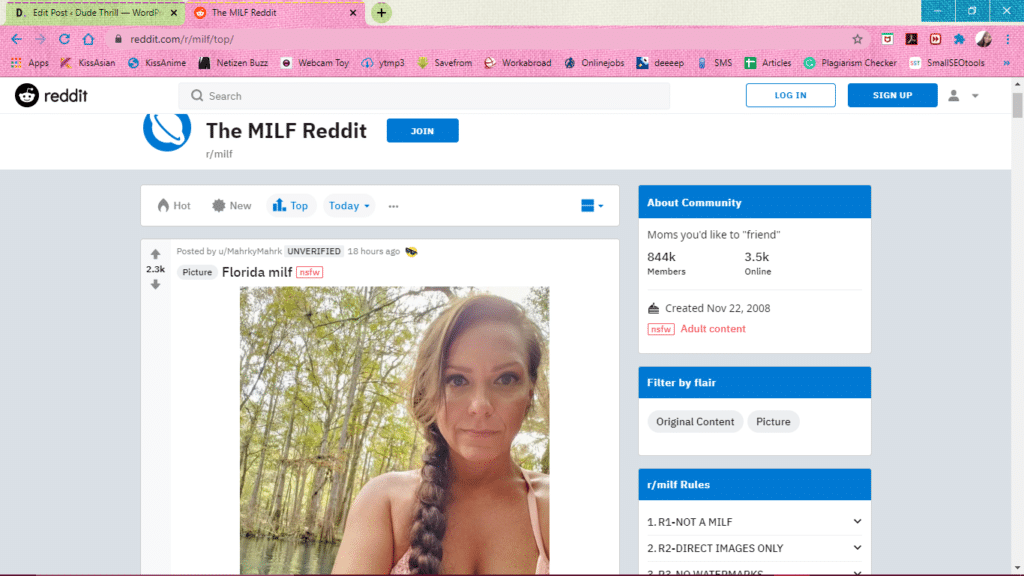 As you might have noticed on our list, it caters to younger people since it's a very famous and large niche. But what if you like it better fapping off to an older babe? If you've heard of MILF, which means "Mom I'd Like to Fuck", then you should visit this subreddit and fulfill your need for pleasure by jerking off to some older woman. There is something with older women – they seem more mature and of course, more experienced sexually. Younger men would love to drool over sexy housewives and since it's an MILF niche, most of the contents submitted are original. For someone who wants to see mature women oozing with sexiness and confidence with their fully-developed figures, then you're on the right track.
PROS:
Regular updates
Older women showing off their sexiness
Reasonable rules
CONS:
Limited video clips
Disallows reposts
---
Takeaway
What more can I say? It looks like r/gonewild is really an awesome subreddit and maybe the coolest of them all. I guess I've already said everything you need to know about it, and I'm sure I'll add up more soon since r/gonewild is far from ceasing. Kudos to its moderators; they could maintain the excellent track of r/gonewild without sabotaging its quality content. So far, there's no single pic or video I've seen that doesn't feature amateur babes and homemade production. Seriously, though? It's user-generated, so seeing a non-amateur post is probably nearly impossible. If you wish to experience what I experienced, better drop everything you do and head on to r/gonewild!
All 33 Other Sites in This Category Worth Checking Out:
Reddit's "Overwatch Porn" & Top-12 Reddit NSFW Subreddits and Reddit Porn Like r/overwatch_porn Show Me 12 Alternatives for r/overwatch_porn Hey there, fellow Overwatch enthusiasts! Have you ever been caught in the heat of an intense game just to see yourself getting a little too distracted? We've all been there! But fear not because I've got just […]