Updated on: December 4th, 2023
Reddit's Boobies
& TOP 12 NSFW Subreddits and Reddit Porn Sites Like /r/Boobies/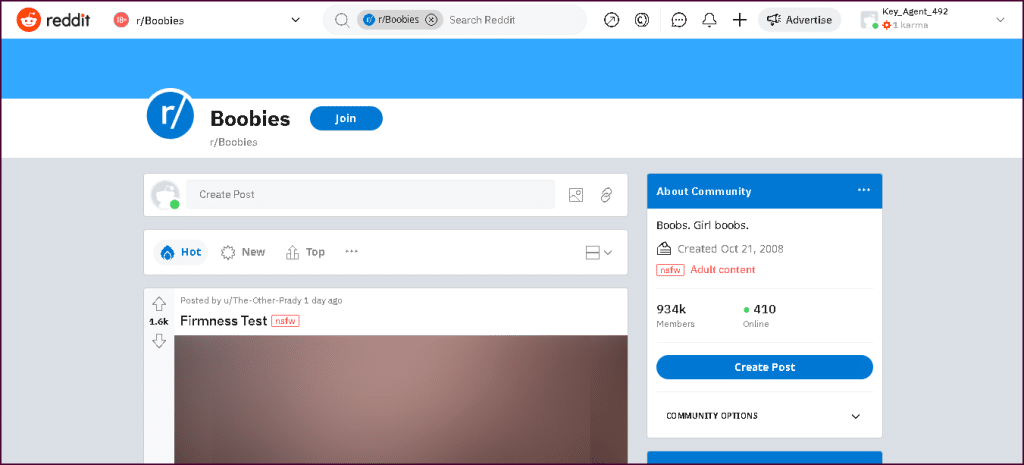 Hey there, fellow enthusiasts of the bountiful bosoms! Your pal Dudethrill is back with another exciting review to tickle your fancy. Today, we're diving into the mesmerizing realm of Reddit's Boobies — a sacred sanctuary dedicated to one of humanity's greatest obsessions: glorious boobies. Now, let me tell you why Reddit has forever held a special place in my heart regarding adult content. It's like a treasure trove of naughty delights, where the power lies in the hands of the people — the community itself. With countless users voting on their favorite steamy content, you know you're in for a real treat. And boy, am I thrilled to explore this specific corner of Reddit and spill all the juicy details, so you can decide if it's your cup of tea.
Official URL: https://www.reddit.com/r/Boobies/
Almost a Million Active Redditors Addicted to Boobs!
Alright, folks, let's crunch some numbers and get down to the nitty-gritty of Reddit's Boobies. Time for some cold, hard facts that will make your brain tingle and your heart skip a beat. Are you ready?
Cast your mind back to the ancient era of October 2008. It was a time when this glorious subreddit emerged from the depths of cyberspace like a phoenix rising from the ashes. A dedicated haven was born — a digital oasis where the allure of bountiful bosoms reigns supreme.
Now, fast forward to the present, my friends. As I utter these words, nearly 1 million individuals have pledged unwavering devotion to this titillating community. You heard it right: a massive and active collection of boobie lovers eagerly awaiting their daily dose of chesty splendor.
Regular Updates to Keep Up with Your Daily Jerk-off Sessions at Reddit's Boobies
Picture this: with a flick of the virtual wand and a click on that enchanting "sort by new" option in the header, you're transported into a world where approximately 30 shiny, brand-spankin' new submissions appear like clockwork every day. Of course, I know you might be thinking, "Hey, Dudethrill, isn't that slightly below average for a community this big?" Well, you've got a keen eye, my friend, but while Reddit offers a shitload of hardcore content, our beloved "Boobies," NSFW subreddit caters to a more specialized taste.
Well, yeah, it's specialized and unique because few sites online only dedicate their efforts to collecting boobs only. In fact, it's so few that you can only get at least 30 new posts daily. For me, that's enough content to jerk off, especially since the niche is rare. However, if those are not enough, I'm pretty sure scrolling down to the previous posts of Reddit's Boobies won't harm.
Not Everyone's Cup of Tea and Boobs Are Great!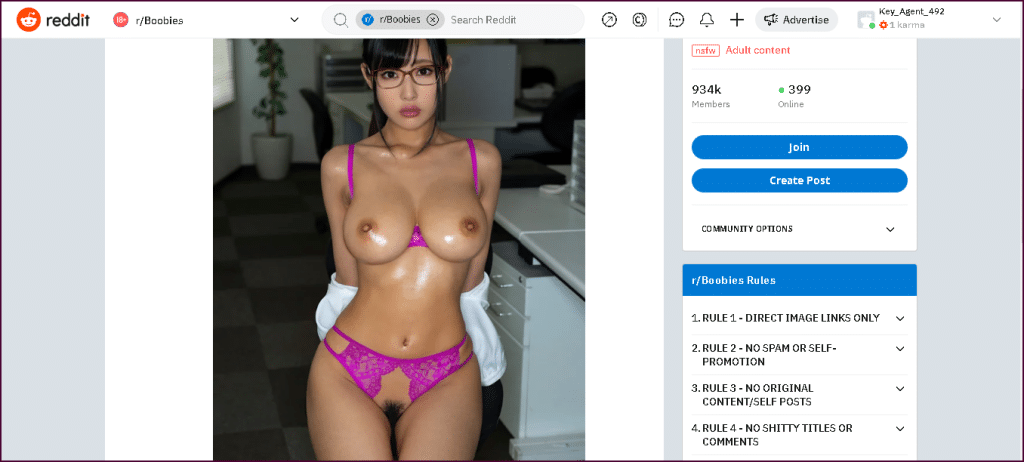 Now, I get it — some folks crave a little extra spice in their adult adventures, seeking out that extra "oomph" that makes their hearts race and their pulses quicken. But fear not, my friends, for in this wondrous haven, we embrace the sheer temptation and alluring charm of the boobies like no other!
Now, I understand that not everyone can appreciate the exquisite artistry of the boobies alone. Some folks seek a bit more intensity, a dash of exhilaration to spice things up. And that's where we come in! We're here to provide a haven where the enchantment of the bosom reigns supreme. It's a place where you can revel in these delightful treasures' seductive power and the awe-inspiring wonders they hold.
Moreover, not everyone can handle these mesmerizing mounds' sheer elegance and hypnotic allure. It takes a discerning eye, a refined taste, and a sense of appreciation for the artistry that lies within. So, my friends, if you're ready to experience a journey where the focus is squarely on the bewitching bosom, buckle up and prepare for an interview adventure! My friends, grab some popcorn, get comfy, and prepare to be mesmerized. Certainly, the journey begins now, and the boobies await.
Different Sources but Same Great Boob Content at r/Boobies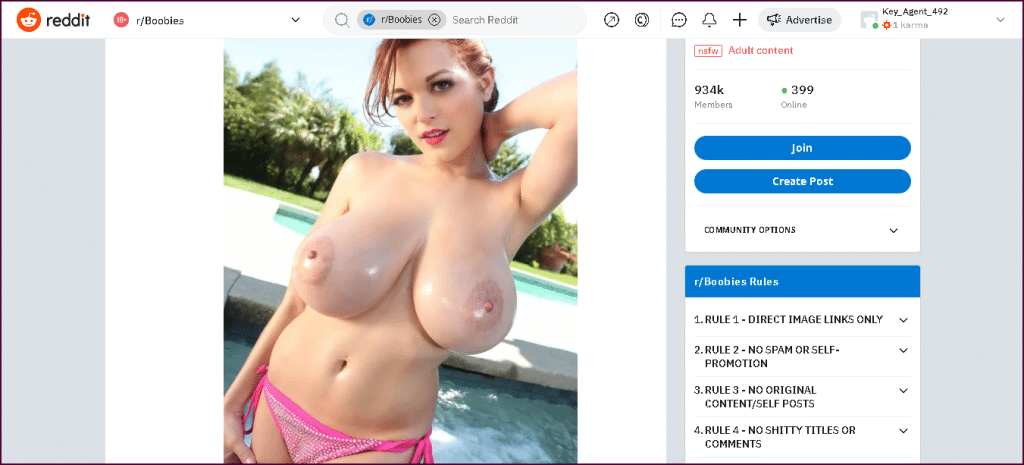 If we set our sights on the trending and popular posts and peek at the goodies released in the past month, prepare yourselves for a jaw-dropping feast of voluptuous racks that will leave you craving a hot, steamy release. Trust me; these melons are ripe and ready for some loving!
Meanwhile, here's the juicy scoop: a whopping 20% of the posts available here come in the form of fascinating clips hosted on the wild and wonderful GFYCat. We're talking about some moving pictures that will set your heart racing and your imagination running wild. As for the rest, it's a delightful blend of the good ol' Reddit and captivating camerawork of Imgur.
It seems that most of the content isn't from the very girls who grace Reddit's virtual halls. Nope, these seductive sirens are mysterious creatures, not quite active participants in the Redditverse. It's a curious twist, my friends, because, let's face it — most subreddits have at least a sprinkling of original content (OC) to spice things up. But don't worry much because the lack of OC doesn't dampen the steamy allure of these mesmerizing mammaries. Oh no, Dudethrill fans, we are here to indulge in a symphony of curves and cleavage, regardless of the source.
Who Can Resist the Urge to Jerk off To Big Boobs?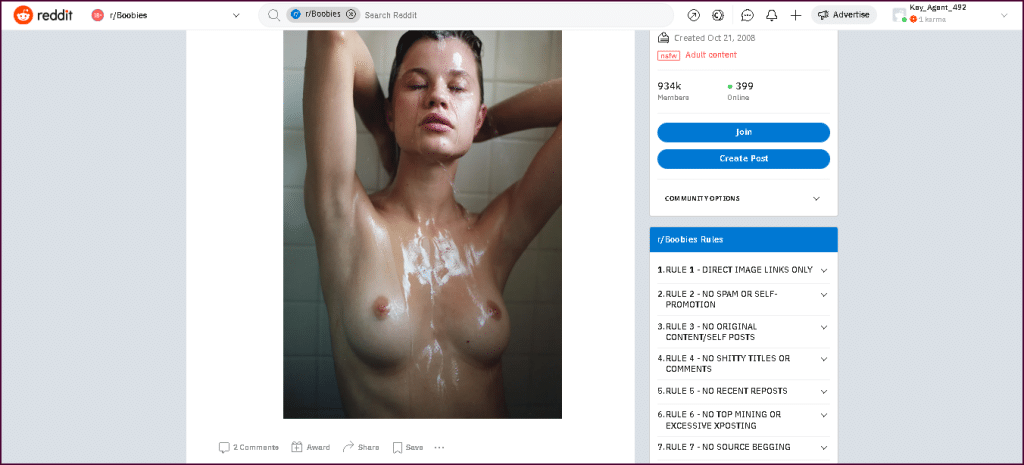 Listen up! Let me spill the beans on Reddit's Boobies — it may not be the ultimate holy grail of subreddits, but it's far from a total bust. So, if you have an insatiable desire for jaw-dropping racks that make your heart skip a beat, my friends, I highly recommend giving r/Boobies a well-deserved following. Brace yourselves for a visual feast of perfectly sculpted titties attached to a stunning array of goddesses. Oh, the marvels of a well-formed set of tits are indeed a sight to behold, wouldn't you agree?
However, let's be honest. Boobies may not claim the crown of the most groundbreaking subreddit, but it holds its own business. With each visit, you'll be treated to an eyeful of magnificent tits that will make your pulse race and your imagination soar. Also, that's reason enough for me to give it my approval. Because let's face it, who doesn't appreciate the allure of a perfect pair of boobies? They're like little works of art, sculpted by the hands of the universe itself.
The Most Powerful Addiction at r/Boobies Nobody Are Allowed To Resist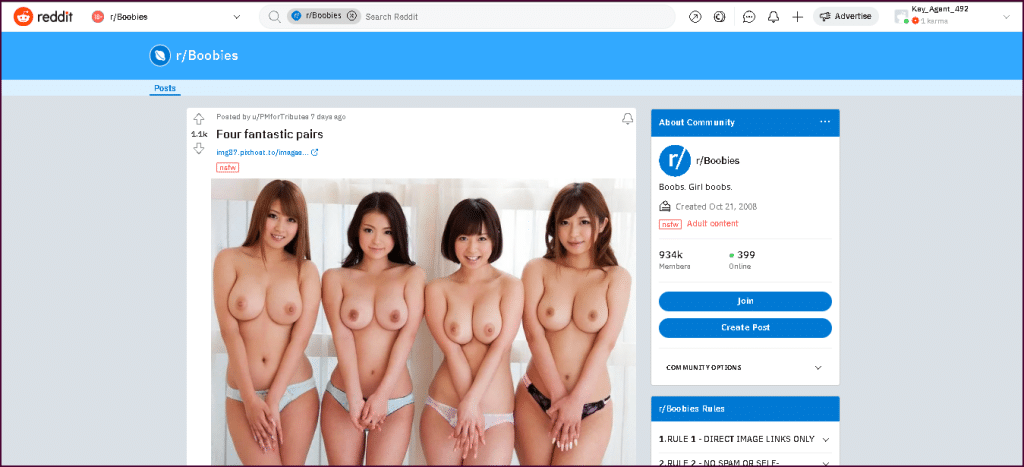 The content you'll find here is like a powerful addiction. Once you take that first peek at the mesmerizing boobs on display, there's no turning back. You'll find yourself irresistibly drawn to these heavenly assets' breathtaking allure and irresistible charm. Certainly, from the moment you step foot into this tantalizing domain, you'll be greeted by an abundance of curvy wonders that defy all expectations. Just prepare to be enthralled by an endless parade of perfectly sculpted tits, each one more captivating than the last.
However, hold your cocks, folks, because we're just starting. You'll be whisked away on a rollercoaster of emotions with every click and scroll. From the exhilaration of discovering a new favorite pair of knockers to the sheer joy of witnessing the artistry and craftsmanship behind these captivating creations, this NSFW subreddit will take you on an unforgettable journey through the realm of boobie brilliance.
Although, just a little warning, once you enter this Reddit community, you may find it difficult to tear yourself away. Indeed, the captivating power of these fantastic boobs will keep you coming back for more, craving that intoxicating blend of beauty, humor, and pure fascination.
Don't Skip the Tit Fetish at Reddit's Boobies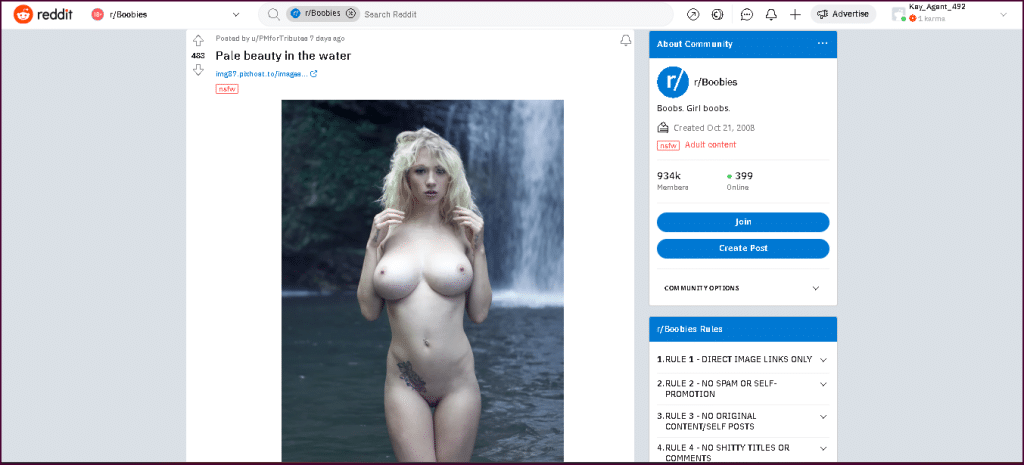 So here's the deal, my fellow porn fans: follow Reddit's Boobies and immerse yourself in a world where breathtaking curves and heavenly cleavage reign supreme. It's a testament to the undeniable power and beauty of the female form. Also, while you're at it, don't forget to check out my other hand-picked recommendations — I've curated the ultimate list of porn hotspots on Reddit, ensuring your journey through the realm of adult content is nothing short of extraordinary! Explore the depths of Reddit with my comprehensive list of top-notch porn spots.
Cheers to you, my fellow adventurers in the realm of desire, for joining me on this thrilling exploration of the wondrous world of Reddit's Boobies. May your passions be ignited and your fantasies brought to life with each tempting boob image that graces your screen. Embrace the magic of the boobies, my friends, and let them transport you to a haven where pleasure knows no bounds. Keep exploring, keep indulging, and remember — there's always more to discover on this unique Reddit journey!
Pros and Cons of r/Boobies
PROS:
Amazing tit content
Active community
No ads or spam
CONS:
Only a few original contents
Update speed is average
---
TOP 12 NSFW Subreddits and Reddit Porn Sites Similar to /r/Boobies/: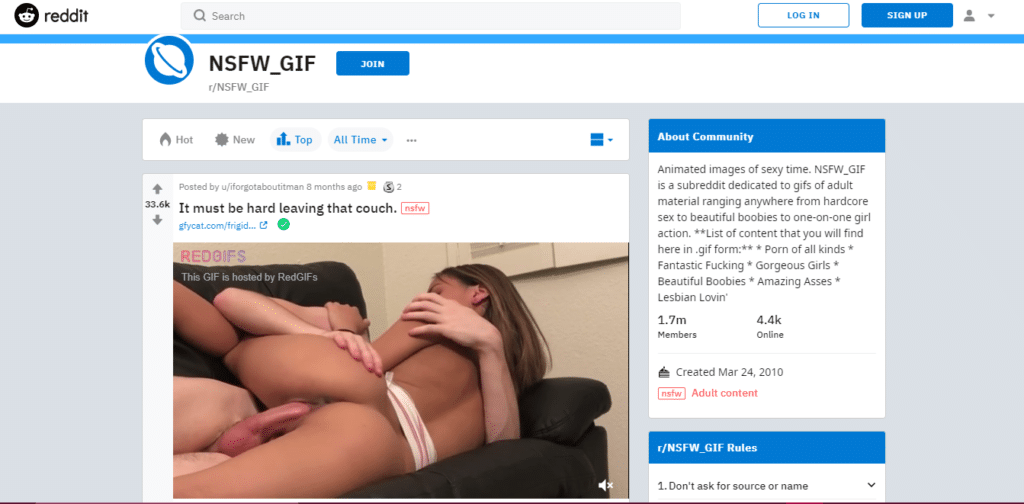 If you are one of those who have witnessed the growth of this subreddit from when it started more than 10 years ago, you would never think that a day would come where such contents would ever be available. More than 1.3 million subscribers have been enjoying NSFW GIFs from various places like Imgur and GFYCat and feed your need for anything sexually-pleasing. Both softcore and hardcore porn content are being submitted regularly; the ratio of subscribers to the submitted content is actually on the lower side.
PROS:
Softcore and hardcore porn contents
LOTS of videos
No ads
CONS:
Spam commenters
Content to subscribers' ratio is pretty low
Strict reposting policy
---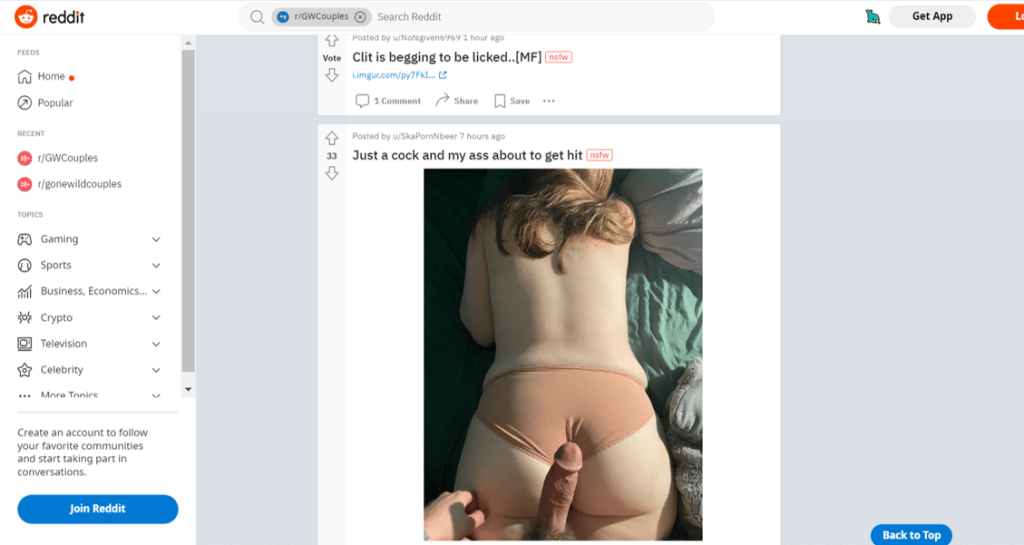 If you want some sexy booty on your screens, then obviously /r/Ass is the right place to visit. This subreddit has been around for the last 10 years and is included in the top list NSFW subreddits. It is also one of the most updated communities especially for the NSFW niche, as it has over 25 posts in just 4 hours. You could say that everyone loves some good-looking ass since everyone contributes to their part and exerts effort in keeping the subreddit running smooth.
Click here for a full review of r/Ass/.
PROS:
Great looking asses
Very active community
Frequent updates
CONS:
Very strict rules
Not much on hardcore content
---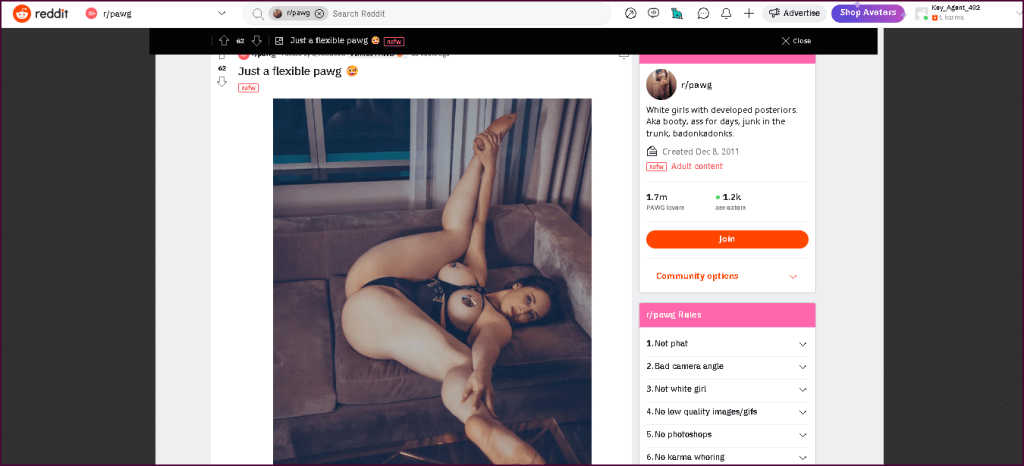 This subreddit might sound new and weird to you but it stands for Phat Ass White Girl because we all know that everyone is into huge booties. Created way back in 2012, this subreddit already has over 500K subscribers and since it is focused on a very particular niche, you get regular updates since people post here around 40 times in a day. The rules are quite simple — of course, you need to be a white chick, no self-promotion, and reposting made in the last 100 pictures, and no photo enhancements should be used.
PROS:
Hot, fat, and very jiggly asses
Very active as a community
Lots of original content
CONS:
Not allowed for other ethnicities
Quite strict rules
---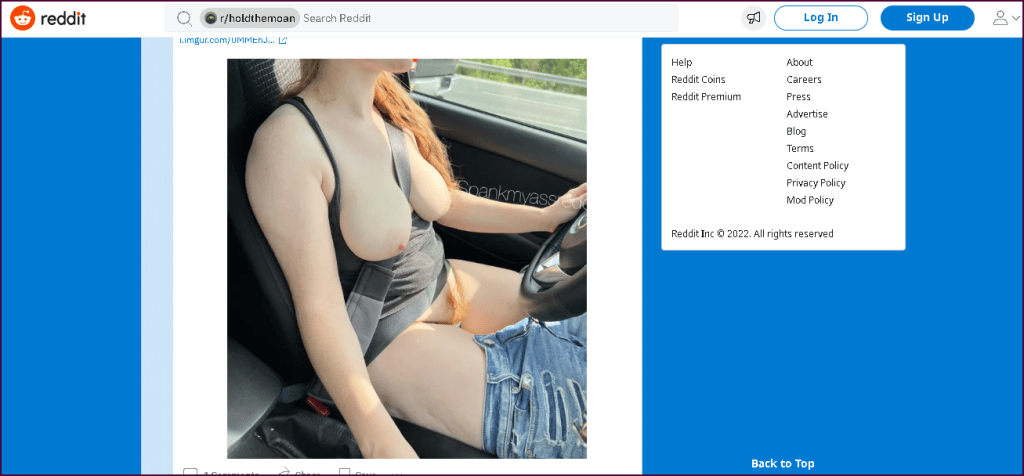 The name itself sounds intriguing and sexy, right? If you want to squeeze your hog for a bit and indulge in tempting contents, then /r/HoldTheMoan is one of the best niches to visit on Reddit. Compared to adult-centered subreddits, this one is one of the most unique in terms of contents because /r/HoldTheMoan is mainly about porn done in public and has elements of risk and thrill involved. By now you would have figured out why it's called the way it is — you get to see everyone holding their moans so people in public won't realize what's going on.
Although the subreddit has more than 900K subscribers as of writing, they don't have lots of submissions because they only have around 25 new posts in a week. And compared to other subreddits with similar niche, /r/HoldTheMoan is more focused on moving contents, aka GIFs and videos. You're in for some treat with videos and just about anything that people do in the name of some sexual thrill in public.
Click to see the full review of /r/HoldTheMoan.
PROS:
Great public porn
Good moderation
Celebrates the wild side of girls via public porn
CONS:
Slow updates
No images, only GIFs and videos
---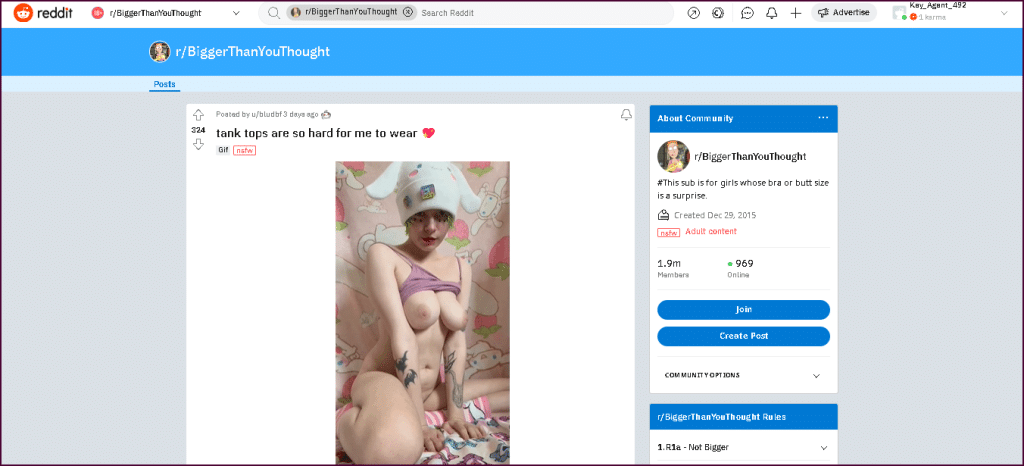 Guys would admit that one of the first few features they notice in a girl is the size of their tits. For some, we might mistake them for having just the average size but turns out they're holding on to some surprising size. This is exactly how BiggerThanYouThought works. Most of the girls looking sexy with regular-sized boobies at first glance, but wait for it — once they strip in front of you, you'll find out that they have some enormous pair of heaven in the name of tits.
Content-wise, images and videos are in 50:50 ratio so you can always have some fun in your titty adventures. User-submitted contents showcase their boobs and you could only drool and feast your eyes on them.
PROS:
Many videos available
Minimal spam
Lots of homemade porn
CONS:
Slow updates
Many strict rules
---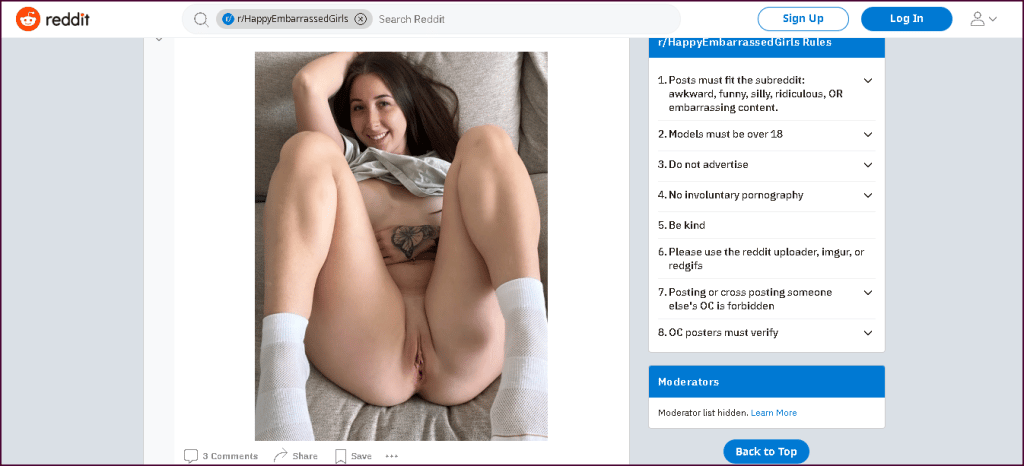 This subreddit was created over 7 years ago already and has gathered more than 550K subscribers. It's included in the top NSFW subreddit lists and doesn't disappoint in terms of their update frequency. Like the name itself, you'll get to see girls enjoying themselves and having fun while doing some nasty at the same time. Girls live up to their "happy" and "embarrassed" feeling. Although there is only limited hardcore content, this sub is still a must-visit and must-follow since you will enjoy shy chicks who are not afraid to throw away all their inhibitions for the name of pleasure.
Take a look at the full review of /r/HappyEmbarrassedGirls.
PROS:
Pretty frequent updates
Happy and embarrassed girls while being sexy
More than 550K subscribers
CONS:
Some off-niche posts
Pretty strict moderators
---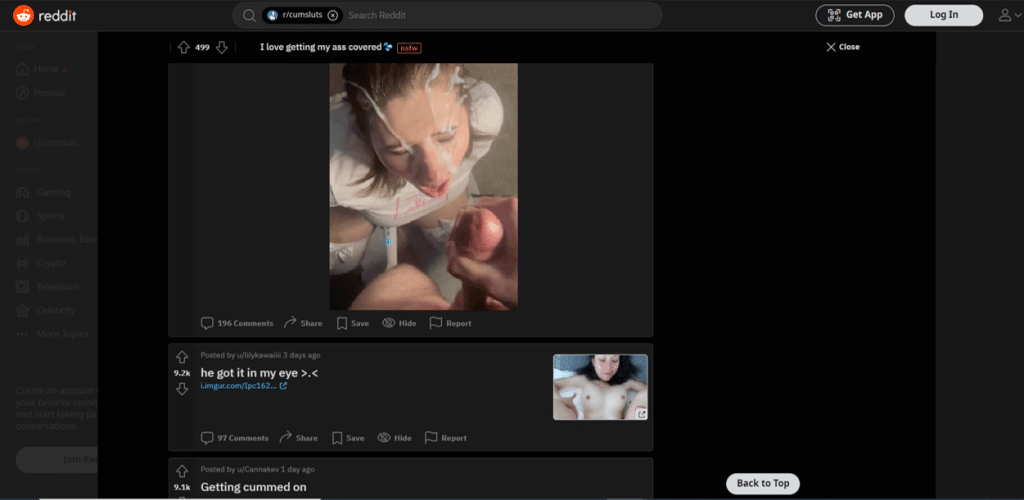 If you've ever fancied girls who can't seem to get enough of a guy's seed, then you will enjoy cumming to /r/CumSluts. You will see girls who love the feeling of cum on them and are not shy at all to show them off. Short clips of girls getting cum all over them – from their pussies, faces, or just from head to toe shots – doesn't matter where as long as they get their dose of that sticky and delicious load from guys. This subreddit focuses mainly on girls getting their cum fix and you get to see them doing anything just to be blasted with some guy's sticky cream and the best thing about this subreddit is that they accept both photos or video submissions. Content and update-wise, they get around 100 submissions in just a day so that is also a good plus for this sub.
Here's a full /r/CumSluts review.
PROS:
Frequent updates
Already established and known community
Lots of photo and video contents
CONS:
Full-length videos are limited
Usually features straight girls or boys only
Few contents featuring guys
---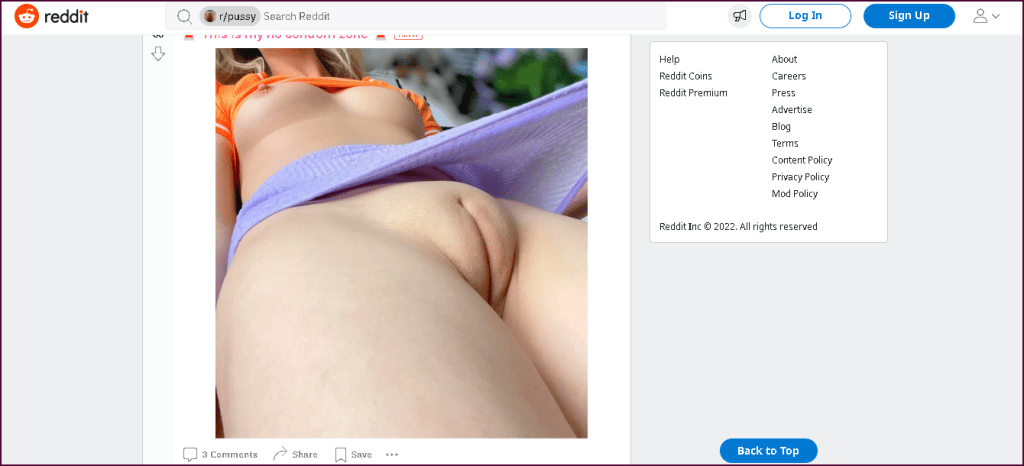 Indulge in genuine users' pussycat pictures at Reddit Pussy. It is the best source of unique material, but finding specifics within the page could be a hard battle to fight. Stop wandering the internet just to find the perfect photos and videos for your fapping session when you can experience a delightful meal at Reddit Pussy. As expected on a site like Reddit Pussy, almost all of the material is submitted by its users, and has over 2 million subscribers now and doing its best to keep attracting more.
PROS:
Simple to use
Fantastic content and lots of pussy pics
It has videos, short clips, and GIFs
Not very strict when posting
The user experience is amazing
CONS:
Some pics are not initially from the uploader
Cannot determine if pics are legit or grabbed from porn sites
---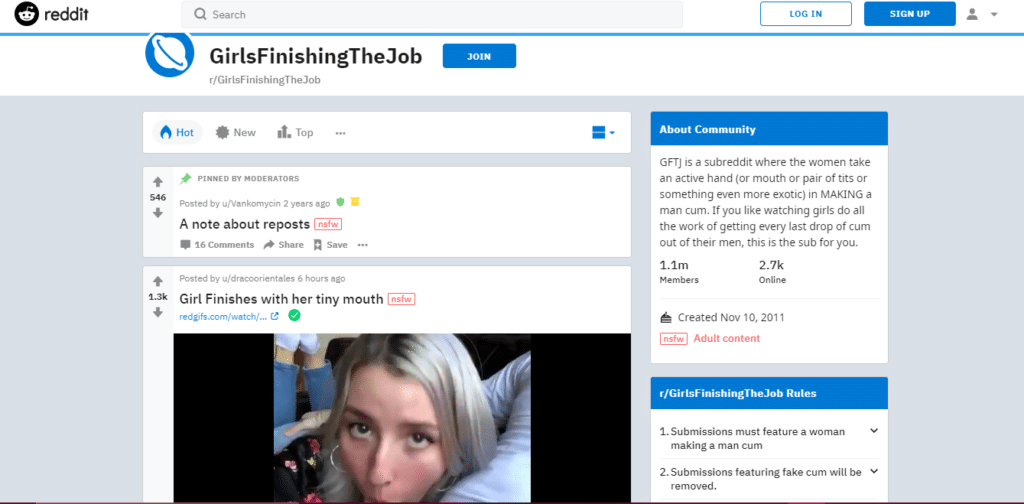 If you read the name, you'll immediately think of hot girls working hard in sex to enjoy the loads they want out of guys' penises. Of course, cumshot vids can use girls for "accessories" but sometimes we all want a little rough action and see women earning their keep to finally get a taste of their favorite cum.
There are plenty of NSFW subreddits and each of them provides different niches and categories, but /r/GirlsFinishingTheJob is by far the most unique. You don't always see girls putting much effort just to have a taste, right? Sensual videos of sexy girls getting blasted with hot and thick cum will make you shake to the core as well. They did justice to their name— girls do finish the job here.
Check out the full review of /r/GirlsFinishingTheJob.
PROS:
Unique niche
Regular updates
High-quality videos
Very little to no spam at all
Off-topic materials are banned
CONS:
Only a few full-length videos
Only GIFs, no images
---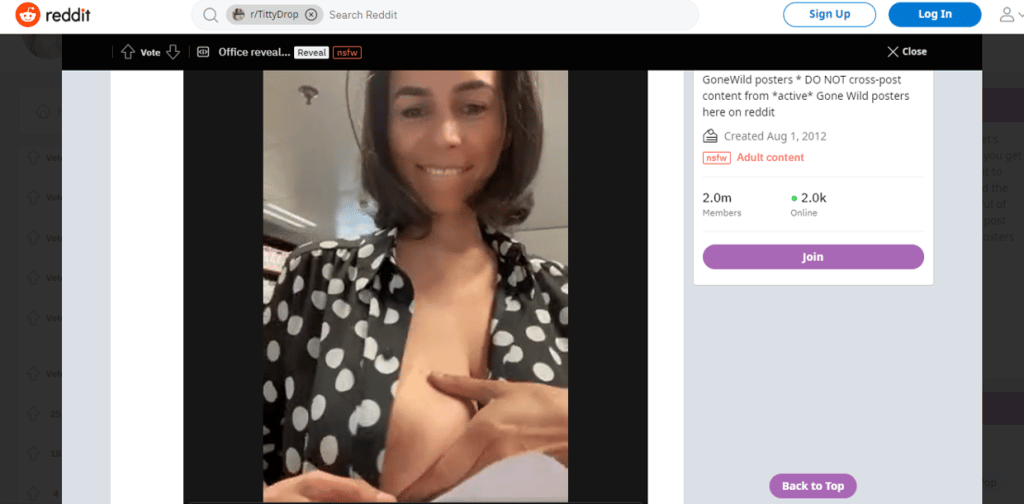 This niche used to be just some organic genre on Reddit that no one has ever heard of until everyone started to talk about it for real. With almost 600K subscribers and counting, TittyDrop is run by the same guy who is behind other popular porn sites like Juicy Asians, OtherWalter. While some of you might have no idea what "Titty Drop" is, it's actually when a girl keeps her upper clothes on and slowly lifting it, revealing enormous tits that would somehow "fall" and also bounce all over the place. It's such a sight to see that even just imagining it gives guys a hard-on.
Click to see the full /r/TittyDropreview.
PROS:
Unique niche
Well-moderated rules
Mostly GIF contents
CONS:
Strict rules
Lots of "thirsty" comments
Not too frequent updates
---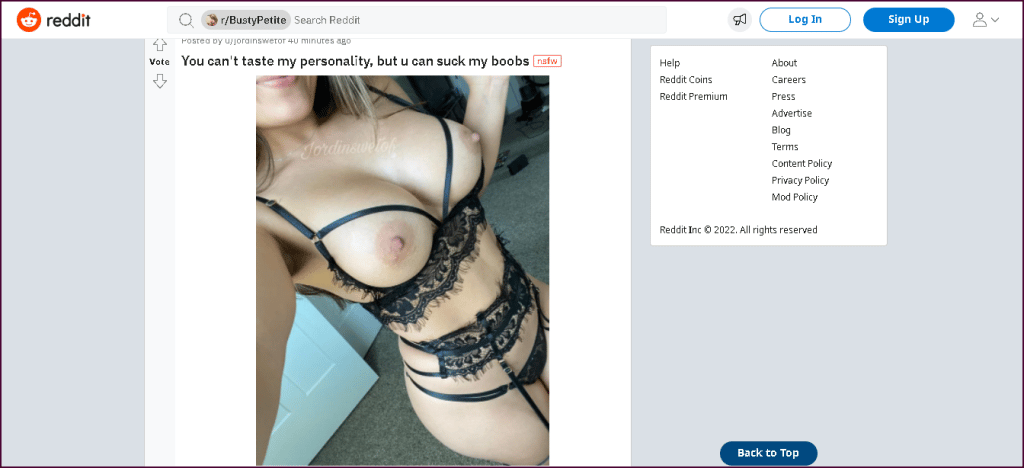 BustyPetite has been a popular NSWF Subreddit and fulfilled many men's desires for years. Currently, the site has reached a million subscribers, and I can automatically tell how many hornet guys enjoy watching videos and exploring images of busty women. Usually, BustyPetite offers lots of candid shots, considering that many of its users are amateurs. Many porn fans would love to see how these masturbating girls with huge tits and slim waists could do with their fingers.
Learn more about /r/BustyPetite/ with this full review.
PROS:
Lots of content
Sexy and amateur girls
Updates frequently
High-quality posts
It has videos and pics
CONS:
Content cannot be organized
---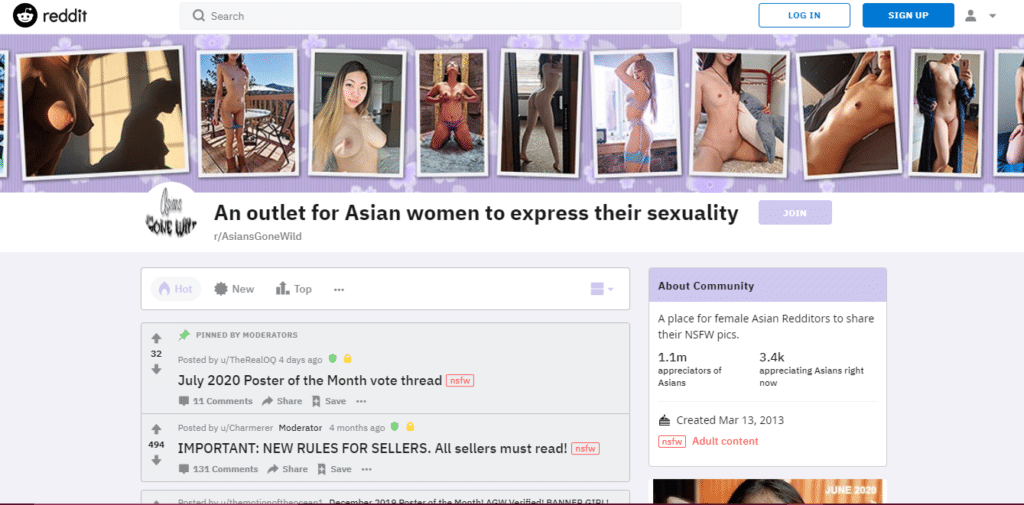 This one deserves the clout they are getting in part of the "Gone Wild" communities on Reddit. Want some Asian girls getting nasty and sexy for everyone's viewing pleasure? /r/AsiansGoneWild is the best place to see Asian girls' versions of homemade porn.
This subreddit is a growing community with a reasonable rate in terms of updates. As for the contents, you will mostly see images for the contents, but of course, there are some videos for pleasure. Pink-haired Korean girls and their topless selfies, delicious-looking Asian pussies, and Asian girls' little holes revealing their juicy grools.
PROS:
Mostly original content
Very active community
Not too strict with rules
CONS:
More on images
Fewer hardcore contents
More on body reveals, less action
---
Bottomline
And there you have it. As we bid farewell to our journey through the captivating world of Reddit's Boobies, let me leave you with some parting words. Now, let's be real, folks. Boobies may not be the crème de la crème of subreddits, but it's far from disappointing. Indeed, that's enough reason for me to give it my stamp of approval. As you explore further, my other recommendations are ready to enthrall you with their unique delights. So, dip yourself in the wonderful world of Reddit's Boobies, and let these divine treasures sweep you off your feet.
All 33 Other Sites in This Category Worth Checking Out:
Reddit's "Overwatch Porn" & Top-12 Reddit NSFW Subreddits and Reddit Porn Like r/overwatch_porn Show Me 12 Alternatives for r/overwatch_porn Hey there, fellow Overwatch enthusiasts! Have you ever been caught in the heat of an intense game just to see yourself getting a little too distracted? We've all been there! But fear not because I've got just […]