Updated on: December 9th, 2023
Give Me Pink
& 12 Top Notch Premium Lesbian Porn Sites Like GiveMePink.com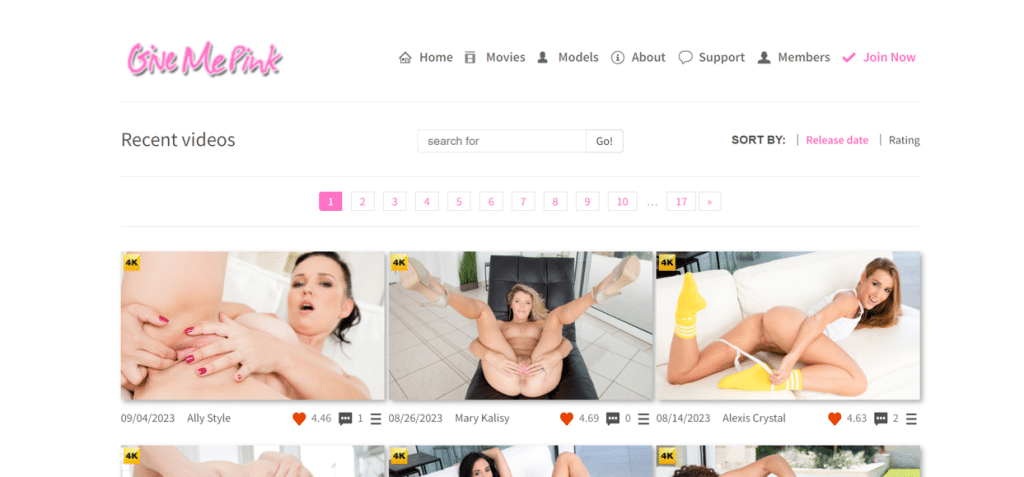 Shall I grace your dick with a hefty of women masturbating? Give Me Pink! You heard your perverted thoughts, right! Give Me Pink is a fantastic page to uncover how these babes love self-stimulating and sharing their experiences. This premium page groomed every inspired dick to jerk. Not just that, it became a brewing station for lesbian sex fans who wished to see ladies getting intense pleasure. Hence, I shall include Give Me Pink in my extensive roster of lesbian pages, which you may visit anytime. I believe you have your set of favorites and premium investments.
Official URL: https://www.givemepink.com/
Nevertheless, going through options is a good deal. Give Me Pink tries to win you with its clean ensemble of hotties. The name itself gives off a feminine vibe by linking pink with women. Although colors should not be the basis for gender preferences anymore, we cannot argue how Give Me Pink suits the entirety of the arena. I think the site creators are referring to the pinkish meat exposed on the main page. Damn, those wet pussies are calling gents, lesbians, and other addicts to partake in. I usually call this assortment a limitless festivity. It is my honor to give my naughty cents. Here we cum, my friend!
A Hardcore Sex Fan? Give Me Pink Sends You None!
At this early point of the review, I must tell you straight ahead the truth about Give Me Pink. Does it sound a little thrilling? The absence of dick penetration, anal sex, and more somehow gives Give Me Pink a chill softcore assortment. If intense BDSM, fucking, and licking is your fetish, I am afraid you would not like to experience Give Me Pink's savory delights. The domain focuses on babes' intimate activities while they are alone in their homes or whenever they feel extra kinky, and no boyfriends are around. There are times when I get extra curious about these activities; hence, I always drop by to check new items.
Good enough, Give Me Pink offers an orgasmic balance of dirty and clean ambiance. The site is straightforward with its purpose. Hence, you must set your mind the earliest possible, my friend. Nicely, Give Me Pink comes with free samples to aid your decision-making. The main page may directly erect you with the number of babes with open legs. Damn, everyone is fingering and doing their thing. I can sense by now my lesbian friends' satiation. Give Me Pink is fit for anyone who enjoys solo performances. It's a decent break from all the filthy and intense fuck sessions.
Give Me Pink and Sapphic Erotica are Sex Sibs!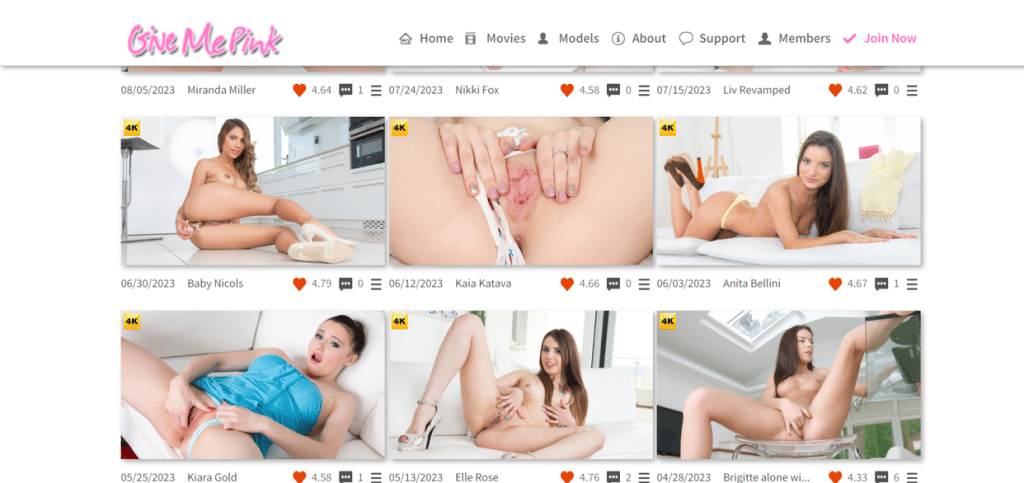 If you have read my previous reviews about lesbian sites, you will notice Sapphic Erotica on the list. The said platform gave me a quality impression, and I loved how it reported and showcased various lesbian pursuits with a titular name inspired by the Greek word Sappho. He is a poet from Lesbos, where lesbians are believed to have originated. It is a surprise to acknowledge that these two domains came from one lesbian family. Now, it made sense why there is a semblance between the two sites. With this, you can guarantee that a membership plan from each domain will give access to the other one. Sounds fun!
The design might be too plain for those who salivate at intricate pages and complicated layouts. I wished there would be a little sighting of sex montages or highlighted features, but Give Me Pink does not have one. It directly presents three thumbnails in a row. The Give Me Pink stands in pink letters with zero traces of unique design. I wish the platform could have navigated additional attributes to make the arena somewhat jaw-dropping. Perhaps the site makers wanted its viewers to focus solely on the masturbatory treats available.
Too Light, Fans are Requesting a Dark Mode Option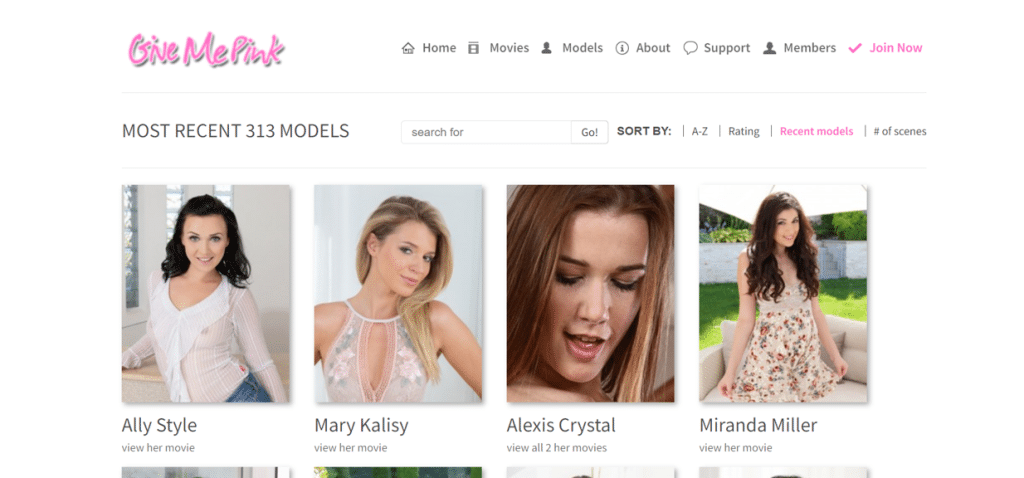 A white overall backdrop can be a feisty choice, but there are moments when fappers wish for little toned-down colors. The bright home page also covers the sections arranged at the headers. Typical porn site segments like Home, Models, Movies, About, Support, Members, and Join Now buttons are available. A cute-sized search engine is situated at the center, while filters, including release dates and ratings, are applicable in the right corner. Most pages include pagination and designate it at the bottom of every page. However, it is pretty different for Give Me Pink.
The site puts sheet numbers at the top for better access. I find it more accessible and handier. The page numbers also give me a gauge of the total collection of porn treats. I am confident the videos are about hundreds, and you would get to know each babe's delightful jerking routine. Launched its first fapping video in 2004, Give Me Pink radiates a hefty assortment of interactive features. Each thumbnail set comments, likes, upload dates, pornstars, and more. There is also a gallery present that helps fans download their favorite porn images.
HD Films and Regular Library Updates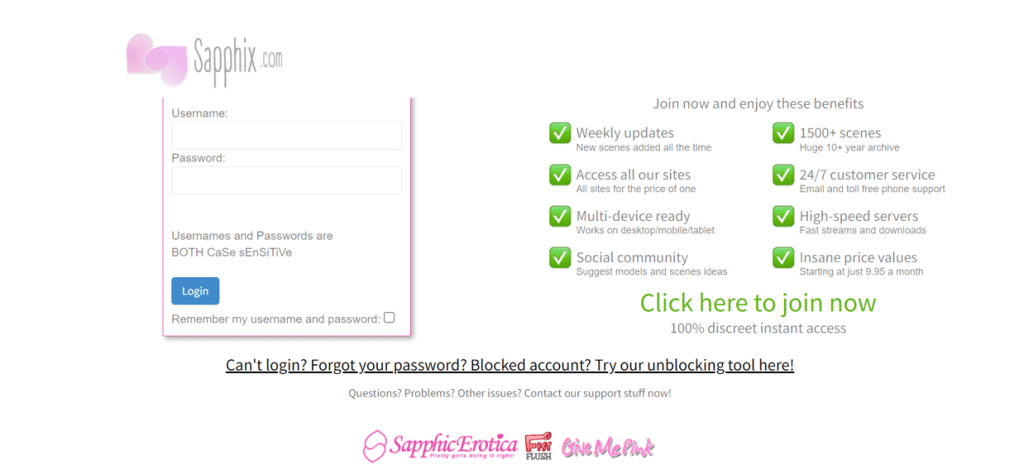 I lost count, but I bet Give Me Pink has over five hundred juicy items in its repository. This count does not include the photos and pornstars that provide pure entertainment. HD-tagged items surround the page, crafting crystal-clear captures of sexy ladies playing with their sheaths. All the clips are orchestrated in a premium quality with fantastic lighting and story plots. You can also see various settings where babes get down on kitchen floors and start rubbing her wet pussy. There are also conventional masturbations in bedrooms, comfort zones, and living rooms.
Moreover, Give Me Pink also follows a weekly schedule of new uploads. Significantly, the page hasn't missed the promise yet. If this quality performance continues, Give Me Pink will have close to a thousand picks soon. The excellent range of materials also covers a few categories that you may hop at. I was surprised to see squirting, 69, kissing, creampie, and pussy licking. Sex toys are always present with varied sizes and colored dildos. Fans may also select which location they prefer to see these babes touching their clit and shouting or moaning in satiation.
By the way, Give Me Pink's sound quality is also exquisite. You can appreciate the delicate voices and the babes' expressions. When it comes to location, Give Me Pink understands the importance of letting the audiences select between outdoor, beach, office, library, grocery, etc. Nicely, the filters are working efficiently. I am also pleased to see sorting strategies for the models. You can address your hair fetish by selecting your favorite hues. This includes eye color, skin tone, face type, and body figure. Give Me Pink also contains options for your craved pussy, whether shaved or hairy.
Hundreds of Pornstars Masturbating! How to Choose?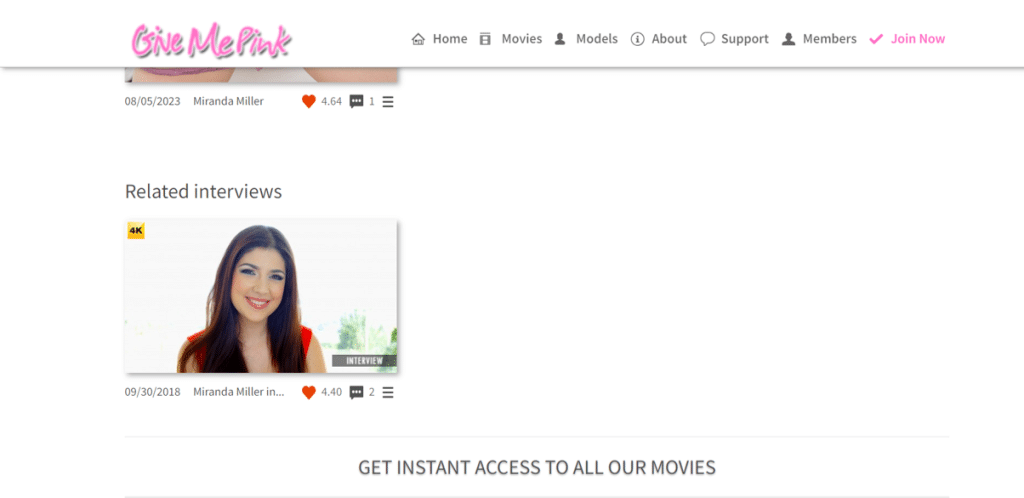 Give Me Pink exhibits 313 models in its gallery. The extensive list may overwhelm you, but you can use this luxury to your advantage, pal. This number requires efficient sorting tools, which deliver plus points for Give Me Pink. The filters I mentioned earlier allow fans to navigate these vast options of sexy ladies. However, if you are too lazy to pick and uncover the long list, I would understand if you find Give Me Pink a tedious task. One thing is sure about Give Me Pink is its amateur-filled erotica performers. Most of the babes I saw are exclusive to the site and its sister platforms like Sapphic Erotica.
Furthermore, Give Me Pink highlights the newly added babes. You can launch the A-Z listings or grab the hottest pornstar with the highest rating. Fans may also check the most significant number of starred masturbation videos. Sadly, most of these sexy models only have one film contribution to the site. More so, Give Me Pink introduces the ladies with a few bio information. I was expecting a full blast of biography, but the site only provides hair color, breast size, race, country, and pubic hair. The familiar faces lured me, so I streamed happily. I must say, the films are quite remarkable, dude!
Are You Ready to Reap the Benefits Once You Secure Membership?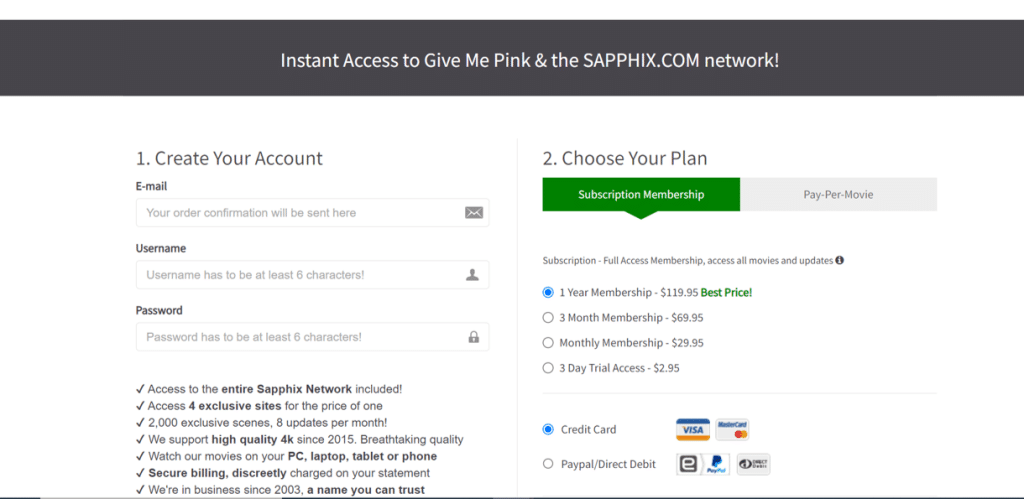 Give Me Pink must deliver enough benefits with its not-so-cheap membership plans. It goes with the typical one-month subscription fee of $29.95. Good thing you can select the three-day trial period for almost three bucks. As usual, the best deals always come from extensive plans up to a full year. The site may be too plain for these unconservative rates, but Give Me Pink is confident with the features you will grab, including the limitless access to Sapphic Erotica. Not just that, the page promises four other bonus pages for one membership. All these are applicable once you pay via credit, debit, and PayPal.
The Pros and Cons of GiveMePink.com
PROS:
Solo masturbation videos
Sexy performers
Exclusive content
Bonus sites
Regular additions
Trial period
CONS:
Solo items
Too plain page
Too bright colors
---
Top 12 Top Notch Premium Lesbian Porn Sites Similar to GiveMePink.com: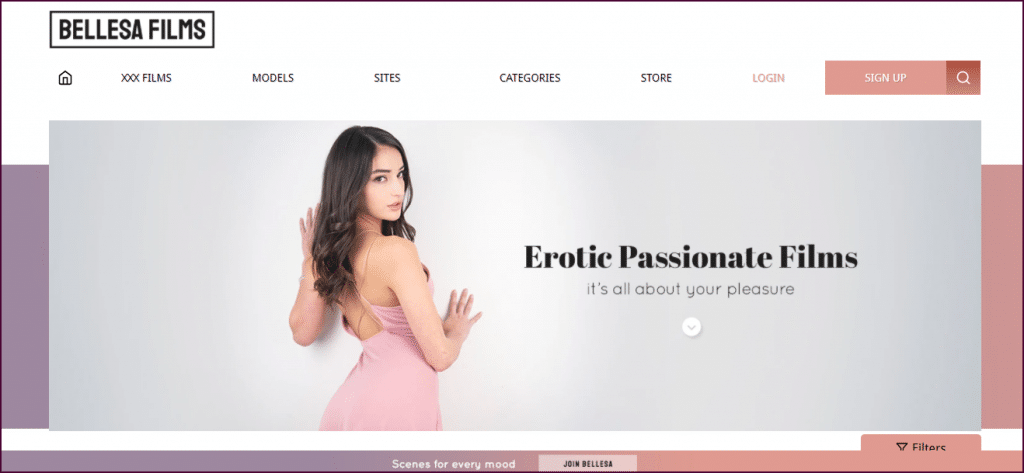 Bellesa Porn is a must-visit porn website today. They produce porn videos made for women's pleasure. Also, the themes contain female performers doing fun to themselves rather than being an object of pleasure. Indeed, there is an extensive presentation of equality, a critical component of feminist porn.
PROS:
Simple design, yet classy
Easy to browse and friendly to the user
The community promotes a positive environment
Produce real sex
Stars have popular names in the industry
CONS:
Porn videos intended for women's liking
---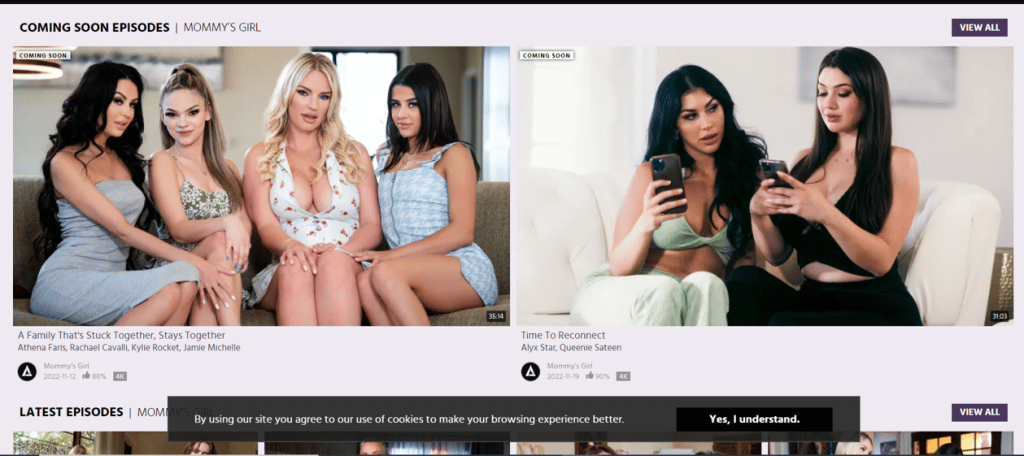 Mommys Girl got a charming lesbian porn concept. With highly stimulating videos, the page delectably incorporated twists in every storyline. You can see moms and MILF characters in the abode. Not just that, the palatable kissing, pussy eating, squirting, and more made Mommys Girl a great addition. You can also scream in excitement as you fully uncover Mommys Girl and its various bonus sites in one orgasmic place. With that, you are cordially invited to taste a new lesbian porn favorite.
Grab a quick bite with this Mommys Girl review.
PROS:
High definition films
Catches the attention of lesbian porn enthusiasts
Clean and organized site
Talented and tasty porn performers
Within-reach pricing rates
Handy site features
Bonus perks available
Exclusive themes and concepts
CONS:
No advanced search function
Mostly softcore
---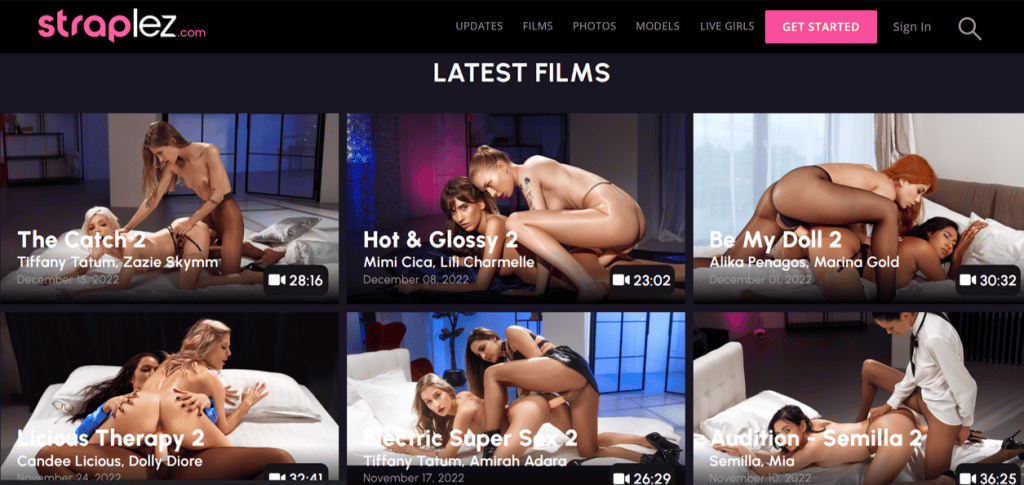 Strap Lez carries the banner of strap-on sex and lesbian erotica cuisine. From here, you can suffice your need for a girl to girl sex with its collectible pieces of strap-on dildo adventures. Strap Lez is specific; thus, you will no longer run in bushes to comprehend the service. Patrons shall enjoy feminine discoveries in more straightforward means like 1, 2, and 3.
One can definitely tell a site's success via its online traffic. Fortunately, Strap Lez is one of those venues that showcases one of the best performances when it comes to statistics. Various information shows that Strap Lez isn't new in the business but has made a massive wave in the Internet only at the onset of 2022.
Full review of Strap Lez here.
PROS:
Classy and Aesthetic Site
Hundreds of Lesbian videos
Strap-on sex cuisine
High-quality films
Top images
Salivating plots
Some free previews
CONS:
High price
Few collections
---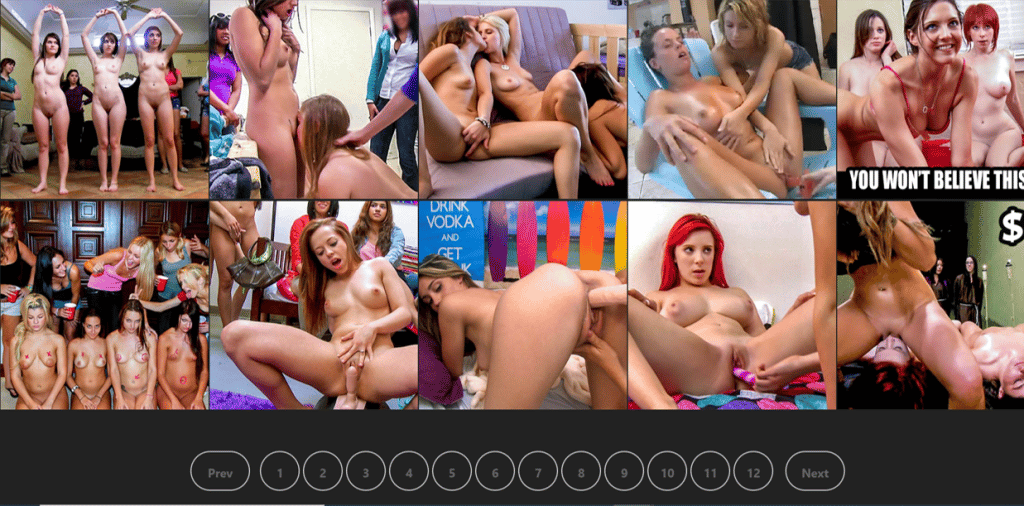 Haze Her tried to be creative on its site name with a moon background. I must say, the site has perfected the girl-to-girl scenarios. Lesbian encounters are jerk-worthy, especially the POV shots. There are many featured activities on the domain, most significantly, group participation and challenges. Certainly, the site did a great job of making the activities feel natural and authentic. With this, you can guarantee that you will see a pile of beauties loving the idea of banging and pleasuring each other.
Read this full Haze Her review.
PROS:
Sorority-themed porn scenes
Group and girl-to-girl sex
High-quality perversion
Exclusive materials
Clean domain
CONS:
I haven't seen download options
Needs to pay
Few tools
---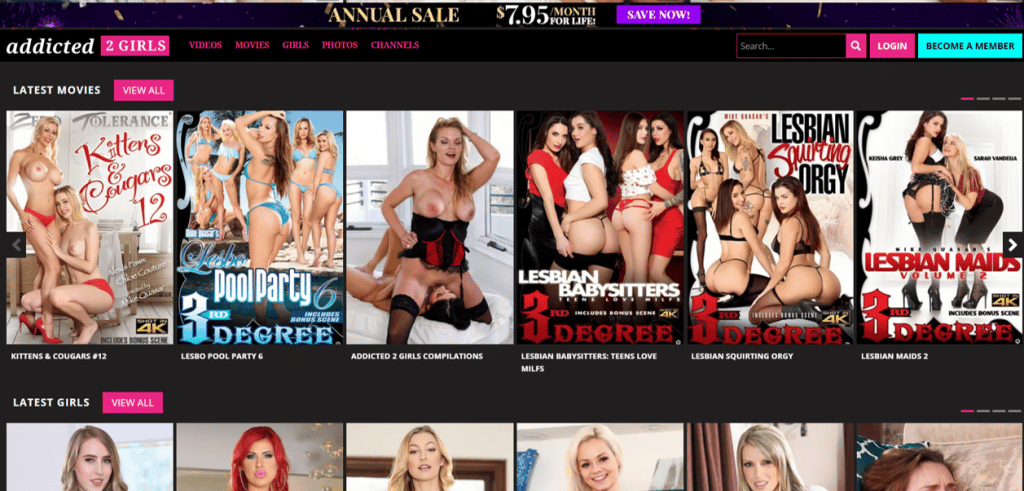 Addicted 2 Girls crafted a place filled with lesbian erotica scenes. The porn makers know our fervent obsession with hot sluts that they collate them in an explosively hot page. Addicted 2 Girls' premium production brought enticing dick reactions and a solid fan base. Thus, the community is rising, with supporters enjoying the materials for a cheap subscription plan.
PROS:
Weekly library updates
Premium lesbian porn
Undeniably hot performers
Excellent lesbian collection
Cheap and affordable subscription plans
Full-length films
High-quality and well-produced videos
CONS:
Less than a thousand selection
No freebies
---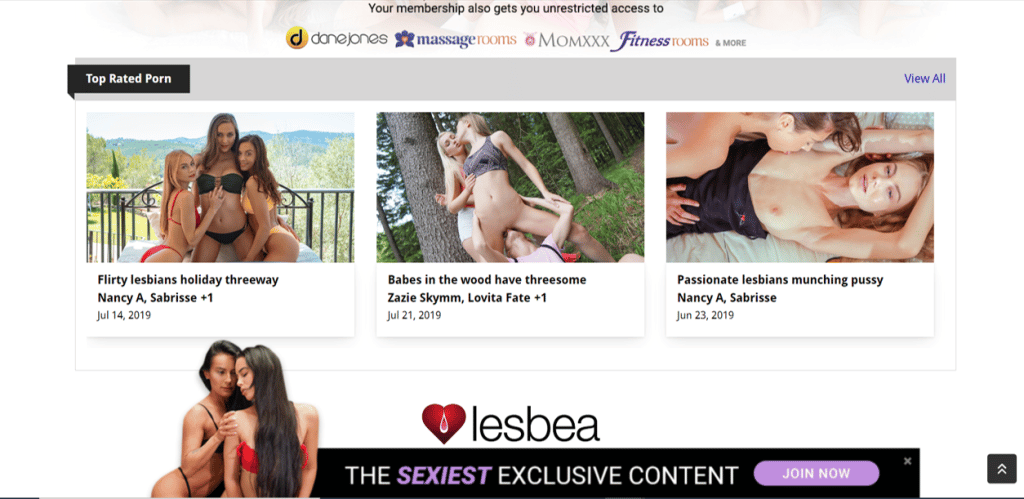 Lesbea is known to be one of the finest porn producers in the Sexy Hub's group of seductive erotica venues. If you haven't yet visited one of these network's domains, you made the right choice in commencing it with Lesbea.com. Just a few backgrounds about Sexy Hub, this page started its quest in the industry in 2014. Its year of inception suggests its status in the business. Sexy Hub may not be as extensive as most big porn names in the business, but it has been wildly recognized.
Lesbian porn evolved and continuously prospered over the years. With this, sites providing this niche thrived in the industry. Hence, Lesbea.com has made an exceptional contribution to the erotica business. The page has a captivating group of women ready to give you the hottest pussy eating and licking experience. All your lesbian fantasies are addressed. Not just that, you can have bonus sites to savor once you enroll in the Lesbea community.
PROS:
Scheduled uploads
Consistent fresh concepts and materials
Hottest females and lesbian porn performers
Unlimited streaming
Sort the contents with ease
Exquisite players
High Definition Flicks
Access to Sexy Hub's Network
CONS:
Pay to fap
No free previews
Few segments
---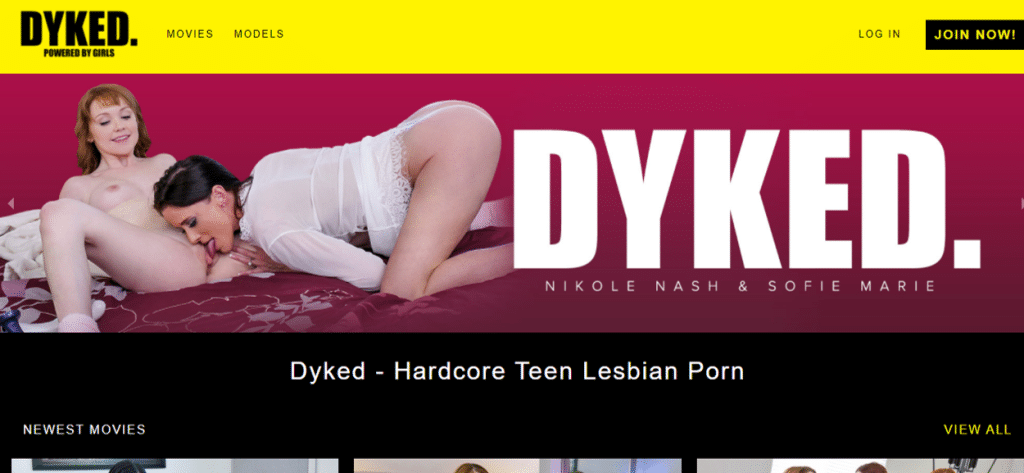 Girl power is explosive with Dyked.com's collection of lesbian sex and girl-to-girl escapades. The site delighted various avid fans of mouthwatering horny lesbian babes. These females love to explore each other and unveil the treasures of womanhood. Not just that, they are willing to be devoured, fingered, stimulated, and be passionately held. Oh, hardcore and intense scenes are available at Dyked too.
PROS:
High-resolution materials
Access to TeamSkeet sites
Good quality downloads
Hot lesbian babes
Diverse collection
A clean and straightforward site
CONS:
No categories and other site features
No model information
Need to pay
---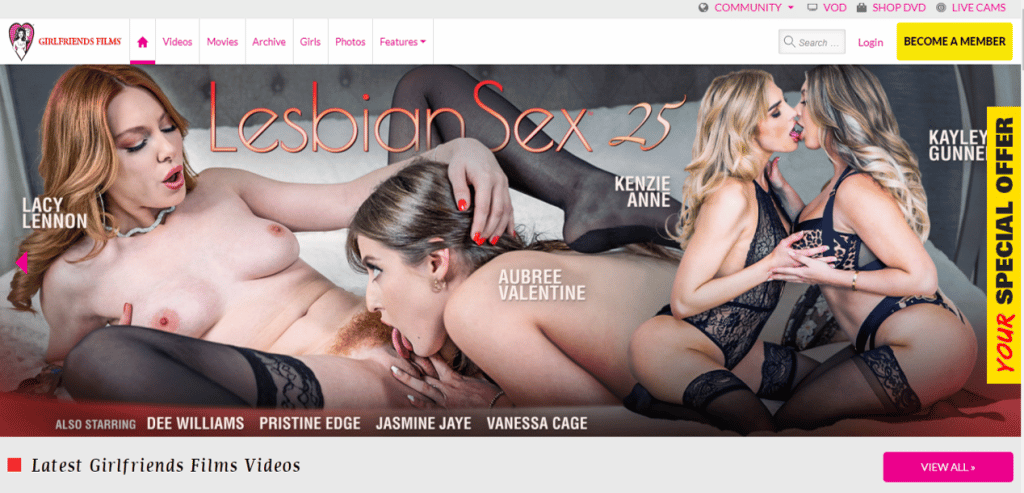 Fill your nights with lesbian cuisine here at Girlfriendsfilms.com. People are cumming in as they drool around freshly baked goodies of lesbian erotica. Girlfriends Films talks about the hottest perks from stunning ladies willing to eat pussies. It may sound cringy to some, but those happily addicted to lesbian porn will run miles just to keep in touch with premium materials. Hence, here at Girlfriends Films, you do not have to source them from afar.
Here's the full review of Girlfriends Films.
PROS:
Premium lesbian content
High caliber stars and production
Clean domain
Friendly navigation system
Cheap and affordable membership
On-point functions
Full-length pornography
CONS:
No dark mode
Less information about the models
---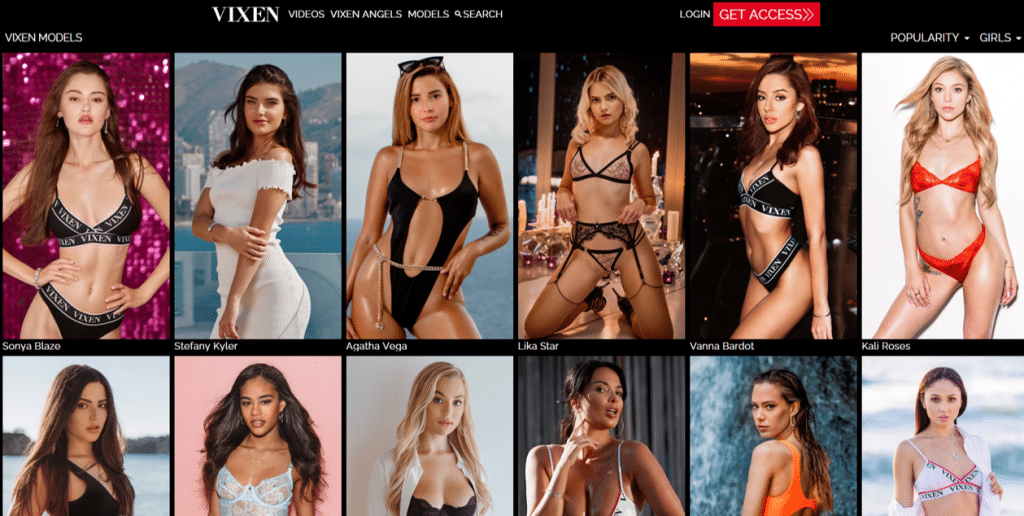 With every video beautifully shot in 4K quality, Vixen lets you enjoy video in Ultra HD scenes with all the romanticism and super steamy sex. Gorgeous porn stars grace their videos in hot sex or self-pleasure and you can choose from their collection of contents that will surely satisfy you. Although the site is fairly new and is still yet to be discovered by most porn fans, Vixen has been solidifying its status with a steady flow of updates that are all exclusive.
Read our full review of Vixen.
PROS:
Exclusive content
Regular updates
Vixen Angle photoshoots and BTS
CONS:
Only a few numbers of videos and models
Pre-checked cross-sells
---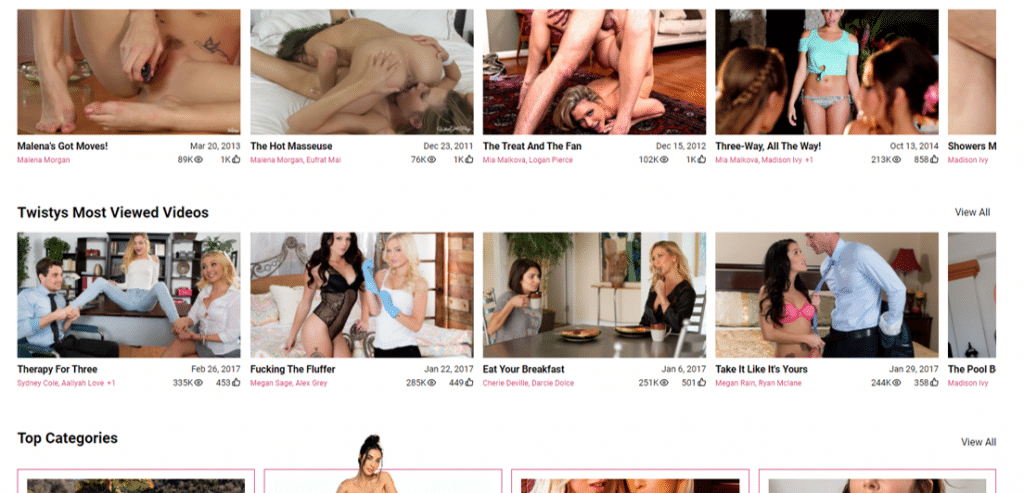 Another best premium porn website today is Twistys. For many years, the website created a respected name in the porn industry. However, over the years, Twistys has taken its contents to a whole new level. From sweet naked girls to hardcore videos, the contents here are different and plenty. Also, if you want to see the hottest and sexiest chicks on the planet, just head over to Twistys and satisfy with its sexy contents.
Click here for Twistys full review.
PROS:
Established website and credible name
Plenty of models are available
Contents like videos are in HD quality
CONS:
Limited trial period
No advanced searching
---

Girl Girl speaks for itself, and there is no penis insight on this domain. The site showcases the steamiest ladies with good physiques and horny personalities. They also love exploring each other's sexuality and enjoy their BFF's company in bed. Undoubtedly, lesbian sex fans are tempted to experience GirlGirl because of its roster of hot porn stars and quality porn films.
PROS:
Exclusive lesbian sex materials
Full-length films
Professional and quality films
Great plots and storylines
Famous porn superstars
Smooth interface
Clean and organized website
CONS:
Small library
No category section
---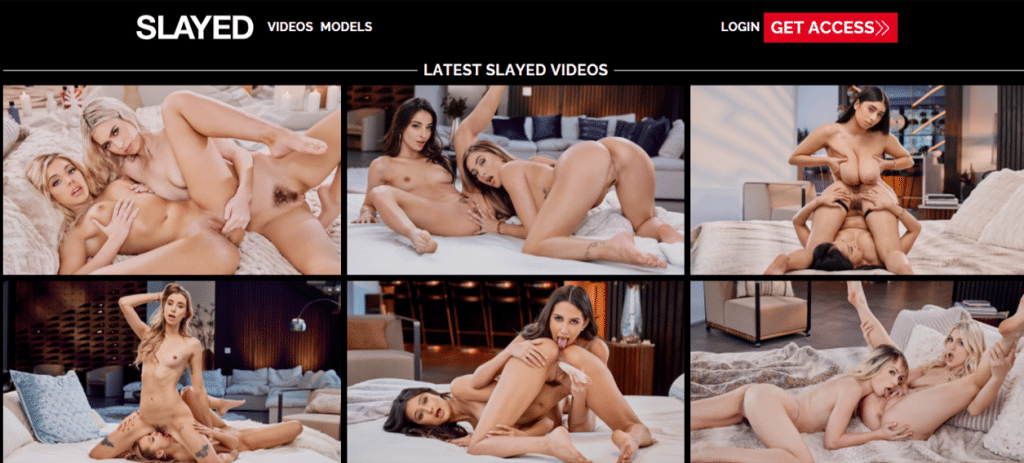 Girl-to-girl interactions never felt this amazing with Slayed.com. The site has one of the most remarkable features in the porn industry. Hence, this premium site has touched various porn lovers' lives in less than a year of inception. Since its launching in 2021, Slayed continuously received good remarks from avid pornographers. The clean and crisp site made them one of the new platforms with high visits.
PROS:
Clean premium site
High-quality materials
Steamy porn performers
Great production
Awesome design and layout
CONS:
Small collection
No search engine
Few model information
---
Conclusion
Add more ladies to your list of horny hotties via Give Me Pink. This site is part of the lesbian domain called Sapphic Erotica. Give Me Pink houses mind-blowing items of babes fingering and self-stimulating. Each scene has high-quality resolution and signature jerking themes that would get you hooked. These babes are happy with pleasuring themselves that they don't need a man to wet their pussies. A simple layout does not harm, but some may find the bright-colored home page boring. Nevertheless, 313 models will overwhelm you. Try to get to know them one by one, pal.
All 19 Other Sites in This Category Worth Checking Out:
A Girl Knows & 12 Best Premium Lesbian Porn Sites Like AGirlKnows.com Show Me 12 Alternatives for AGirlKnows.com Girl power is absolutely unstoppable, and I would never disagree. A man like me appreciates all the stuff women can do. I could not imagine a world without their scent, taste, and presence. Do you agree with me, […]