Updated on: December 7th, 2023
CLIQ Fans
& 12 Best Premium OnlyFans Sites Like Cliqfans.com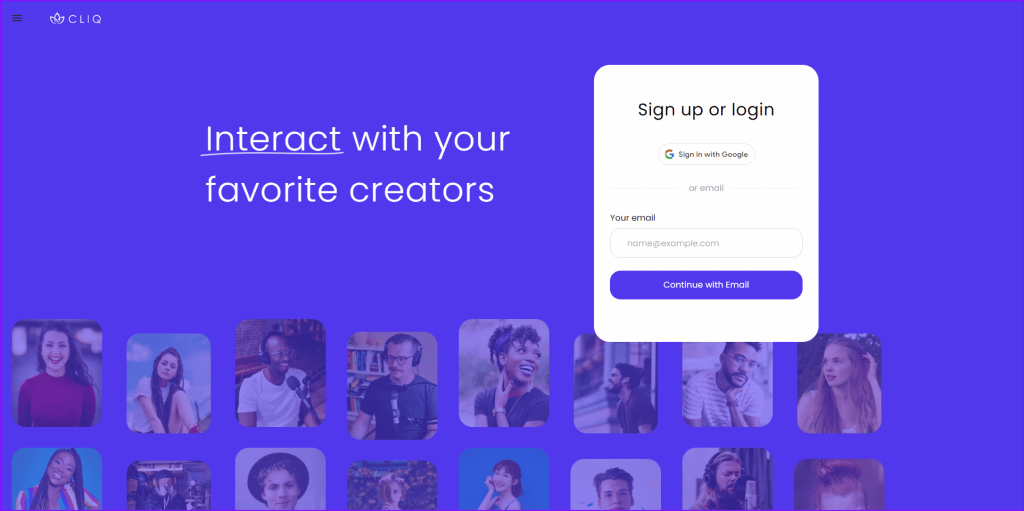 I'm sitting in my comfortable chair, browsing for great ass and tits online. There are too many choices, but one thing that caught my eye is CLIQ Fans. It's a porn site filled with fabulous BDSM, ass, sex, and all the best in the adult sex scene. CLIQ Fans has a similar concept to OnlyFans, and numerous aspects make the two highly identical. But of course, having different titles means different content as well. So far, I like what I see on this site, and the team behind it is bold to say CLIQ Fans are among the top premium adult entertainment providers. Well, the only thing that can prove that is to see what's inside. So, let's take a look at CLIQ Fans' collection below.
Official URL: https://www.cliqfans.com
CLIQ Fans: Same OnlyFans Concept But Different Attack on Your Fapping Experience
An OnlyFans copycat? Hmm, maybe, but CLIQ Fans surely are making a name of their own. The site started around 2021, and since then, CLIQ Fans has already produced amazing deals. Obviously, it took some inspiration from OnlyFans, slowly penetrating the adult entertainment industry with their sought-after content.
Just like OnlyFans, CLIQ Fans uses independent and amateur girls' photos and videos as products to sell. Many hungry perverts are willing to spend some bucks just to jerk off to their sexy pictures and videos. As you know, CLIQ Fans is still a newbie in the business, and there isn't much competition in this niche, so what else they can offer excites me more. But of course, having sex, nudes, and seductive content as a selling point, you already know this will blast every man's screen worldwide.
Follow The Site's Top Content Creators
The current "Top Girls" on CLIQ Fans are fantastic and sizzling hot. Some are blonde, some wear tight lingerie, some only wear a thong, and some prefer to be naked-butt. There were also Asian cuties and an internet star turned pornstar on the side.
If you scroll down the page, CLIQ Fans also display stunning Latinas showing off their big butts and tits. For those who like gorgeous trans, a long list of creators is waiting for you. Meanwhile, the site will blow your mind if you're obsessed with cute cosplayers playing naughty and acting cute simultaneously. Certainly, CLIQ Fans have a shitload of options, and we are blessed to see this firsthand.
Pornstar-Wannabe Models, Aspiring Amateurs, and Free Stuff at CLIQ Fans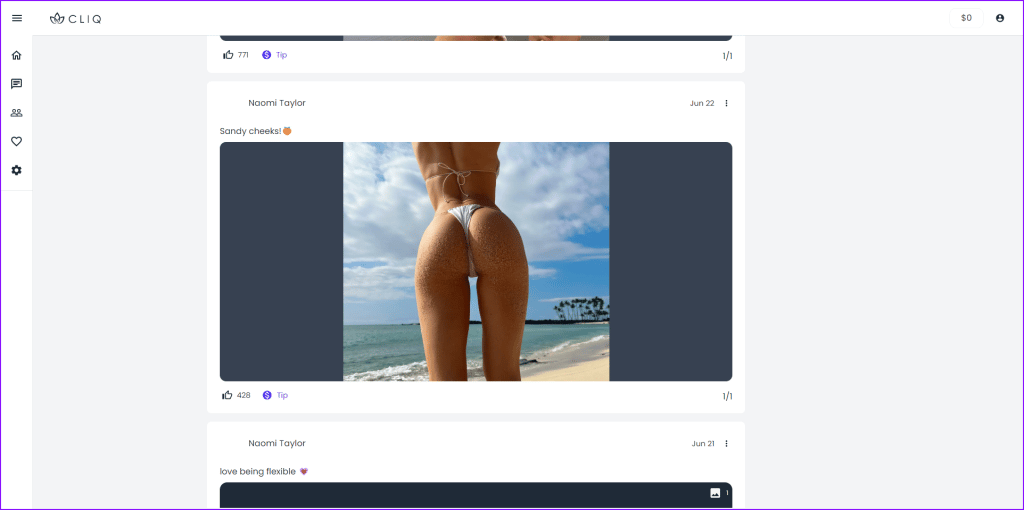 A few of the hundreds of CLIQ Fans' girl creators caught my attention. Of course, they are all good-looking and stunning in their own ways, but in a sea of hot-damn ladies, some would always stand out. One of them was a hot blonde with quite a familiar face. Her physical appearance was perfect, and I'm sure I've jerked off to her at least once this year.
Surprisingly, I really did know her from somewhere. It's a shame I didn't seem able to remember her name, but a stunning face like that will never be forgotten. Anyhow, her collection was as gorgeous as her looks. She got hundreds of videos and photos available and some exclusive content that can only be viewed for the right price.
For a stunner like her, getting caught up with her beauty is easy. And little did I know, I was already in her personal profile scrolling through some information I didn't know if I needed while fapping. But here I am, digging everything I can to feel closer to her.
Meanwhile, I'm very impressed with CLIQ Fans' content because they don't miss a day without a new entry to jerk off. The content creators actively post daily updates, fans' requests, and more. Not to mention, some of these are accessible for free. Yes, that's right! Unlike the OnlyFans site, this one provides something we can afford — freebies!
Solid Browsing Tools, Sleek Interface, and Unique Things That Make CLIQFans Stand Out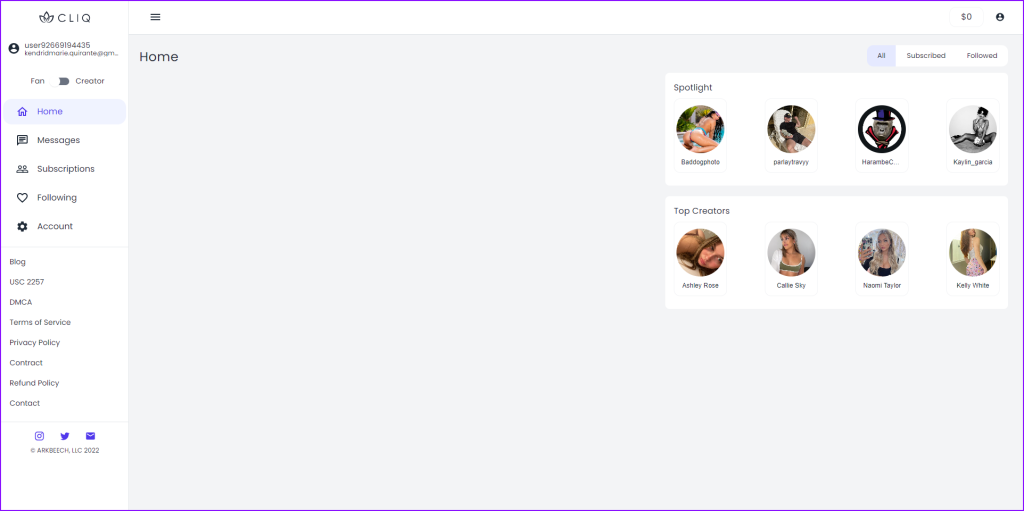 Looking at CLIQ Fans' front page, you can quickly tell that it got some inspiration from OnlyFans. Well, that's expected since they are following the steps of the site. And just like OnlyFans, I think CLIQ Fans' page is a bit bland and straightforward. It only has a registration pop-up, without any clues of the content. Fortunately, I did little research about CLIQ Fans, which gave me an idea about its niche. Otherwise, I'll be lost forever.
Regardless, the site radiates a fantastic vibe because of its dark-colored theme. Typically, this color gives us a clue of seductive and erotic feelings. But honestly, if I didn't know what the site offers, I'd be less likely to register. Instead, I'd go for a place with a straightforward menu and shamelessly display the porn they got.
Moreover, the standard structure of CLIQ Fans shows the top content creators of the site. If you don't like the ranking, there's an option to shuffle the list according to "Who's Online" and "New." In an instant, the system automatically shows up an entire new page of CLIQFans girls. In all fairness to CLIQ Fans, despite being a new site, there's already a bunch of girls available, and all of them are actively sharing their top-notch photos and videos.
Site's Flexible and Budget-Friendly Subscription and Payment Options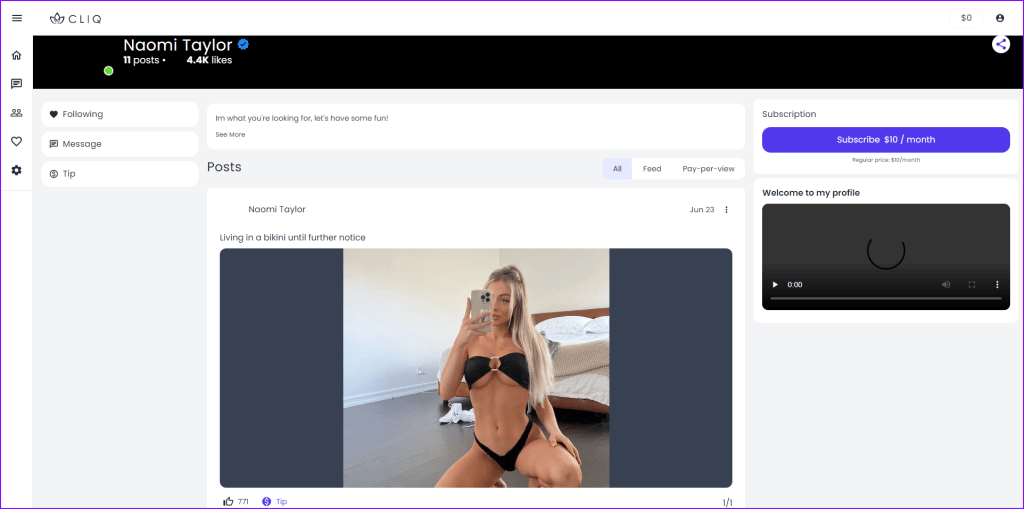 The unique concept of OnlyFans has really stirred up the standard porn industry, transforming it into a more customized and personalized process. With its help, creators can finally express their creativity and skills in many ways. Of course, the pervs online are free to indulge in the best porn content ever released. Fans also have the free will to purchase content from creators individually or subscribe to the platform simultaneously. Of course, this is convenient for most users, especially those on a strict budget who only want specific creators' content.
But why am I mentioning all about OnlyFans' payment options? Well, it's simple because CLIQ Fans can also relate to it. Flipping each page, there's a shitload of options for users to subscribe or make individual purchases. Although, I personally think that subscribing to CLIQ Fans is a much better and budget-friendly option.
Besides, the individual purchase is the nicest pick if you want to help and support your favorite content creator. This way, the girls will earn more money, encouraging them to give us great entertainment daily. Also, you can provide the girls with some more love by tipping them for outstanding performance. The extra gift will surely put a smile on their faces, and who knows, she may give bonus content free of charge.
CLIQ Fans' Hundreds of New Stars to Jerk Off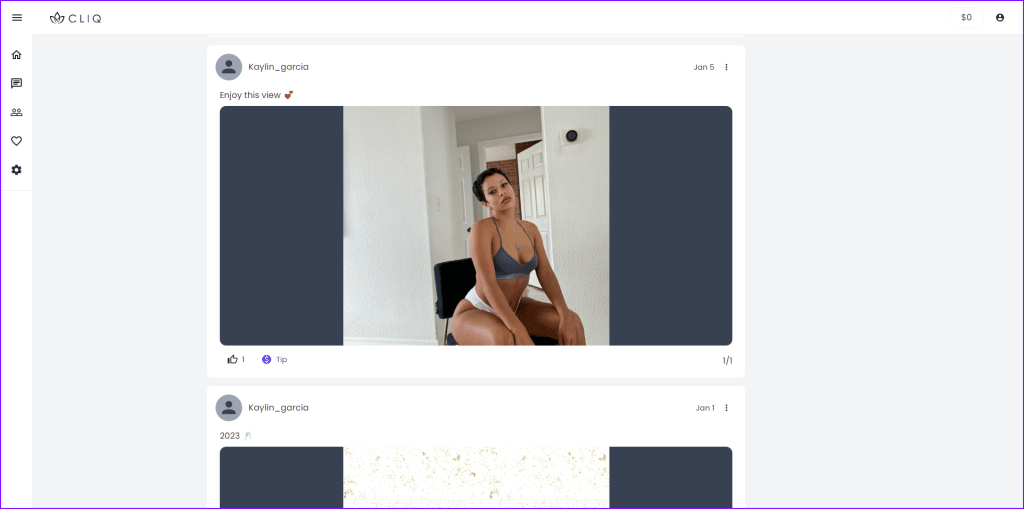 Whenever I visit a website, I always make sure to check out who are the newest models available. Certainly, we can't let the day go by without jerking off to those fresh-looking, amateur faces. So, I headed to the "Explore" section, and the search result showed me the hottest new girls on the page.
I honestly can't tell how many girls are registering on CLIQ Fans, but from the looks of it, there's plenty of signups happening daily. So far, over a hundred girls are on the page, and probably the next time I visit more will be added. That's definitely possible because CLIQ Fans are getting more popular and widely used worldwide.
More Intimate Connection and Interaction Than Porn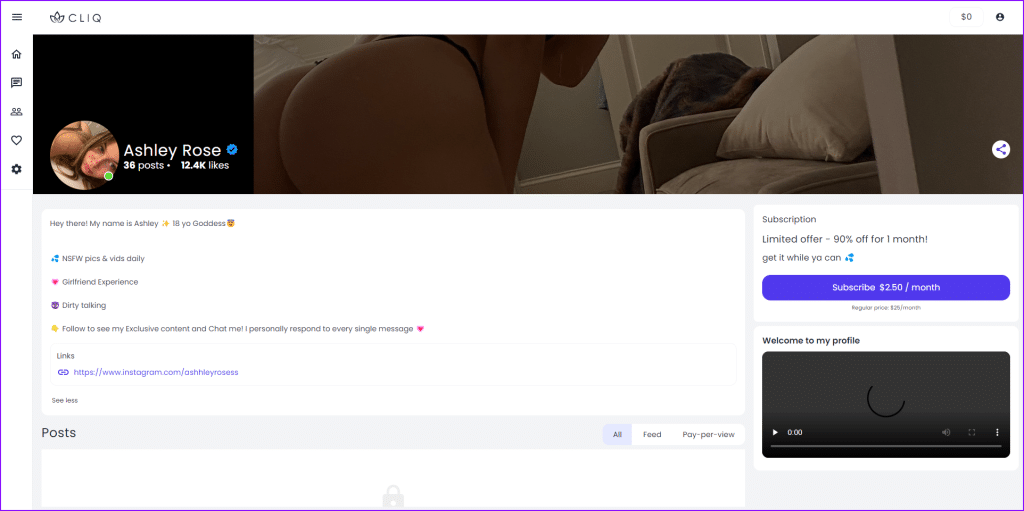 The kind of "intimacy" that CLIQ Fans is giving us is genuinely among the site's selling points. Compared to the standard porn sites, where the pornstars don't have time or chance to read your praises in the videos' comment section, CLIQ Fans allow their girls to interact and connect with the audience.
Finally, we can feed our obsessions and slide them into their inboxes. It would be easier for us to connect with them and get a closer look at their personal lives, updates, and more. Of course, the more we interact with them directly, the more we can interact with them, potentially increasing their fanbase and popularity. And if that's not enough, CLIQ Fans offers a call and text button where users and fans can hit up the girls live. However, there's already a fee for it, so if you're willing to spend some bucks, no worries!
The Imperfect Side of CLIQFans and What It Needs To Improve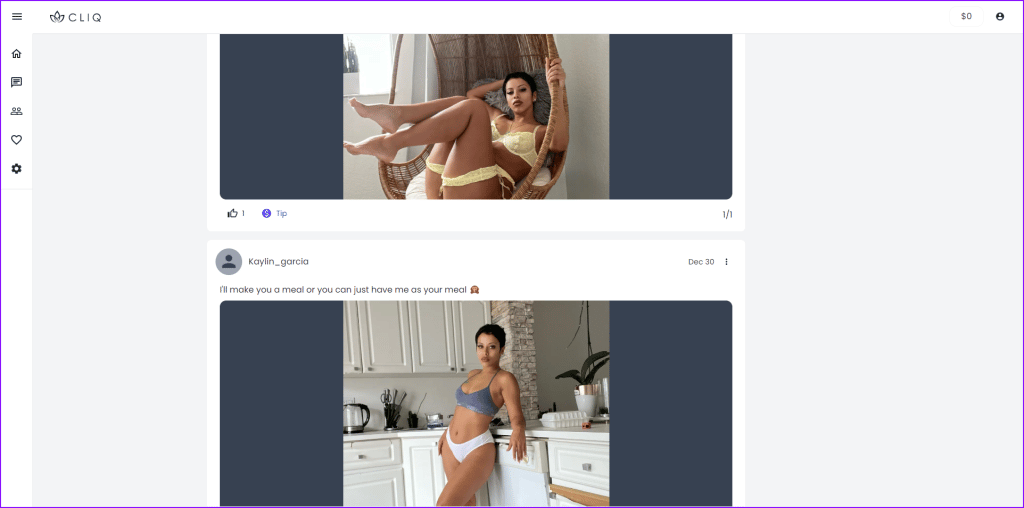 CLIQ Fans are not perfect — I mean, all sites are not. Despite having some great features, navigation, girls, and content, there are some things too that I wish CLIQ Fans would add. What I'm talking about is more filters on the search button. Currently, the site has excellent search filters, but it's not wrong to add more that will help users narrow their searches in more specific and more accessible ways.
Like other porn sites with advanced filters, I hope CLIQ Fans would add a similar feature too. The team could use some tags like age, type of fetish, skills, body features, and more. But for now, since the site is limited to popularity, who's online, and the newest added girls, I think we can make the most out of it.
Pros and Cons of Cliqfans.com
PROS:
Promotes personalization among models
Connecting and interacting with models is easy
Regular updates
Easy-to-use features and an excellent website interface
Amateur and professional models
Some content is free
New models are coming up frequently
CONS:
The search engine needs improvement
---
12 Best Premium OnlyFans Sites Similar to Cliqfans.com: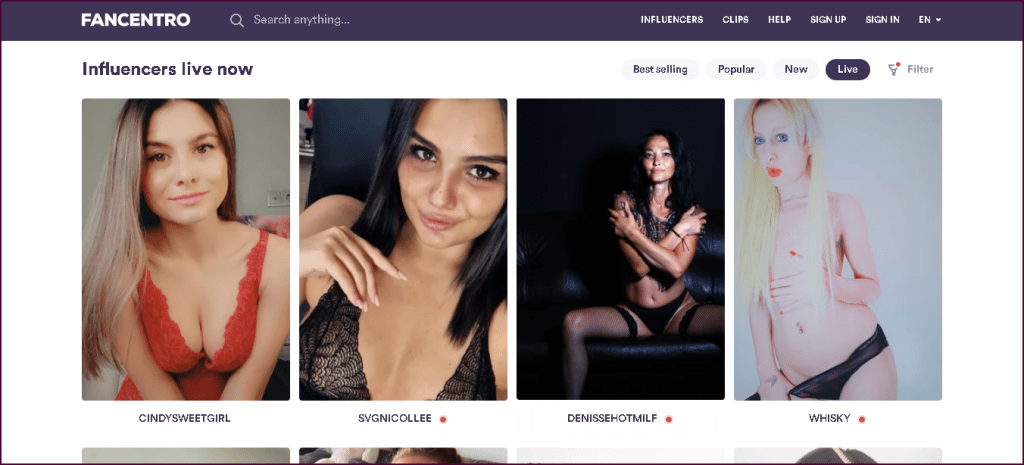 FanCentro has served as a premium tool for many influencers and online celebrities to earn money by creating exclusive content. They launched in 2017, and since then, they've been going out of their way and perfecting their brands and offerings every single month. Currently, the celebs of FanCentro can share their stuff through clips, feeds, stories, and live stream shows. There are also dozens of private stuff posted on the feed, and you can also get special access to their Instagram, OnlyFans, Twitch, Snapchat, and numerous networks.
Here's the full review of FanCentro.
PROS:
Lots of explicit content
Does not prohibit sex and porn
Numerous amateur models and popular influencers
Design is easy-to-use and straightforward navigation
Authentic
CONS:
Some models demand pricey premium subscription
Limited free access to content
---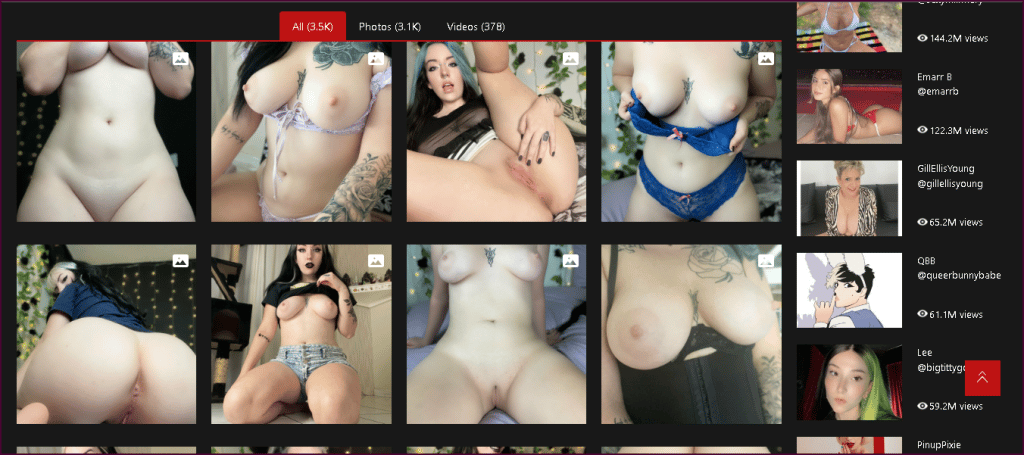 Hotleak.vip is a go-between for people looking for hacked images and clips of well-known and stunning OnlyFans ladies worldwide. Though the OnlyFans website continues to flood its page with twerking videos, ASMR filths, and girls experimenting with pussies, more extreme content has been appearing recently at HotLeak. Few of them feature some hard fucking adventures, threeway scenes, and public sex. The site also uploads a hefty truckload of new sizzling leaks regularly, so if you make it a habit to check it out, you'll never run out of new material to bust a nut to.
Click here for a full review of Hot Leak.
PROS:
Free to use
Thousands of content creators are available
Various types of creators
Regular updates
Millions of images are available for free
Stream thousands of videos
CONS:
Some ads
Sometimes the download feature won't work
---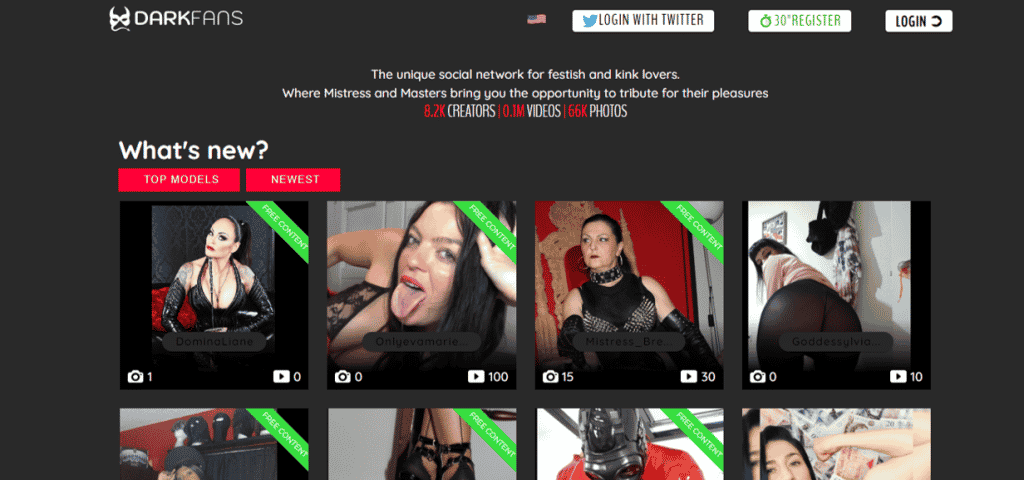 Dark Fans contain a banquet of steamy and perverted assortment. Various OnlyFans content creators deliver nasty and juicy treats here professionally. You would love to be one of the arena's audiences and see how BDSM, fetish, and kinky materials affect you. The format and styling made the place a marketable venue for fanatics of fetish materials. Therefore, you can expect mountains of stuff to rub your dick at.
PROS:
Freebies available
Videos, photos, and live performances
Exquisite creator page
Thousands of pieces to entertain
Top creators
Navigating tools at hand
Easy to utilize the platform
Diverse options to select
CONS:
Prices of performers vary
---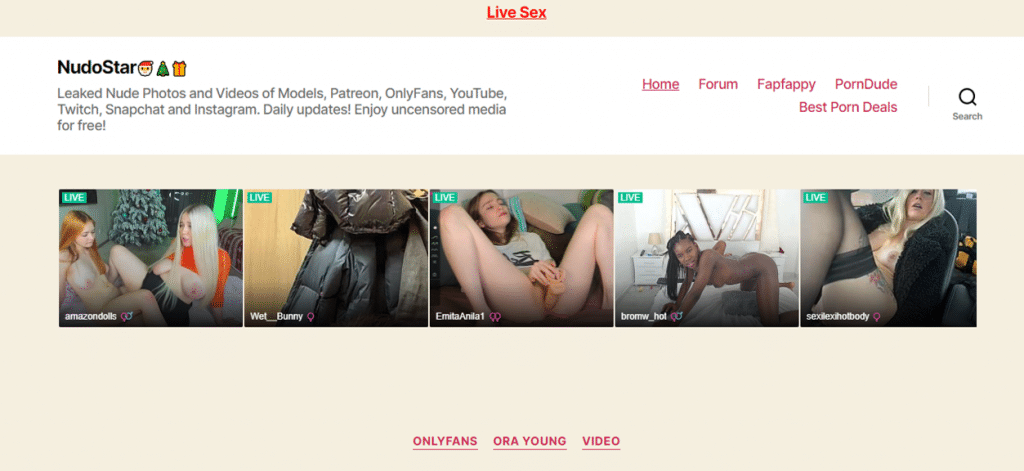 Nudo Star is packed with gorgeous naked ladies from OnlyFans, Snapchat, Instagram, Patreon, Twitch, YouTube, and other social media domains. Fans lure around Nudo Star because it is entirely free and has limitless access. Followers can sneak and stream all content anytime and anywhere with Nudo Star.
Click to see the full review of Nudo Star.
PROS:
Provide links to babes' accounts
Vital information and descriptions are available
Great collection
Good content quality
Free site
CONS:
Advertisements
Needs few improvements in design and organization
---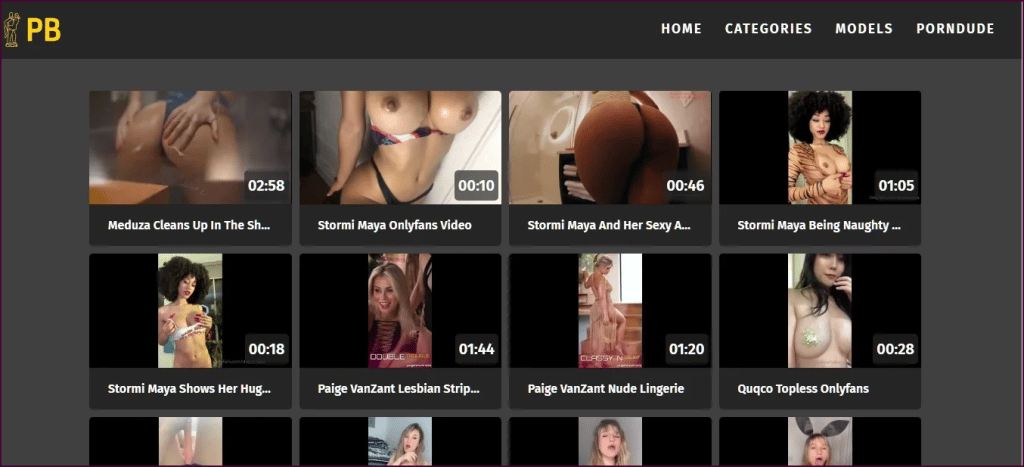 Premium Booty before recently emerged in the adult entertainment industry last April 2022. Despite being a newbie in the adult entertainment industry, the team behind the site has tickled the fancy of the horny audience. While others are trying their best to win the hearts of these fuckers, Premium Booty is here chilling and giving us premium content from OnlyFans and Patreon sites without a fee. Users can expect to see a ton of exhibitionists and public acts like tons of solo masturbating shows, topless dancing, girls slapping their big asses, cosplayers in hot costumes, and more. This part of Premium Booty's quality entertainment is beyond your imagination. All your exhibitionistic needs and hot-swinger craving will indeed be fulfilled.
Check out the full review of Premium Booty.
PROS:
Shitload of free videos
Stunning amateur and pro models
Regular updates
Amazing niche
Top-quality ass content
Free to upload your personal content
CONS:
Some ads and redirects
No tags available
Basic search feature
---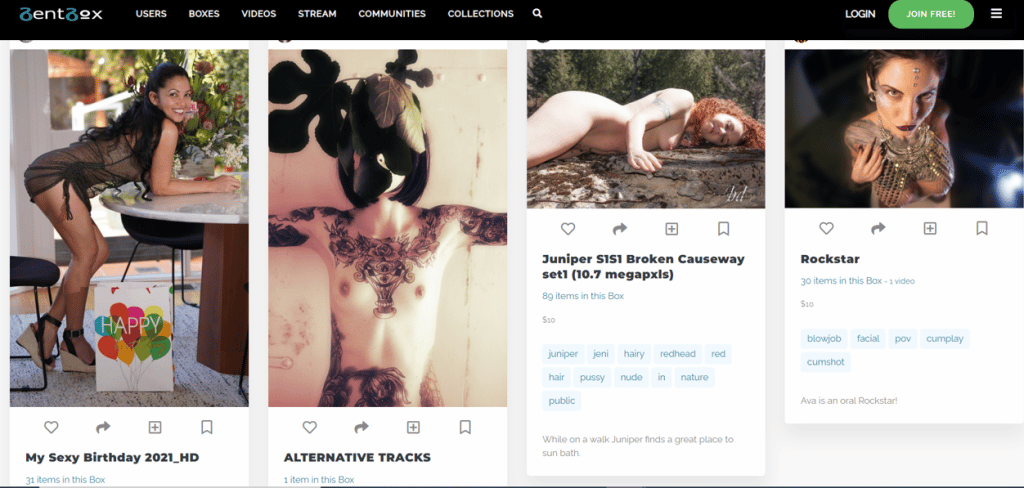 Bent Box became a massive wave of delightful success during the health crisis when the world stopped and people were stuck at home. Pornographers find it a wise opportunity to cascade erotica despite the Covid-19 surge. While most people are quarantined and left home, they become more creative and explore. OnlyFans sites flourished and hit the market with a bang. The content and service spread like wildfire, undeniably one of the greatest trends during the lockdown.
Sexy nude materials are accessible for hungry pals at Bent Box. This page launches various salivating porn content to ease your thirsty dick. You can choose between buying or selling stuff on the page. Greatly, users are delectably amazing by producing boxes with over ten to fifty erotic items. Each box at Bent Box is priced accordingly; hence, you can have enough options to maneuver.
Take a look at the full review of Bent Box.
PROS:
Sensual collection
Hot users
Professional and amateur performers
Great concepts and material quality
Pay your pick only
Clean site
Easy to maneuver
CONS:
Prices vary
Other treats may be too expensive
---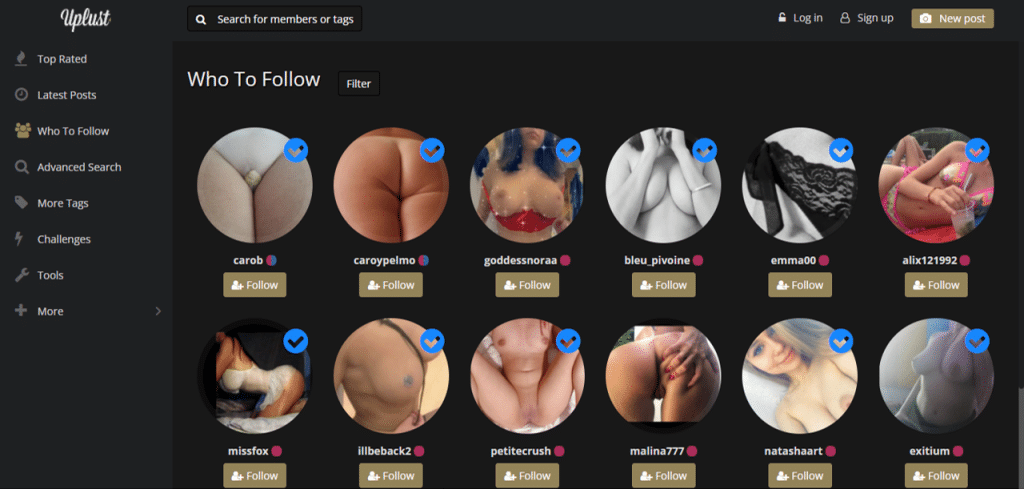 Uplust provides its whole collection freely. Yes, you do not need to spend anything nor spend extra to grasp the horniest materials. Porn fans can get to enjoy complete nudity, amateur flicks, couple-sex, and more in one venue. Indeed, you can have all the time of your life jerking and fapping to these social media superstars. The acts are great, and the babes are explosive. Definitely, everyone is excited for Uplust.
PROS:
Free site for porn addicts
Various materials available
Amateur images and videos
Clean site design
Great sorting features
Regular updates
Great community
CONS:
---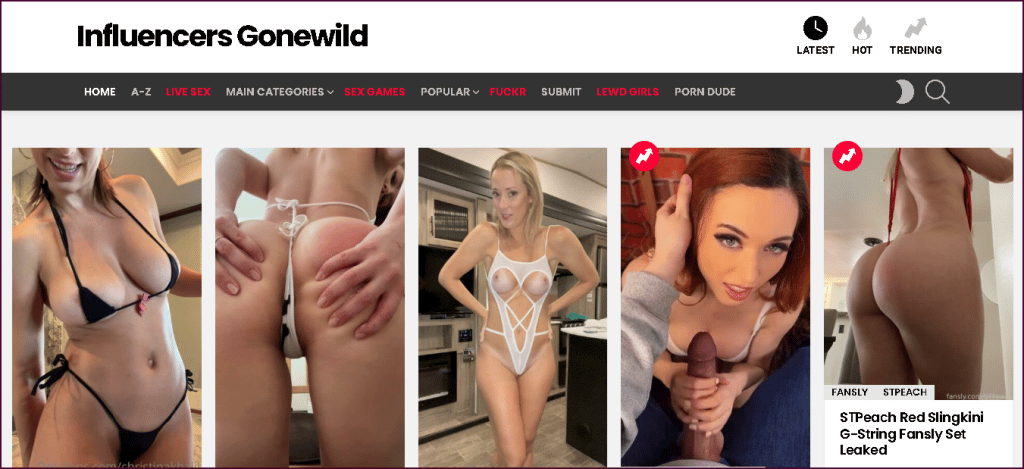 InfluencersGoneWild is a hub for all filthy stuff from numerous social networking sites like OnlyFans, Patreon, and YouTube. The website offers obscene footage of famous people screwing, jerking, and baring their fake tits. For no cost, users can access sex videos published by influential users themselves and even add our personal movies to the platform's databases. The content on display is only the tip of the iceberg of what you can get from InfluencersGoneWild. No wonder it managed to attract several of the most attractive and well-known figures online.
Read the InfluencersGoneWild full review.
PROS:
Features most famous influencers online
Lots of models and online celebrities
Brand-new videos daily
Different sources
Easy to use website
Free access
You can submit personal videos
CONS:
---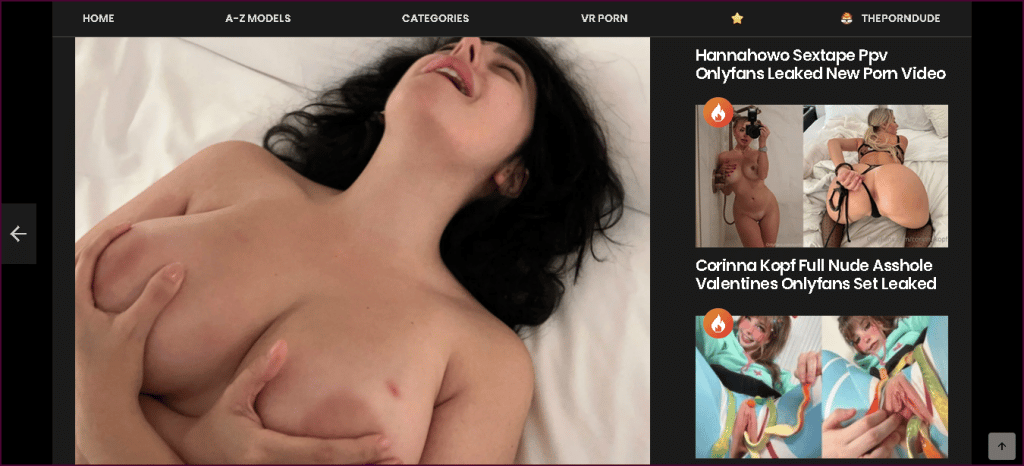 GotAnyNudes compiles sexual releases showing famous ladies from platforms including OnlyFans, YouTube, TikTok, and Twitch. It has been able to surf the trend and stay profitable for several years, so you'll be able to satisfy your perverted cravings in several ways. Finally, we can enjoy and experience amateur and homemade porn from real amateur girls without worrying about monthly premium membership.
Check out the full review of GotAnyNudes.
PROS:
Lots of leaks from numerous sources
Features amateur and renowned internet stars
Countless images and video collection
Updates regularly
Features a variety of content
CONS:
Some spams
Lacks tag section
---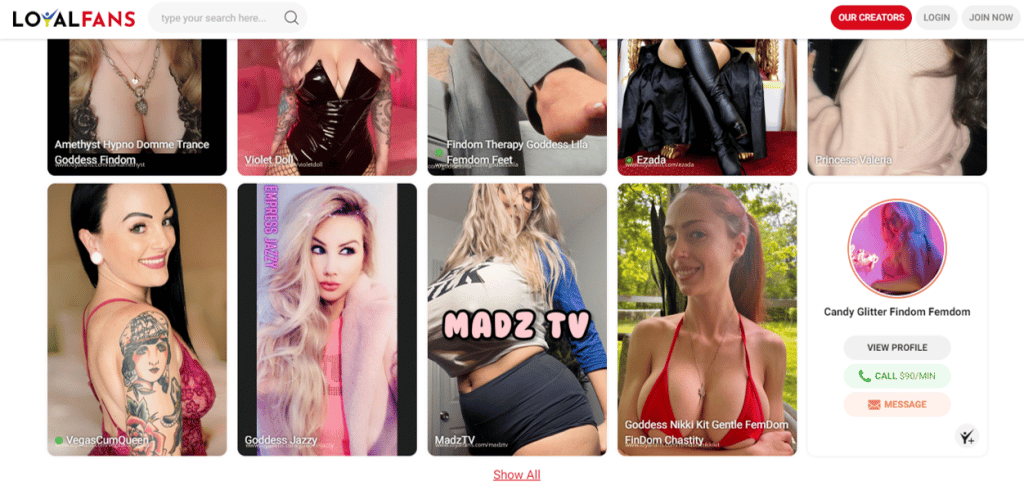 At Loyalfans.com, money can be at stake as the site revolves around paying for steamy flicks, pornstars, horny amateur babes, or even gorgeous models. You can get to see new materials from various creators, request certain action-packed scenes, and wiggle your dick on their delightful escapades. The site does not give out low-grade materials but focuses on high-quality and exclusive flicks to rub your dick at.
Click to see the full Loyal Fans review.
PROS:
Hot creators to satisfy you
Social media babes everywhere
Diverse subscription fees
Orgasmic photos and videos
Fetish-friendly domain
Appealing interactive features
CONS:
Needs to pay
Few free deals
---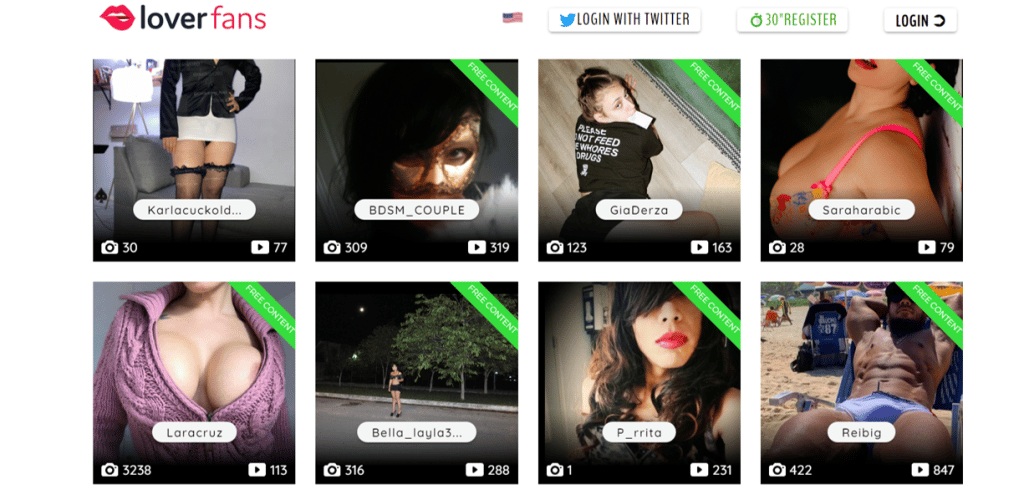 Lover Fans intently dedicates itself to any advocate of OnlyFans treasures. The steady rise of OnlyFans' popularity brought life to various abodes showcasing talents and palatable deeds. Surely, anyone raving about these materials will enjoy the mouthwatering goodies available at each venue.
Lover Fans has an enormous collection of hot men and women willing to do anything for the sake of your jerking adventure. The page launches a massive opportunity for fans and creators to express their perverted fantasies. Indeed, the location's popularity is rising, and avid fans are raving about it. Lover Fans is waiting for you to enjoy its service, drop by and have some pleasurable entertainment.
Learn more about Lover Fans with this full review.
PROS:
Thirty-two thousand creators
Hundred thousand images and videos
Some free content
Adult entertainment collection
Friendly functions
Live and online deals
CONS:
Creators vary in prices
Some performances can be too expensive
---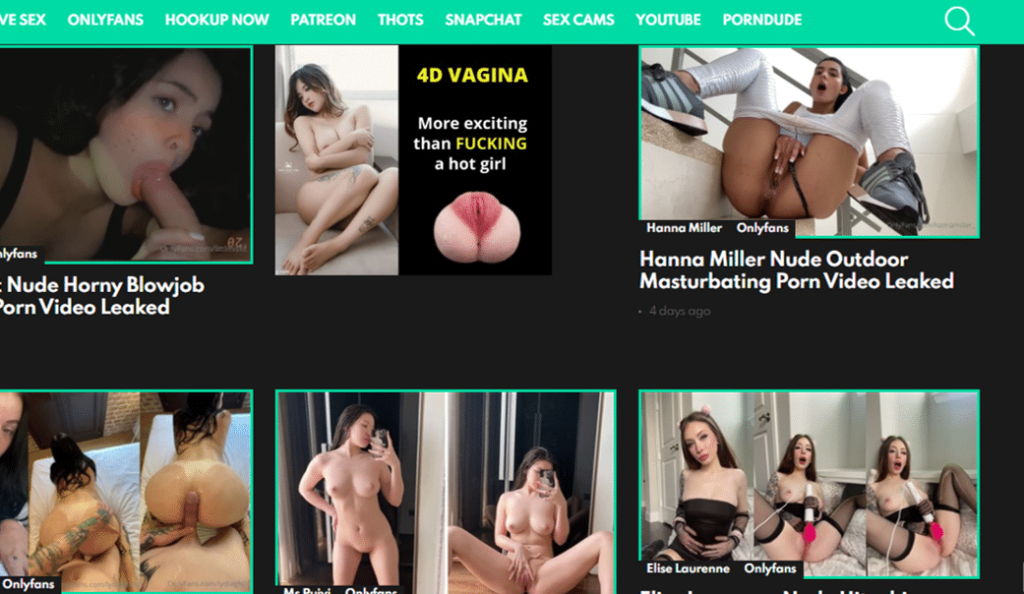 ProThots.com is a pornographic site dedicated to women of substance and from every walks of life. These ladies may be working in the corporate world, educational setup, or even the celebrity and social media industry. Anyhow, ProThots claims to offer porn fans professional beauties in their most vulnerable situations.
Indeed, this site is a fresh and new age of amateur pornography. ProThots deliver extreme and personal adult films from various sources. With that, you need to be ready and be amazed by stars and content from Snapchat, YouTube, OnlyFans, Patreon, and more.
Check out the full review of ProThots.
PROS:
Various movies, pictures, and naked libraries
Features almost all porn genres
Social media goddesses are here
Regular updates of contents
Professional and amateur pornstars
Good video sources
CONS:
Advertisements
Video player is basic
No advanced search options
---
Bottomline
After thoroughly evaluating CLIQ Fans, it's still a mystery to me if this site is going to be as famous as OnlyFans. But I guess there's no stopping CLIQ Fans from conquering the adult entertainment scene with its unique amateur content, constant updates, and regular addition of content creators.
Despite being new to the business, CLIQ Fans carved its brand and made a name of its own. Coupled with excellent navigation and features, this site will be on your Top List in no time. Certainly, the site is gorgeous and appears to function well — just what amateur fans desire when looking for perfect smut to pump up to. I can't wait to watch how CLIQ Fans develop and will often be revisiting. With so many amateurs and future blonde bimbos to watch, I shouldn't get bored.
All 37 Other Sites in This Category Worth Checking Out:
Horny Fap Review & Top-12 Free OnlyFans Porn Sites Like Hornyfap.com Show Me 12 Alternatives for Hornyfap.com Ever feel like mainstream porn is offering the same old rehearsed script? Fear not because the virtual playground is huge, jam-packed with niche gems waiting to be discovered. Picture it as a rollercoaster of filth, but before you strap […]